2017 Chevy Silverado 2500 HD Duramax Is One Comfy Heavy Hauler
chevrolet | chevrolet silverado | Chevrolet Silverado 2500 HD | April 16, 2017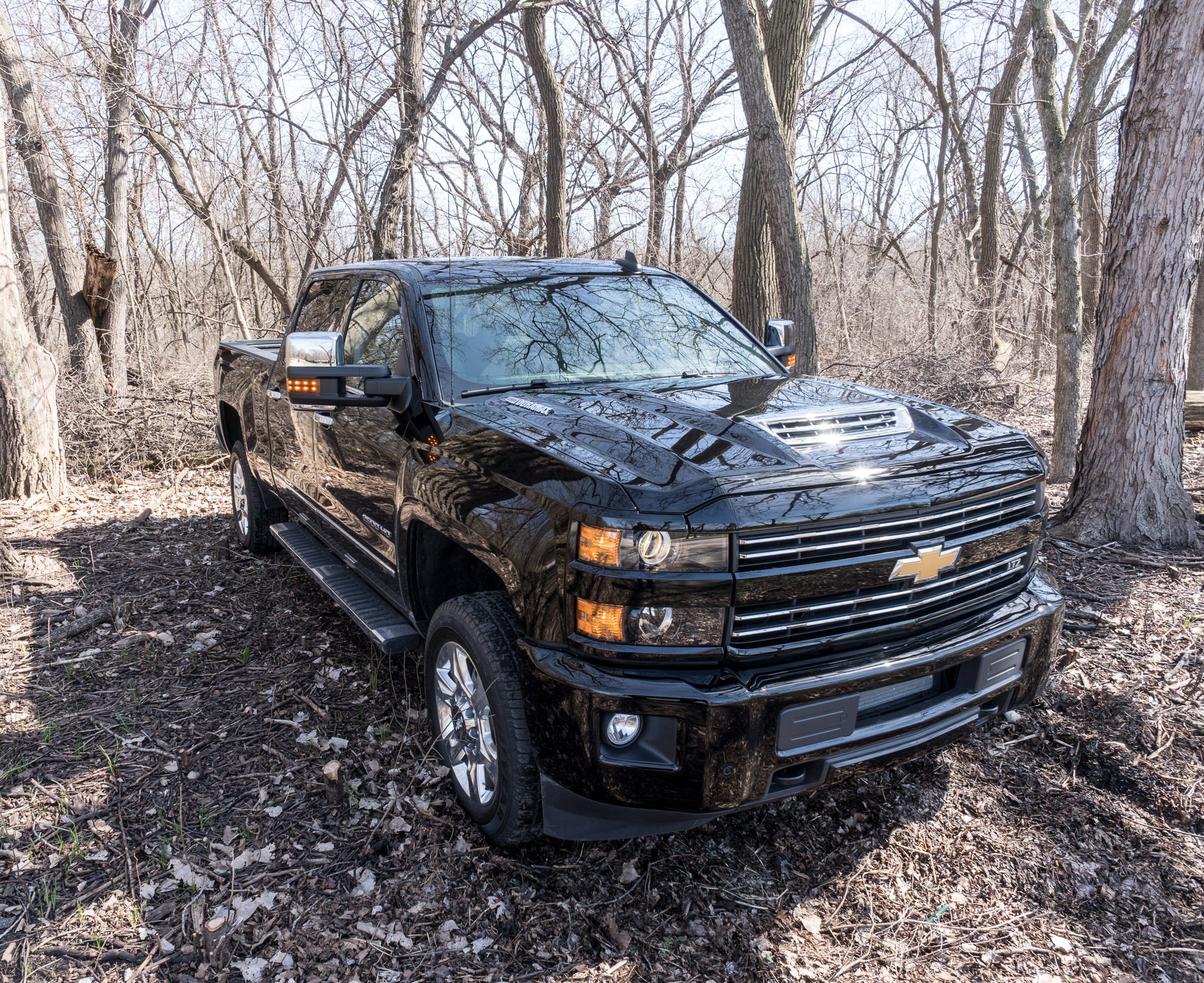 I'll start out by saying this – I live in a big city, with limited need for a heavy duty pickup truck in my day-to-day life as an automotive and men's lifestyle journalist. But when Chevrolet offered up a selection of vehicles to serve as my chariot for the drive down to their Find New Roads Experience at the Indianapolis Motor Speedway, I jumped on the opportunity to drive the Silverado 2500 HD, rocking a brand new 6.6-liter Duramax Diesel engine.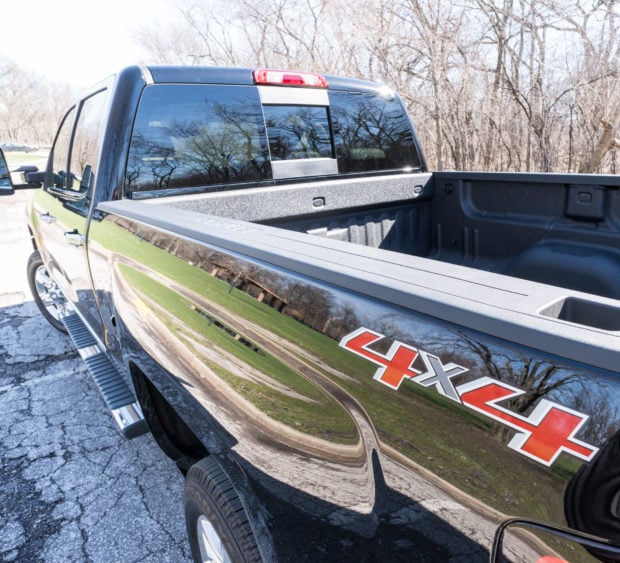 While I wouldn't get a chance to haul any heavy loads until I got to Indy, I did get to see how far heavy duty trucks have come in recent years. Despite this beast being one of the most imposing vehicles on the road, it's a shockingly comfortable truck, making it not just a big work truck, but one that I'd be happy to live with on a daily basis.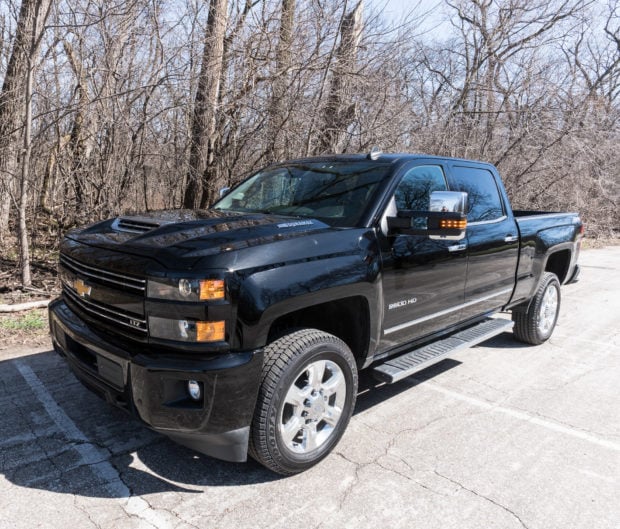 Burbling beneath the hood of this big truck is a 6.6-liter turbodiesel V8 that pushes out 445 horsepower, and an astounding 910 lb-ft. of torque – 19% more than the prior model. This tremendous oomph makes the 2500 HD Duramax ideally suited to hauling cargo or trailering. It builds torque quickly too, hitting peak torque just around 1,600 RPM.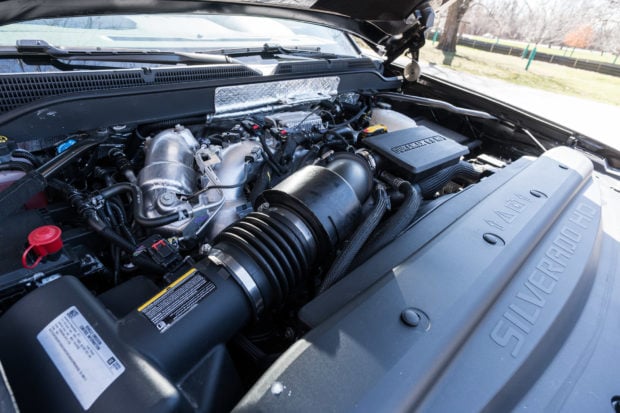 That big hood scoop out front isn't just aesthetic. It's pulling in tons of air to help keep the engine running cool and composed, even under load.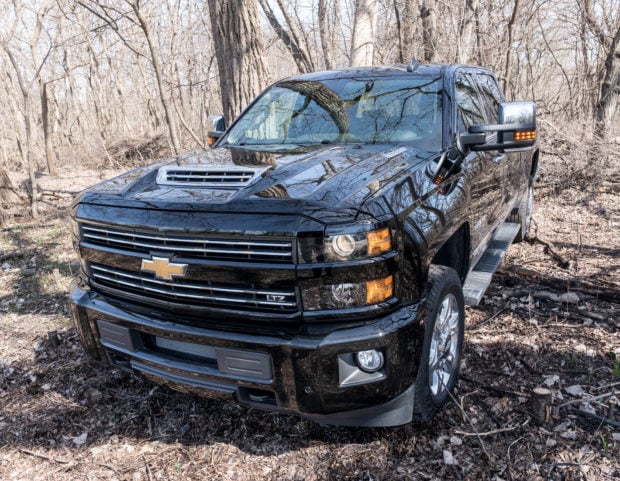 With its jumbo 36-gallon tank, it's easy to see this thing doing 500 miles or more on a tank – depending on what you're carrying, of course. While Chevy doesn't provide fuel efficiency numbers for the truck, I was doing about 18 mpg on the highway, which isn't bad for something this big and heavy.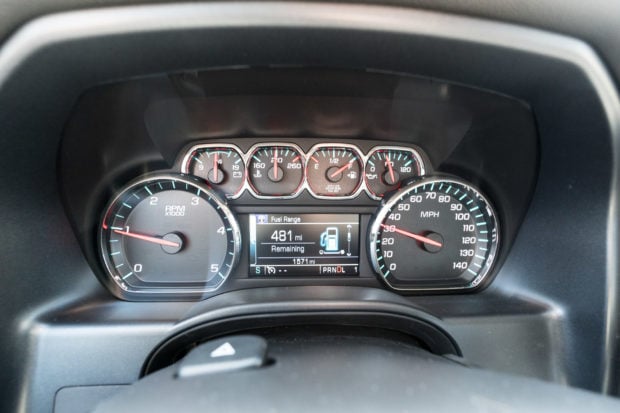 Along the 185-ish mile drive from Chicago to Indianapolis, most of my miles were on the highway, and the interior was a delightful place to be, offering an impressively quiet environment inside its cabin, even at speed. In the premium LTZ trim I drove, the leather seats were super comfy, and were equipped with heat and ventilation. Electrically adjustable pedals made it easy to get into a good driving position.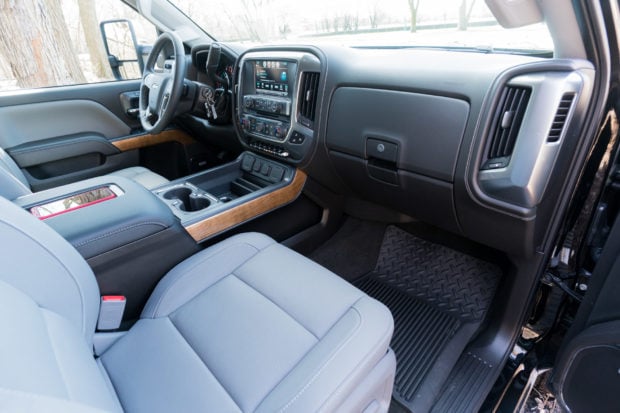 There are upscale details like hardwood trim, but also a thoughtful use of sturdy, matte finish materials which I think will wear well in heavy duty usage. In the Crew Cab model I drove, the rear seat is spacious, and even the beefiest of work crews would be comfortable sitting back there.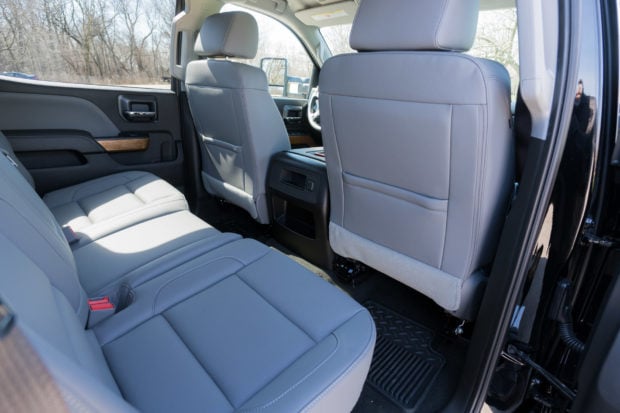 Storage is plentiful in the center console, with two USB, two 12VDC ports, a 110 VAC outlet, available wireless charging, and enough room in the padded armrest to store paperwork, tablets, or other large items. The infotainment system is the standard fare found on other Chevy vehicles, with intuitive controls, and Apple CarPlay and Android Auto support built in, as well as available 4G LTE WiFi. Chevy offers a good number of safety features on the 2500HD as well, including forward collision alert, lane departure warning, a rear-vision camera, and front and rear park assist. While there's no blind spot monitor, the mirrors have a smaller secondary mirror which does a good job providing a view of everything.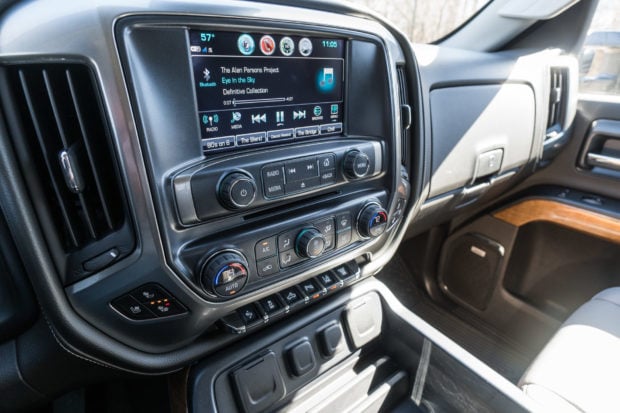 I didn't have cause to carry any lumber or drywall for this trip, but the bed of the 2500 HD offers plenty of capacity, and its sturdy cross-membered steel construction can handle payloads up to about 3,500 pounds. It's available in both a standard (51.02″ W x 78.86″ L) or long box (51.02″ W x 97.76″ L), the latter being big enough for 4×8 sheets of material with the liftgate closed. As is the case with any pickup these days, I highly recommend going with the factory spray-in bedliner for added protection.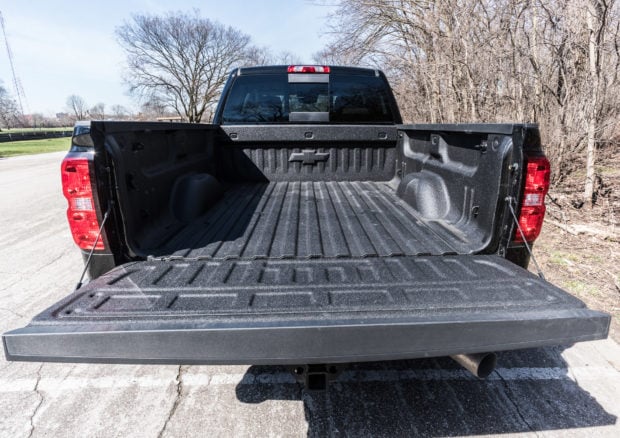 Once I got to my destination, the Indianapolis Motor Speedway, I did get the chance to tow a nice heavy load with another Silverado 2500HD. I towed ab big block of concrete and trailer which weighed in at about 8500 pounds. It's a far cry from the massive 18,100 towing capacity of the 2500HD with the Duramax engine, but it certainly would make other less capable trucks cry and whimper.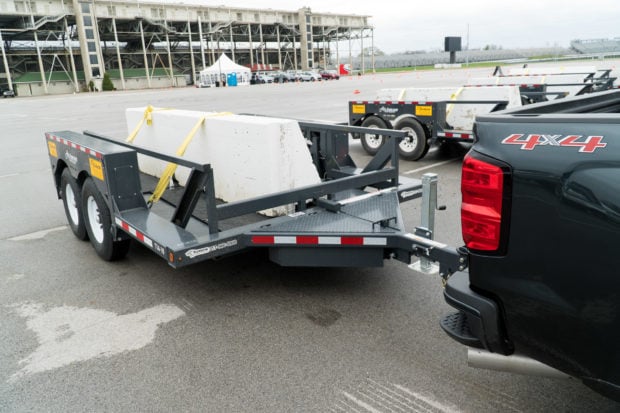 Not so with the Silverado HD. In fact, it seemed even happier carrying this heavy trailer than it did without a load. With the trailer in place, the truck didn't strain in the least as I pulled forward and out onto the test circuit. Acceleration and braking was smooth and predictable, and the electric trailer brake feature provided added confidence and safety to help slow down the trailer by coordinating the truck's brake pedal with the trailer's own brakes. The diesel exhaust braking feature is also impressive, keeping all that weight in check without having to wear your brake linings as much.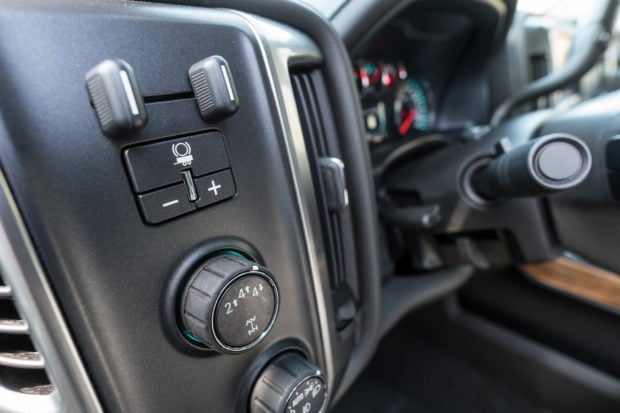 Done up in the black, with the premium LTZ trim, the Silverado 2500 HD is an imposing vehicle that others will make way for on the road. Despite its hefty looks and tremendous power, it offers an inviting environment in which to spend the work day. If you need to haul lots of cargo, and you want to do it in style and comfort, this truck is as close to perfect as you can get.