2017 Volvo V90 Cross Country First Drive: Take Your Luxury Off Road
station wagons | volvo | volvo v90 | April 24, 2017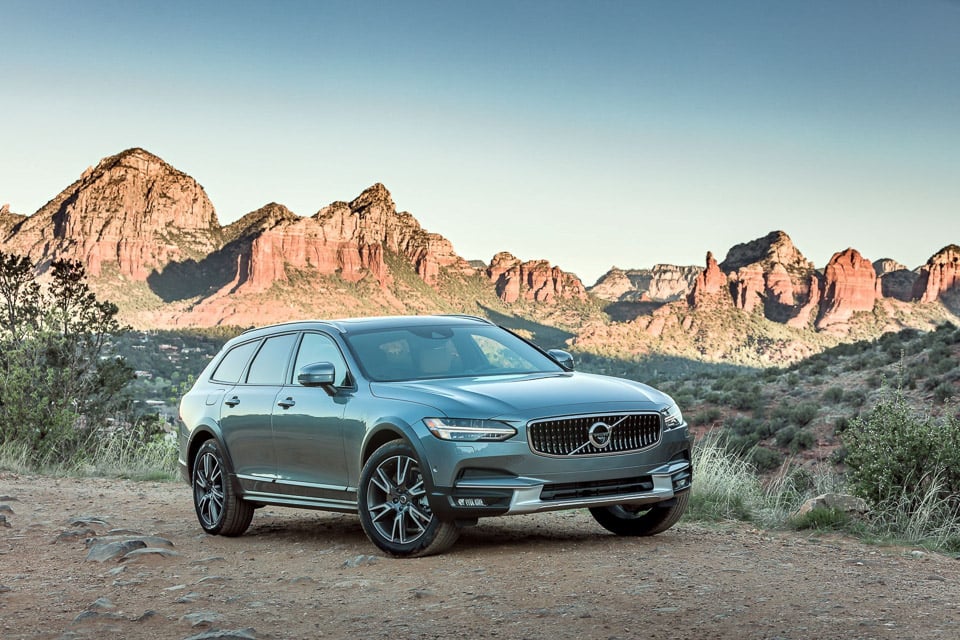 When you think of Arizona, you don't think of muddy roads and water crossings, but that's exactly what we had to deal with a few weeks ago when we got our opportunity to test the Volvo V90 Cross Country. The third and final vehicle launched in the universally-recognized as excellent 90 series, the V90 Cross Country is as Volvo as Volvo gets. And it's also something more.
Luxurious.
Volvos have always been known for their utility dating back to the company's founding, and some of its most popular vehicles in its history have been wagons, including the PV4, Duett, 240 Wagon and V70 XC, their first all-wheel drive wagon. The V90 Cross Country takes it to a whole new level adding some of the luxury features that have made the XC90 one of the best SUVs on the market today.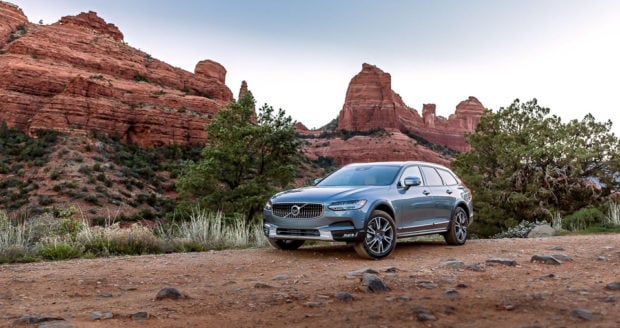 It all starts with the car's capability. Powered by Volvo's 315 hp turbocharged and supercharged 4-cylinder engine driving all four wheels through an 8-speed automatic transmission, the V90 is not only quick, it comes off the showroom floor ready to tow up to 3,500 pounds thanks to plenty of torque and its integrated trailer hitch. We got the opportunity to find out after a short freeway drive from Phoenix to Lake Pleasant Park, just 45 minutes north of the city. On the drive we discovered the Volvo is wonderfully quiet on the highway. Even at 80 miles per hour, wind noise was barely perceptible and road noise was almost non existent. It's a remarkable achievement considering all the glass in the car, which includes a huge moon roof extending over both the front and rear seats.
Power was plentiful and passing was easy on the two lane road that led to the park. Once there, we got the opportunity to put the V90 Cross Country's towing capacity to the test. Volvo had a 22-foot, 3,000-pound Zodiac N-ZO on a trailer at the park's boat ramp for us to back into and pull out of the water. The exercise was a piece of cake thanks to the 295 lb.-ft. of torque that are available between 2,200 and 5,400 rpm, and the cameras that made it easy to keep the trailer straight.
After our trailering experience we left the paved roads for about 40 miles on a series of twisty, rutted, muddy trails that took us over mountains and through rivers that tested every ounce of the Cross Country's cross-country capabilities. Rain fell hard overnight so the normally dusty roads were slick with mud which sent us in search of the perfect drive mode for this part of the journey.
Those who are less adventurous may have put the V90 in Off-Road mode, we chose to put it in dynamic enabling us to toss the car sideways through corners over the compromised surface. This really showed of the car's balance, the subtle grace of its air suspension, and the great feel of its electronic power assisted steering.
There was also more than one time we were glad to have the additional 2.3 inches of ground clearance. At the end of the trip, we're not sure which was harder; cleaning the mud from the wheel wells or wiping the mischievous smiles from our faces.
One of the great things about the V90 Cross Country for those of us who like outdoor activities is the low roof height. If you've ever tried hoisting a mountain bike, kayak or snowboard to the top of a full-size SUV, you know what a hassle it can be. At 60 inches, the roof height of the V90 Cross Country is shoulder height for a 6-footer. That means you won't need a stepladder to strap your gear on top.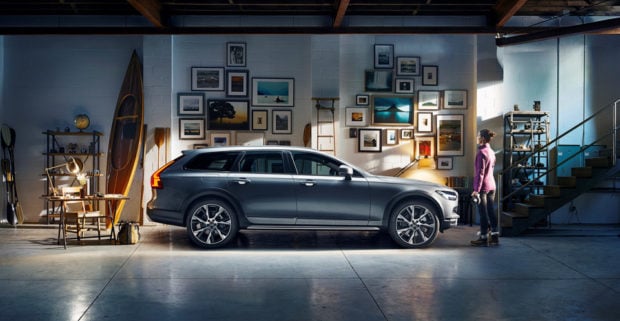 With all this capability and all this utility, it's almost a surprise to open the door and find such a luxurious interior in the Volvo. Almost, because having spent time in the XC90 and the S90, luxury is a new dimension to the Volvo brand that we've come to expect and enjoy.
Equipped with the luxury package our wagon was fitted with hand-stitched Nappa leather seats. In front those seats are heated, ventilated, and have a massaging function – something you'll appreciate after a day on the river or riding over rugged trails. The rear seats are heated to take the edge off the elements for passengers who have to ride in back. Our car also had the excellent Bowers & Wilkins premium sound system, and really nicely finished wood inlays that contrasted nicely with the leather and brushed metal trim.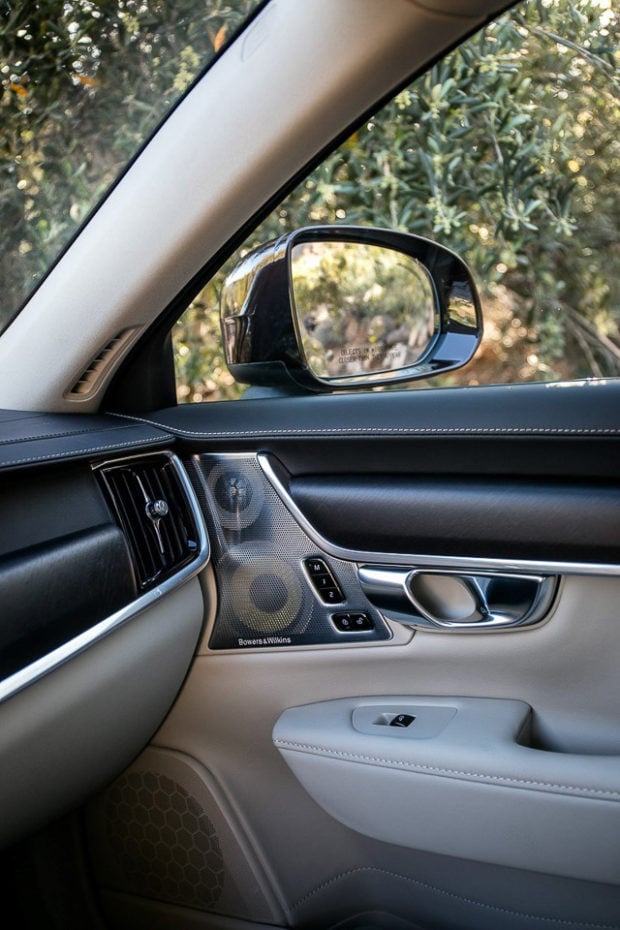 All of this comes at a price. The well-equipped base V90 Cross Country starts at $55,300. That includes Volvo's Pilot Assist semi-autonomous drive system, collision mitigation, lane departure warning, and blind spot information with cross traffic alert. It also gets you all LED lighting, headlight cleaners, a protective skid plate, a tinted window for the rear and cargo area, leather seats, heated front seats and steering wheel, walnut inlays, full-length power moonroof, navigation, SiriusXM radio with a 6-month subscription, a hands-free power liftgate, park assist with rear camera and more. For an additional $1,950, the convenience package adds Park Pilot assist, a 360° camera, HomeLink, heated washer noses and a rear grocery bag holder. The luxury package adds another $4,500 to the sticker and includes the aforementioned upgrades seats, 4-zone climate control with a cooled glovebox, sun curtains in the rear doors, a power load cover and color coordinated sills and bumpers. A la carte options include the Bowers & Wilkins sound system ($3,200), 21-inch alloy wheels ($3,715), air suspension ($1,200), and head-up display ($900). Toss in metallic paint ($595) and you've crested $70,000.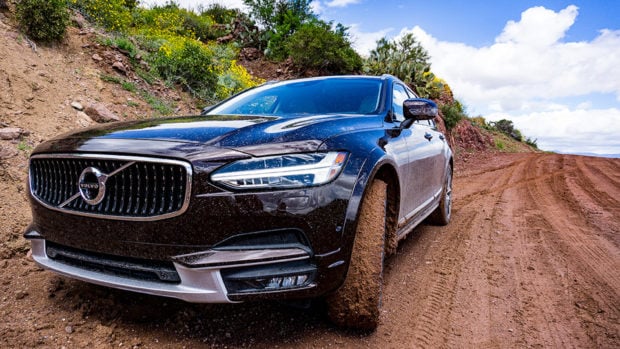 That's a lot of coin for a car designed to be driven off the beaten path, but no more than a fully equipped GMC Yukon or Mercedes-Benz GLS. And unlike an SUV, you get a vehicle that handles like a car when you're not fording streams and blazing trails.