2017 Volkswagen Tiguan Wolfsburg Review
volkswagen | volkswagen tiguan | VW | Wolfsburg | April 30, 2017
2017 Volkswagen Tiguan Wolfsburg

Engine: 2.0 liter turbo direct injection
Horsepower: 200
Torque (lb-ft.): 208
Transmission: 6-speed automatic
Drive Configuration: AWD
City/Hwy/Combined MPG: 20/24/21
Curb Weight (lb): 3,591
Wheelbase (in): 102.5
Total Length (in): 174.5
Width (in): 71.2
Base Price (USD): $31,970
Price as Tested (USD): $32,835
"American Wallpaper." It's a term I'm borrowing for this article because I think it sums up two things amazingly well. Large city suburbs, and the crossover SUV segment.
Suburbs handily receive this designation because they all have the same things. A Home Depot, a Walgreens, a Walmart, a Chase bank and your usual selection of fast food. Often you will find suburbs fail to offer anything or any experience truly unique or different to its neighbor across the street. And the same goes with crossover SUVs. They are all very similar. Use a car platform, put it up on 3 inch stilts, add some black plastic to make it look tough, offer AWD, give it a 4 cyl engine, and then simply call it a day. Accountants who observe the bottom line on such a proposal must be thrilled. Almost completely identical to another model in the showroom, but they get to call it something else.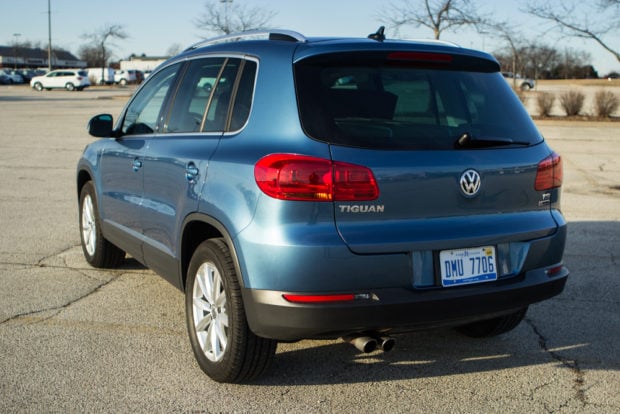 This one is called the Tiguan. Based on a Golf, it has features like: a tall ride height, black plastic body cladding, AWD, and a 4 cylinder engine. Playing along with this theme, this Tiguan is even named after a town, Wolfsburg. I bet there's a place there where you can buy wallpaper.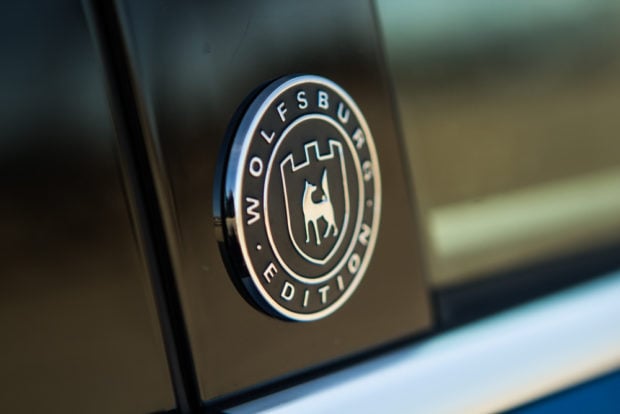 The problem with crossover SUVs is that they are so similar that you're going to be swayed by price more than anything else. Chiming in at $32,835, this Wolfsburg edition Tiguan is on the pricier side of the scale, but it also backs that up with a higher quality feel in the interior. Compared to say, a Mazda CX-5, interiors are about on-par with each other, but the Tiguan's punchier engine might be an advantage for you. If you wanted to slash a clean $5,000 off the price, opt for the Tiguan 2.0t S.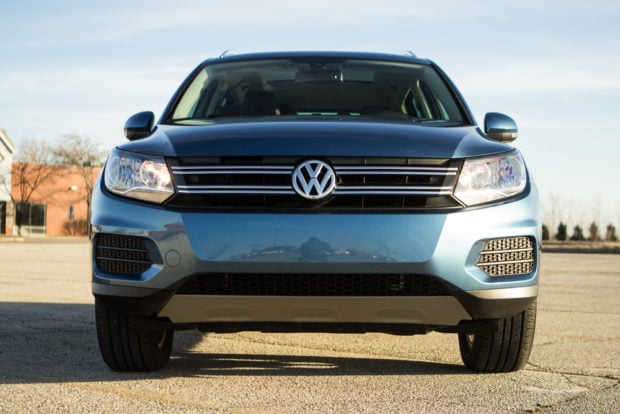 Power in any of these SUVs is going to be nearly the same, and the VW Tiguan's 2.0 turbo 4-cylinder has proven itself in a number of VW products already. Mustering up 200 horsepower, it stands above most of the competition, barring the delightful Kia Sportage SX turbo which beats the VW's output by 50 hp, despite both having a 2.0-liter turbo. Though to be fair, VW's 2.0 turbo hauls the mail at an above-average pace, and does so while powering all four wheels as well.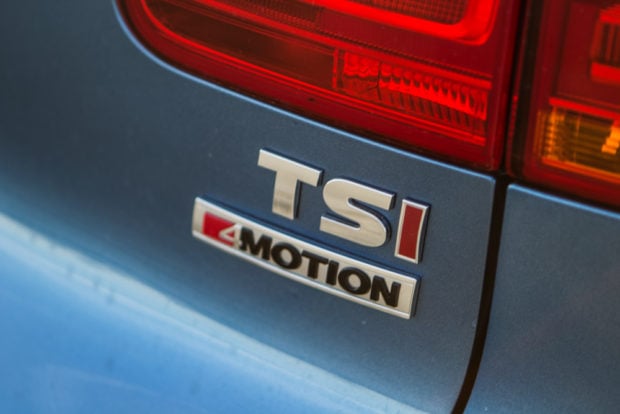 There comes a problem with recommending the Tiguan, however. Aside from the fact it is a bit thirsty, VW also has the wonderful new Golf Alltrack in the showroom. Not only is the name more appealing, but so is the rest of the car. You retain all-wheel-drive, but get the practicality of the Golf, which speaks on its own behalf.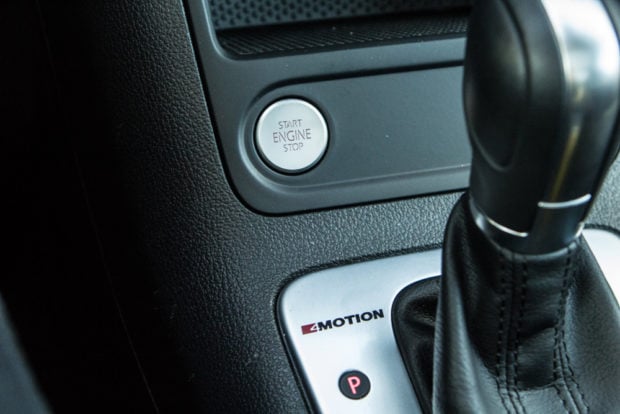 But if you're in the crossover segment for the raised driving position, the Golf is quickly ruled out. Driving position is paramount to anyone shopping in this segment, and trust me, swaying them towards a hatch or a wagon won't happen easily. You can harp on about how a Golf Alltrack will be better on fuel, easier to park, and more dynamic to drive, but you will find this will yield little result.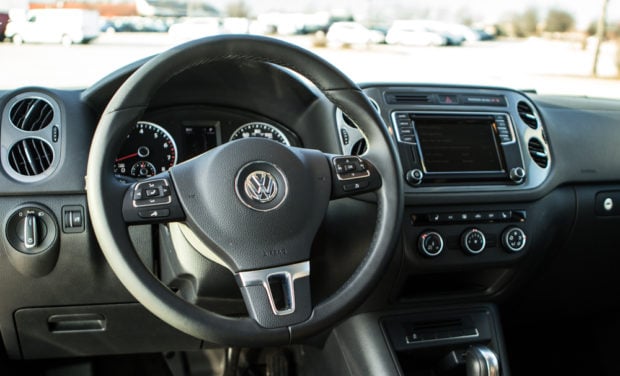 Luckily for those shoppers, the amount of other options out there is staggering. If they wanted off-road prowess, the Jeep Cherokee is available. If they want something a bit more fun to drive, the CX-5 is at the ready.
If you are a car enthusiast, and someone you know is interested in this car, good! It's a great little ride, but show them five other comparable models as well. If they can name anything unique about each of the half dozen SUV's, be shocked. VW has (had) a bit of a cult following, but the segment where the Tiguan sits doesn't really enjoy that same loyalty. Those buyers are looking for how much car they can get for the smallest payment possible. It is entirely a "sensible" purchase.
How do you get someone sold on a Tiguan? Just have them drive it. Since it is no better or worse than anything out there, it completely comes down to personal preference. However, I'd start someone off in the Tiguan 2.0t S, which still gives you a lot for the money and doesn't leave you wanting much.
And so, the existence of the Tiguan is exactly why folks move out to the suburbs. More cozy for far less cash. And that's usually regardless which crossover or suburb you decide to go with. One suburb is the RAV4, another suburb is the Subaru Forester, and yet another is the Nissan Rogue. The same pattern, over and over.