$450,000 Buys You One of the World's Weirdest Wagons
aston martin | Aston Martin V8 | auction | british | rare | shooting brake | station wagon | May 8, 2017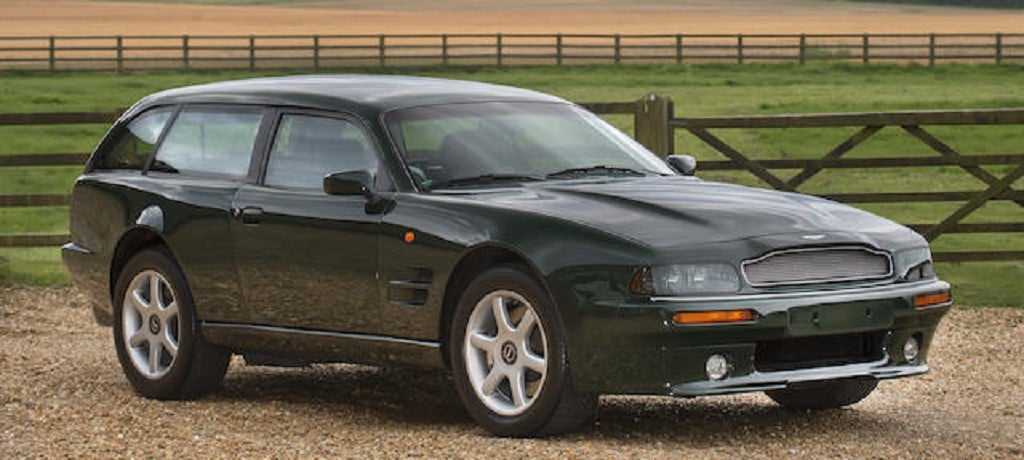 The hip-hop group Atmosphere once produced an album entitled "God Loves Ugly," and the moment we stumbled upon this 1996 Aston Martin V8 Sportsman Estate Car we knew that the title track from that release was destined to be this car's theme song. Currently registered in the UK, this left-hand drive oddball is one of just three examples ever built by Aston Martin, making it one of the rarest, and most pristine examples of what the French would refer to as automotive "jolie laide."
Originally ordered back in 1996 as one of two factory creations contracted for a pair of Swiss brothers, this hyper-rare luxo wagon has been finished in British Racing Green both inside and out, rocks stepped taillights, and comes with all the walnut-grain trim your heart could ever desire. Originally based on the V8 Coupé, this shooting brake slice of obscurity truly is equal parts strange and sensational. Originally introduced at the Geneva Auto Salon in March of 1996, the normal V8 Coupé borrowed many of the Vantage's muscular lines but came loaded with a naturally aspirated 5.3-liter motor, which had been tweaked for an extra 20 horsepower.
According to auction site Bonhams, both Sportsman estate cars left the factory as typical left-hand drive V8 Coupés in July of 1996, were modified to the owners' preferred tastes, and then returned to the factory to be outfitted as shooting brakes. All work was completed by Aston Martin between September 1996 and December 1997, and  in 1999 this model's engine was rebuilt at the factory prior to being sold to the second owner, a French art collector by the name of Fedoroff. After Federoff's death the Sportsman was sold at auction in Paris, where it was then upgraded with a navigation system, and has only seen 1,300 kilometers added to the odometer in the past seven years.
Cost be damned, this vehicle has almost exclusively been maintained by Aston Martin Works, features extensive refurbishments by Newport Pagnell, and is free of corrosion or damage. Being this minty fresh means that the winning bidder will also receive the original owner's manual, service book, tools, jack, first aid kit, battery conditioner, car cover, and a fitted humidor for when it's stogie time. You know, because nothing says "baller" quite like smoking a cigar in one of the rarest station wagons ever assembled.