This Nasty BMW M2 CSR Has an M4's Heart
bmw | BMW M2 | bmw m2 csr | May 9, 2017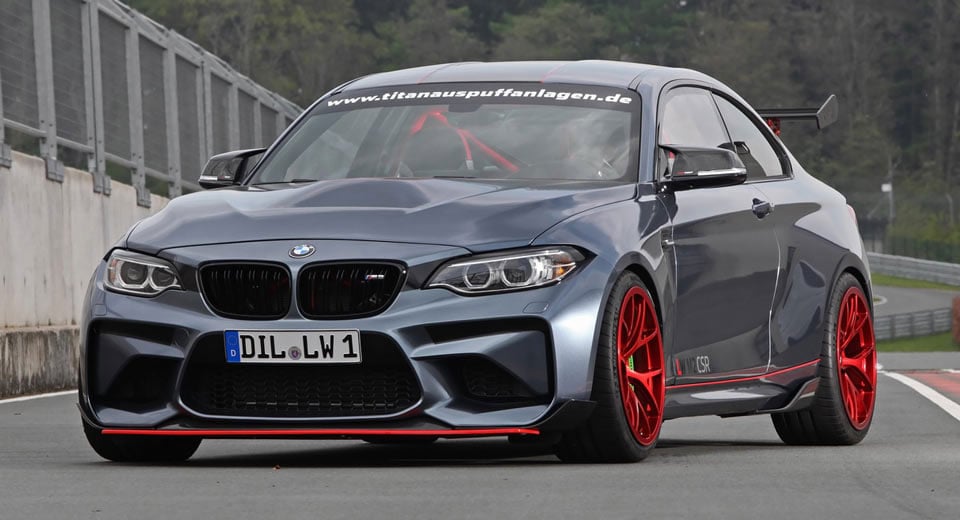 This customized BMW M2 started life as an already impressive sports car. The folks over at Germany's Lightweight Performance went the extra hundred miles on this one. They took out the engine the M2 comes with from the factory and crammed inside the larger 3.0-liter inline turbo six normally found in the BMW M3 and M4.
The transplanted engine got new turbochargers, an improved air intake, and a new exhaust system. The engine also has a water injection system like the one in the M4 GTS and made as much as 612 hp and 566 lb-ft of torque. The builders say that in the smaller and lighter M2, the engine was too much and they detuned it to make 590hp and 544 lb-ft of torque.
The car also got new shift tuning for the dual-clutch transmission, a big wing out back, a Drexler LSD, carbon ceramic brakes, red roll cage inside, and a HUD. Beyond its ample specs, the car looks fantastic too. I love the red wheels and trim.