2017 Toyota Corolla XLE Review
2017 | toyota | toyota corolla | May 12, 2017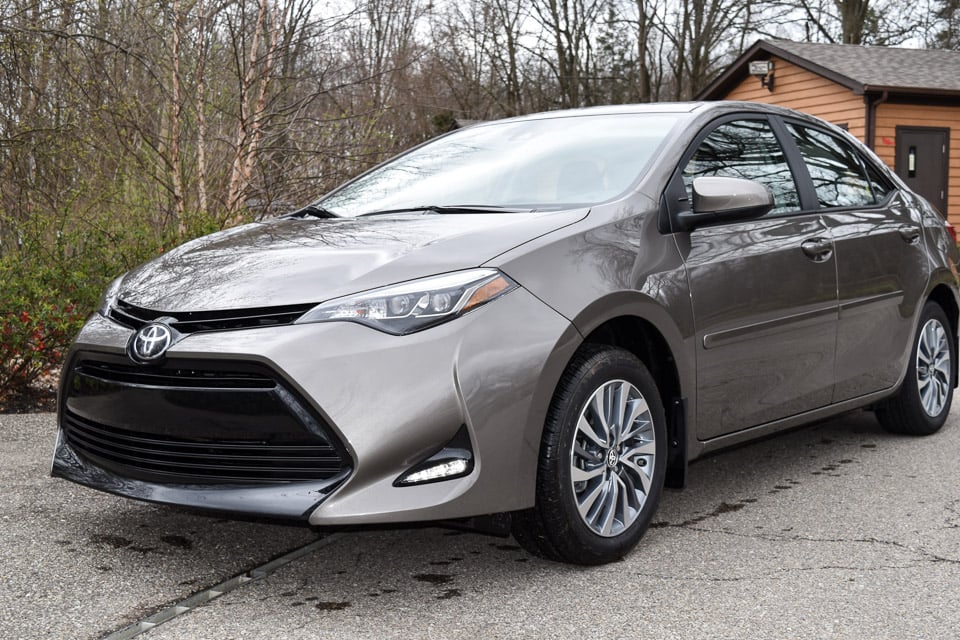 2017 Toyota Corolla XLE

Engine: 1.8-liter, 4-cylinder
Horsepower: 132
Torque (lb-ft.): 128
Transmission: CVT
Drive Configuration: FWD
Top Speed (mph): 111
City/Hwy/Combined MPG: 28/36/32
Curb Weight (lb): 2870
Wheelbase (in): 106.3
Total Length (in): 183.1
Width (in): 69.9
Base Price (USD): $21,825
Price as Tested (USD): $23,451
When you think about it, a car is nothing more than a means to get from Point A to Point B. There are hundreds of choices and certainly personal preferences play the largest role in the consumer demand for cars. But at its most basic, a car is just a means of transportation. It's with this mentality that my tester for the week has thrived.
The 2017 Toyota Corolla is a basic, no-frills transporter. With a diminutive size and small price tag, it's ideal for first-time new car buyers, and those looking for an affordable and reliable daily driver. Notice, there's not a lot of superlatives in how I'm describing the Corolla. That's not to say that it doesn't warrant praise, as it certainly does.
For a car that's been around for 50 years, the Corolla has a history of reliability and has significant sales numbers to back it up. Though it's not as legendary, or as exciting as other cars that have been around for half a century, that longevity shows the formula works for this compact car.
For this model year, the changes are noteworthy. Though it's not considered a redesign, the 2017 version is more appealing than the 2016 version. New for 2017 is a refreshed look both on the inside and outside. Certainly, the looks alone make it better, but the interior changes this model year are a significant improvement.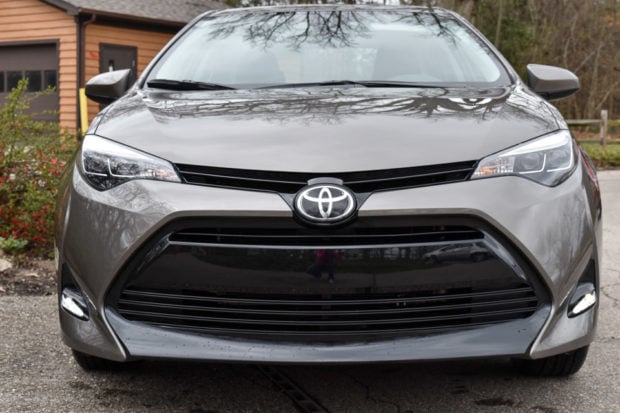 Outside, the Corolla received a minor face lift, including the addition of new LED headlights. There's a touched-up grille to compliment those new headlights and this helps keep the Corolla modern. The grille has a wide-mouthed look and sharp indents where the daytime running lights are. The changes aren't significant, but they're certainly noticeable and an improvement.
The back side didn't see any changes, and is still quite bland. And that's always been the criticism of the Corolla. It's "good enough" or "fine" but not exciting. I can't sit here and profess that the cosmetic changes to this year's model help change that perception, but you can see the Corolla improving and evolving, now into its 11th generation.
Sticking to the theme of simplicity, this year's Corolla has an adequate, but uninspiring powertrain. A 1.8-liter engine makes a paltry 132 horsepower. It's anything but punchy off the line. The Corolla is comfortable at higher speeds, once it gets going, and as a suburban cruiser it's certainly adequate. But for anyone looking for excitement, they won't find it here. New this model year is a continuously variable transmission. Normally that's not a good addition in my book, but with this little four-banger, the CVT keeps things moving well, and doesn't have many of the nuisances of other CVTs I've encountered.
The Corolla is best suited as a city car with its small size. In congested traffic and slower speeds, the Corolla's deficiency in performance is forgiven. The Corolla handles like a commuter car. It won't be exhilarating with responsive handling. The steering is fairly limp. It has a fantastic turning radius and will be outstanding in tight spaces. Parallel parking is a breeze with the addition of a backup camera. All in all, from a performance standpoint the Corolla does what it's meant to do, and doesn't do anything extra.
The Corolla has an EPA rating of 28 mpg/city and 36 mpg/highway. In a week's worth of off-the-highway driving, I averaged 31.8 mpg. For a pokey little car, I was hoping for slightly better fuel economy, but any time you can exceed 30 mpg, that's still fuel-sipping goodness.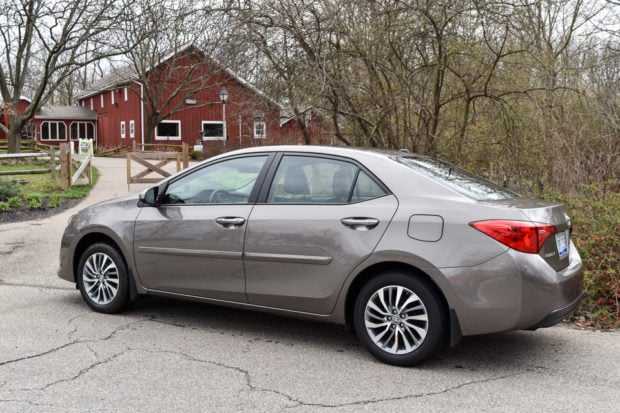 Inside, the changes are tremendous, and this is where the Corolla really is improved and matches or exceeds the interior of its other competition. Prior to this model year the interior was rightfully criticized for feeling and looking cheap. Now, despite its lower price, the interior of the Corolla is far from that. There's a soft-to-the-touch new dashboard, and even the gear shifter and steering wheel feel more impressive than before. The attention to detail on smaller things is what had been lacking in other Corollas.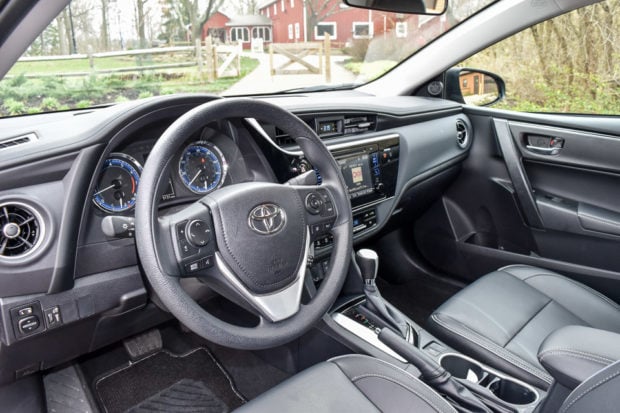 Toyota also cleaned up the center stack and re-organized the infotainment system. They still use their easy-to-use Entune system, but now there's fewer (frustrating) commands on the touchscreen and now there are more buttons. (Note to readers: most of us who spend time in a lot of cars want and demand buttons over touchscreen sliders). The buttons control vital things and help keep the infotainment safe and intuitive. There is one USB port and the system interacts with your smartphone through Apple CarPlay or Android Auto.
The 7-inch touchscreen responds much quicker than the previous generation and the screen presents bright graphics and a simple interface. Through downloadable apps there is Pandora connectivity and even real-time traffic updates for the navigation system.
The seats are comfortable, although lack some lumbar support. I'm not one to crank up the lower back lumbar, so not having this wasn't a big deal. Additionally, as someone who is 5'9", I found the seat positioning ideal, but someone taller would likely feel lacking in the knee room with the location of the seat angle to the steering column. Heated front seats for my Corolla XLE were a nice addition.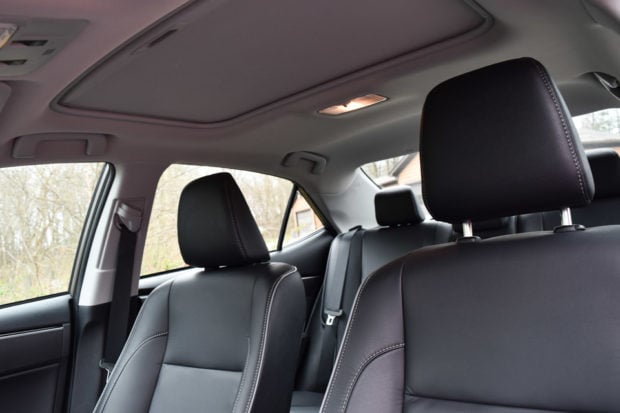 The back seat is adequate and comfortable, for a compact car. There isn't much leg or headroom, but two average height passengers will be fine. The addition of a third passenger in the back would make for a cramped ride, even at short distances. The trunk has a large opening and offers 13 cubic feet of cargo space.
The 2017 Corolla has seven different trims, which is frankly too many. For a basic car, it seems overwhelming for the average consumer who is obviously buying a Corolla for the practicality not for a lot of amenities. My tester was the XLE which upgrades to 16-inch alloy wheels (which do add to the attractive look), a sunroof and faux leather seats, as well as the aforementioned heated seats and 7-inch touchscreen.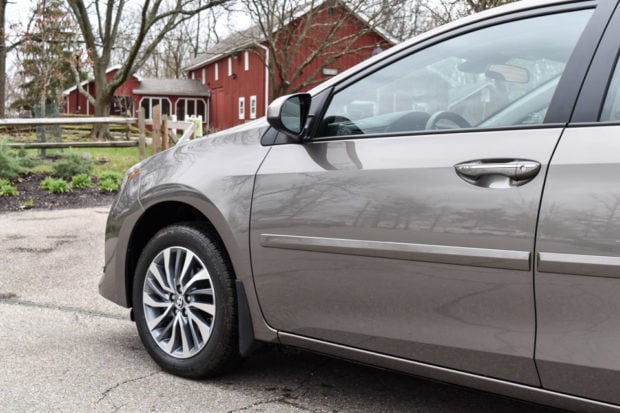 Upgrading to this trim takes the price of the Corolla north of $20,000 which is dangerous territory for an entry-level car. My tester's final price tag was $23,451. That said, many Corollas can be had for under $20,000, with the most basic trim starting below $18,000.
The Corolla has staying power, no doubt about that. It's existed for more than 50 years, so that alone is impressive. So, go ahead and call it bland or boring or anything else. But in that same breath, appreciate the Corolla for what it is, which is a fantastic commuter car that is well suited in urban environments and affordable for almost every family's budget.