Carspotting: 1990 Lotus Esprit
british | carspotting | galleries | lotus | lotus esprit | photos | supercar | turbo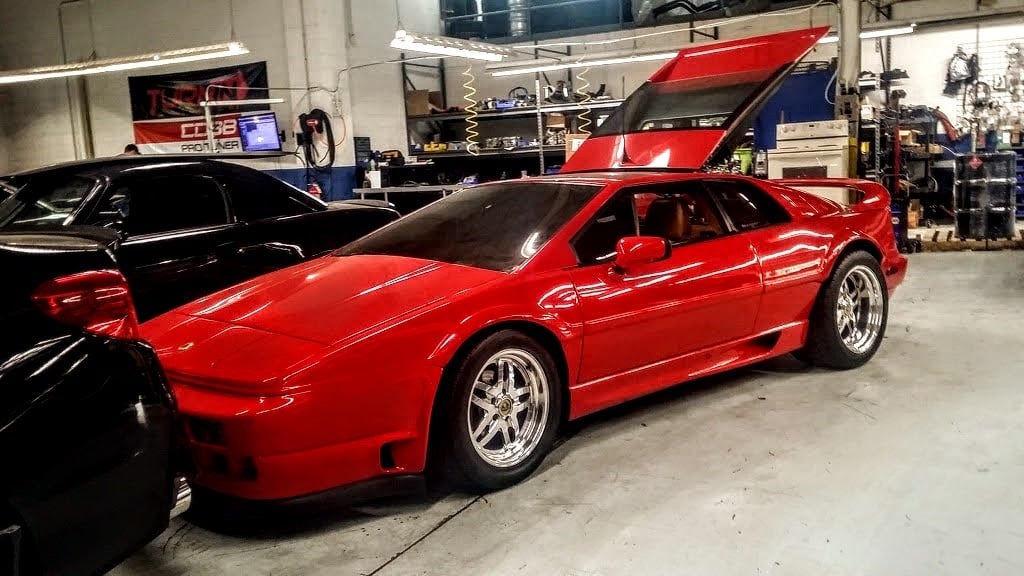 While at a local Cincinnati performance shop the other day, I came across a bit of a surprise. Although you're more likely to see a "hawkeye" WRX on a lift at Subaru specialist Turn In Concepts, it's not uncommon to come across the occasional Porsche or BMW either.
But stumbling upon a turbocharged 1990 Lotus Esprit with a  handful of upgrades, well now that was a surprise. According to the guys over at TiC, the car has been mildly modified with appearance upgrades from later models, and the vehicle's new owner wishes to have whatever was poorly done before fixed, and throw in a little dyno time just for fun. Seeing one of these puppies in the wild is a bit of a treat considering that they are far more akin to attending car shows and the occasional "Brit Day" at cars and coffee.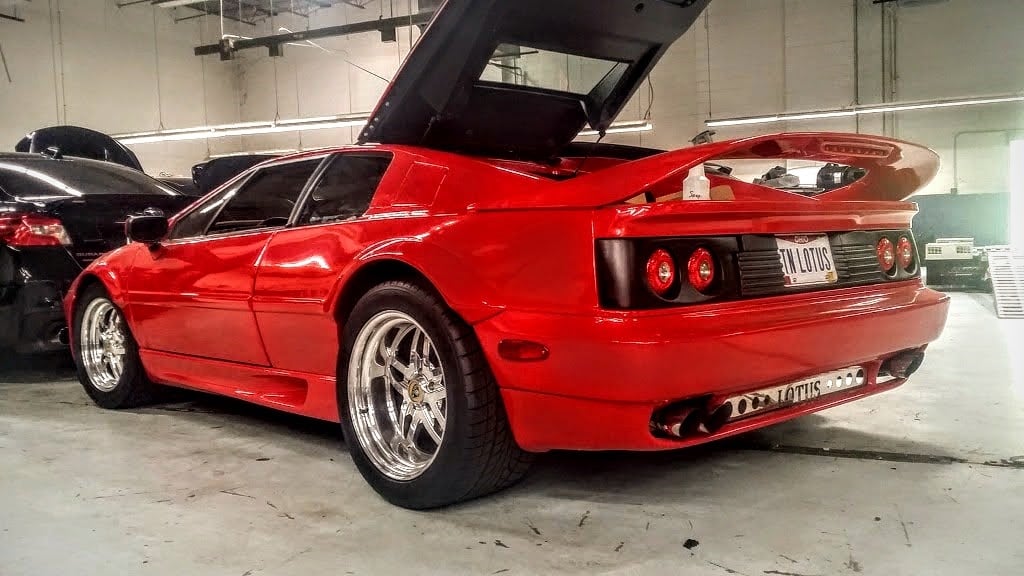 Built by hand by Lotus in Norfolk, United Kingdom between 1976 and 2005, the fourth generation (1987-1993) was designed by Peter Stevens, a man who is more well-known for his role in the creation of the McLaren F1. While it was not until the last leg of its life that the the Esprit V8 came into play, this particular turbocharged four-cylinder 1990 model sports some unique upgrades.  It appears that the previous owner was quite fond of newer Esprit lines, with the round taillights being the most notable modification.
This was the generation that received a Kevlar reinforced body for superior rollover protection and increased torsional rigidity. The car's Type 910 engine was known to hit 280 horsepower on overboost, and could hit sixty from a standstill in 4.7 seconds flat before going on to a top speed of 160 mph. It was at this time in the Esprit's life that several modifications were made to the car's aero as well, like side skirts which run parallel to the body, five air ducts in the front, wing mirrors that were recycled from a Citroën, and the addition of a fiberglass rear wing.
While twin-turbo V8 versions became available after 1996, it's the boosted 2.0-liter GT3 models' ability to be fine tuned that makes it such a desirable commodity. Featuring an upgraded turbo and a handful of other useful goodies, it's pretty obvious that the previous owner purchased some smart upgrades. Unfortunately, there also is a lot that this car still needs too. The old Haltech ECU unit was completely outdated so it needed to be replaced, and the custom intake manifold was not welded together properly. Being that there is no aftermarket option out there for this platform, local Cincy metal specialists Tin Soldiers fabricated a custom unit for the car.
Weighing just a hair over a ton, with a mid-engine layout that's engineered for optimum traction and handling gains, and featuring a powertrain that enjoys being massaged, the Esprit remains one of those obscure speed machines for the privileged. While the chrome rollers are a bit flashy for our taste, we love the pop-up headlights that were rumored to be repurposed from a Pontiac Fiero, along with all of the other oddball bits and pieces borrowed from other cars.
As for identification purposes, at first glance you would assume that this is a late model due to the four Elise II tail light orbs out back, which were standard for the 2002 model year, and remained so up until the badge's demise a couple years later. But the front bumper, side skirts, and far more wedge-like lines tell a different tale, earmarking this custom Lotus as a fourth-gen model. All told, the Esprit had a lengthy, 28-year production run, but being that each one cost a hell of a lot and were hand-built, a grand total of just 10,675 models ever reached the streets.
This version of the Esprit also garnered a little bit of screen time too, with its most well-known role being the hot wheels in the film Pretty Woman. Supposedly both Ferrari and Porsche had declined to have their machines utilized in the film due to the fear of being associated with the solicitation of prostitutes. Lotus however jumped at the chance, and while the Esprit name has never reemerged, we would happily hop in one if Richard Gere pulled up and offered to take us for a ride.