2017 Hyundai Ioniq Review: Small Fry Hits the Big Time
2017 hyundai ioniq | dual clutch | hybrid | hyundai | ioniq | review | Sport Mode | May 17, 2017
Specs at a Glance

Engine: 1.6L 4-Cylinder
Horsepower: 139
Torque (lb-ft.): 195
Transmission: 6-speed Ecoshift Dual Clutch Automatic
Drive Configuration: FWD
0-to-60 Time (secs): 8.9
1/4 Mile Time (secs): 16.9
Top Speed (mph): 116
City/Hwy/Combined MPG: 55/54/55
Curb Weight (lb): 3,173
Wheelbase (in): 106.3
Total Length (in): 176.0
Width (in): 71.7
Base Price (USD): 23,950
Sitting at a stoplight, smoothie in hand and eyes upon the interstate, I prepare myself for the inevitable on-ramp agony that was surely about to occur. I felt bad for the M3 owner behind me, who was halfheartedly revving his engine, passive aggressively pushing forward with an approach that said, "Stupid hybrid. Why can't there be a dumb car lane again?" 
Not wanting to be an albatross along the on-ramp, I slap my Hyundai Ioniq SEL into Sport mode in the hopes of milking the microscopic powertrain for all it is worth. The light turns changes and I hammer the throttle with every ounce of might I can muster, and something unexpected suddenly happens. Without warning, the little green machine revs to redline and rockets forward, as hungry engine sounds and a spat of tire chirp announce my departure from the line. Mr. M3 is suddenly banging gears trying to keep up, and the Hyundai Ioniq has just put a grin on my face that's a mile wide.
Here is a hybrid that doesn't play by the same rules as the rest of the fuel sipping segment, but prefers to take driving into its own hands and instill an old school sense of urgency into the way in which it behaves. It may be as calm as a cucumber when cruising down the interstate in Eco mode, sipping fuel to the tune of 55 miles-per gallon and refilling its battery supply with brakes that are neither vague nor noisy. But pop this little puppy into Sport mode and things actually change for the better, with throttle, steering, and gauges serving as the core components that get recalibrated in order to make the commute a little less mundane.
For an entire week our little SEL level Ioniq went to great lengths to win us over with its balanced approach to hybrid hatch living. Unlike Toyota's recent revamping of the Prius, which offers outstanding tech advancements, and one of the most polarizing takes on sheet metal work in history, Hyundai has gone with a far more subtle approach, and for the most part it works quite well.
Body lines are distinctly Hyundai, so Elantra lovers will have reason to rejoice. Both front and rear receive a mild amount of LED futurism, and with touches like active grille shutters and puddle lamps in the mirrors practicality remains a core component. You won't be turning a lot of heads in an Ioniq, but that's precisely why it's designed to look this way. It's a futuristic machine that's engineered to blend in anywhere it goes, so embrace the subtlety of it all, because that modest motif continues its tour inside the cabin.
Opting for an SEL model gets you all manner of upgrade over the base "Blue" trim line Hyundai offers, and looking the cabin over you will see that this is basically an Elantra with a handful of hybrid exclusive features. While it may not boast a futuristic feel like the Prius Prime, the Ioniq's focus on straightforward practicality makes for a very compelling reason to consider one.
Take the way in which Hyundai has snugly stored its batteries beneath the back seat, while still allowing the rear bench to seat three passengers. Folded flat, this same space reveals a large amount of cargo room, complete with a hatch that features load heights and widths that are pretty damn outstanding. While we would have liked to have seen a full fold-flat configuration for even more storage, the fact that Hyundai has been able to keep both trunk and rear seat space intact is impressive to say the least.
Up front, drivers get full reign over things like dual-zone climate controls (complete with a nifty "driver only" setting), a well proportioned D-cut leather steering wheel, multiple monitoring systems for boosting mpg best practices, and a simple yet incredibly useful digital gauge cluster. The front row also snags extras like heated seats, Hyundai's tried and true 7-inch touchscreen, Android Auto/Apple CarPlay integration, and volumes of space for larger adults. While we would have liked to have seen a little more room for those riding in the back, it's hard to ding the Ioniq for what it has to work around back there, which is a massive amount of hardware buried beneath the rear bench.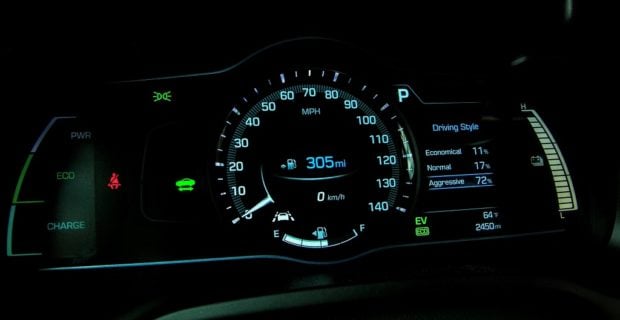 It may be a very functional cabin, but it misses a lot of key marks when it comes to the fundamentals and finishing touches, starting with the way in which the rear bench folds. For all intents and purposes, we live in an age where many rear cabin seatbacks can be set flat in a 40/20/40 position, which in a hatchback of this size provides a useful amount of spare space. Unfortunately, the Ioniq sports a a rear seat that folds in a 40/60 manner, so minding your toddler in the back and transporting a load of DIY supplies from the local hardware store can be a challenge.
Pocket space remains minimal in both number and size behind Chevy's Bolt/Volt alternatives, the center armrest is devoid of mounted USB ports and is unnecessarily small. While the hard plastics appear to be well-made and assembled they are overabundant and bland looking. Another issue I ran into was that without the aid of a rear wiper, visibility toward the back of the hatch can be quite spotty in the rain, an issue that is only compounded by the bulging C pillars and the lack of 360-degree camera shots.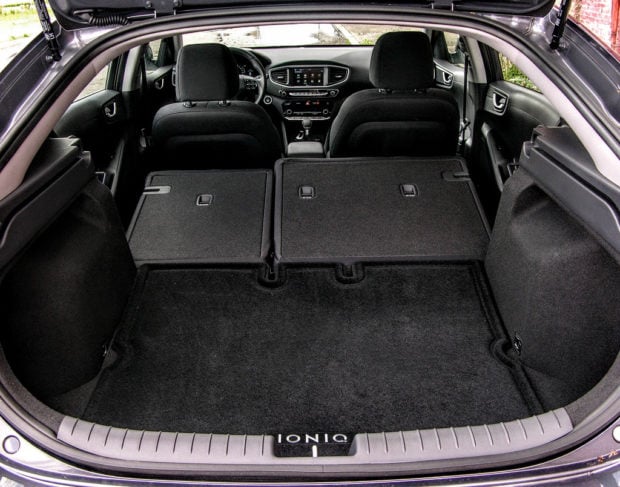 Having to unlock the front door prior to gaining keyless entry to the rear was another surprising miss that seems small but is entirely counter intuitive, along with the Michelin Energy Saver Green X tires, which have the ride feel and road noise of a carriage from Oregon Trail. Either cough up the cash for the 17-inch clad Limited model (a modest $27,500), or purchase a separate set of alloys and equip them with more ride-friendly rubber. Chances are that both fuel economy averages will hover around the same meter mark, and both your passengers and your posterior will thank you.
Yet even with all of these minor setbacks, the Ioniq preserves its place as a lovable underdog in the hybrid hatch segment. It's an aluminum suspension-equipped stealth machine that isn't afraid to slurp a little extra fuel on the interstate in order to make sure you can safely run in EV mode around town later. It doesn't harbor an overtly bizarre brake feel, or all the noise that certain hybrids make in their regenerative state, and while it may not be sporty in regard to steering, handling, or accelerating, it still manages to provide a rewarding drive.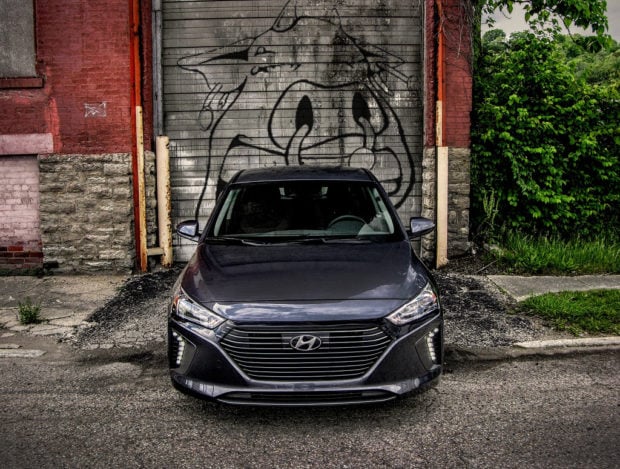 Back on the interstate, I pop the Ioniq back into normal mode, engage the tech package equipped Ioniq's Smart Cruise Control, and let Mr. M3 blast past. This vehicle truly is a solid start for Hyundai, and while some may favor its Kia doppelganger, the Niro, there is a sense that the automaker is already off on the right foot with this one.
With full plug-in options becoming available later in 2017, a 10-year/100,000 mile warranty for both powertrain and hybrid system, as well as an industry leading lifetime warranty on the hybrid battery itself, Hyundai has played its hand wisely by sticking with what it knows already works. Plus, it's impossible to ignore the value one finds within the Ioniq, because even with a thousand-dollar tech package upgrade, the SEL version only tops out at $25,910.
But while it may be a delightful option for a plethora of different kinds of green car buyers, the Ioniq won't ring all the right bells for everyone. We suggest driving one now in order to get a feel for what it offers when pitted against the rest of the segment, and then wait to see what it looks like when the next generation rolls around. Only then do we get the feeling that if Hyundai can retain its class-crushing efficiency, value, warranties, and surprisingly rewarding performance perks, it might have what it takes in order to finally dominate the the hybrid market.