2017 Volvo V90 Cross Country Review: Best Wagon Ever?
awd | leather | performance | station wagon | supercharger | sweden | turbocharger | volvo | volvo v90 | June 1, 2017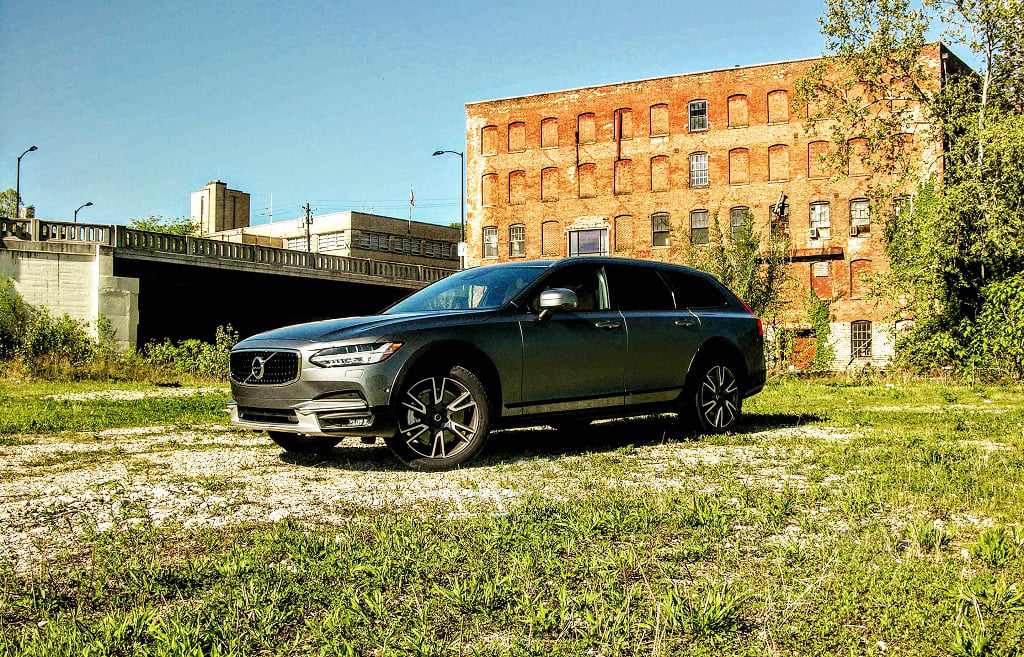 Specs at a Glance

Engine: Supercharged and Turbocharged 2.0-liter 4-cylinder
Horsepower: 316
Torque (lb-ft.): 295
Transmission: 8-speed Geartronic Automatic
Drive Configuration: AWD
0-to-60 Time (secs): 5.8
1/4 Mile Time (secs): 14.3
Top Speed (mph): 130
City/Hwy/Combined MPG: 22/30/25
Curb Weight (lb): 4,250
Wheelbase (in): 115.8
Total Length (in): 194.4
Width (in): 75.9
Ground Clearance (in): 8.4
Base Price (USD): $55,300
Price as Tested (USD): $64,640
Station wagons have become quite the anomaly here in America, and for damn good reason. The minivan surprise attack of the 1980s was quickly followed by an SUV punch, and once crossover and hybrid sales began to climb, the quintessential family mover of yesteryear appeared to be on its last leg at the turn of the millennium.
But right when it seemed like the station wagon was starting to spiral dangerously close to the drain, a champion emerged, giving new meaning to the term "utilitarian." Subaru's Outback had begun to shed its inexpensive, utterly bland internal touches, and was edging its way toward the more luxurious end of the segment, all while retaining a dedicated sense of symmetrical all-wheel drive off-roading enthusiasm. It was a move that turned Outback drivers into an even more avidly dedicated group of owner, something that no one thought possible, and with them came a fresh round of road trip-ready grocery-getters.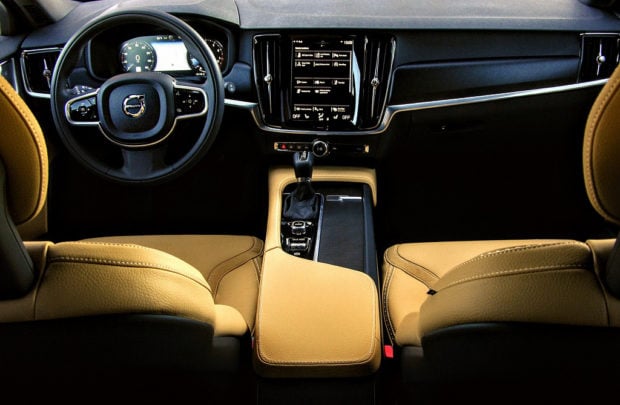 This is where today's review vehicle steps in, because as synonymous as the name Volvo is with station wagons and safety, it's a brand that has struggled in recent years to identify with luxury buyers. Their interiors were comfortable and well made, but not 100% luxury grade. Autonomous tech features were present, but remained poorly thought-out or incomplete. And if you took a loaded model and put it next to the top-tier version being offered from Subaru, chances are the Subie would come close to scoring the same hits in the right places.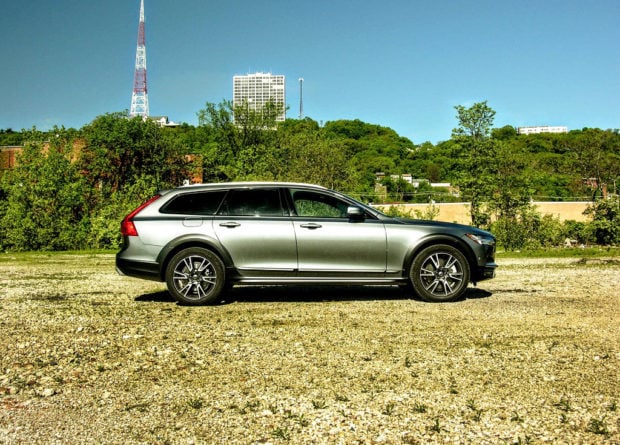 Sick of being respected but not coveted, Volvo has taken a fresh approach to automaking, and has generated a very convincing lineup of new vehicles. Take the V90 Cross Country T6 for instance. While all of the station wagon sensibility one might expect remains intact (along with a metric mess-load of nifty new features), Volvo has gone further than one might expect. The Swedish sex symbol threw one of the best interiors imaginable at the V90, then lifted it two inches, slapped on some rubber hiking boots, and gave it a bunch of brawn beneath the bonnet. And that's just for starters…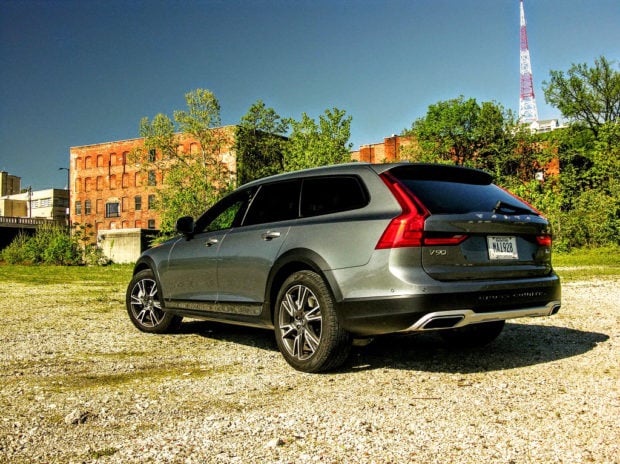 First of all, this isn't just some upper middle-class housewife's hatch, because when you come across a V90 in person you'll find that it oozes with masculinity. From the broadly-ported dual exhaust beneath the sharp beltlines out back and the "Thor's Hammer" LED tubes across the headlamps, to the concisely drawn snout and multilayered lower air dam in the front, the V90 plays a patriarchal power move quite nicely.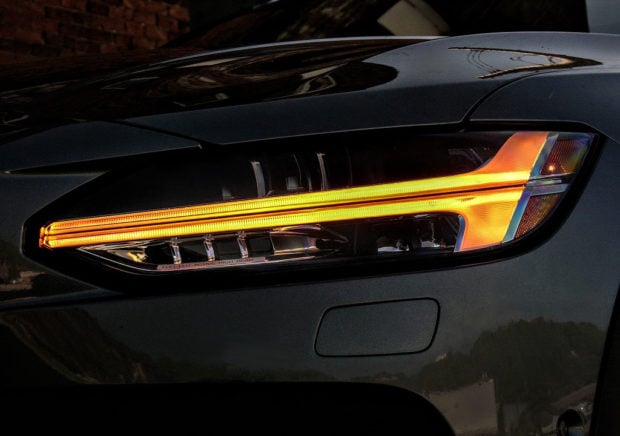 It's also no small Swedish meatball either. With a footprint that stands 60.7-inches tall by 194.4 inches long, the lifted Cross Country and its 4,250 pound curb weight features a footprint that is about 15-inches longer and almost 6-inches wider than the average Golf AllTrack. Toss in those distinctly high beltlines I mentioned earlier, which protrude forcefully outward as they taper toward the rear, and you've got a vehicle that provides SUV-like road presence.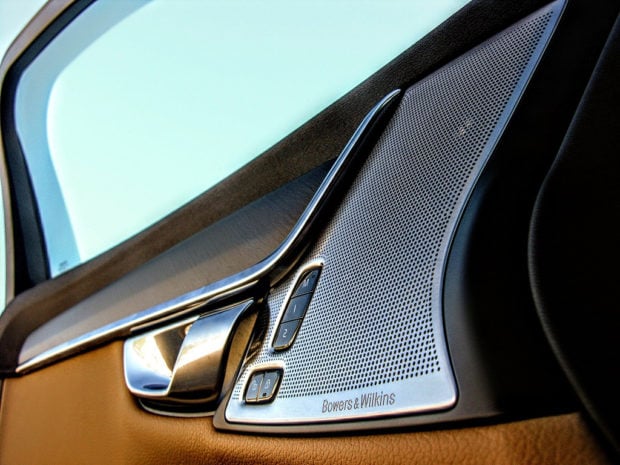 But lever a door open and that's when things get interesting. Volvo has taken a sweepingly simple Swedish cabin, and turned it into a sanctuary-like reality like no other. It's a beautifully stitched seating experience that reminds you that luxury brands are built a certain way for a reason, and that in the V90 you truly do get what you pay for.
The quality of materials stuffed inside and the ease of use associated with such a minimalistic approach adds both practicality and purpose to any commute, and save for the vent adjustment knobs everything in the cabin felt outstandingly well-made. Expounding upon how comforting those signature leather seats feel is merely a futile attempt at communication, because for someone to truly understand how stellar the cabin of the V90 is and how it behaves one must first ride in one at night.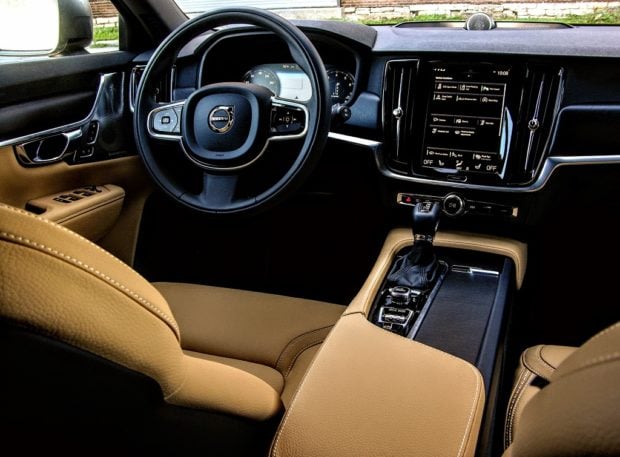 Unlike many other automakers, many of whom prefer to place brilliant white LED welcome lights and dome accents everywhere, Volvo leans toward a more warming sweep of the lighting spectrum. It's a subtle nod to those of us who wince every time an overhead light in a car causes a sleeping toddler to wake, and with the optional integrated child seat feature, nodding off has never been easier. Volvo may have upped its looks and performance a bit, but there's one thing that has remained present across the entire line since day one: It's a brand based upon and around family life.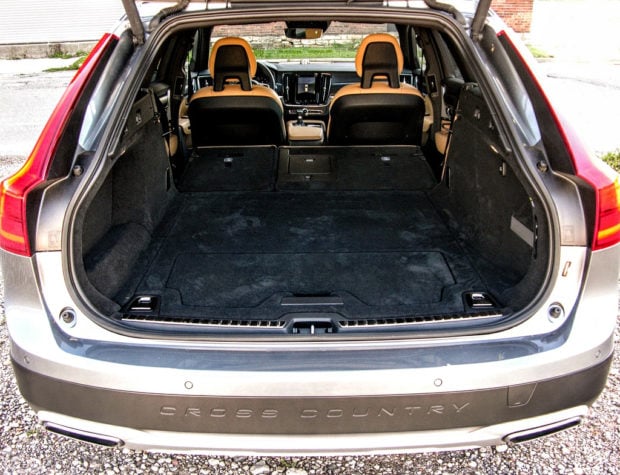 Child-rearing thoughts aside, once you fold everything flat and discover the handy elastic tiedown in the center of the rear hatch floor, you suddenly realize that DIY trips down to the local lumber mill are still a possibility in this thing. Spacious, smartly designed, and as sturdy as the hinges of Hades, it's a craftily carved cargo hold that is only bested by one thing: What waits for you behind the wheel.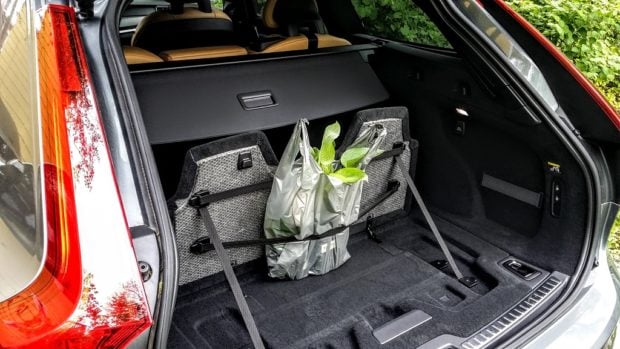 From a driver's viewpoint, the V90 looks all the world like an area that is brushed with leather, firm black plastics, stamped metal Bowers & Wilkins speaker covers, and beautifully crafted wood trim. But twist that ornate knob in the middle and digital screens suddenly stretch across those dark plastic voids behind the wheel and along the center stack, while heated leather surfaces radiate to life. You are now in control of an all-wheel drive vehicle packing 316 horsepower and 295 foot-pounds of torque, all courtesy of the notion that attaching both a turbocharger and a supercharger to a T6 2.0-liter engine is a bright idea.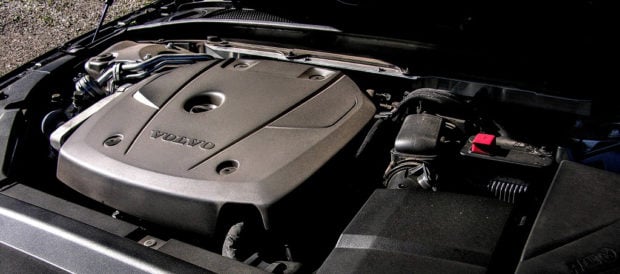 But brilliance doesn't even begin to grasp how spot-on this powertrain truly is. Despite looking like it teeters around on stilts for fun, the Cross Country remains a fairly flat driving experience, and with multiple drive modes encouraging light or lead-heavy driver engagement, it's no wonder why critics consider the T6 version of the V90 to be a blast. Devoid of turbo-lag, and itching to turn, you quickly forget that you are commanding one of the safest and smartest family cars on the market today. Well, at least until your better half tells you to tone it down a notch.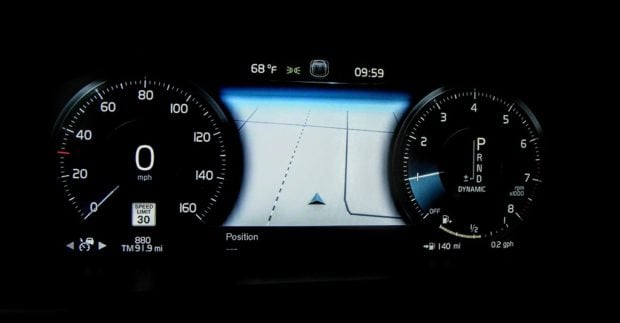 Forever ready for a brisk jaunt, smartly styled and stuffed with all manner of autonomous safety feature, and rocking a vertical touchscreen that's crammed with useful toggles and camera views, the V90 appears to be quite the unconquerable war wagon. Although its raised height and unnecessary external accents might turn some shoppers off, and the absence of a heated rear bench is bothersome, very little about this car is amiss.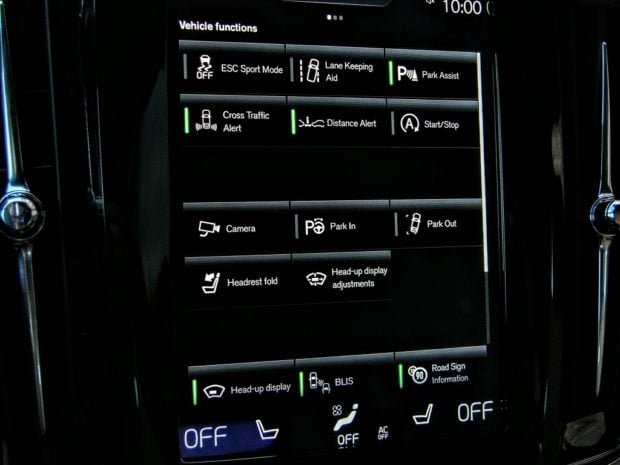 So unless you are adamant about owning a minivan, or are completely hung-up on the fact that you can get a loaded Audi Q7 for about the same price, the air-lifted version of the V90 Cross Country T6 deserves to be on every small family's shopping list. With all of those fun upgrades resting atop an already proven family-focused ideal, the only thing luxury buyers need ask themselves now is two-fold. Do you really need an SUV? And do you have what it takes to spearhead a station wagon revolution? You decide.