2017 Jeep Grand Cherokee Summit Review
jeep | jeep grand cherokee | June 3, 2017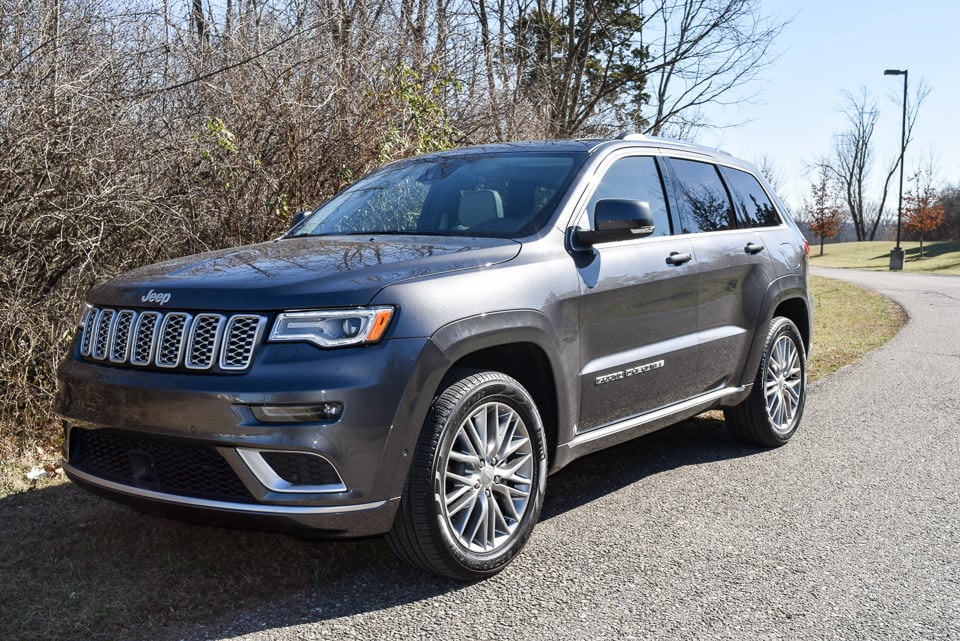 2017 Jeep Grand Cherokee Summit

Engine: 3.6-liter V6
Horsepower: 300
Torque (lb-ft.): 260
Transmission: 8-speed automatic
Top Speed (mph): 125
City/Hwy/Combined MPG: 18/25
Curb Weight (lb): 4,330
Wheelbase (in): 114.8
Total Length (in): 189.8
Width (in): 76.5
Base Price (USD): $53,395
Price as Tested (USD): $60,675
Jeep's brand identity is entangled with the Wrangler. While the Jeep name has certainly become synonymous with that off-roader, just as you Xerox something, or fill your Thermos, or blow your nose with a Kleenex, that's not a bad thing. But it also only tells part of the story. Another well-respected name in the Jeep stable is the Grand Cherokee. And certainly, after nearly 25 years in existence, the Grand Cherokee has earned its proud position on the Jeep mantle of products. The steady and sturdy SUV continues to evolve and remain a viable member of the Jeep family and a model member of the SUV community.
In this era of crossovers and slightly raised station wagons being called SUVs, the Grand Cherokee is a proper SUV through and through. It's ideal as a daily driver and family mover, but still holds onto its rugged heritage with a tip of the hat to the Wrangler.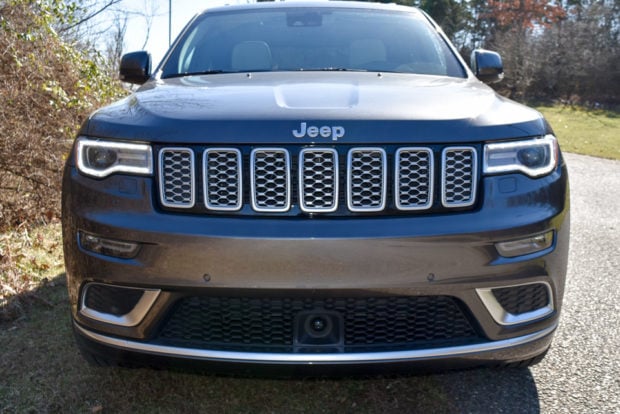 Jeep has done a tremendous job of making their product line versatile and offering vehicles that are fine for the asphalt but also giving an option to get them a little dirty at times too. For that very reason, there's now a Trailhawk trim, which is the most rugged Grand Cherokee on the market. My tester came in the Summit trim which has four-wheel drive and driver select options for changing road conditions. It's ideal as a daily driver, in all weather conditions.
The Grand Cherokee has legitimate SUV looks. It's stout with a boxy design. For me, this is a good thing as today's crossovers are little too bubbly for my liking. And, the waterfall-like grille is always distinctive on the road. The Summit trim adds a little more appeal to the overall aesthetics. The blacked-out grille really adds an appealing look to this vehicle. For a vehicle that's knocking on the door of three decades, the Grand Cherokee still is a timeless beauty. And Jeep is a brand leader in aftermarket parts and options, meaning you can customize the Grand Cherokee into something with even more personality. Although, my tester had a ruggedly handsome appearance straight from the factory.
There are three engine options: a 3.6-liter V6 (tested here), a powerful 5.7-liter V8, and a turbocharged 3.0-liter ecoDiesel. An eight-speed transmission is standard and is the best gearbox FCA has offered in years. It offers well-timed, seamless shifts.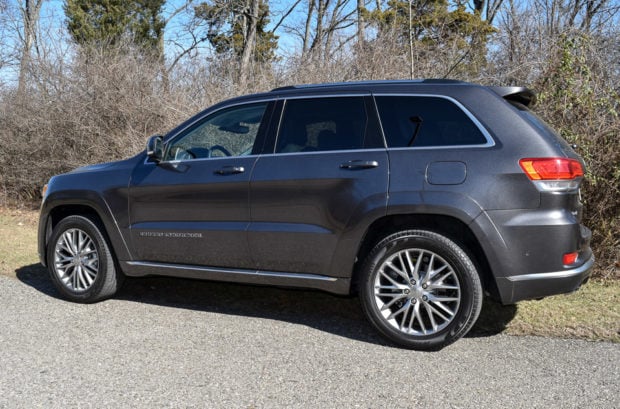 With the 3.6-liter engine, the Grand Cherokee offers what you expect from an SUV, but doesn't go the extra mile to add anything special to it. The naturally-aspirated 300 hp-engine is adequate, but uninspiring, especially off the line. It's adequately powered, but not overly exhilarating either. I'd be interested to see how the turbodiesel performs, with its impressive 420 lb-ft. of torque.
The terrain select mode is great for snowy or wet roads and makes the Grand Cherokee a superb choice for Midwest drivers. It has a towing capacity ranging from 3,500 pounds to 7,400 pounds.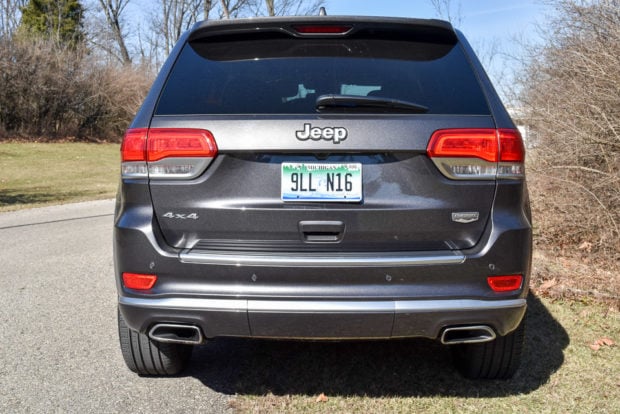 The 3.6-liter V6 Grand Cherokee has an EPA rating of 18 mpg/city and 25 mpg/highway.  In a week's worth of driving, I averaged about 20 mpg. The turbo diesel engine gets the best fuel economy.
Whereas in year's past, Jeep might have sparsely appointed interiors or harder plastic materials, my tester was loaded with high-quality materials. The five-passenger SUV came with leather seats in the front and back. The front seats are both heated and cooled. The rear passenger room is fantastic. Two adults and one child could comfortably fit in the back with plenty of leg and shoulder room.
Behind the back seat, there's 68.3 cubic feet of cargo room. This puts the Grand Cherokee near the top of the segment and shows one of the many appealing features for this SUV. Load up the soccer equipment for a weekend tournament or put some luggage back there for a weekend getaway.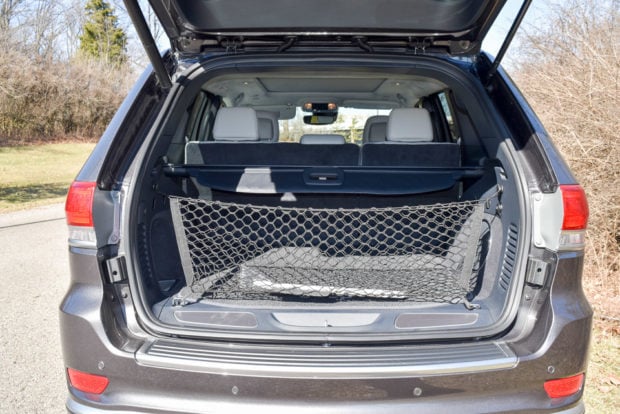 I'm critical of many infotainment systems as being too engineered, or not responsive or just plain confusing. That's not the case with the Grand Cherokee's infotainment system. In fact, FCA makes the best infotainment systems, in my opinion. The 7″ UConnect touchscreen is responsive, intuitive and looks attractive on the touchscreen. Plus, there's a good blend of knobs and touch sliders. And when you tap the screen it actually responds. The user-friendly system elevates the Grand Cherokee in my book above some of its competition. The optional 19-speaker Harmon-Kardon sound system is the icing on the cake.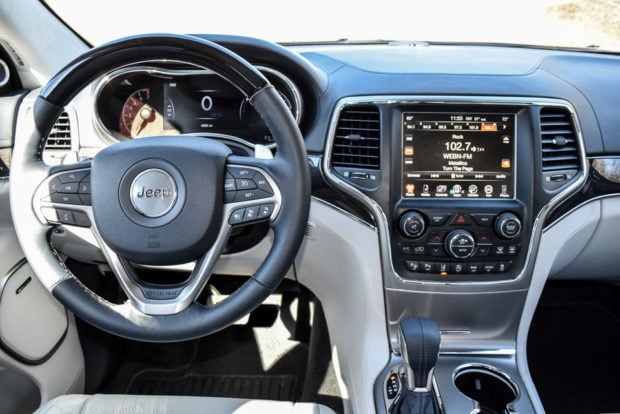 The Grand Cherokee has a number of available trim levels, including Laredo, Altitude, Limited, Trailhawk, Overland, and Summit. The souped-up SRT and forthcoming Trackhawk trims are so different that they should be treated as different vehicles altogether. My tester was the top-of-the-line Summit. It has an MSRP of $53,395 which is extremely expensive for a non-luxury SUV. With options like 20-inch wheels, skid plate, blacked out grille (which looks so sexy), and premium leather, my tester had a final price of $60,675. That's nearly twice the price of a base Grand Cherokee Laredo 4×4.
In this regard, it's hard to justify such a price for a non-luxury SUV, even though, my tester, as it was trimmed out, was sharp and high quality.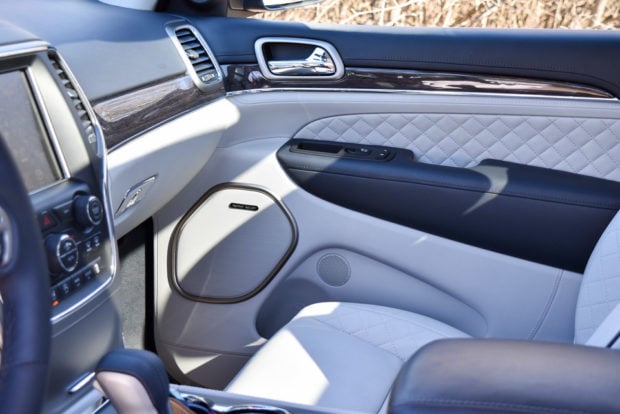 The versatile Jeep Grand Cherokee shows it has staying power within an expanding and competitive segment. It leaves no doubt that it is a capable, rugged SUV, not some posh, urban dwelling crossover, as is so common with today's SUVs and crossovers. It is certainly worthy of the Jeep badging and the rugged Jeep brand.