2017 Mazda CX-3 GT Review: Living the AWD Miata Mindset
Automatic | awd | GT | mazda | mazda cx-3 | Skyactiv | June 4, 2017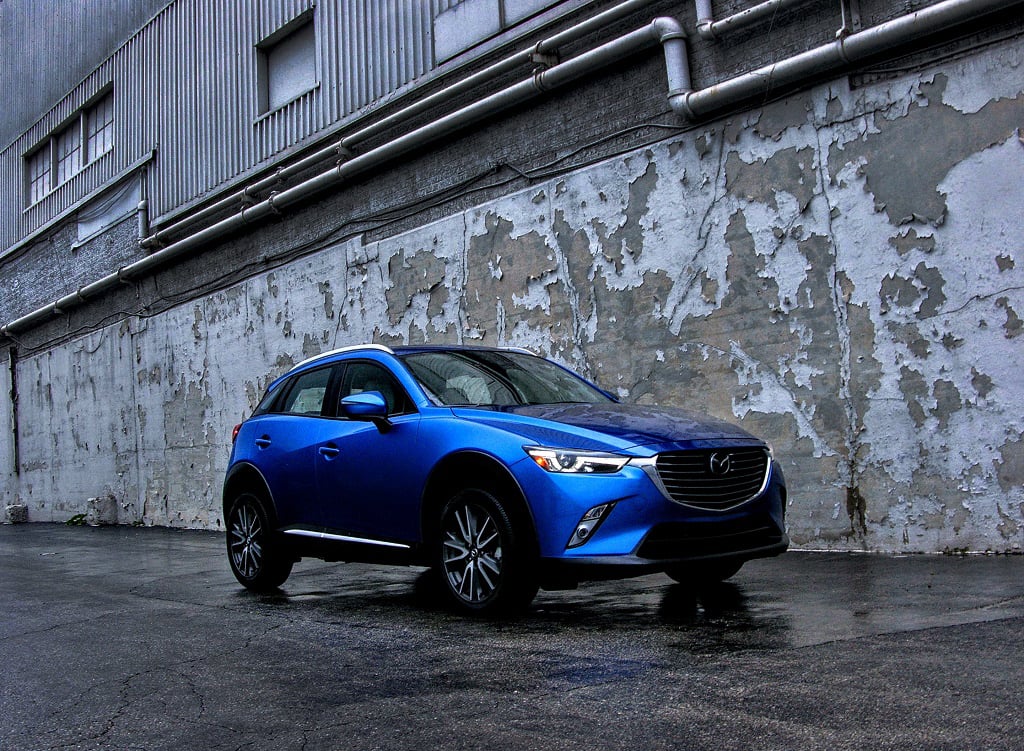 2017 Mazda CX-3 GT

Engine: 2.0-liter 4-cylinder
Horsepower: 146
Torque (lb-ft.): 146
Transmission: 6-speed automatic
Drive Configuration: AWD
0-to-60 Time (secs): 8.1
1/4 Mile Time (secs): 16.3
Top Speed (mph): 120
City/Hwy/Combined MPG: 27/32/29
Curb Weight (lb): 2,950
Wheelbase (in): 101.2
Total Length (in): 168.3
Width (in): 69.6
Base Price (USD): $26,240
Price as Tested (USD): $28,810
To be completely honest, I was rather looking forward to revisiting Mazda's micro-sized CX-3 crossover. It had been about a year and a half since I last reviewed a Touring model, and was overjoyed when I saw the "Dynamic Blue Mica" GT version roll into my drive. Just a mere glance at this CUV proves that Mazda has succeeded in instilling its "Kodo" design language within every automobile it makes, and that the crossover market demands a Skyactiv-powered contender.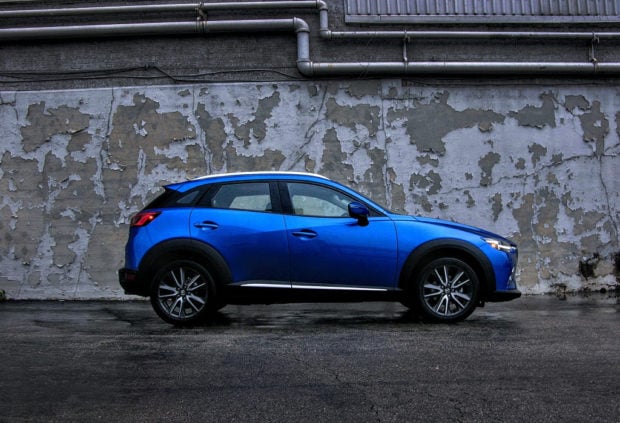 But we'll get to the powertrain point of today's topic in a moment, because right now it's time for a little Mazda worship, and true to style, the GT badge brings all manner of outstanding amenity. It's a leather-clad, Lux suede-loaded transporter that frolics around town with plenty of style courtesy of its striking lines, 18-inch alloy wheels, and impressive LED lighting display. If the all-new CX-5 were the younger sibling of the utterly outstanding CX-9, then the CX-3 is the hyperactive baby cousin.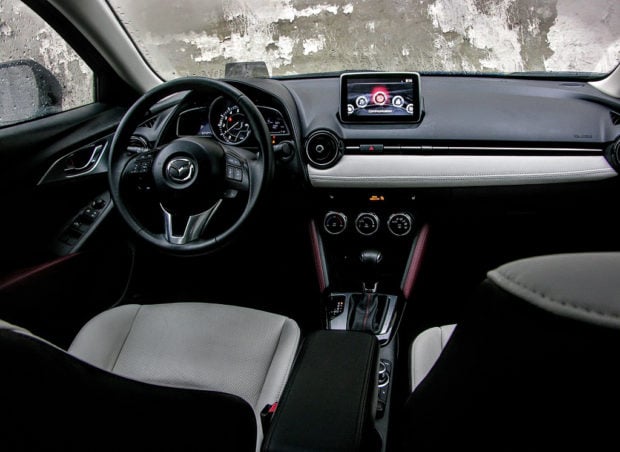 That dedication to Kodo design has brought forth a level of continuity within the brand that is impossible to ignore, and in the CX-3, that translates into retaining the lines we love in its two larger family members, and then adding some Mazda 3 flare. The cabin may be a bit on the small side, but it is sturdily assembled, well laid-out, and comes with all of the style one expects to find in a modern Mazda. In GT trim that translates into receiving things like heated seating surfaces up front, a folding "fighter pilot" HUD, leather touches aplenty, and aluminum accents within door inserts.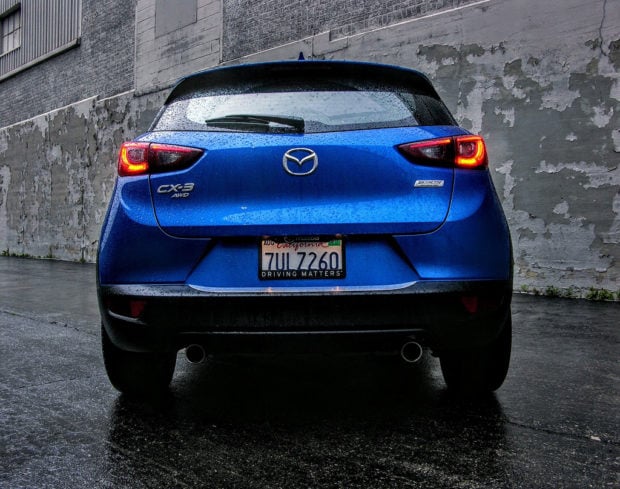 My loaner for the week also came equipped with Mazda's "GT i-Activsense Package." This $1,170 upgrade gives buyers things like radar cruise control, emergency brake support for slow and fast speeds, variable wipers, lane departure warnings, and auto headlamps with high beam control. After a week-long test all of these systems consistently worked well, even if they were a little jerky at times. Similar to what I have encountered in other models offered by the brand, you get the feeling that Mazda has all the right safety tech in place, all it needs is just a hair of refining.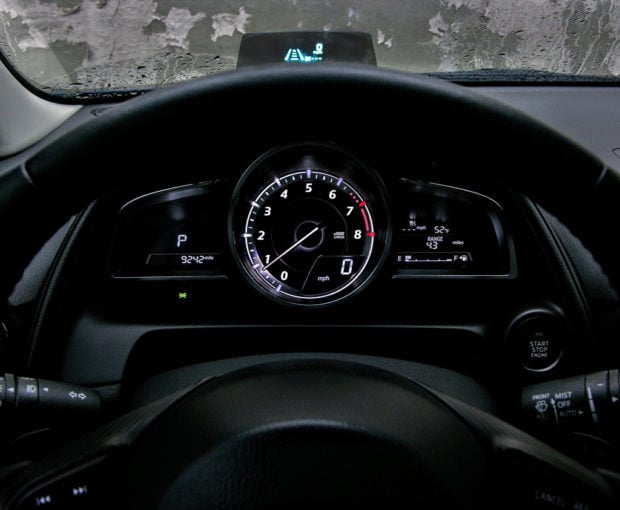 But don't expect a full "hands-off approach" to puttering around town here, folks. Mazda has implemented a slogan stating "Driving Matters" for a reason. They want you to be safe, but they also want you to enjoy the drive, so don't assume that the CX-3 is going to shuttle you around with minimal driver input. That Sport switch in the center console is there for a reason, and you would be foolhardy not to flip it.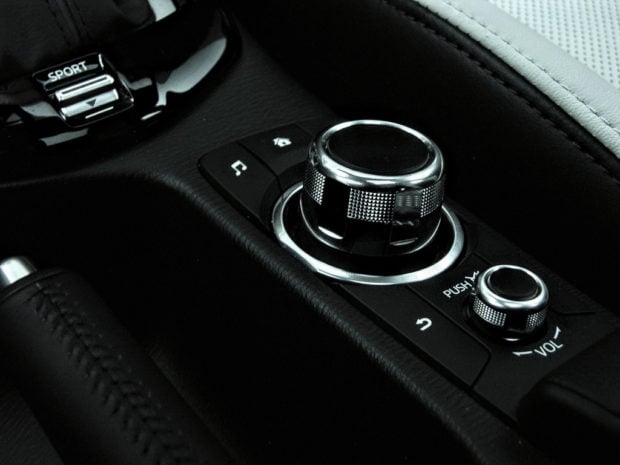 Although the steering inputs and agility of the larger Toyota C-HR remain tough to beat, the peppy little CX-3 returns one hell of a fun driving experience when throttled. While a manual version would still be far more enjoyable, the 6-speed automatic puts all 146 horsepower and the matching amount of twist to the pavement securely via all four wheels. And while it may not be as large as other vehicles in the segment, there is enough ground clearance here to give buyers the ability to venture off-road and over the average plowed snow drift without incident.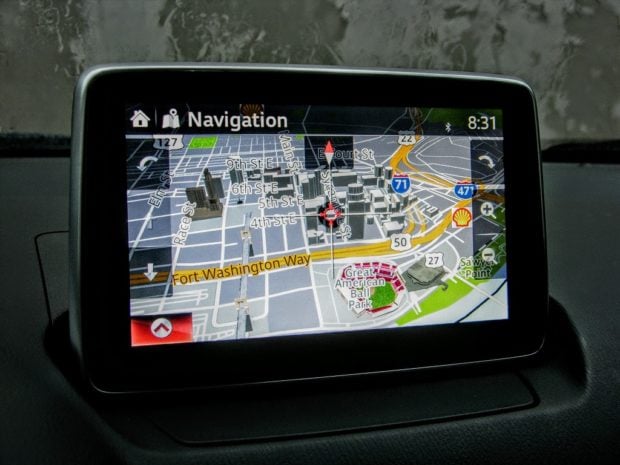 Another notable win for the CX-3 is its infotainment setup, which has been upgraded internally in order to be faster, more helpful, and less buggy. In the GT, this means you get a fixed 7-inch center screen, loaded with 3D maps that feature both colorfully detailed landmarks, nondescript gray structures, and a very intuitive interactive experience. There's also a stylish and simple driver display that cycles through specs and temps with ease, all beneath a glowing HUD flip-up display. It may not be as detailed or svelte looking as say Audi's virtual cockpit, but for the money it's still pretty tough to beat Mazda's infotainment.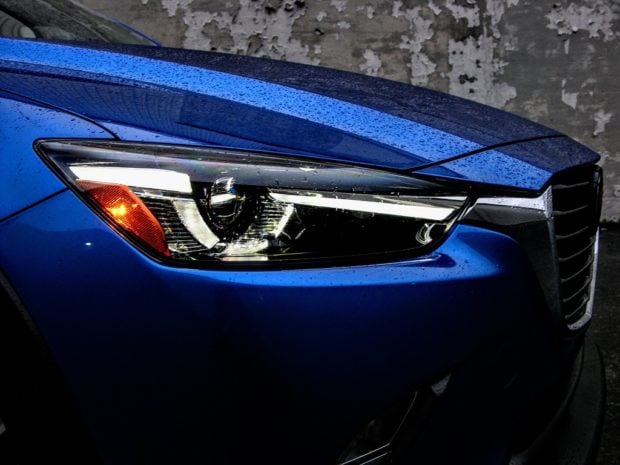 Once combined, the CX-3 GT's array of styling, versatility, efficiency, fun, and safety make it an extremely sharp alternative to other CUV options in the segment. Naturally, you can't buy one expecting a ton of stow space or various traction settings, but with the optional roof rails and AWD on board many buyers won't find themselves wanting either.
Complaints with the CX-3 are practical and tactile oriented. Only the driver gets an automatic window, the center armrest blocks access to beverages, there is no "Eco Mode," the Bose audio setup is lacking to say the least, fake carbon accents are everywhere, and storage space is easily overshadowed by the Honda HR-V. There also is the issue with the blind spot warning system, which only activates when someone is passing you. This can be troublesome because it doesn't give the driver the ability to use the system when it comes time to merge after passing on the interstate.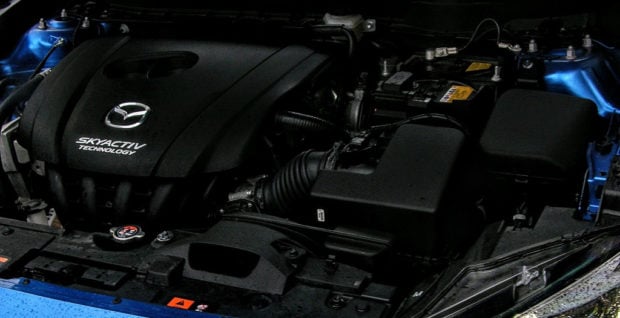 Despite having a few first foray flops, the CX-3 shines with ingenuity, enthusiasm, and authenticity. It's a lifted Mazda 3 with Miata-like aspirations, both of which make it far more compelling to drive than one might expect. Safety-wise this little rascal is a solid winner as well, landing an overall 5-star government safety score and an IIHS "Top Safety Pick+" rating when equipped with all those tech goodies.
Mazda's CX-3 may not be the ideal CUV for every shopper, but it certainly is an impressive addition to a solid lineup being offered by the brand. So if you drive a GT version this week and find that it doesn't live up to the hype, don't worry, there eventually will be upgraded versions available, and at this rate the next generation of the CX-3 might prove to be utterly unstoppable.