2017 Honda CR-V Review: Trusty, Fuel Sipping, and Practical
2017 | honda | honda cr-v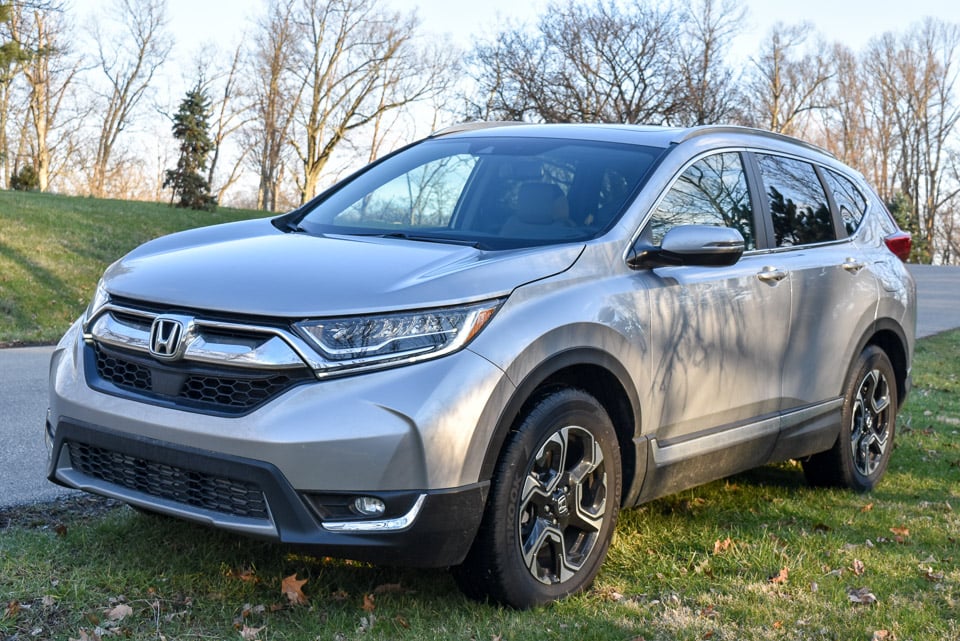 2017 Honda CR-V Touring

Engine: 1.5-liter turbocharged 4-cylinder
Horsepower: 190
Transmission: CVT
Top Speed (mph): 124
City/Hwy/Combined MPG: 27/33
Curb Weight (lb): 3,512
Wheelbase (in): 104.7
Total Length (in): 180.6
Width (in): 73
Base Price (USD): $33,795
Price as Tested (USD): $33,795
There's a very common cliché that people use that I usually dislike: "It is what it is." This time it's rather apropos for my tester this week. The 2017 Honda CR-V is what it is. That may sound negative, but I'm using this in a positive light. This top-selling crossover has always been a steady, consistent vehicle. It's never been mind-blowing in performance or looks, but it's always done what it's intended to do. I give Honda significant credit for improving it. They could've sat back on their laurels and not done too much this year. It does still sell well for them, after all. Instead, Honda completely redesigned this crossover, and the looks are stunning.
Let's change the saying to: "It is what it is… and then some." That seems more appropriate for the new CR-V. Though it does have a lot of new and attractive features, the base engine is still rather pedestrian. But it does what it's intended to do. The CR-V epitomizes the car industry. As larger sedans have become less desireable, families have migrated to smallish SUVs. The CR-V is an ideal family vehicle. It doesn't have to be great off the line.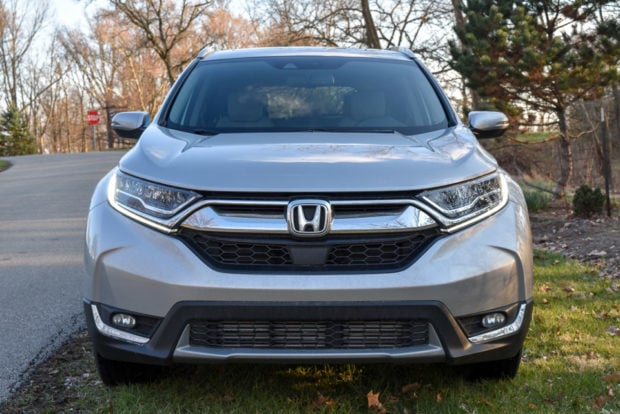 For this model year, the CR-V receives a totally new look. Even though the previous generation still had good looks and didn't need an update, it got one. Certainly, this year is better looking. The CR-V is more aggressively styled, with more chrome on than has been in the past. The front end is still rather conservative, and the grille isn't too flashy. Horizontal LED headlights help balance out the nose of the crossover. and fog lights help add width to its mouth.
The backside is the best side of the new CR-V. A spoiler helps the aerodynamics and add a sporty touch. Chrome accents span the width of the back liftgate. There's also dual chrome exhaust finishers which jazz it up even more. Long L-shaped tail lights add extra dimension to the attractive back end.
Honda's base 2.4-liter, naturally-aspirated four-cylinder engine is pretty uninspiring, but will be adequate for most CR-V buyers. For this year, Honda adds a little extra oomph to the CR-V with a 1.5-liter turbocharged four banger. It makes 190 horsepower (compared to the 184 hp in the 2.4-liter engine). That may not seem like much of a difference, but the turbo just feels much better than the bigger engine. I've driven both. But this week, I spent an entire week with the turbocharged version and can report it's more exciting, despite a little lag off the line.
A continuously variable transmission is the only one offered and its sole purpose is to conserve on fuel. The CVT adds no performance excitement to the CR-V. I think the weight of the CR-V holds down the 1.5-liter engine somewhat as the similar turbocharged engine in the Civic is exhilarating. Nevertheless, it's the superior option compared to the 2.4-liter or the previous generation CR-V.
The 1.5-liter CR-V is also the most fuel-efficient CR-V ever made. My tester, with all-wheel drive had an EPA rating of 27 mpg/city and 33 mpg/highway. In a week's worth of driving I averaged almost 30 mpg which is a tremendous milestone to hit for any car, let alone a crossover. The front-wheel drive version will yield one more MPG and certainly get you beyond that 30-mpg plateau. The 2.4-liter engine has an EPA rating of 25 mpg/city and 31 mpg/highway.
Inside, the changes are dramatic. Much praise to Honda for going the extra mile by vastly improving the interior this time around. This undoubtedly came at some expense. And with strong sales, Honda could've done very little. Instead, they took the CR-V's interior to the next level. They advanced the comfort and the touch points throughout. Soft, comfortable seats are available for all passengers. Tall passengers will find comfort in the back seat. Legroom and headroom are ample.
The CR-V's back seat is larger than it's ever been, and now leads the segment in rear space and comfort. There's a power liftgate for easy cargo access (available on the Touring trim) which can be adjusted according to height. A new feature allows the second-row seats to be folded flat in one easy motion. With those seats folded flat there's 75.8 cubic feet of cargo space, which leads the entire segment and challenges larger SUVs in useable space. A panoramic sunroof adds a feeling of openness to the CR-V. Optional roof racks add to the cargo capabilities of this crossover.
Honda's infotainment system doesn't seem to advance far enough with this upgraded CR-V. The touchscreen display is vibrant but still has some responsiveness issues. Thankfully, Honda added some knobs this time around, which helps work around some of those quirks. There's easy smartphone integration with Apple CarPlay and Android Auto, but if it's cutting edge technology or a killer sound system you're looking for, you'll be disappointed with the CR-V.
The CR-V's Honda Sensing package includes several sensor-based safety features including lane departure, forward collision warning and adaptive cruise control. There's blind-spot monitors too although the CR-V has very few blind spots thanks to its snazzy redesign.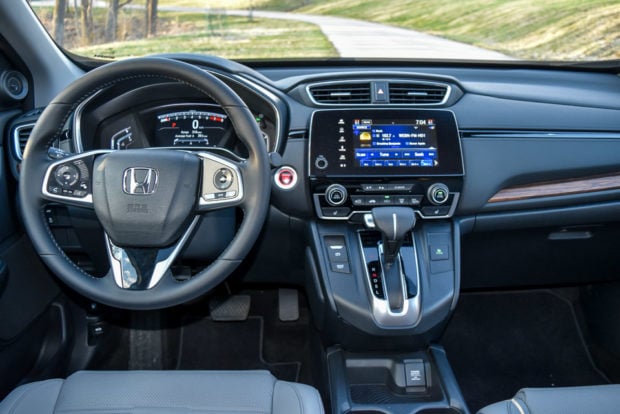 There are four trims for the CR-V including LX, EX, EX-L and Touring. The base LX has a starting price of just over $24,000(USD). My tester was the tricked-out Touring edition, with an MSRP of $33,795. These prices are comparable to some of its main competitors, including the Toyota RAV4 and the Mazda CX-5.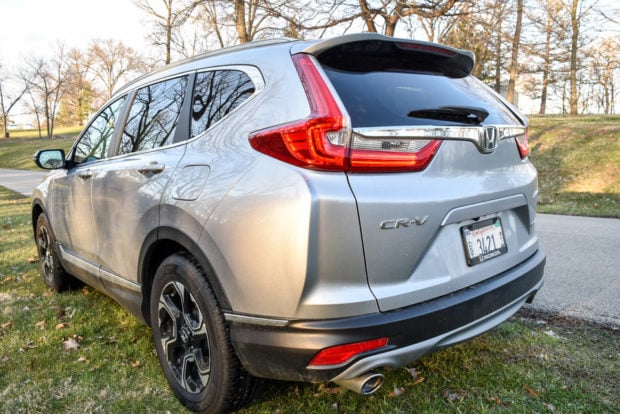 A tip of the hat to Honda who is having a great 2017 model year with several upgrades and improvements to their already top-selling product line. With a new Civic and now a new CR-V, they're doing what is necessary to remain ahead in the ultra-competitive segment. There are plenty of competitors out there and the options are about personal preference, but now the CR-V has the looks, comforts, space, and fuel economy to win over even more consumers.