2017 Mercedes-AMG GLC43 Review: Power Meets Practicality
mercedes | mercedes-amg | mercedes-amg glc43 | June 25, 2017
2017 Mercedes-AMG GLC 43

Engine: AMG 3.0L V6 Biturbo
Horsepower: 362
Torque (lb-ft.): 384
Transmission: 9-Speed AMG 9G-Tronic Automatic
Drive Configuration: AWD
0-to-60 Time (secs): 4.8
City/Hwy/Combined MPG: 18/24/20
Curb Weight (lb): 4145
Wheelbase (in): 113.1
Total Length (in): 183.5
Width (in): 74.65 (w/o mirrors)
Base Price (USD): $54,900
Price as Tested (USD): $69,520
AMG – three little letters you can be almost certain will mean automotive thrills. But can AMG turn what appears to be an upscale grocery getter into an impressive performance vehicle? Well indeed they did. The Mercedes-AMG GLC43 is a compact SUV that shares its bones and body with the Mercedes-Benz GLC300, but packs a huge amount of muscle under the hood, along with an ample dose of fine-tuning and aesthetic upgrades courtesy of the almighty house of AMG.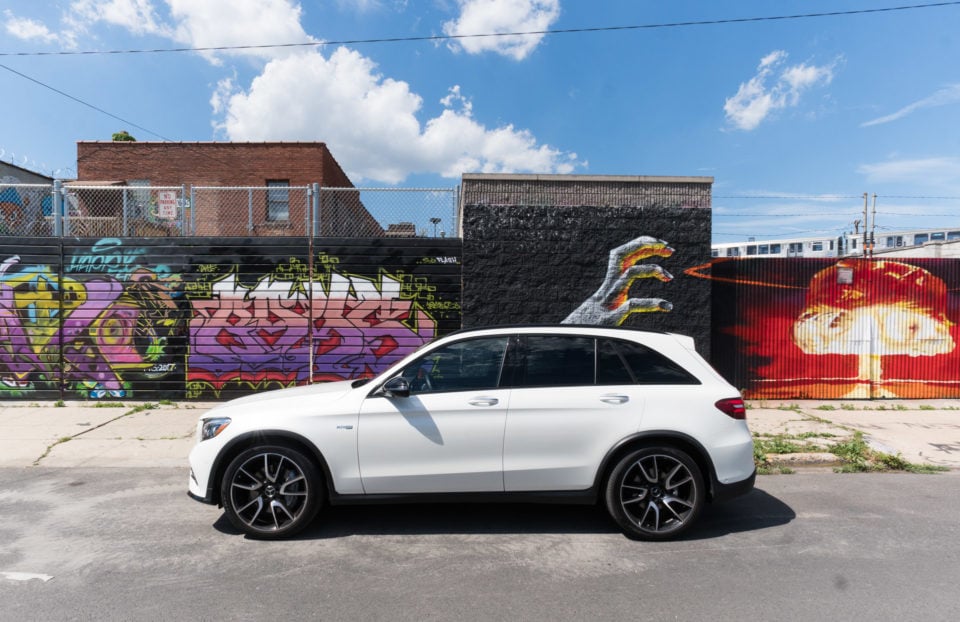 Both the GLC300 and GLC43 have a broad, athletic look, with dynamic character lines down the sides and the hood, while the GLC43 gets an awesome faceted grille, along with flared out side sills, and dramatic front air dams. It looks particularly sweet riding on 21″ AMG alloy wheels with black-accents.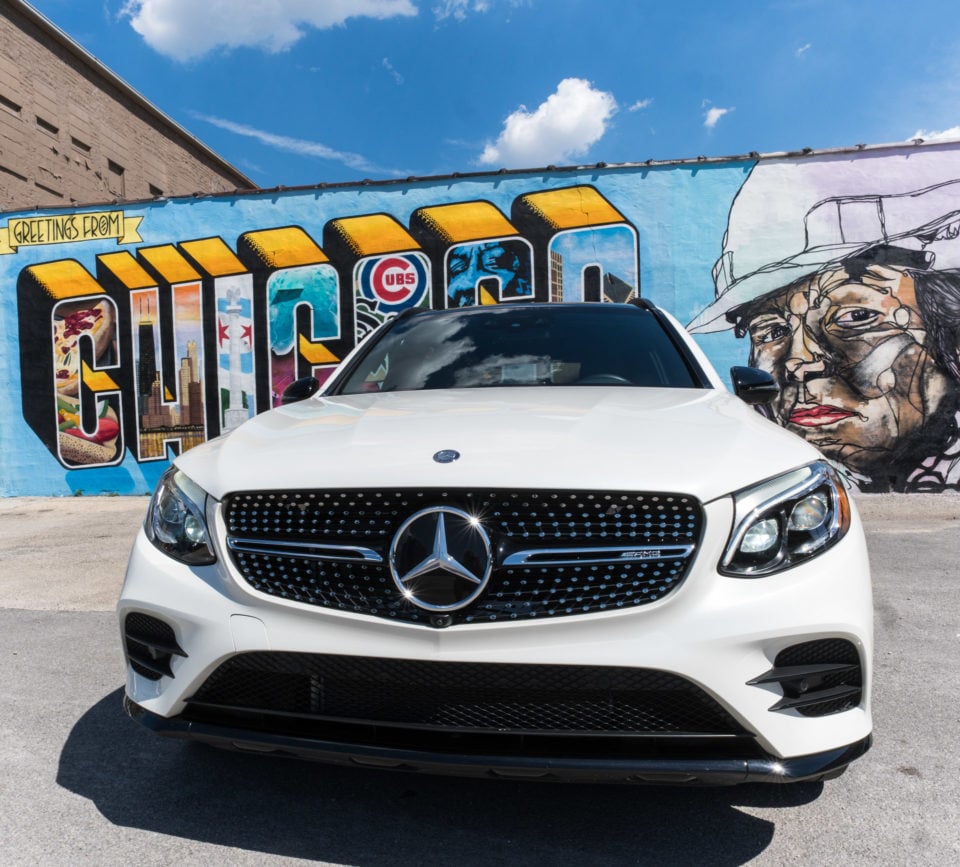 But it's what's under the hood of the GLC43 that really sets it apart. It packs a Mercedes 3.0-liter V6 biturbo engine that's been massaged by AMG to produce 362 horsepower and 384 lb-ft. of torque. That's a significant gain over the 241 hp and 273 lb-ft. of torque that the 2.0-liter turbo 4 makes in the GLC300. AMG has also had its way with the gearbox, a fast-shifting 9G-TRONIC 9-speed automatic, which is accompanied by paddle shifters for added driving engagement.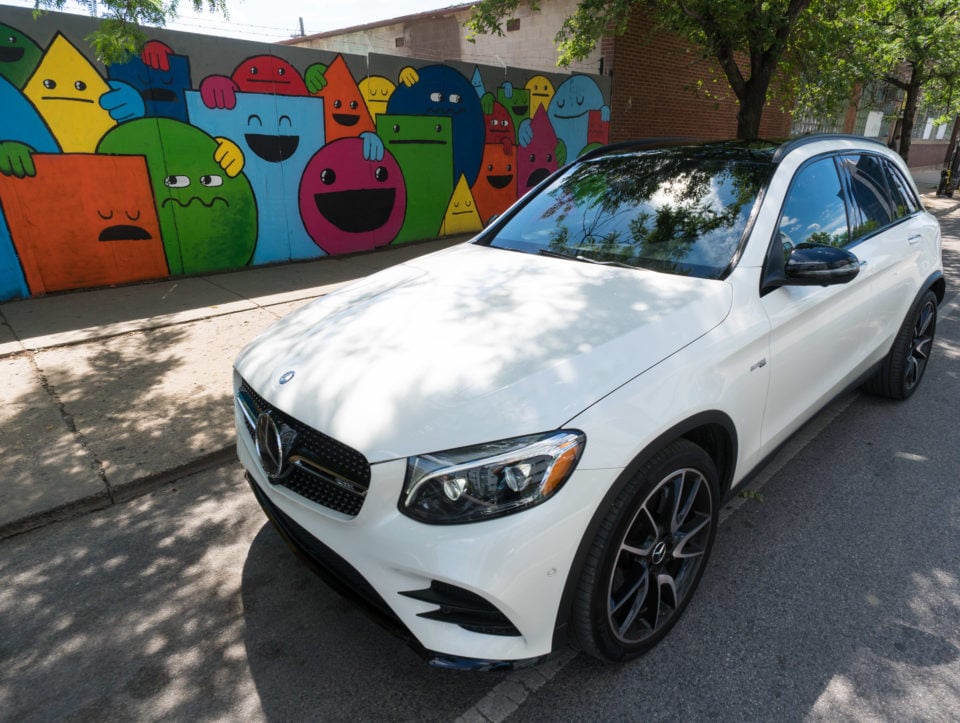 You can select between four drive modes in the GLC43, including Eco, Comfort, Sport, and Sport+. These modes have a dramatic impact on acceleration, exhaust note, steering, and suspension. In Comfort mode, it's an easy to handle daily driver that just offers a bit of extra passing power compared to others on the road. But bump it into Sport mode, and it starts to rage, with significantly increased throttle response, higher shift points, tighter steering, and a slightly firmer suspension.
In Sport+ mode, it's a bit like a bucking bull inside a pen. It just wants to go, and won't be held back. In this mode, the throttle response curve is actually a bit too aggressive for everyday driving – especially if you find yourself in any slow traffic. That said, I spent most of my time driving the GLC43 in Sport mode, which isn't quite as jumpy as Sport+, but still quite fun as you leave the city streets and head for the highway. For those who want their performance SUV to sip fuel, there's also an Eco stop/start feature which saves a little gas at intersections, and isn't as bothersome as on some cars. That said, you can disable it with the push of a button.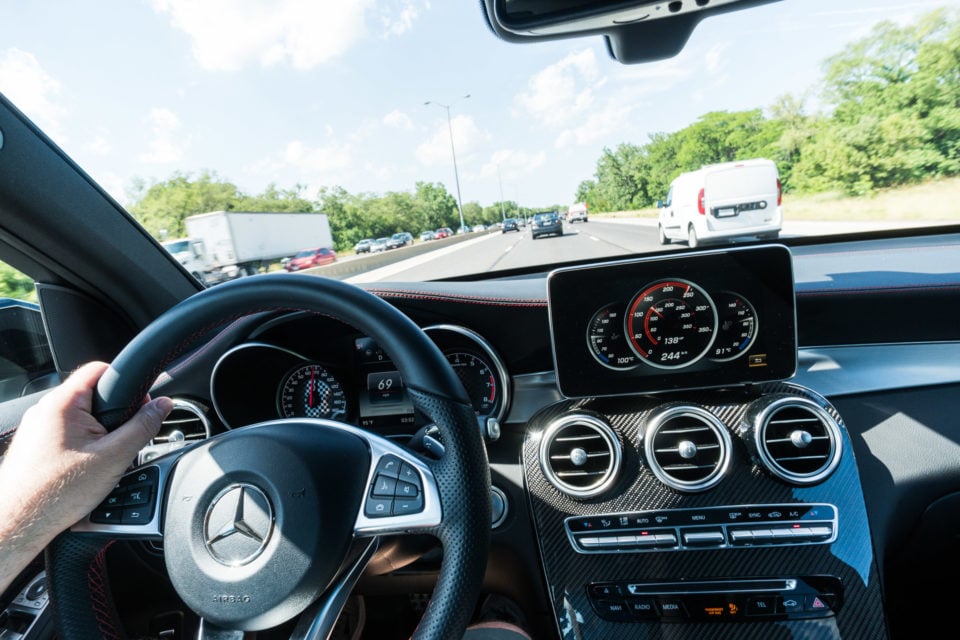 The GLC43 cranks out an abundant exhaust note in its Sport modes, though the twin-turbo V6 makes an exhaust note more like a nest of angry bees than the deep bass rumble of a V8. It's still quite satisfying, especially as the transmission downshifts.
It's hard to make an SUV handle like a sports car, but AMG did their darndest here, and were quite successful. Cornering is sharp and precise, and body roll is very nicely controlled thanks to a very good 4-wheel multilink suspension. The standard performance brakes are excellent as well, offering impressive stopping power. The air suspension has adjustable dampers which adapt to driving conditions and mode, and with the push of a button, you can increase ride height as well. It also hunkers down lower to the ground as your speed increases.
Part of what makes the AMG GLC43 feel so good in the corners is the way its all-wheel drive system is set up, sending 67% of torque to the rear wheels, and 33% to the fronts. That makes it far less susceptible to oversteer than the many front-wheel biased SUVs and crossovers on the market. However, since it's a fixed split, the GLC43 might find itself more challenged than other AWD systems in slippery conditions. I didn't get a chance to put this theory to the test though, as the weather was dry and warm during the week I had my review vehicle.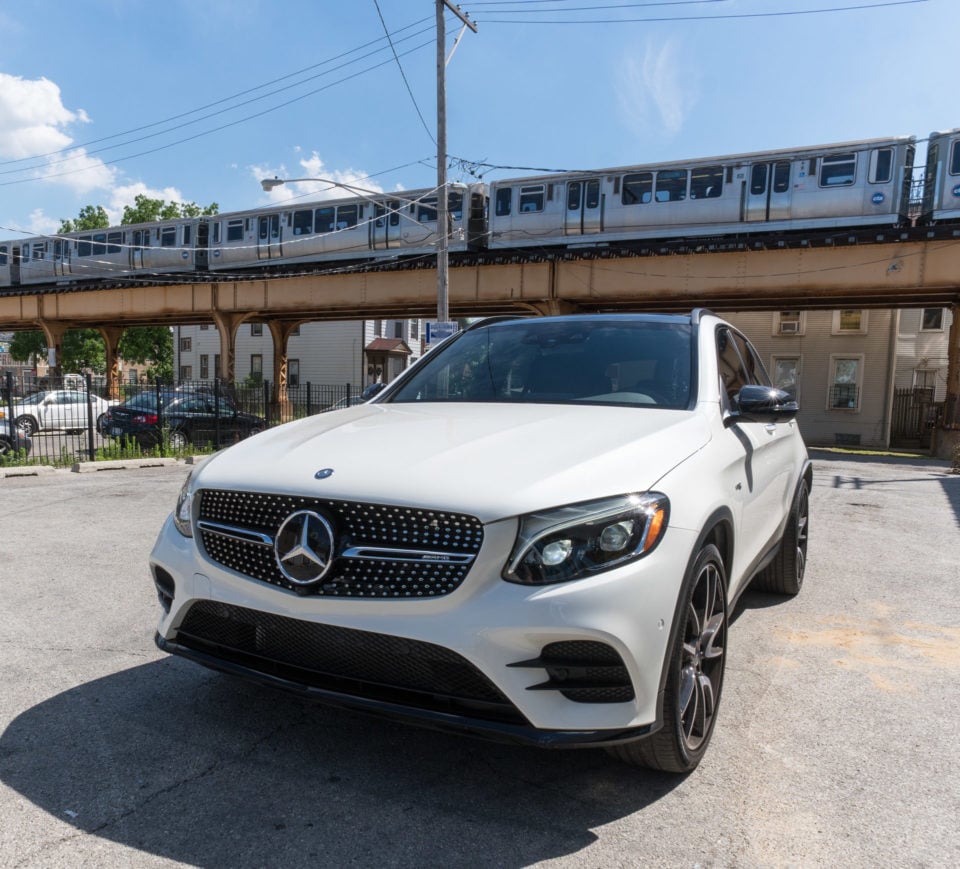 If there's one thing that Mercedes-Benz and AMG do better than just about every other brand out there is interior design, and the GLC43 does not disappoint. Premium materials abound, with sporty, well-bolstered leather seats with red stitching, and anti-slip microsuede inserts. There's also a grippy D-shaped steering sport steering wheel, and aluminum pedals.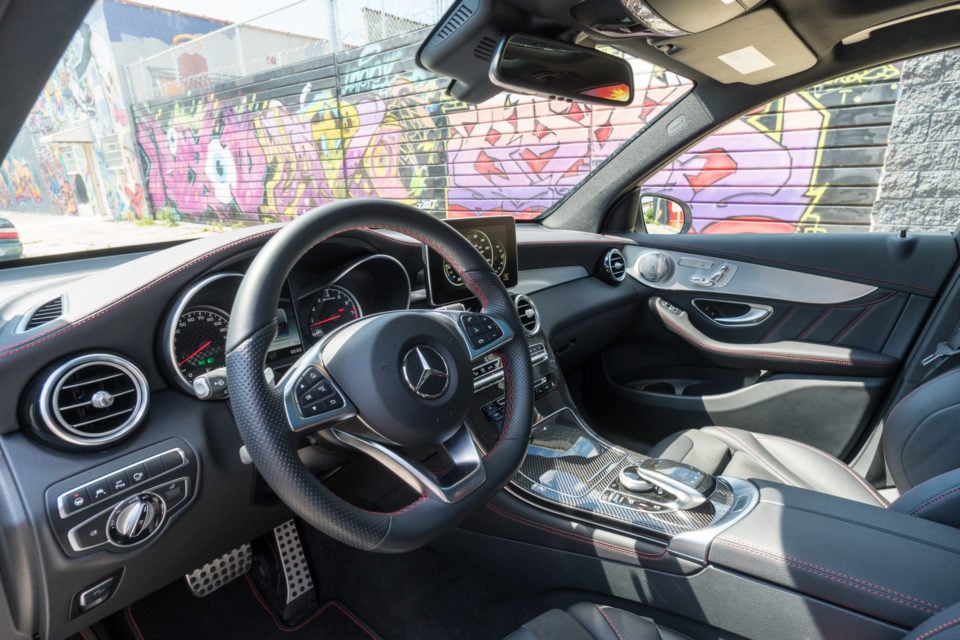 The dash is padded and trimmed in stitched leather, with aluminum rings around the aircraft-inspired vents and gauges, and my vehicle was upgraded with an ample dose of carbon fiber. Heating comes standard for the front seats, while ventilation is available as an option. Heated rear seats and a heated steering wheel are available as options, and would be welcome here in the harsh Chicago winters. There's an available panoramic roof, the front half of which can be opened or vented.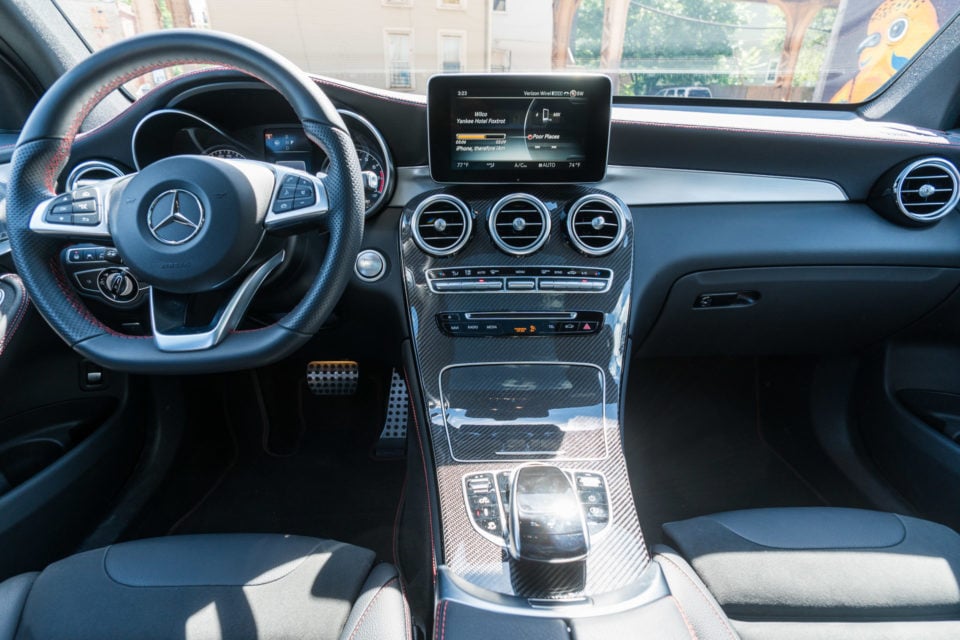 Speaking of ventilation, the dual-zone climate system can be optioned out with air purification and a fragrance system, which releases a gentle and pleasing fragrance into the passenger compartment. This is something I last encountered on a far more spendy Mercedes-Benz S-Class. The optional 14-speaker Burmester sound system offers 640 watts of impressively clean and crisp sound, ambient noise reduction, and the prettiest aluminum speaker grilles you can buy.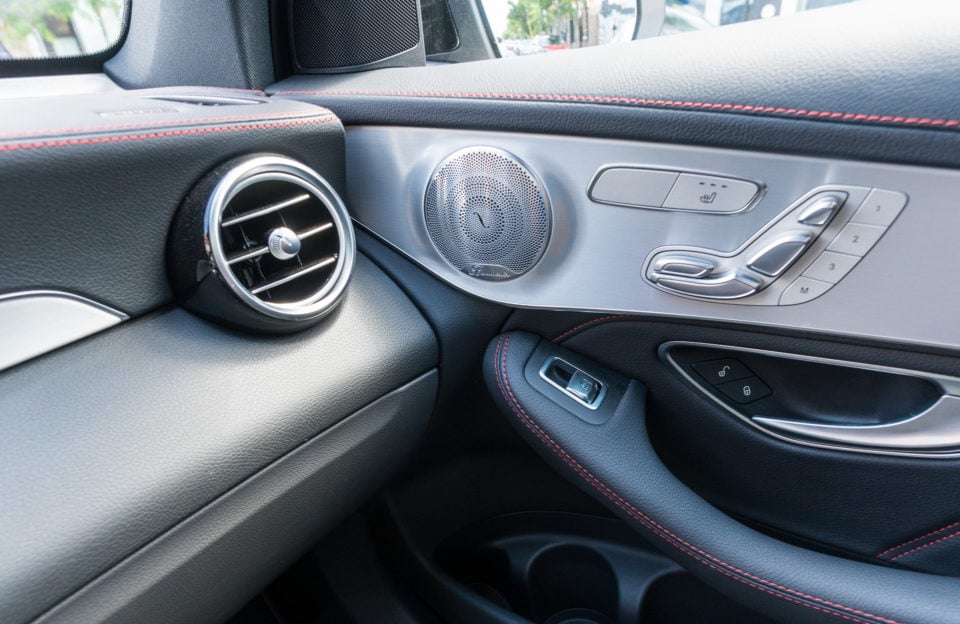 There are plentiful safety and convenience features available, including pre-collision braking with pedestrian detection, active lane keep assist, a heads-up display, active LED headlamps with active high beam assist, rear cross-traffic alert, blind spot monitoring, as well as emergency braking assistance for rear and blind spot traffic.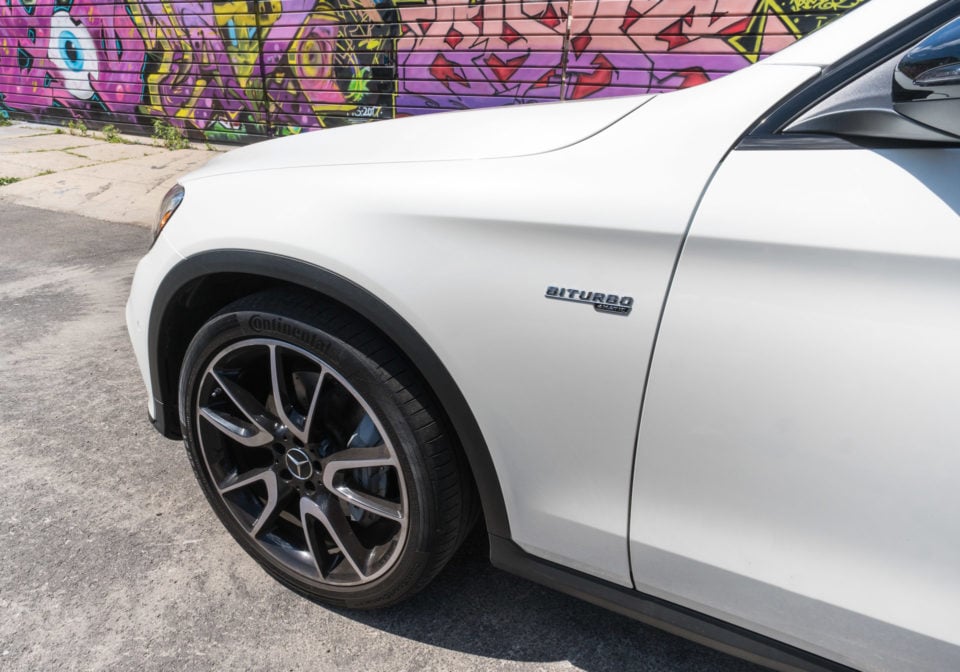 The Distronic Plus system provides full-speed adaptive cruise control and also assists with steering. There's also an active parking assist feature, and the best and sharpest surround view camera system I've seen on any car. It's crystal clear, which can make a big difference in terms of visibility when maneuvering in and out of tight spaces.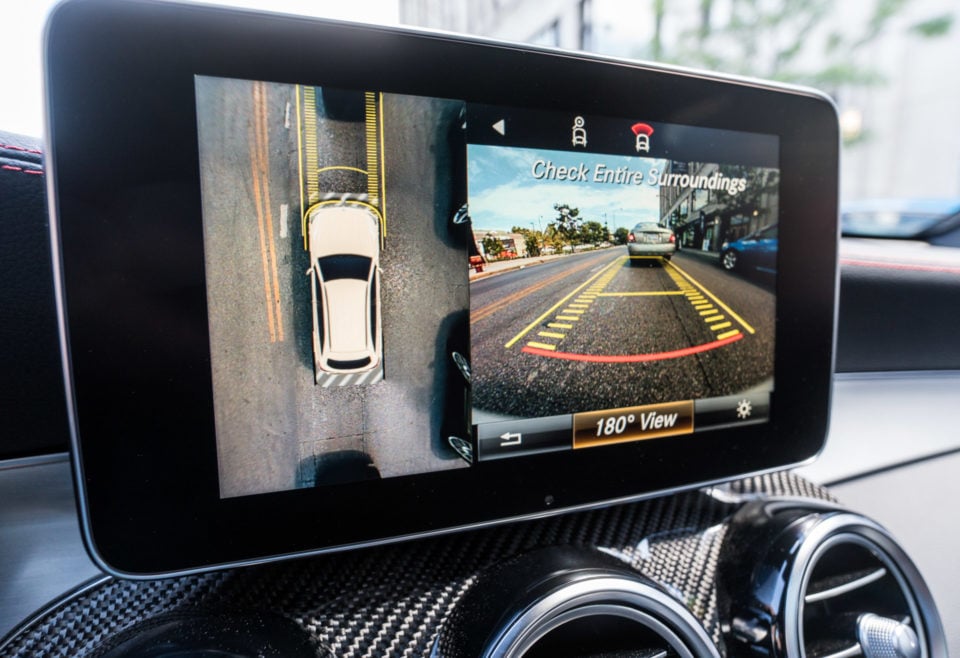 Gearheads will also appreciate some of the slick performance screens which can be found in on the infotainment display, including gauges for horsepower, torque, engine and oil temperatures, as well as a dynamic visualization of wheel angle, suspension, and G-forces.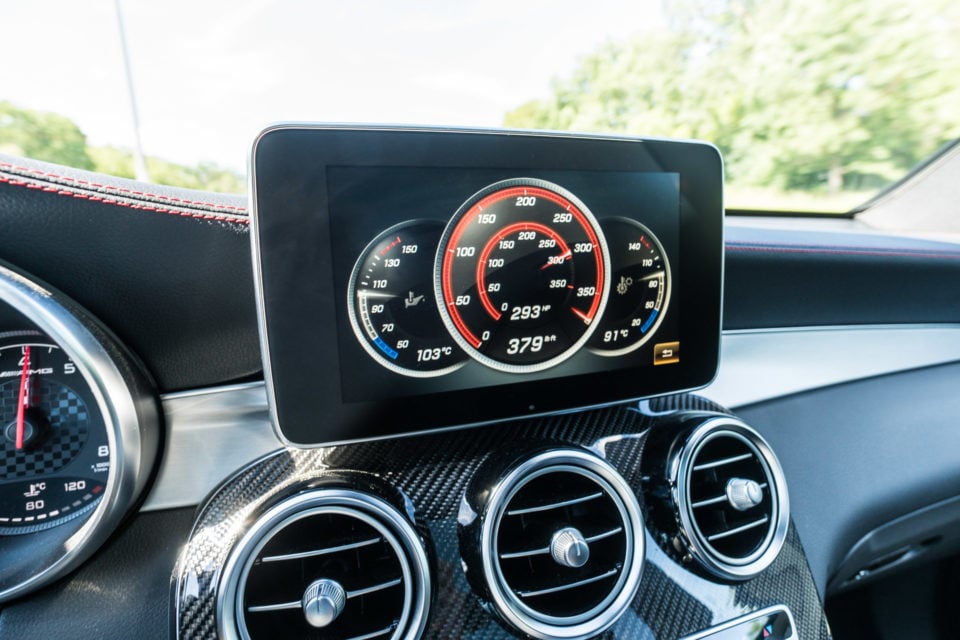 Beyond its performance chops, the AMG GLC43 also is a remarkably practical vehicle, offering great headroom for all passengers, and a reasonable amount of legroom in the rear. The seatback knee cutouts are a welcome find for those of us with long legs.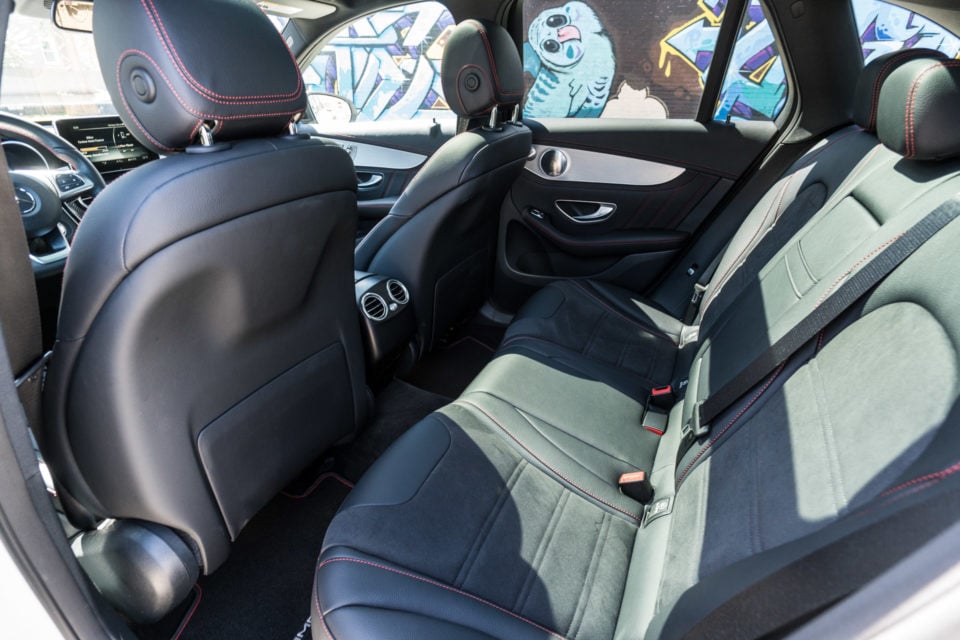 That rear seat folds in a 40/20/40 configuration for versatility, and there's 19.4 cubic feet of cargo space behind the back seat, and 56.5 cubic feet of space with the second row down, making this speedy performance SUV an impressive stuff hauler too.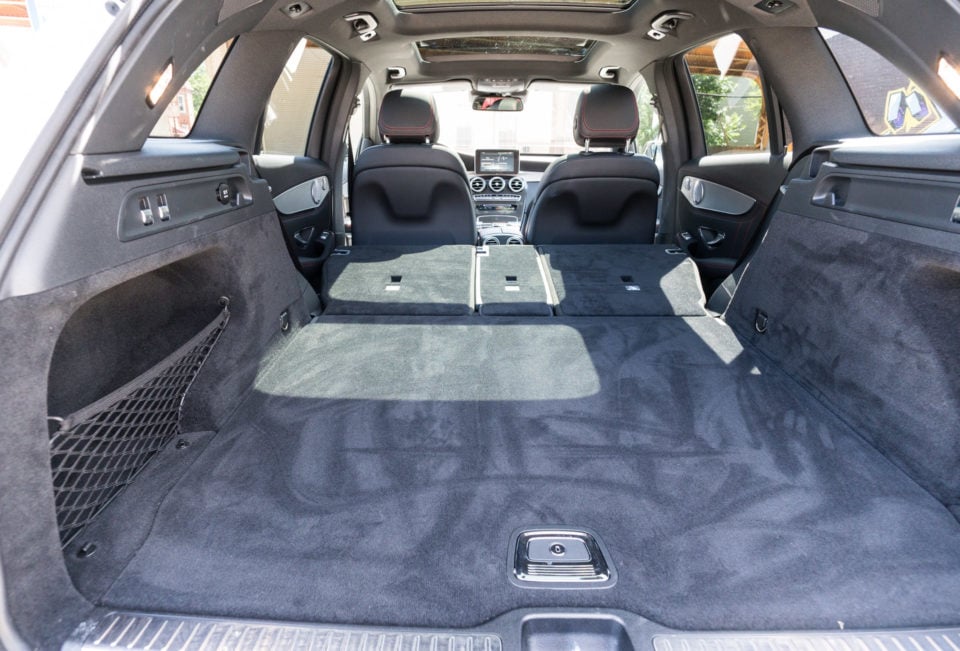 I really enjoyed my week living with the Mercedes-AMG GLC43. It packs a great blend of performance, luxury, and a surprising amount of utility into a single package. It's one of the fastest accelerating SUVs I've ever driven, and handles fantastically. That said, it's itching to be opened up, and isn't the happiest of campers in stop/start city traffic. The GLC300 might be better suited to that sort of daily driving situation, but doesn't have the sporty suspension, braking, and aesthetic upgrades of the GLC43.
For those who spend a lot of their time on the highway, country roads, or on twisty turny mountains, the AMG GLC43 will definitely give the Jaguar F-Pace and Porsche Macan both a run for their money, and is well worth a test drive.