2017 Toyota Land Cruiser Review: A Big Boy for Big Budgets
2017 | toyota | toyota land cruiser | July 3, 2017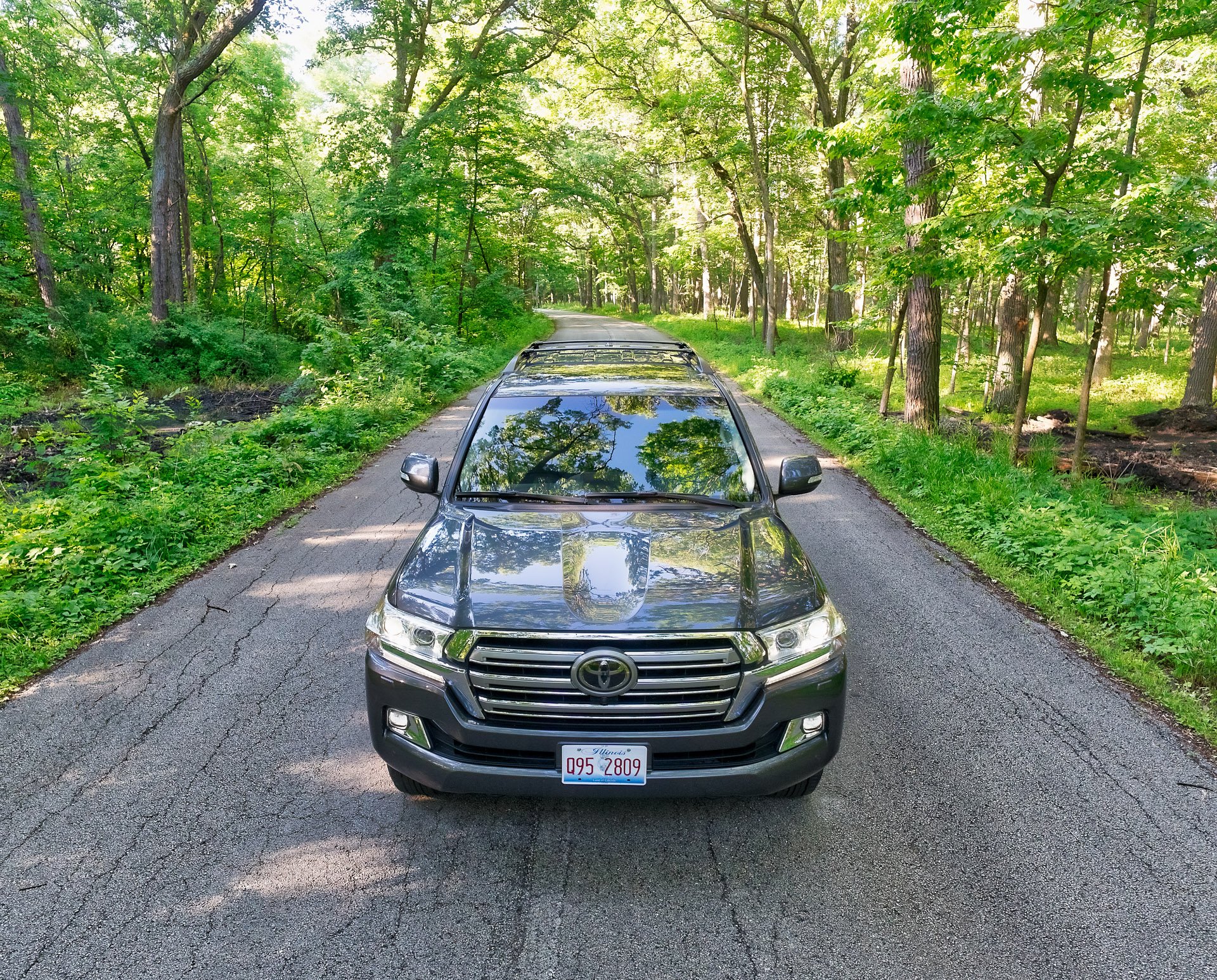 2017 Toyota Land Cruiser Review

Engine: 5.7L V8
Horsepower: 381
Torque (lb-ft.): 401
Transmission: 8-speed automatic
Drive Configuration: Full-time 4WD
City/Hwy/Combined MPG: 13/18/15
Curb Weight (lb): 5815
Wheelbase (in): 112.2
Total Length (in): 194.9
Width (in): 77.95
Base Price (USD): $84,325
Price as Tested (USD): $85,520
The Toyota Land Cruiser has been around since the 1950s in one form or another, but it's a decidedly different vehicle from when it first burst onto the scene as a rugged, 2-door off-roader. The first real ancestor of today's comfy, yet capable SUV came on the scene as the Land Cruiser J50 in 1967, but much has changed in these last 50 years in the realm of full-size SUVs.
Here in 2017, the Land Cruiser is the most expensive vehicle in the Toyota lineup, with a commanding presence, a supremely comfortable ride, and a premium interior within a stone's throw of its even pricer Lexus cousin, the LX 570.
In its current incarnation, the Land Cruiser offers seating for 5 adults and 3 children, a tall and spacious cabin with lots of headroom, and a ride designed to provide comfort and reliability for long road trips and lots of off-road adventure.
A hulking 5.7-liter V8 offers 381 horsepower and 401 lb-ft. of torque – ample for hauling passengers and their baggage up and down steep hills, along with the ability to trailer up to 8100 pounds using an integrated hitch receiver. It's not designed for quick acceleration, though it's enough to carry its nearly 3 tons of weight from 0-to-60 in less than 7 seconds.
With body-on-frame construction, 8.9 inches of ground clearance, and a 30º approach angle, it's more than capable of leaving the tarmac and heading off-road. Thanks to a highly forgiving suspension system, it soaks up obstacles like rocks, gravel, dirt, as well as potholes for the days when you're just heading to the grocery store. Between the soft suspension and overall height, the Land Cruiser undulates quite a bit when cornering, leaving any talk about its road driving dynamics to other premium SUV makers.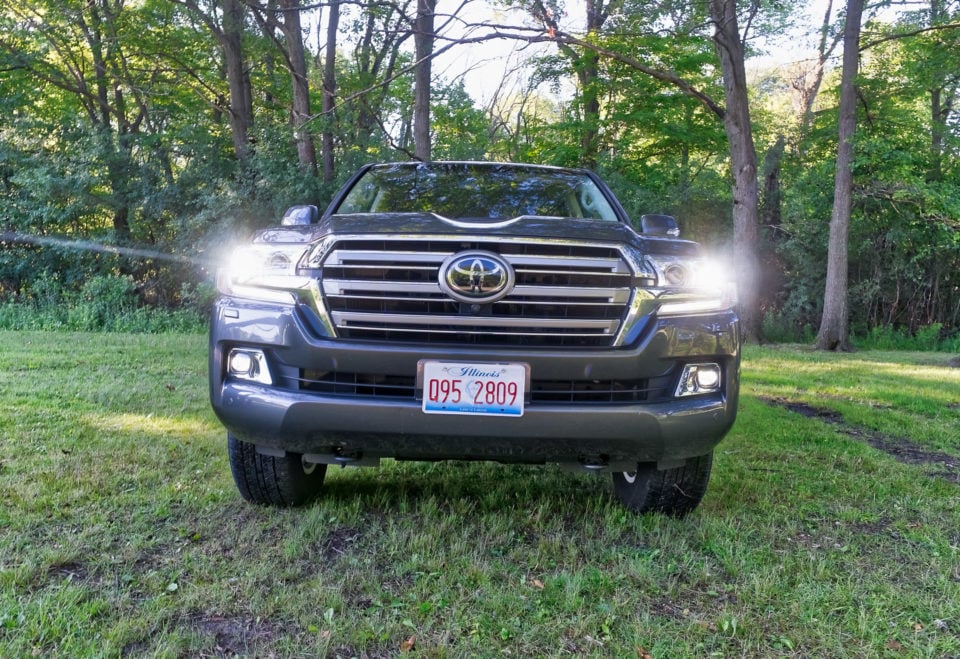 There's no question the Land Cruiser has an imposing look. With boxy lines, a tall passenger compartment, and a front end design that balances precisely along the line between rugged and sophisticated. LED headlights and foglights provide clean and bright nighttime illumination to guide your way down dark country roads.
The Land Cruiser is more than capable of handling just about any terrain you can throw at it. Its suspension can dynamically adapt to a wide variety of road conditions, and can even disconnect its sway bar temporarily to improve wheel articulation on uneven surface.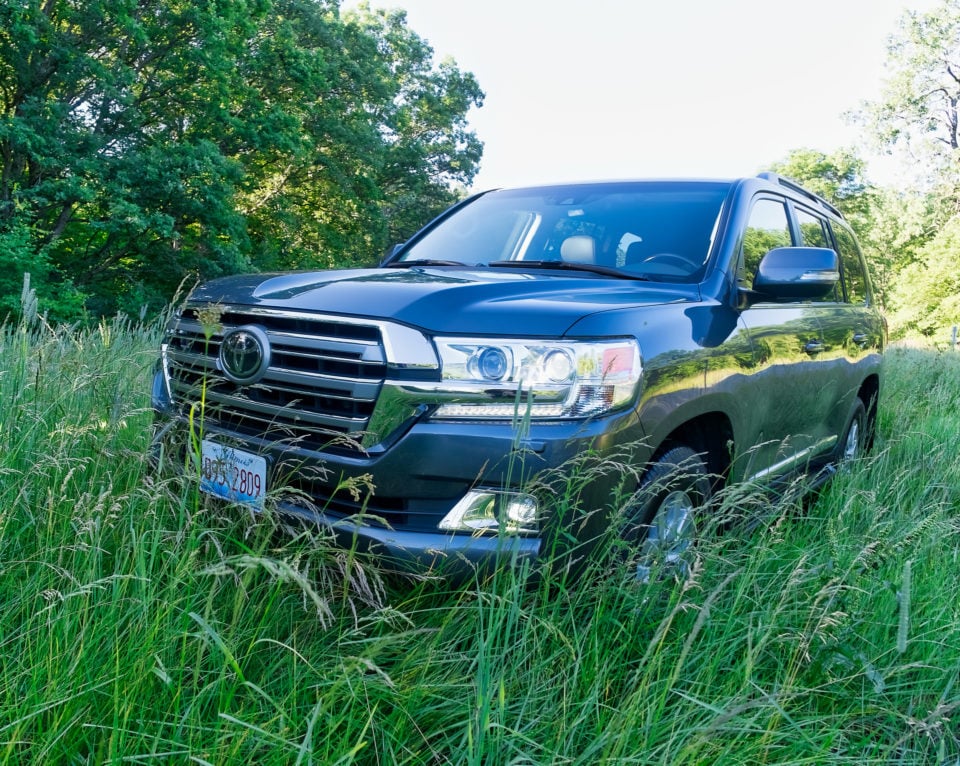 A Torsen limited-slip diff dynamically adjusts to increase torque to the wheel or axle that's got the best traction, and you can also force a true 50/50 power split using its locking ability. The full-time 4WD system offers a 4LO mode to provide added traction and lower gearing to improve traction on slippery or steep surfaces. Toyota is also kind enough to include a full-size spare, a must for any off-road adventure.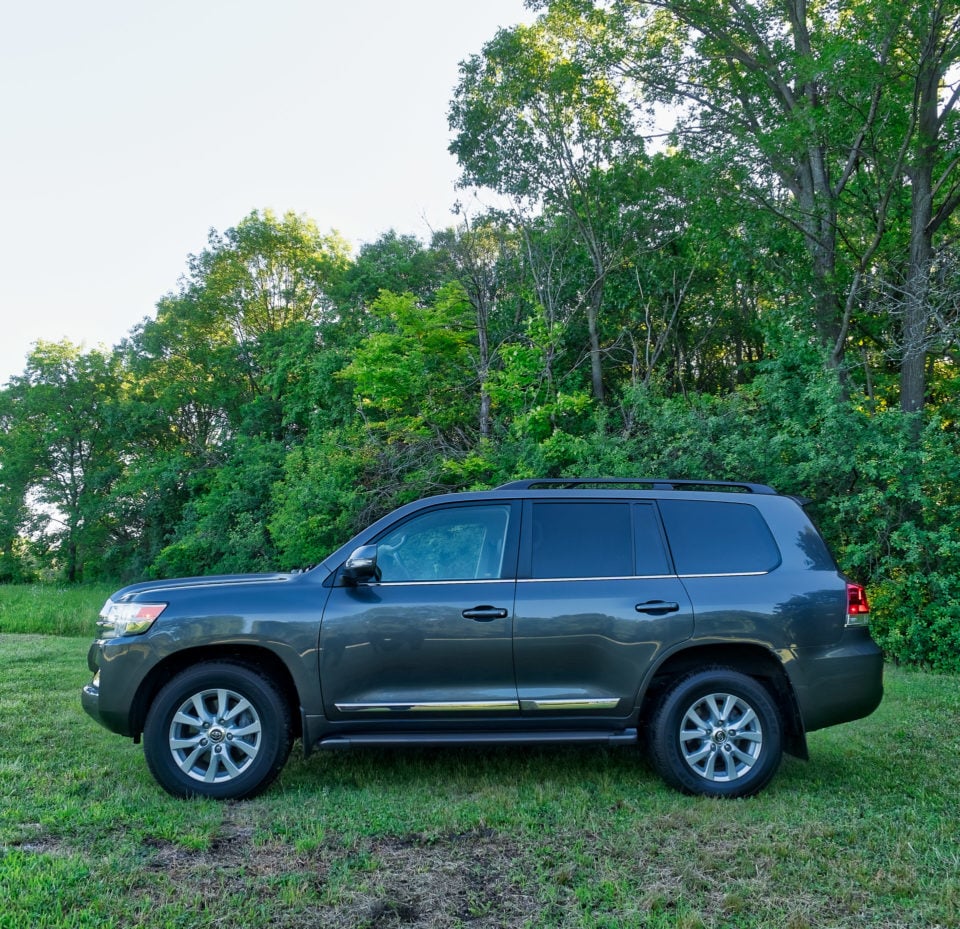 Toyota's Crawl Control system is here as well, which works like an off-road cruise control system, managing throttle and braking while you focus solely on steering. This latest generation system also offers steering assistance too, reducing the need for input around tight turns. There's also a surround-vision camera that kicks in while in Crawl mode, enhancing visibility on off-road trails. It works well, though the resolution of the image leaves a bit to be desired compared to other modern camera systems. I'd love to see Toyota upgrade the cameras and screen to provide sharper video quality.
The cabin features premium leather surfaces on the seats, and a few strips of real wood trim here and there. It's perfectly functional, however it doesn't really offer much in the way of styling panache, and the soft, but generic material padding on the dash seems like a holdover from far less expensive Toyotas. The single pane sunroof is a bit of a letdown too, with so many of today's SUVs offering a panoramic option.
In terms of comfort, the Land Cruiser lives up to its name, and is a fantastic vehicle for long cruises. First row seats get heat and cooling, while the second row gets heat. First row and second row passengers are afforded plenty of legroom and well-padded seats. There's a pair of 11.6″ screens for viewing video content, as well as independent climate controls. Both the second and third rows have their own vents to help with air circulation.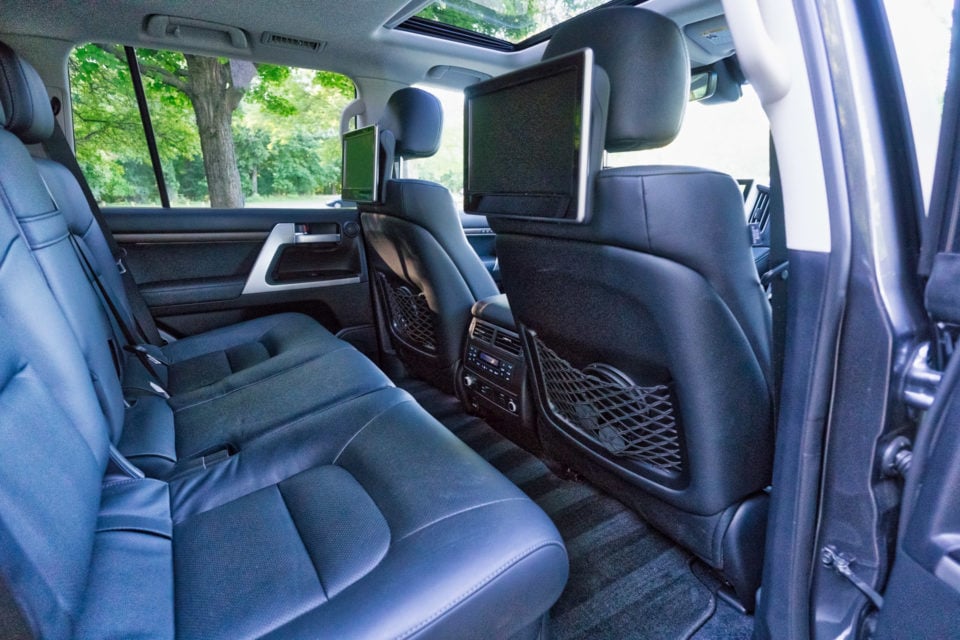 The second row folds in a 40/20/40 configuration for cargo and passenger flexibility. The back row is a bit of a challenge to get in and out of, and has pretty limited leg and kneeroom, making it best for transporting kids and smaller adults. Still it's one of the few vehicles on the market that can claim an 8 passenger capacity.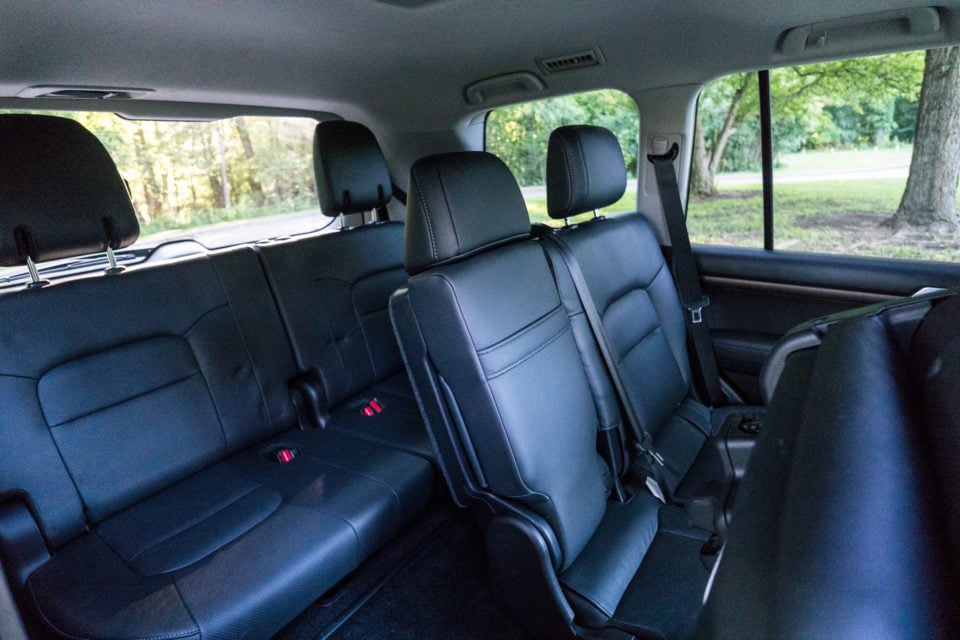 The back seats fold up when you need the cargo space, though they fold up sideways and not into the floor like some more modern competitors. That means you lose quite a bit of width in the rear cargo area. Still, overall cargo capacity is quite good, at 81.7 cubic feet with both rows folded, 43.0 cubic feet behind the second row, and 16.1 cubic feet with all three rows in use.
Unlike most SUVs, the Land Cruiser features a split rear liftgate. This provides a nice place to sit and tie your shoelaces when changing into your hiking shoes, or a loading ledge for packages. It also improves rear access inside of garages, where this full-size SUV's 194.9″ length could prove a challenge.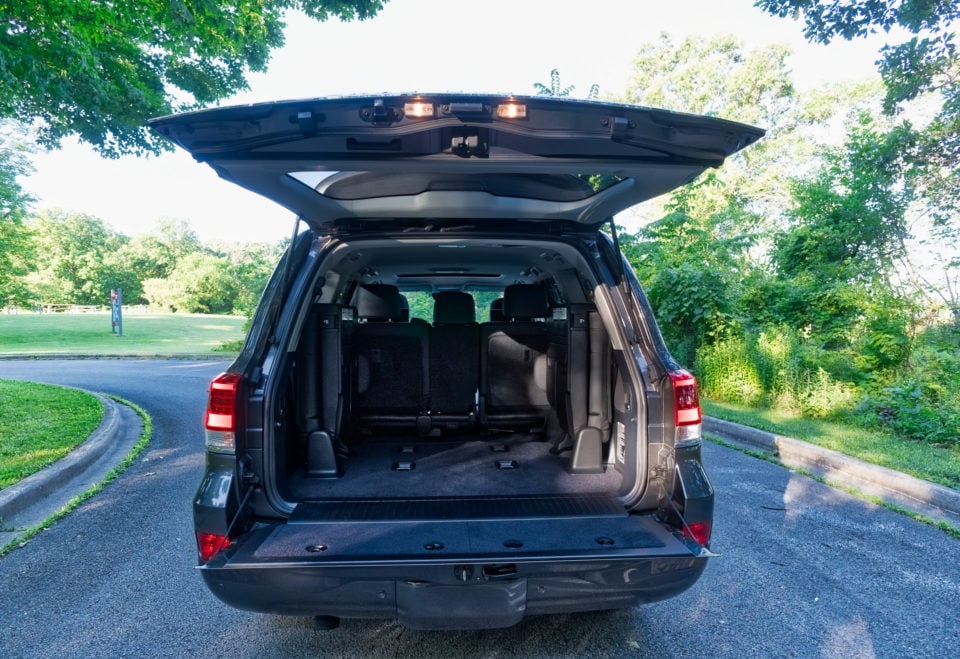 One of my favorite little perks in the Land Cruiser is the refrigerated cooler box in the center armrest. This is perfect for keeping a few cans of soda ice cold, or candy bars from making a melty mess.
It's just the sort of nice-to-have feature I'd expect to find in a high-end luxury vehicle. And with an all-inclusive sticker price of $85,520 after delivery and processing fees, the Land Cruiser left me wanting even more of this sort of swanky stuff.
Sure, you get safety features like a backup camera, blind spot monitoring, a pre-collision system with pedestrian detection, lane departure alert, auto high beams, and dynamic radar cruise control, but these features are now available in Toyotas costing $50,000 less. Other than the excellent sounding 14-speaker JBL Synthesis audio system, Qi wireless charging, and the aforementioned rear seat entertainment system, there just aren't enough bells and whistles to justify the price.
And therein lies the rub with the Land Cruiser. It's durable. It's comfortable. It's capable. It's a very good vehicle. But it's an very good $65,000 vehicle, not an $85,000 one. You can buy a fully-loaded Land Rover Discovery or Chevrolet Suburban for $20,000 less. Sure, the Suburban doesn't have all the off-road chops, but the Discovery sure does. And in both cases, the available tech and styling is more up to date, and the cargo setup is more versatile.
I know that the Land Cruiser sells quite well, and has a huge following, but I'm hoping Toyota doesn't continue to rest on their laurels. I'd love to see them up their game in terms of interior materials, styling, and creature comforts to help justify the cost – or better yet, just redesign the way the back seat folds, and drop the price from its current stratospheric level to something more competitive.