2017 Lexus IS350 F Sport Review: A Stylish, Sensible, Sporty Sedan
F Sport | lexus | Lexus IS350 | Luxury Sedan | performance | suspension | v6 | July 9, 2017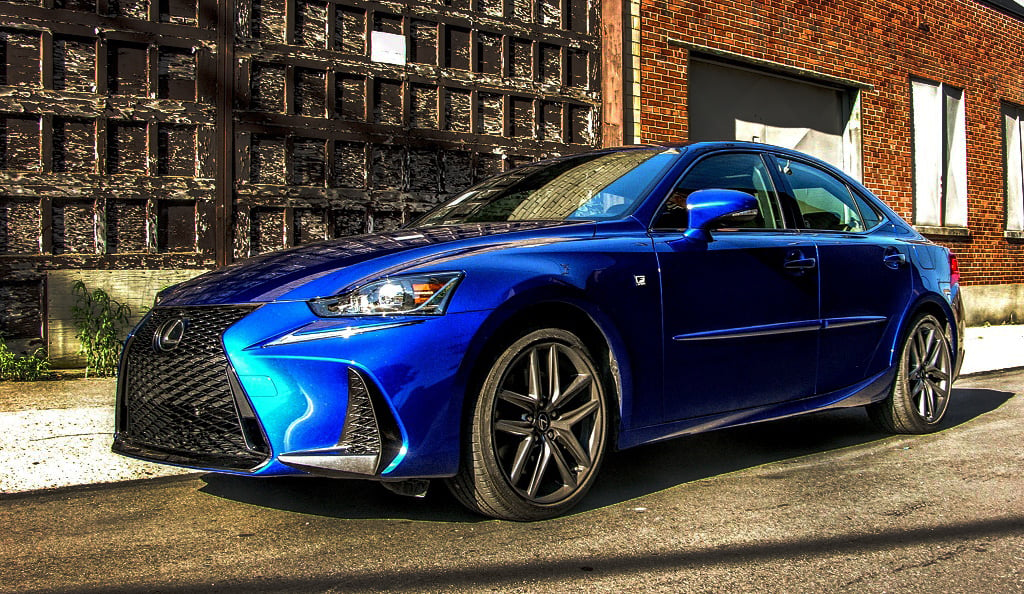 Specs at a Glance

Engine: 3.5-liter V6
Horsepower: 306
Torque (lb-ft.): 277
Transmission: 8-speed automatic
Drive Configuration: RWD
0-to-60 Time (secs): 6.5
Top Speed (mph): 143
City/Hwy/Combined MPG: 19/28/22
Curb Weight (lb): 3,593
Wheelbase (in): 110.2
Total Length (in): 184.3
Width (in): 79.8
Base Price (USD): $44,525
Price as Tested (USD): $50,174
Lexus really wants America to shake-off those nagging sedan slumpin' blues. But this task has proved far more daunting than previously expected. Despite releasing turbocharged powerplants and brilliant offerings like the insatiable GS F sport sedan, consumer interest in classically styled four-door vehicles has remained tepid at best.
Unlike station wagons, which have nearly gone extinct, the sedan continues to carve a sizable niche within the automotive market, which is exactly why the acutely lined Lexus IS350 F Sport continues to sell. Unlike its more polarizing RC coupe cousin, or its hulking GS older sibling, the IS lives a double life that's equal parts bold and refined. It exists within a transient space that's somewhere between mid-size sedan sensibility and hard cornering Japanese agility, and for the most part, the IS350 F Sport succeeds in making its mark.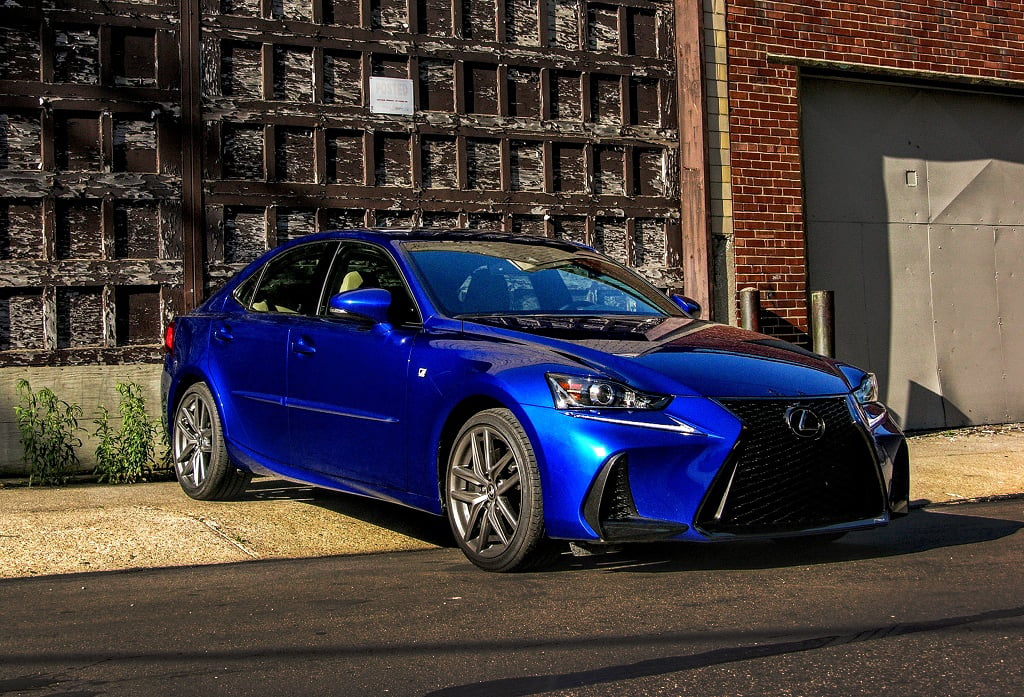 Sitting pretty in "Ultrasonic Blue Mica," our F Sport outfitted IS350 arrived packing a potent 3.5-liter V6 and a $50,000 price tag. From there the bulletproof saloon spirited me from Cincinnati to Chicago and back, with a brief detour along the return route in order to document the festivities leading up to the Indianapolis 500. After many miles of cruising down open interstates and across gridlocked interstates, I had successfully re-familiarized myself with why Lexus has such a strong interest in making sensible, sporty luxury sedans.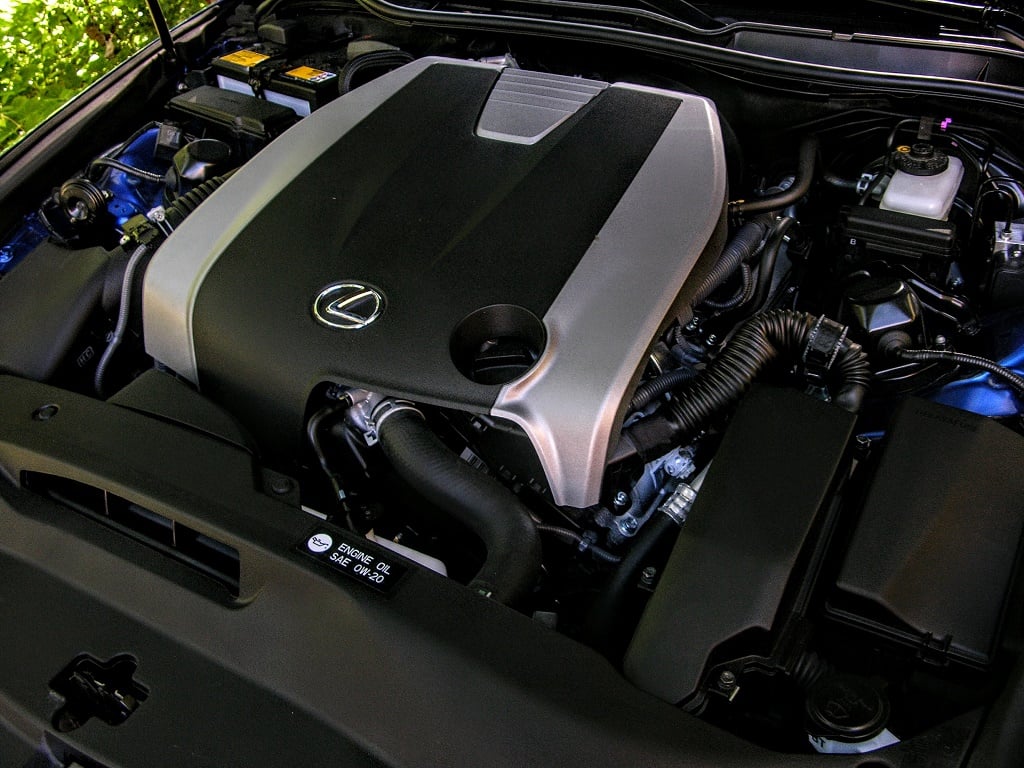 For performance fans, the F Sport version of the IS350 offers a respectable 306 horsepower and 277 pound-feet of torque, a snappy 8-speed automatic gearbox that comes attached to paddle shifters, and an adaptive suspension. Although the engine and transmission combo generate enough aggression to make any trip to the windy city enjoyable, it's the latter of the lot that offers the most impressive results.
With a double-wishbone front configuration, a multi-link rear layout, and power pumping exclusively to the back (an AWD model is also available), feisty throttle downshifts and hard corner carving are a must-have experience in this machine. It tracks extremely well around curves, accelerates off the line with more ferocity than its numbers might suggest, and clings tightly to the road with Bridgestone Turanza rubber in a staggered 18-inch alloy wheel configuration. The F Sport badge might as well stand for "Frickin' Sport" for all intents and purposes.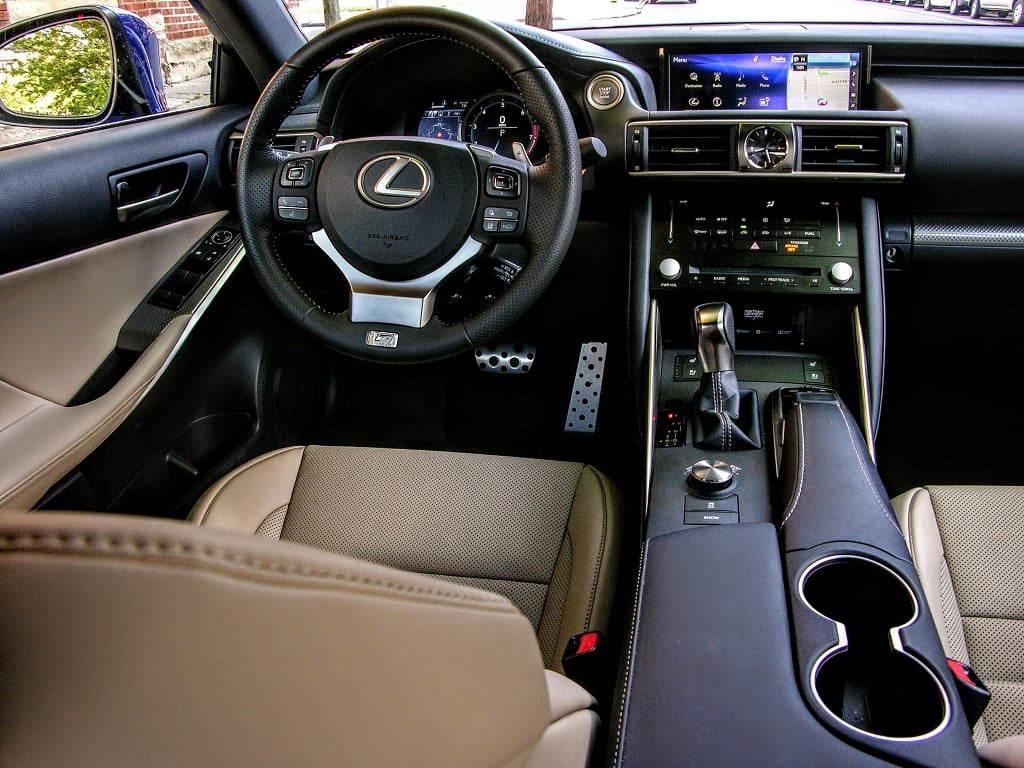 Virility comes in various degrees with this one too. Jumping out of Eco mode and into Normal, before heading onward toward Sport and Sport+ mode delivers increasingly tighter steering, suspension, and throttle responses, with the first of the four returning a ride that is Lexus quiet in every way. This last portion of the puzzle remains one of Lexus' strongest suits, because despite having tire sidewalls the size of Slim Jim jerky, the refinement and cabin tranquility found in the IS remains ridiculously good. So if road harshness and noise are an issue and you still fancy some F Sport fun, it might be wise to opt for more supple rubber in a less aggressive compound in order to unleash a more sublime serving of serenity.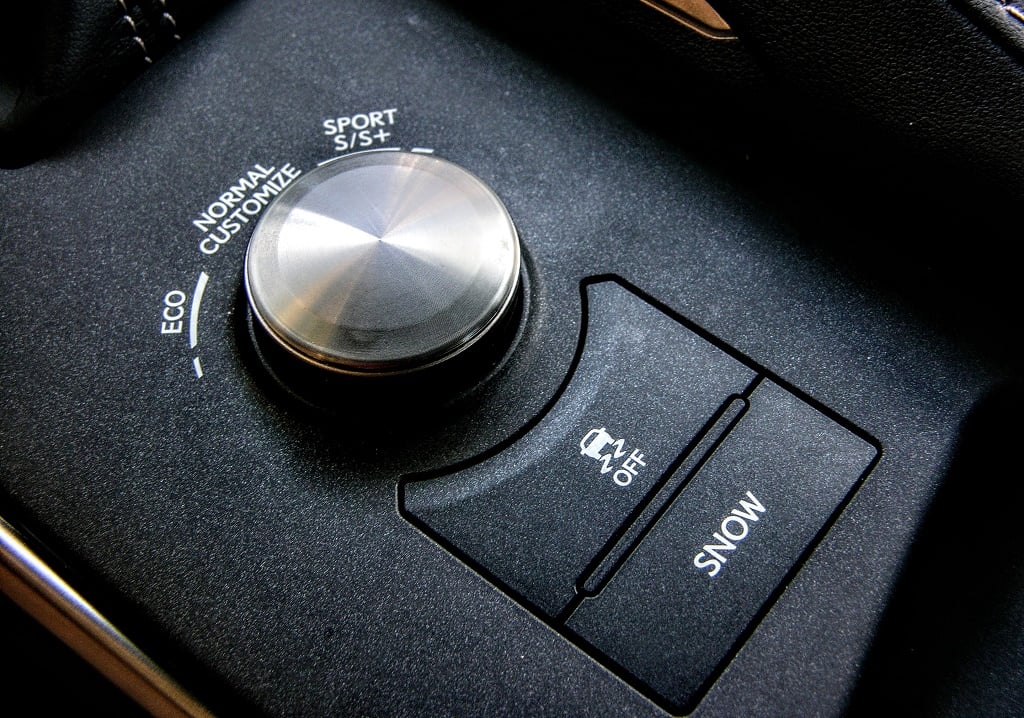 Having said that, the F Sport model of the IS is by no means an overstuffed sedan either, and for as comfortable as those bucket seats are, their aggressive bolstering and the sport pedals in front of them are engineered to grip. But this is still a Lexus, so expect extremely responsive heated/vented seats, power everything, loads of tech to make life easier and the drive more enjoyable, and one bitching 15-speaker Mark Levinson sound system.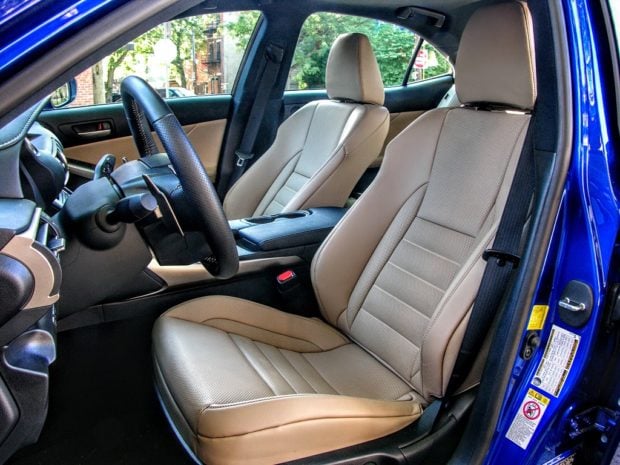 A few other notables that made the grade in our book is the ability to unlock all four doors by grabbing any door handle, sleek LED mood lighting inside and out, and Lexus' TFT digital/mechanical gauge cluster. The last of these can slide out of the way with the push of the button, exposing a larger display screen behind it that comes packed with pertinent specs.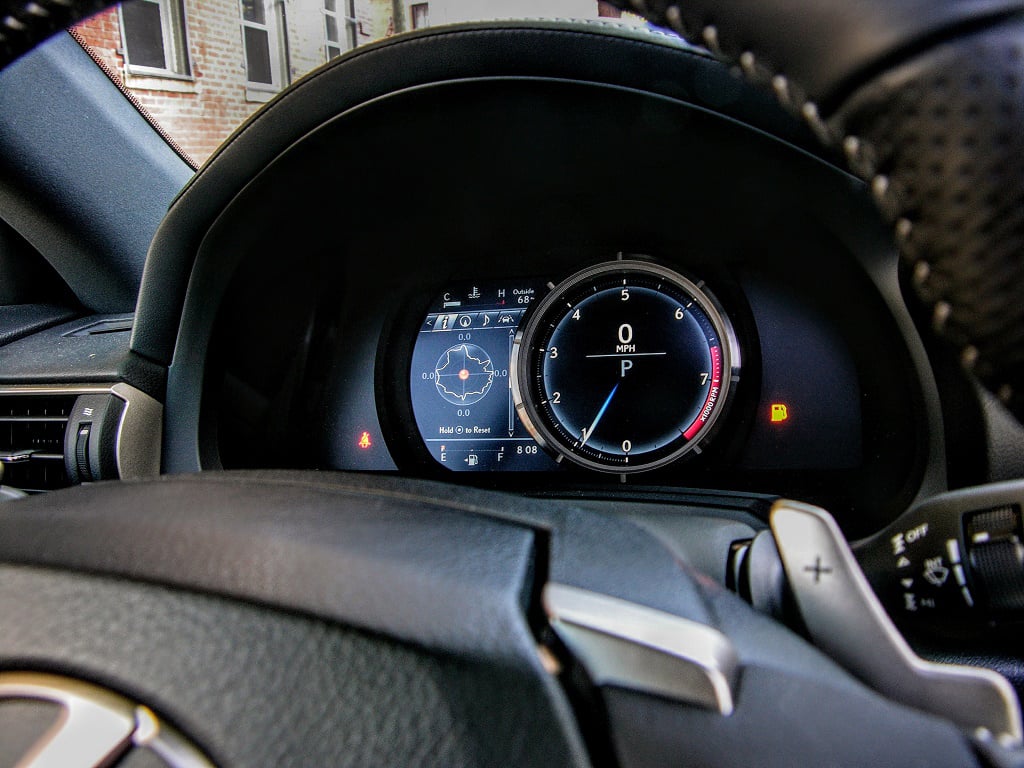 But as with all automobiles, flaws within the IS line are apparent after some quality time behind the wheel. Ignore the spindle grille aesthetics, for they are too obvious of an area of contention. The biggest issues here are within the cabin and below the hydraulically propped hood.
For instance, it's 2017, yet the e-brake in this car is still an old fashioned foot pedal assembly, and due to the location of the center console's cup holder layout, retrieving a beverage requires contortionist training. Other major complaints include the front passenger getting hard plastics in place of a center armrest, the blatant absence of a head-up display as well as a D-cut steering wheel, and the 3.5-liter V6 only running on premium pump gas.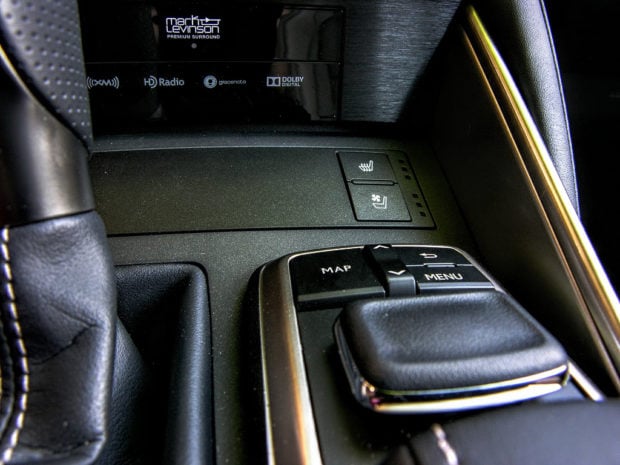 As with all modern Lexus models, the "Remote Touch" infotainment system interface is exactly that: A frustrating setup that delivers crisp real-time graphics, but subpar 3D maps, and one hell of an annoyingly "remote" control experience. Also, despite the upgraded size of the 10.25-inch display screen and all of its "split personalities," home menu graphics look dated and quick detours requires putting the car in park or looking at your phone for guidance. At least in the IS you get an actual mouse as opposed to the RC's touchpad, which has been known to cause fitful bouts of facepalms and headbutts on steering wheels.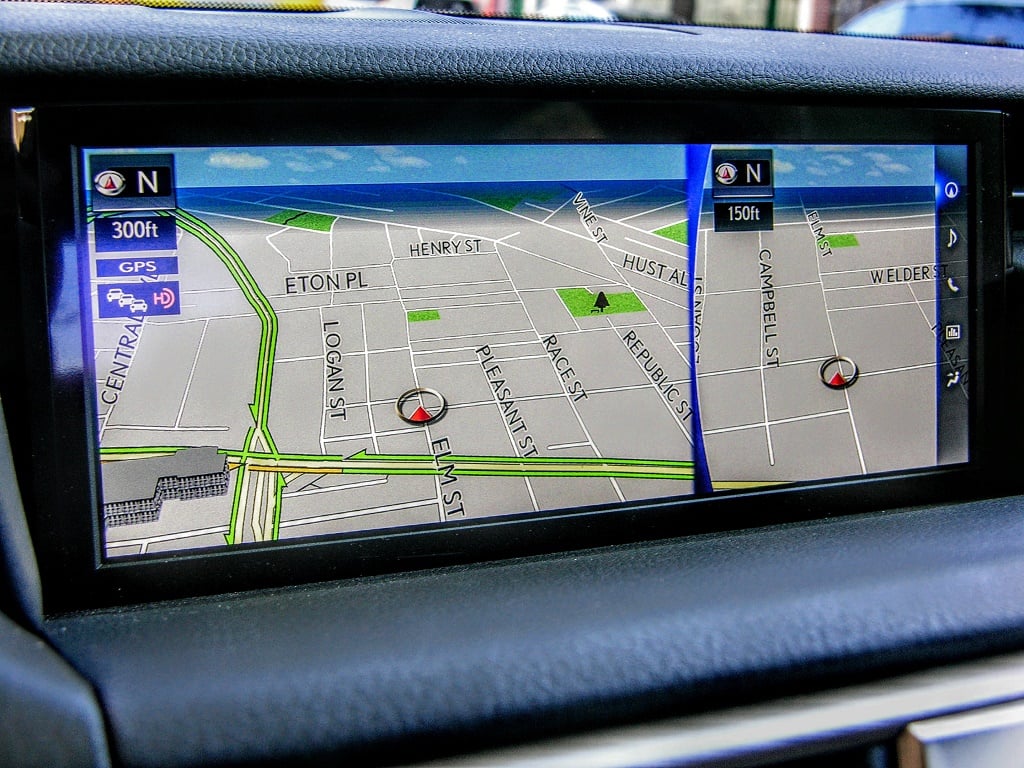 The 2017 model year also doesn't carry with it the full tech sweep known as Toyota Safety Sense-Plus, or TSS-P, which gives vehicles the ability to come to a complete stop on their own before accelerating again when adaptive cruise control is engaged. There also isn't a surround-view camera like in the new Camry, nor is there a manual gearbox option for dedicated performance enthusiasts looking to shy away from BMW offerings.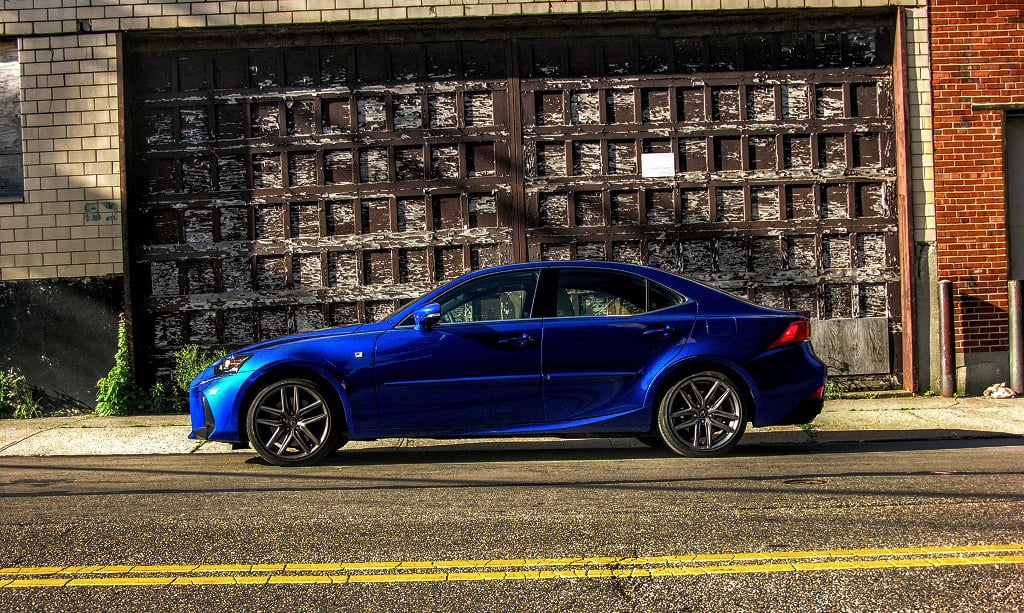 Despite being safe, sporty, sensible to a certain degree, and super reliable, the IS350 F Sport seems like it's a tad behind the Toyota times. If Lexus has the ability to instill some of the kick-ass tech found within the Prius Prime, along with the sensibility packed inside the all-new 2018 Camry, we might have a car that could contend with the likes of the Audi A4 and Alfa Romeo Giulia. Hell, maybe then all the guys over in Aichi, Japan will finally decide that a splash of forced induction fun will help their V6 compete with supercharged Jaguars and twin-turbo Infiniti sedans too. After all, isn't that what the pursuit of perfection is all about in the first place?