2017 Kia Niro Touring Review: A Wagon By Any Other Name…
hybrid | kia | kia niro | station wagons | July 10, 2017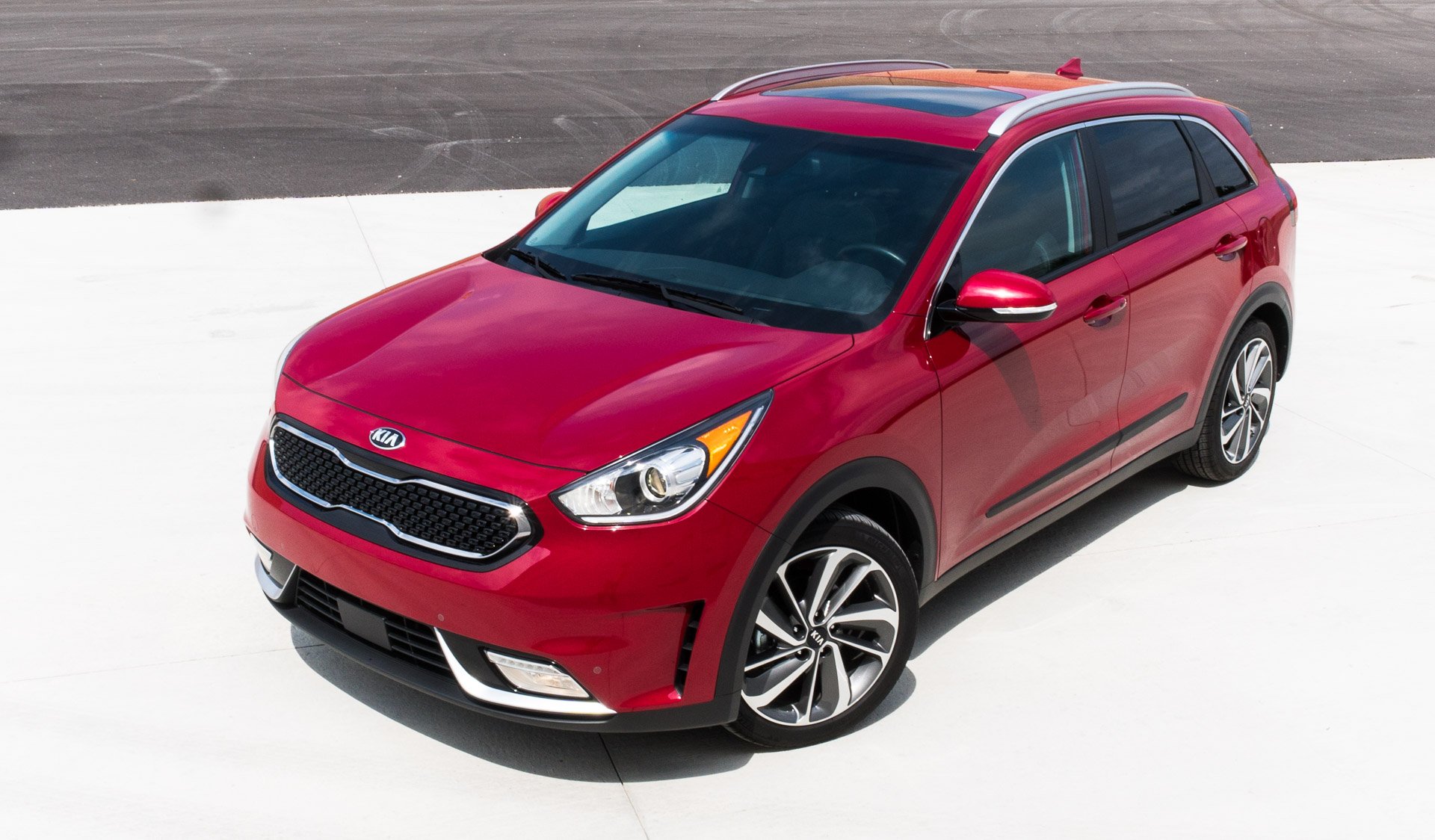 2017 Kia Niro Touring

Powertrain: 6-speed dual-clutch automatic
Engine: 1.6L 4-cylinder + 43 hp electric motor
Horsepower: 139 (total system power)
Drive Configuration: FWD
City/Hwy/Combined MPG: 40/46/43
Curb Weight (lb): 3274
Wheelbase (in): 106.3
Total Length (in): 171.5
Width (in): 71.1
Base Price (USD): $29,650
Price as Tested (USD): $32,575
Despite the fact that it looks like a station wagon, Kia insists on calling its Niro hybrid a crossover. Perhaps it's due to the wild popularity of crossovers, or the stigma attached to the car-like height of station wagons. But as far as I'm concerned, the Niro is a compact station wagon, and there's absolutely nothing wrong with that. Sporting four doors, seating for five, a hatchback, ample storage, and hybrid fuel economy, it's a very good compact station wagon, in fact.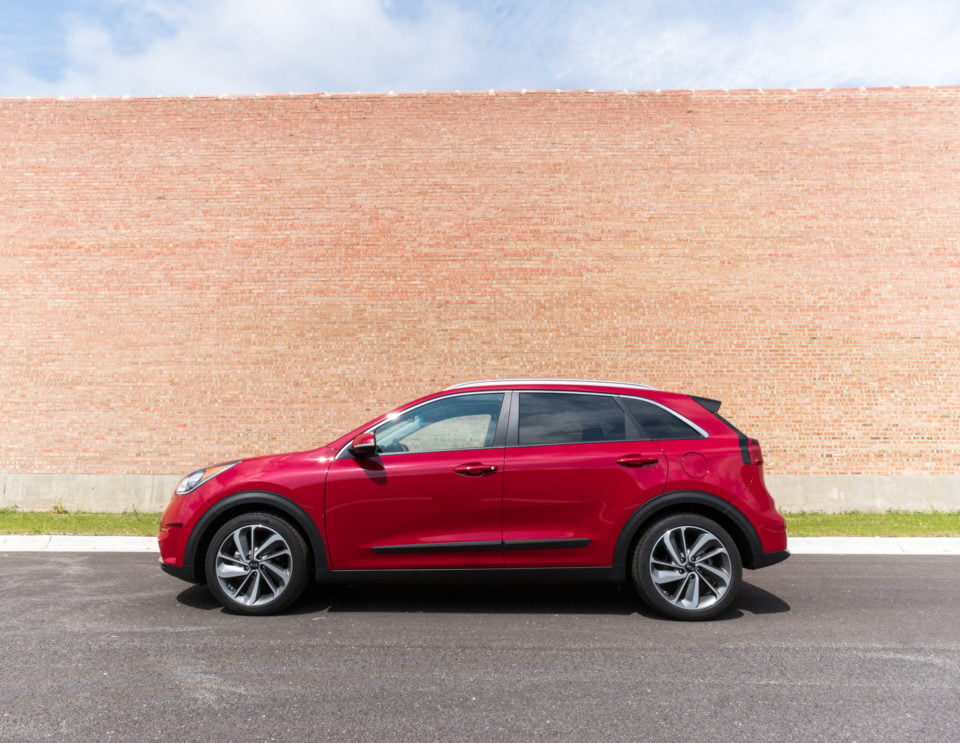 The Niro looks spiffy as well, carrying over many of the design cues that make today's other Kias so stylish. From sporty and dynamic character lines along the sides to a playful tiger nose grille, the Niro looks kind of like a shrunken version of the Sportage. It's simply about 5″ smaller in height and length. Ground clearance clocks in at a very station wagon-like 6.3″.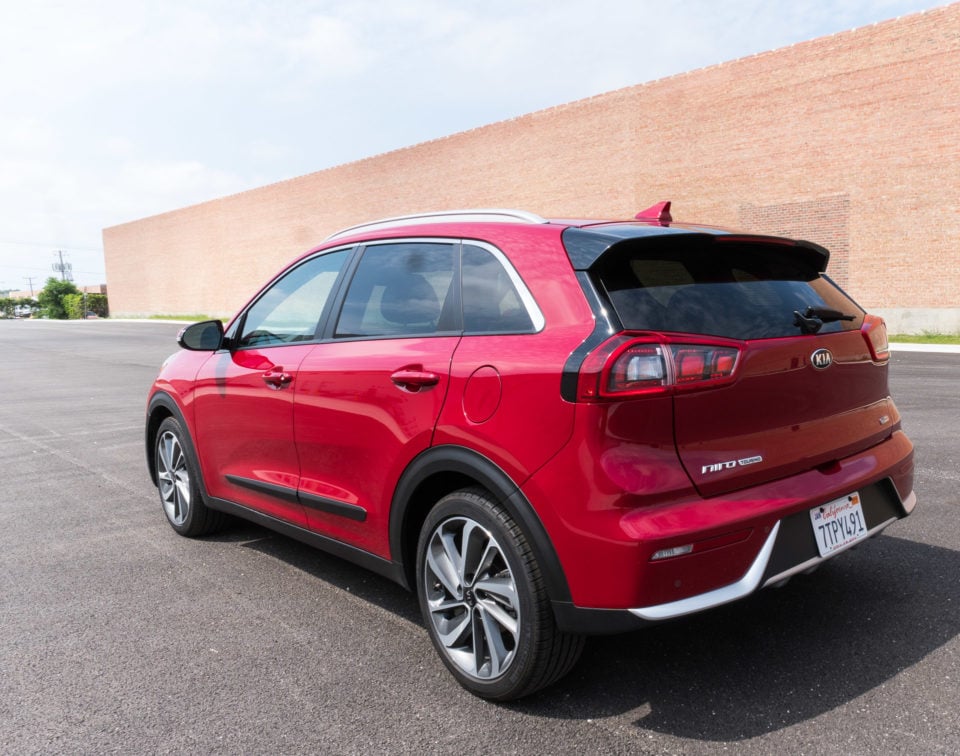 You can get the Niro in 4 different trims – FE, LX, EX, and Touring, the top of the line model tested here. While the Touring packs niceties like heated and folding power mirrors, roof rails, a power sunroof, and slick looking 18″ alloy wheels, it also gives up a few MPG compared to the entry level models – presumably due to the added weight and larger wheels.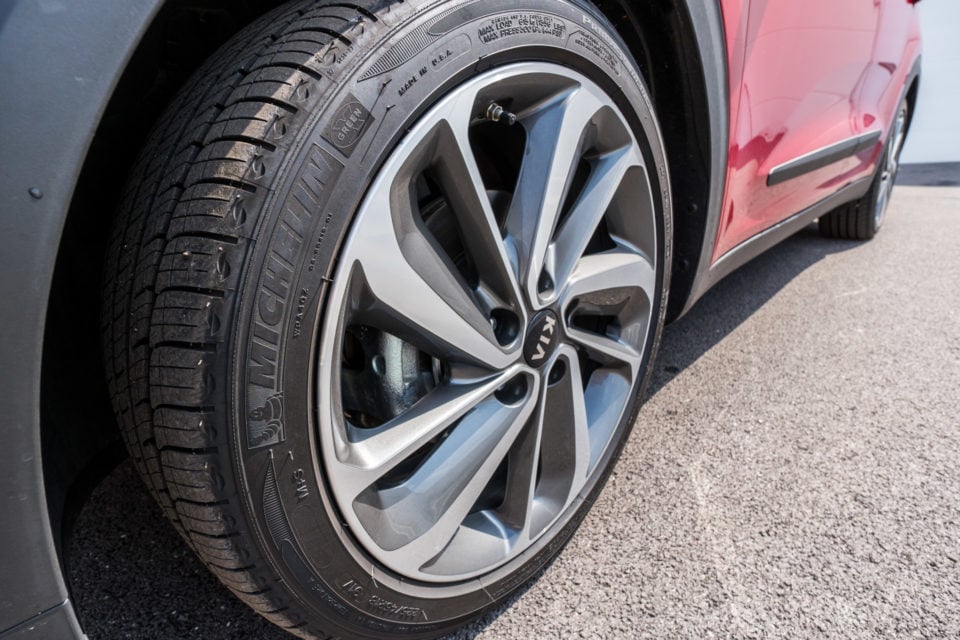 The Niro only comes with a hybrid drivetrain, which uses a 1.6-liter 4-cylinder engine that makes 104 hp, combined with a 43 hp electric motor. You can't just add the numbers together to get total system power in a hybrid, so the actual number is 139 hp. The Niro isn't a powerful car by any stretch. However, it's surprisingly fun to drive.
Acceleration is very smooth and linear, and there's a nice bit of get up and go off the line thanks to its 195 lb-ft of torque. I especially appreciate the fact that Kia went with a 6-speed dual-clutch transmission rather than the CVTs which come in most hybrids. This provides a more engaging experience as it properly shifts through gears. It handles and steers nicely too, though its slightly firm suspension was a little unhappy with Chicago's potholed and speedbump-dotted roads at times.
The Niro's cabin is nicely appointed, especially in the Touring model, with real leather seat trim, soft touch surfaces, and upscale features like heated and ventilated front seats, a heated steering wheel, and memory for the power driver's seat. One item of note is that no matter what height I set the steering wheel and seat to, I bumped my knees on the bottom of the wheel getting in and out. Once seated it's fine, but for taller drivers like me, it's a minor annoyance.
The layout of the dash is fairly pedestrian, but I really like the design of the gauge cluster, which features bold and easy to read information displays for the drivetrain mode, miles remaining, and fuel efficiency. Kia says the Niro Touring is good for 46 mpg in the city and 40 mpg on the highway. I averaged right around 42 mpg combined by the end of the week. With an 11.9 gallon fuel tank, you can expect about 500 miles total driving range – not bad at all, considering you'll spend less than $30 to fill up at today's prices.
Kia offers up a nice variety of tech, safety, and convenience features, including one of the industry's best and most user-friendly infotainment systems, voice-command navigation, Android Auto, Apple CarPlay, a rear camera, front and rear park assist, blind spot detection, rear cross-traffic alert, and a very good sounding Harmon/Kardon 8-speaker audio system. My car came equipped with the Advanced Tech Package, which adds autonomous emergency braking, forward collision warning, lane departure warning, HID headlamps, wireless charging, a 115-volt power outlet, and smart cruise control. This adaptive cruise system works well to adjust to the speed of traffic, though it doesn't operate below about 10 mph.
Rear seat passengers get above average legroom for a car this size, though if you do put a passenger in the middle seat, they have a bit less knee room due to the center console and vents. Since the Niro is a station wagon, it also has better headroom than sedans, since the roof doesn't slope downwards much at all over the rear seat.
Cargo capacity is quite good, with 19.4 cubic feet of space behind the rear seat, and 54.5 cubic feet with seats folded. They fold in a 60/40 split configuration for added versatility. Unfortunately, there's not enough room for a full-size spare tire under the decklid, and to reduce weight, Kia only includes a tire inflation and repair kit rather than a temporary spare.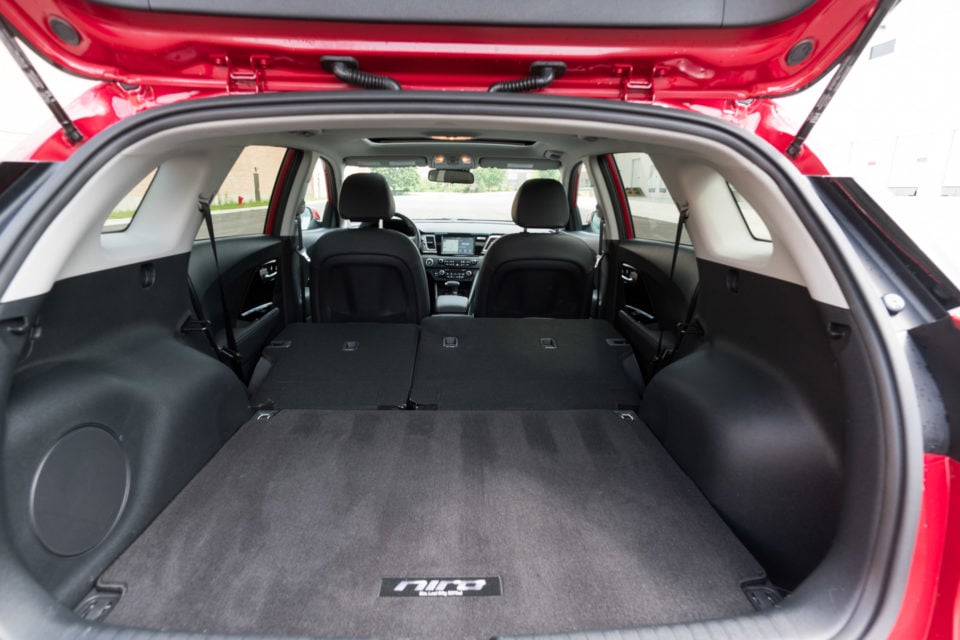 If you're in the market for a small family car that offers the versatility of a crossover or small SUV, but want something that's a little more compact and fuel efficient, the Kia Niro is a great option. It looks swell, offers plenty of premium features, and is a fun little car to drive. You give up a little of the height advantage of an SUV, but contrary to what some people might think, you can live with a normal height car just fine. People did it for decades before SUVs and crossovers came around. I, for one, am more than happy to celebrate the Niro's station wagon character.