2017 Audi A4 Review: Good Sedans Come in Small Packages
2017 | audi | audi a4 | July 12, 2017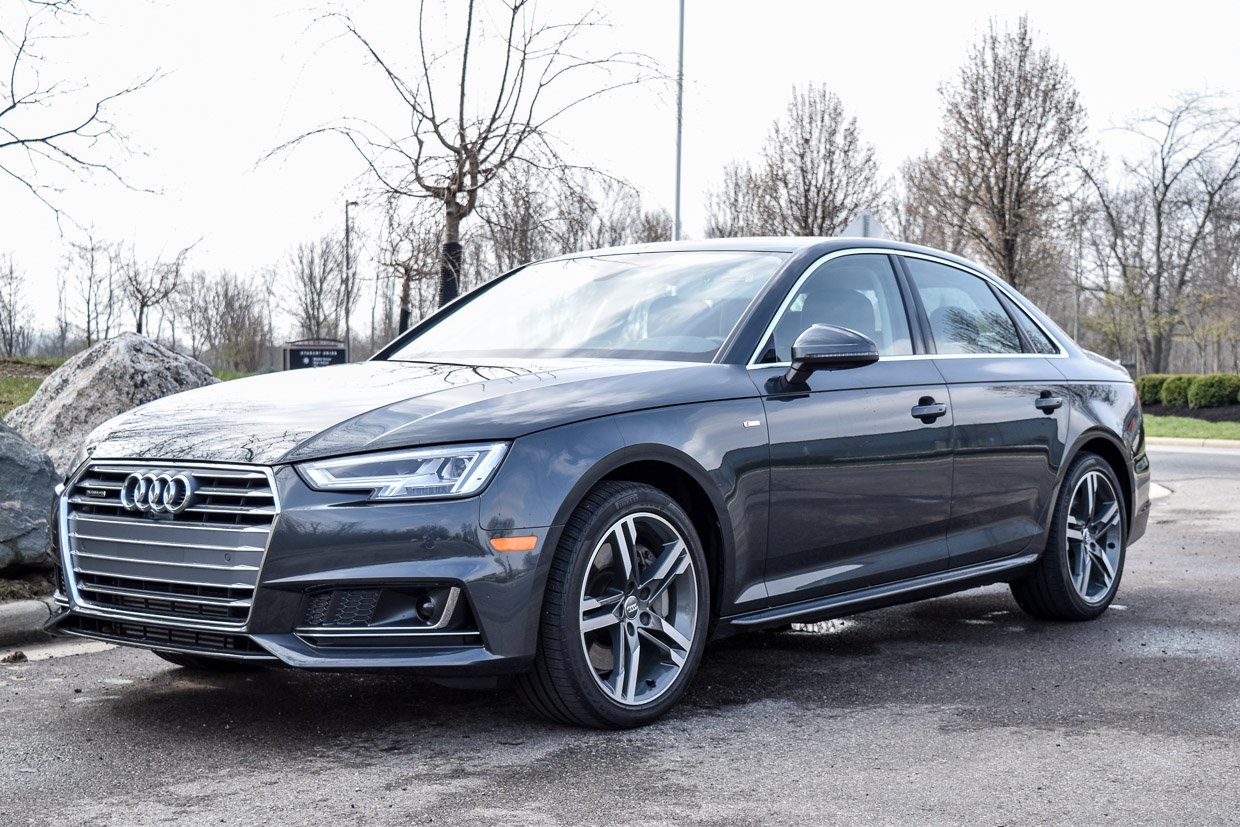 2017 Audi A4

Engine: 2.0-liter turbocharged 4-cylinder
Horsepower: 252
Torque (lb-ft.): 273
Transmission: 7-speed automatic
Drive Configuration: AWD
Top Speed (mph): 130
City/Hwy/Combined MPG: 24/31
Curb Weight (lb): 3582
Wheelbase (in): 111
Total Length (in): 186.6
Width (in): 72.5
Base Price (USD): $39,400
Price as Tested (USD): $54,275
In the small luxury car segment, it's all about the numbers and the letters. No, not the ABC's and 1,2,3's, but the A's, C's, and 3's. Have I gone daffy? Forgotten remedial schooling? No. The small luxury car segment is dominated by the Audi A4, the Mercedes-Benz C-Class, and the BMW 3-series. All are exceptional. But for this model year, Audi moves to the head of the class with the appropriately named A4 as this redesigned luxury sedan receives an "A" grade for sure.
To top it all off, the A4 is now completely updated making this generation even better. This year's model has all-new looks, vast amounts of technology, improved ride performance and fuel economy. And it still has Audi's Quattro all-wheel drive system which makes it quite the show off. There is a front-wheel drive version, but come on it's Audi, and you want the Quattro.
I've always liked the look of Audis. They have a distinctive appearance on the road, especially at night. I appreciated the 2016 version of the A4 and felt that it was still current and attractive. So, when I saw the redesigned 2017 model, I was initially undecided about how I felt. It seemed to lose a little of the aggressive styling that I liked from before. My first impression was that it lost some distinction too. But, after spending enough time with and looking at it out of my office window, I realized this was the more mature, grown-up version of this luxury sedan.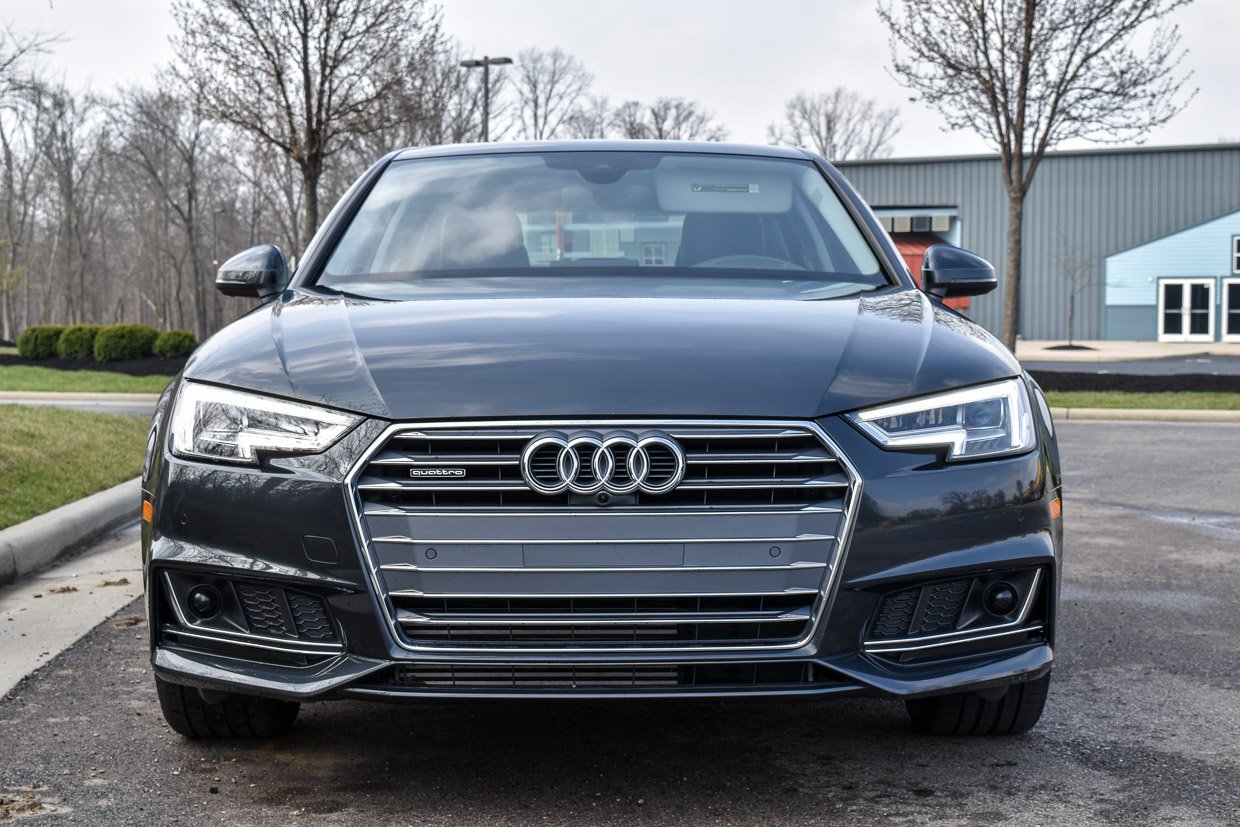 Indeed, the 2017 Audi A4 has a more elegant, timeless styling than before. For sure the front end is still sexy and is the A4's best design attribute. The well-balanced front features a contoured grille, flanked by thoroughly modern Xenon headlights and LED daytime running lights. Audi leads the way in lighting throughout the industry and the A4's headlights are exceptional. The car looks so suave at night thanks to the Xenon headlights. They flow perfectly with the swoop design on the hood and lead seamlessly over the quarter panels.
The side view is more elegant, and dare I say conservative. Additionally, the back needs more pizzazz. Only a faint little rear spoiler shows off the sporty side of this car. The dual exhaust pipes could use further embellishment. The new-look A4 is starkly different from the previous generation and will likely attract a broader range of customers. Some Audi enthusiasts may grouse a little about the new look, but like me, they'll grow to appreciate its maturity.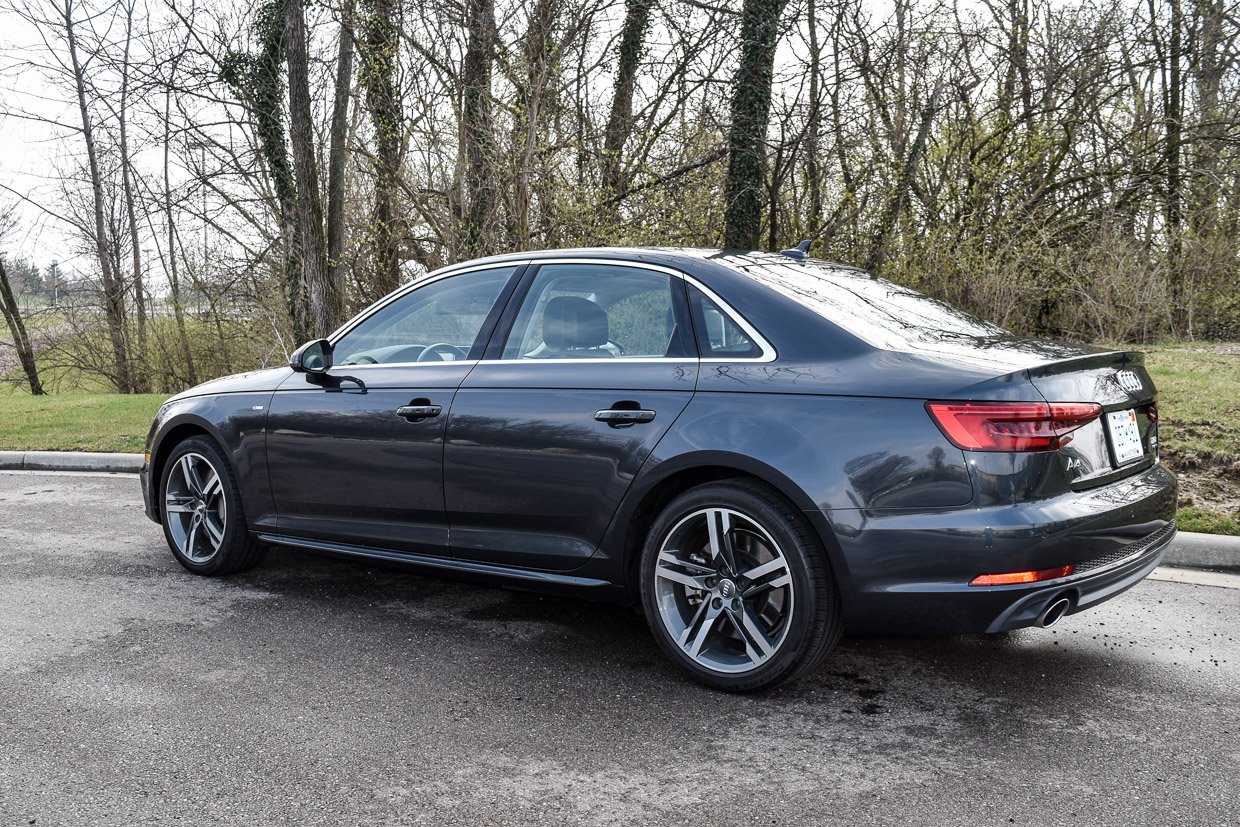 The A4 has a new engine to go along with its new looks. The turbocharged 2.0-liter four-cylinder engine has significant power, for such a small, fuel-efficient engine. Audi customers are used to a certain type of performance and won't be disappointed with this new power plant that pushes out 252 horsepower and 273 lb-ft. of torque. It's both quick off the line and great at speed. There's minimal turbo lag, and the seven-speed dual-clutch transmission performs well. It does occasionally hold the shifts back, but that can overridden by changing drive modes. There are four different drive select modes: comfort, auto, dynamic, and individual which helps turn the A4 into the type of car you want. It won't ever be a "track" car, but the performance is exceptional.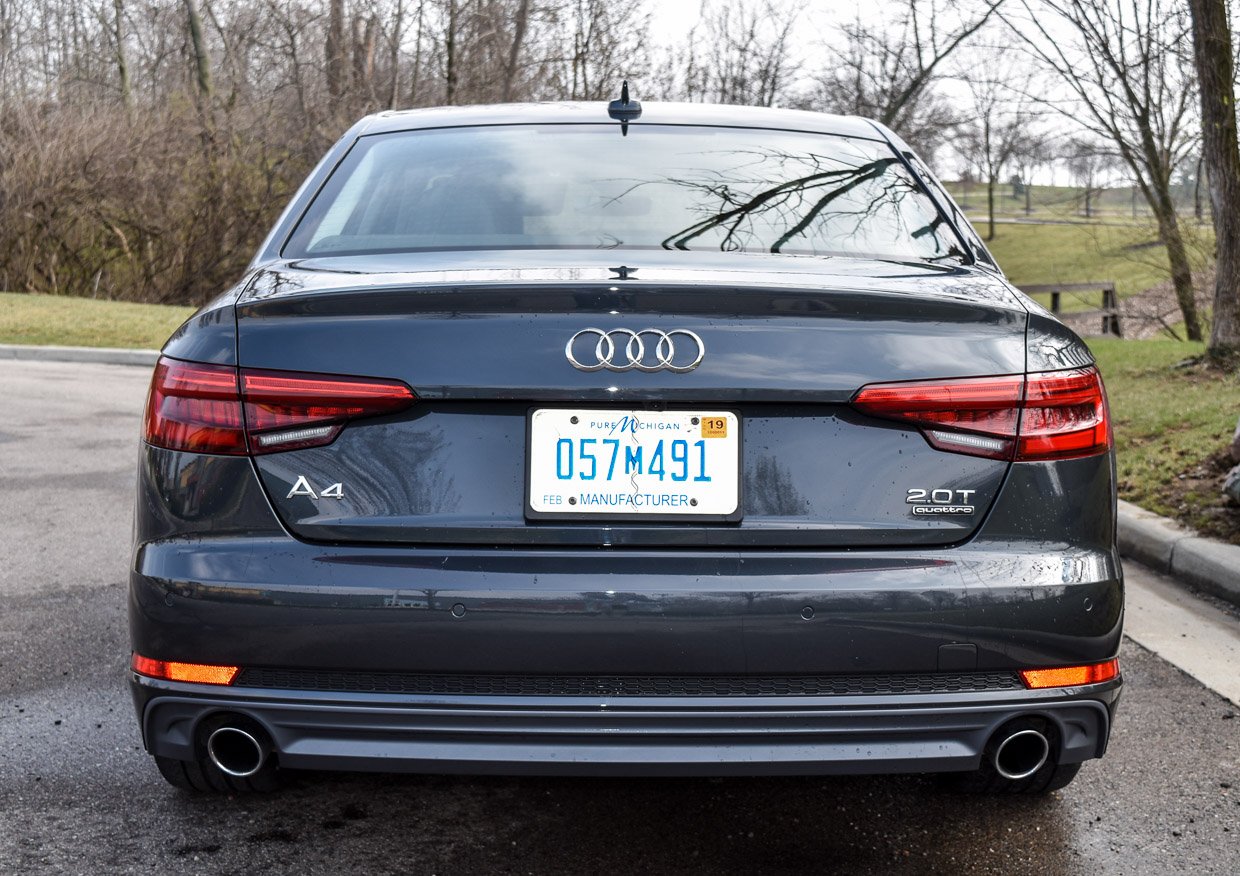 This year's A4 drops weight. This, in addition to the new engine, creates a significant gain in fuel economy. The all-wheel drive version drops 66 pounds from last year's model. This accounts for an EPA rating of 24 mpg/city and 31 mpg/highway. This is the first time the AWD A4 has surpassed the 30-mpg threshold. In a week's worth of driving, I averaged just over 27 mpg. And I was into that turbo hard many times.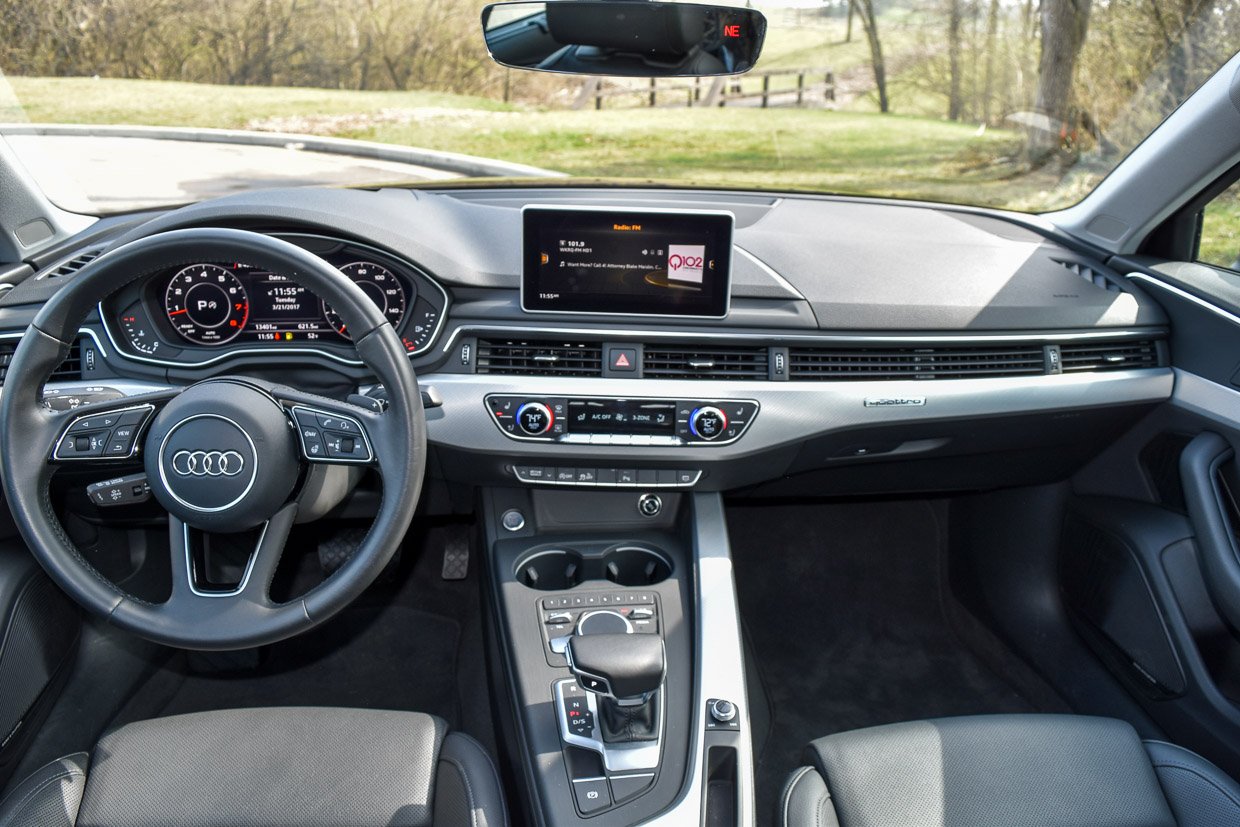 In the luxury world, it's all about the interior. Audi's stylists always do a tremendous job of adding distinction and fantastic touch points in their cars. This new A4 is no exception, with premium leather seats and a curvaceous dashboard that's soft to the touch. The infotainment screen looks like a small flat screen TV, anchored stoutly in the middle of it all. Ambient LED lighting helps set a calming mood inside. Carbon-fiber-esque accents class up the interior.
The 2017 Audi A4 is certainly as luxurious as any of its competitors and this year the cabin is larger, meaning there's more rear legroom and headroom. The front seats have an ideal angle, and with eight-way adjustable seats and four-way lumbar support, you can tweak and tune them to your heart's content. The power sunroof tiles and slides, and a three-zone climate control will assure that front passenger and rear passengers can enjoy their own temperature settings and comfort.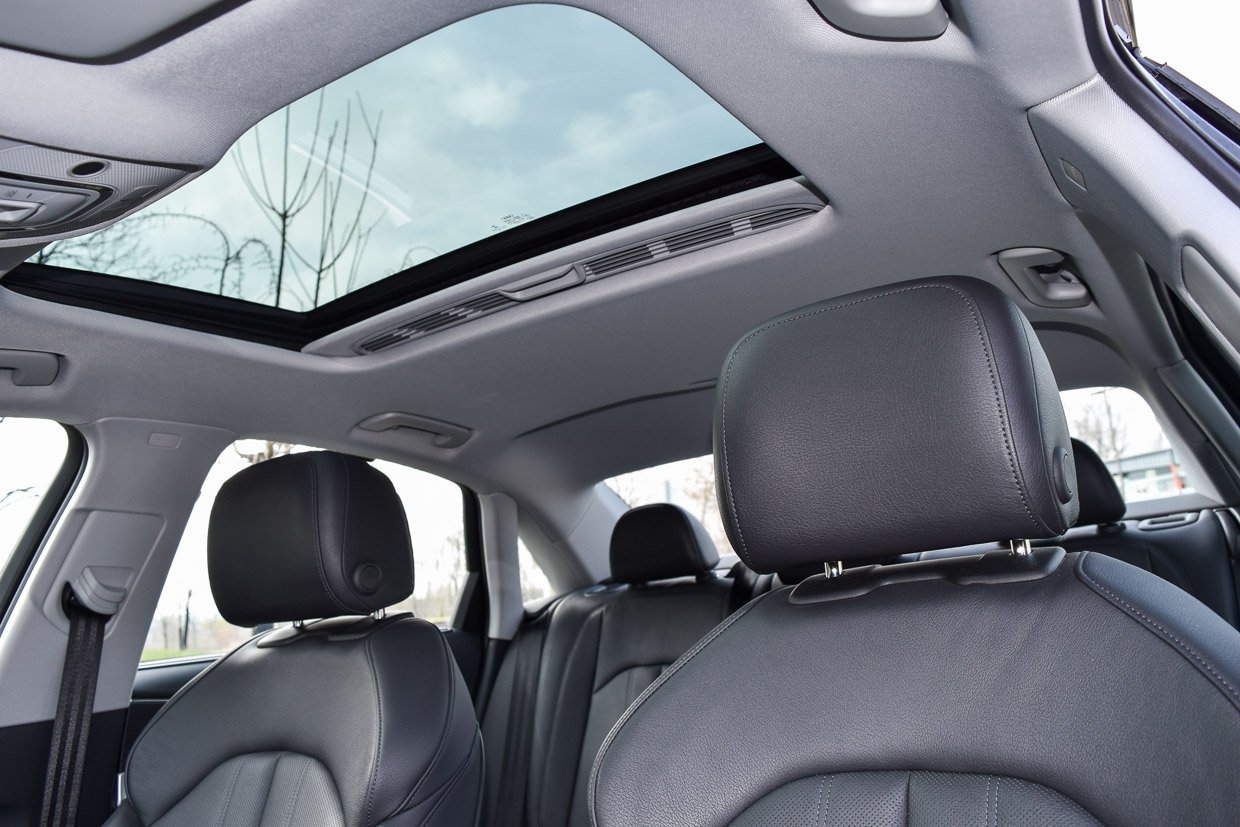 When it comes to technology, Audi is always a leader. The A4 has plenty of stuff to geek out over and impress everyone. A 12.3-inch display delivers information at 60 frames per second using the fastest processor of any car's infotainment system. There's no lag in your touch commands and the screen is bold and vibrant. The Bang & Olufsen sound system delivers outstanding sound, while the cabin is incredibly quiet, free from engine and road noise.
The MMI scroll wheel interface has been improved, and credit is due for improving the previous generation's clunky format. However, it's still somewhat overly complex and could be more intuitive. This year's infotainment system is simplified and looks more like a web browser interface. There are two USB ports, and the system now integrates with Apple CarPlay and Android Auto.
Without a doubt, the coolest tech feature is the Audi virtual cockpit. I'm putting this in all caps for emphasis and to show the necessary enthusiasm. AUDI'S VIRTUAL COCKPIT IS THE COOLEST TECH FEATURE OF ANY CAR ON THE ROAD. No exaggeration. It keeps your eyes focused on the driving area, but still provides important information to you displayed in such a cool, vibrant way.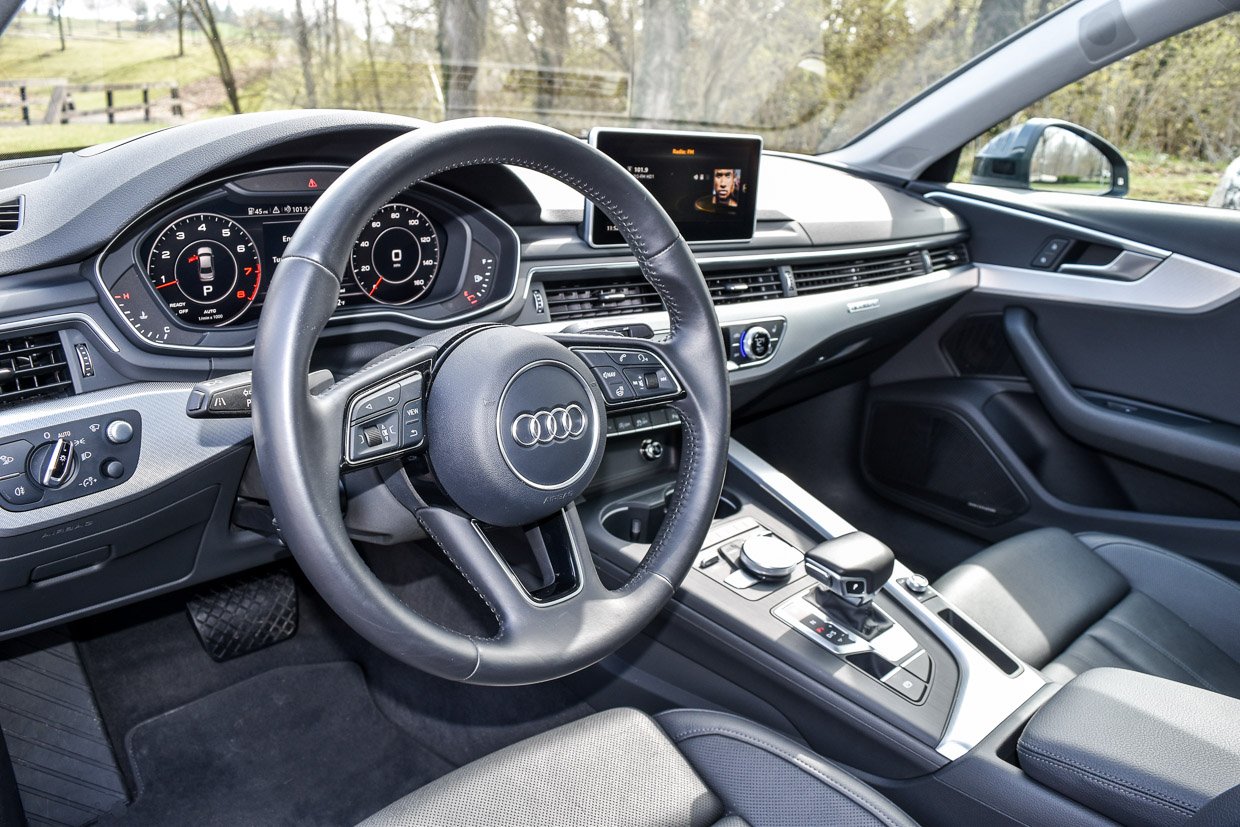 A base model A4 with front-wheel drive has a starting price around $35,000, which is quite a bargain for a true luxury car. My AWD tester had a base price of $39,400. Like so many other German cars, the shopper can quickly get sticker shock with lots of features and options that aren't standard. My tester had the prestige package which includes the advanced sound system, 18-inch 5-spoke wheels, LED headlights, ambient lighting, and the and highly praised Audi cockpit. Add in other features like a driver assistance package, cooled/ventilated front seats (great for the summer time) and heated rear seats and heated steering wheel, for a final price of $54,275.
The 2017 Audi A4 continues to battle in an ultra-competitive segment. Amongst a crowded field, they receive high grades for this redesigned sedan and move to the head of the class.