2017 Toyota Prius Prime Review: Space Station Smartypants
2017 | Efficiency | hybrid | technology | TNGA | toyota | toyota prius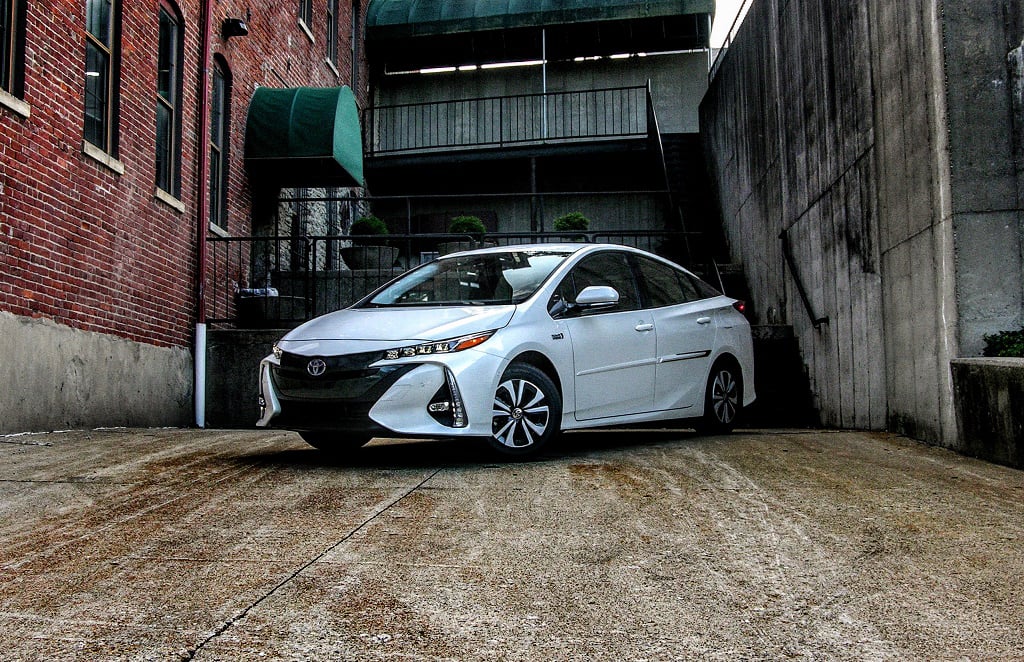 Specs at a Glance

Powertrain: CVT
Engine: 1.8-liter 4-cylinder
Horsepower: 121
Torque (lb-ft.): 105
Drive Configuration: FWD
0-to-60 Time (secs): 10.9
Top Speed (mph): 115
City/Hwy/Combined MPG: 55/53/54
Curb Weight (lb): 3,400
Wheelbase (in): 106.3
Total Length (in): 182.9
Width (in): 69.3
Driving Range (mi): 25 miles (133 MPGe)
Base Price (USD): $33,100
Price as Tested (USD): $35,112
The future is now, people, and as consumers we play a crucial role in shaping it. Buyer interest in autonomous, electric, tech-filled, and connected cars is molding the roads automakers follow, with many vehicles looking like they've been pulled straight from the pages of a science fiction script.
Although electrification has issued forth a string of outstanding advancements in powertrain performance and driving range, it's the features attached to the insides of the modern green machine that really make it feel advanced. Monitoring all of the components encapsulated within a modern hybrid system opens doors to all manner of attractive tech feature, and with the right amount of aesthetic panache can make for a solid first impression.
But this proven approach does not always translate to crowd pleasing curb appeal or salivation-worthy interiors. Take Toyota's Prius Prime for example, which in top shelf "Advanced" trim offers a deluge of nifty tech features and powertrain advancements, but splashes onto the scene with styling that many consider to be a complete belly-flop.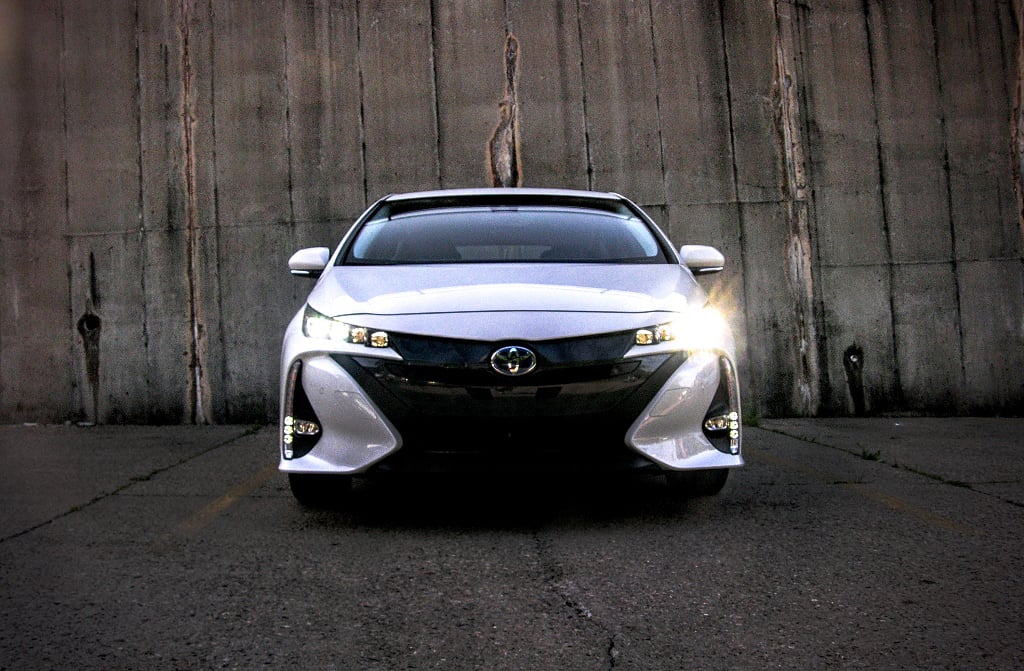 Toyota might be trying too hard to make the Prime look super futuristic, with styling more akin to a Cylon from Battlestar Galactica than a hybrid, but a lot of people dig quirky lines and wild LED accents. But the Prime isn't just designed to garner attention either, because it's got less drag and more grip than any other Prius thanks to being 6.5-inches longer, 0.6-inches wider, and 0.8-inches lower than the model it supplants.
A massive amount of this car has been engineered to help it be more performance focused, and everything from the gasoline engine and electric motor, to the cabin's seating positions have been lowered in order to offer more agility. It also reportedly sports a 0.25 drag coefficient when its active grille shutters snap shut, making it among the slipperiest production sedans ever manufactured. There's also that "dual wave" rear window, full LED taillights, and an aero glass panel beneath the rear spoiler, all of which serve-up slabs of safety and drag-cutting efficiency.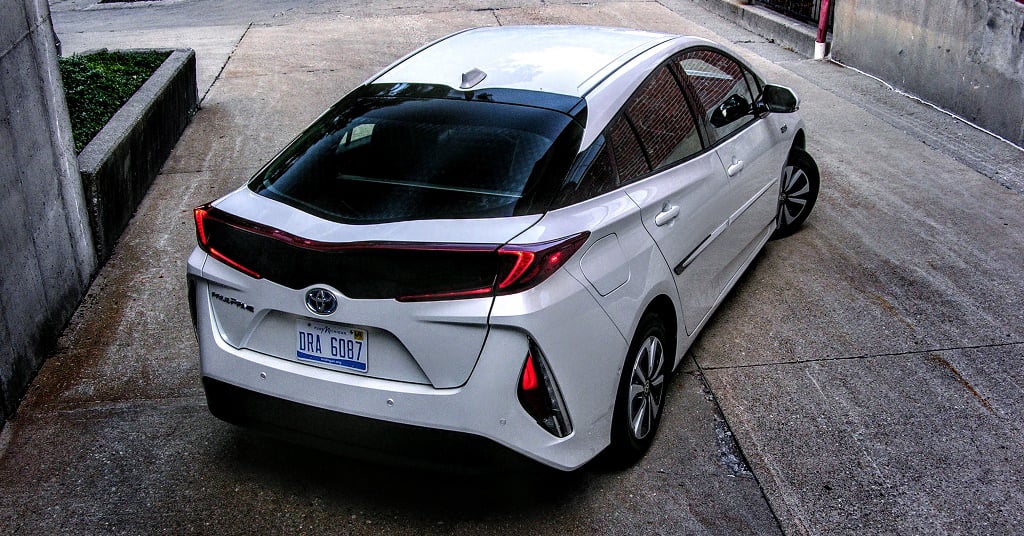 Even more energizing positive impressions are found within the powertrain department, starting with EV Auto Mode, which automatically relies heavily upon its electric strengths around town. But hit a hill or attack the interstate in Hybrid Mode and the Prime pumps petrol and triggers extra electricity for more speedy acceleration, and will even learn a driver's habits along common drive routes in order to alleviate unnecessary throttle inputs.
But let's back up for a moment and talk a bit about what makes the Prime so unique when compared to the rest of the hybridized pack, including the regular Prius. The biggest difference between it and its kissing cousin is that the Prime can be plugged in almost anywhere in order to recharge the on-board 8.8kWh lithium-ion battery, which holds more than double the juice of the model it replaces.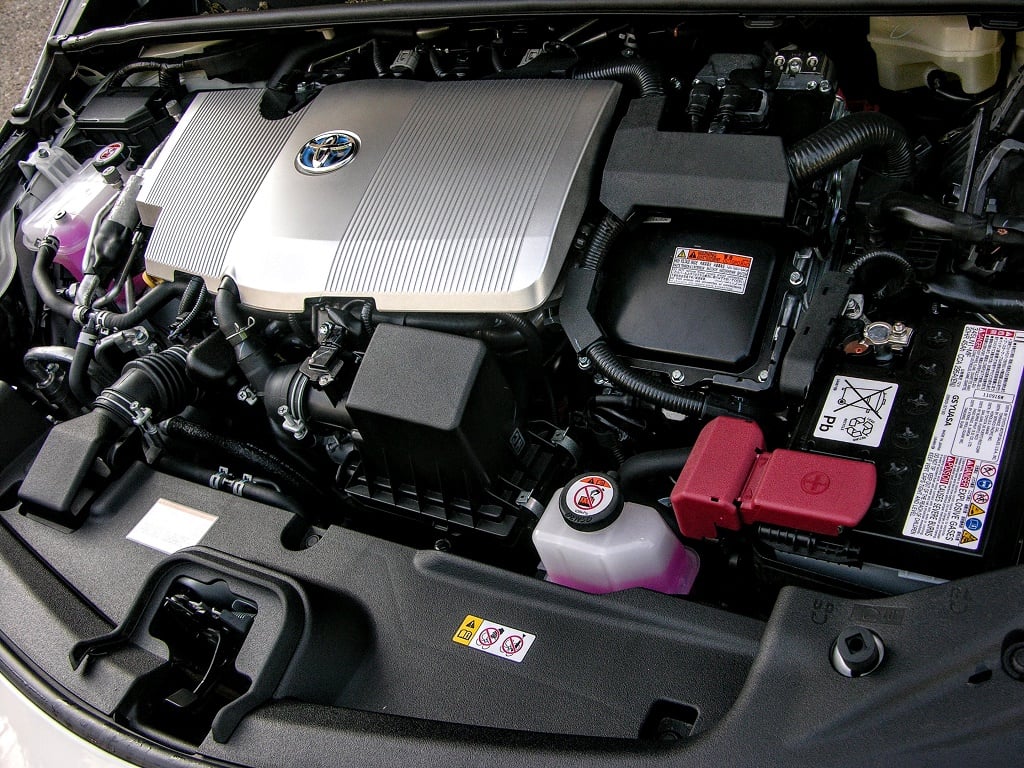 For Toyota, this marks the first time in history that one of its hybrids has been furnished with a "dual motor drive," which allows a one-way clutch to engage both a generator and an electric drive motor for additional power. This translates to suitable, but not astounding amounts of energy off the line, something that hybrids have struggled with finding in the past.
Another perk associated with going Prime is that there's no special gear required for home charging. Just plug the included cable into a standard household outlet and in less than six hours you'll have a refilled battery, with public charging/240V sources recharging things in about two.
Toyota has also gone the extra mile by partnering with ChargePoint in order to grant Prime buyers access to the world's largest public charging network. With more than 30,000 charging stations spread across the states (and the majority of these being free), buyers can now plug and manage their Prius' charge cycle remotely from a smartphone app. This same app also grants them access to climate controls, location services, security, and remote vehicle monitoring, a useful tool in a vehicle this tech-rich.
Inside the cabin of the Advanced edition you also get an 11.6″ hi-res touchscreen, with tablet familiarity providing pinch-to-zoom smarts and swipe responses. There are also capacitive touch switches on either side, 10 JBL GreenEdge speakers, a wireless charging pad, a full-color dash cluster, a healthy array of pre-loaded apps, and the latest Entune infotainment brains computing it all. All told it's a brilliant bundle of tech advancements and it will be interesting to see what trickles down into other areas of Toyota's ever expansive empire.
Personally, I dig the Prime, and think it looks both fun and funky at the same time. For as impractical as they may be, I like its futuristic seats in their 2+2 configuration, along with all of the cabin's varied materials and contrasting colors, the spacious center console, and Toyota's simple yet effective child LATCH safety system. I also liked that the Advanced version of the Prius Prime came packed with  Toyota safety features, a useful Head-Up Display that isn't intrusive, an array of efficient drive modes, as well as heated seats and steering wheel materials.
It also carves corners sharper than expected thanks to its aluminum double-wishbone rear suspension and lower, wider center of gravity, and bouncing off the line in order to blend-in with interstate traffic is fair for the segment. Sure, there's some vagueness to be felt within the steering column, and its efficiency-focused wheels and tires don't do squat for traction, but that's to be expected in today's modern hybrid commuter field.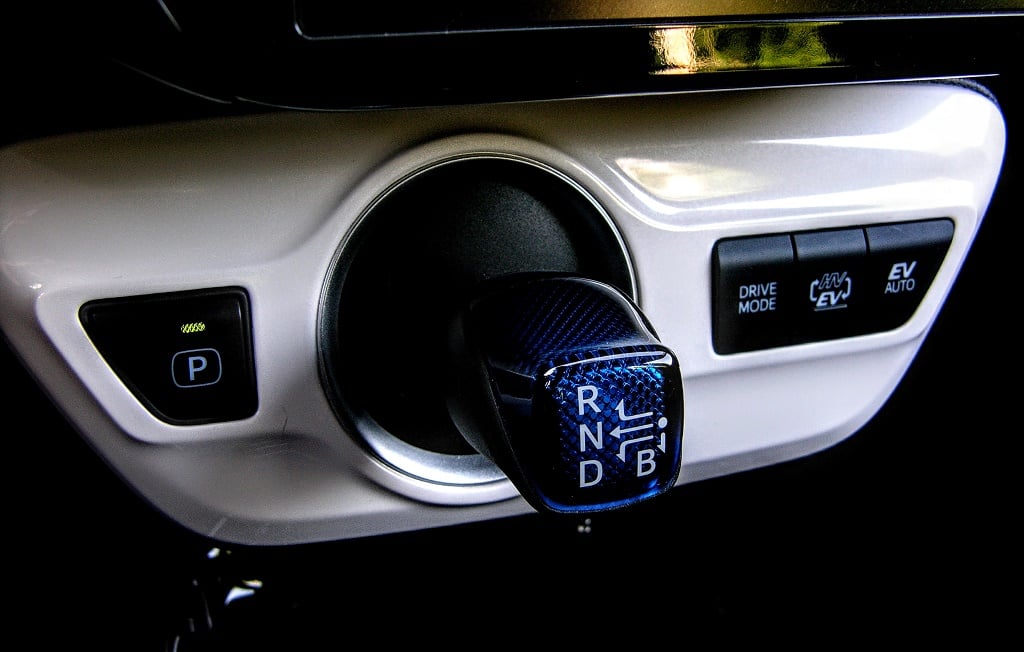 But wheels and tires can be easily swapped out for wider and stickier stuff, though the other complaints with the Prius Prime are far less easy to fix. There is an overabundance of recycled features in this car that look dated and out of place all at once. For being so futuristic one would expect to find things like an electronic e-brake, 360-degree camera views, LED interior lighting, and USB ports for rear passengers. Instead, what you get is an old school foot-operated emergency brake, ho-hum backup camera views, incandescent interior lighting with minimal mood accents, and zero charging options for rear passengers.
There also is a lot of wasted space within the cramped rear cargo hold and the center console splitting the rear seat playing second fiddle, as its design circulates air but refuses to charge phones or accommodate most purses. There also is not (and probably never will be) Android Auto or Apple CarPlay compatibility, glovebox space is limited, cupholders are too tight for the average water canteen, and both service lamps and the digital clock look to be pulled straight out of a mid-nineties Corolla.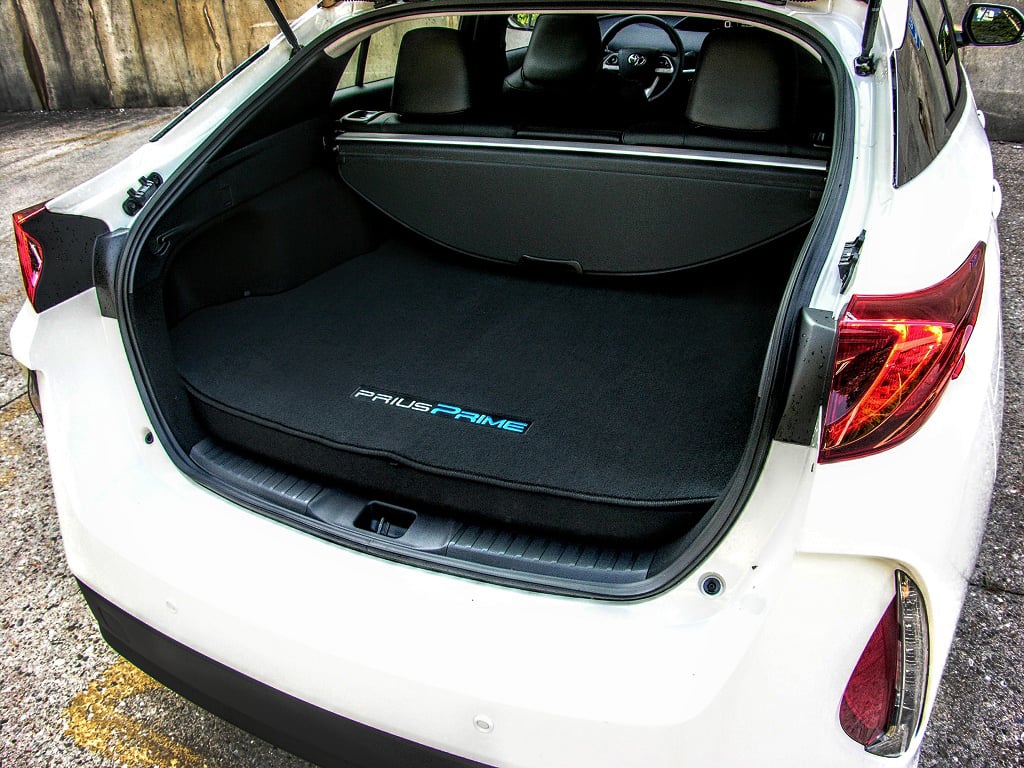 I also found that the 11.6-inch vertical touchscreen is prone to catching glare/washing-out in direct sun and that the Qi wireless charger can be finicky when it comes time to put juice in your smartphone. There also is a lot of hybrid brake feel/regenerative noise, the rear turn signals are so low that SUV drivers likely won't notice you turning, and EV Mode trails cars like the Volt.
Even so, the Prius Prime still makes a strong argument for its existence, with unwavering Toyota reliability backing it all up. So if you don't mind its spaceship-like aquatic body lines and 2+2 seating layout, and have $33,000 to spend on a bulletproof commuter car, definitely give the Advanced version a spin. Future generations will someday talk about the first plug-in cars the same way we talk about carburetors nowadays. Wouldn't you like the chance to be a part of history by shaping the future today?