2017 Toyota 4Runner TRD Off-Road Premium: It's Only Good at Everything
off-road | toyota | toyota 4runner | trd | July 19, 2017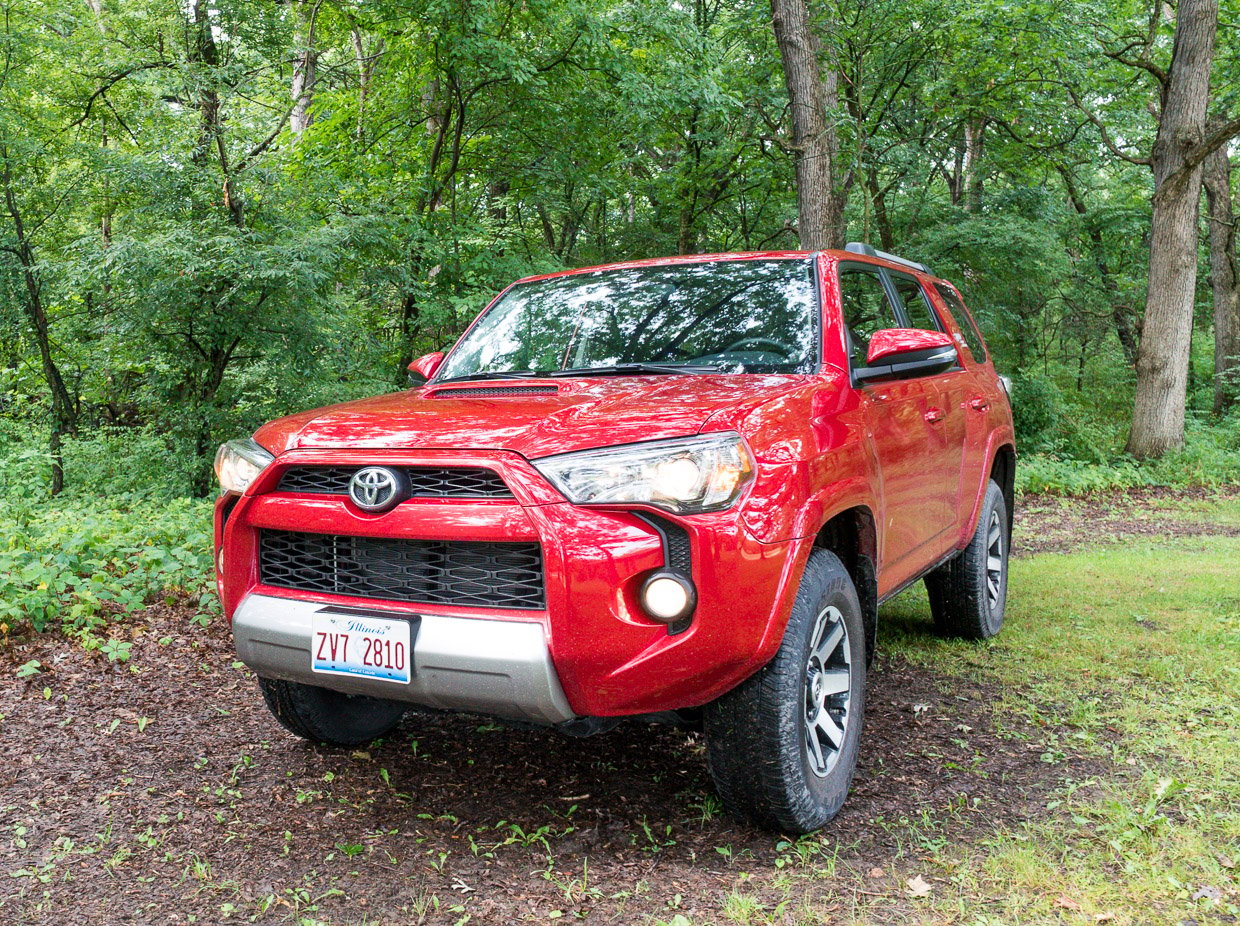 2017 Toyota 4Runner TRD Off-Road Premium

Engine: 4.0-liter V6
Horsepower: 270
Torque (lb-ft.): 278
Transmission: 5-speed automatic
Drive Configuration: Part-time 4WD
City/Hwy/Combined MPG: 17/20/18
Curb Weight (lb): 4750
Wheelbase (in): 109.8
Total Length (in): 191.3
Width (in): 75.8
Base Price (USD): $39,295
Price as Tested (USD): $39,835
My daily driver isn't exactly the most practical of cars. After all, a 2-seat, rear-wheel drive sports car with a massive V8 isn't great for hauling stuff, dealing with potholes, or handling Chicago's nasty winter weather. That said, the vehicle I really SHOULD be driving is the Toyota 4Runner – specifically the TRD Off-Road Premium.
After all, the 4Runner is one of the sturdiest and most capable vehicles you can buy. It handles cargo, rough roads, passengers, and bad weather with the best of them, and is pretty much unstoppable. This is the vehicle I'd want in the zombie apocalypse. With stocky, angular lines, the 4Runner looks like it means business. In TRD Off-Road Premium trim, it'a got a big hood scoop, and color-keyed bumpers with silver accents, and rides on rugged 17″, 7-spoke alloy wheels.
Unlike the vast majority of SUVs on the market these days, the 4Runner is still built with a body-on-frame architecture. That makes it more durable, easier to isolate the cabin from bumps, simpler to repair, and substantially easier to modify with off-road mods like lift kits. Straight from the factory, the 4Runner Off-Road has an ample 9.6″ of ground clearance, along with a 33º approach angle, and a 26º departure angle, plenty for all but the most rocky of trails.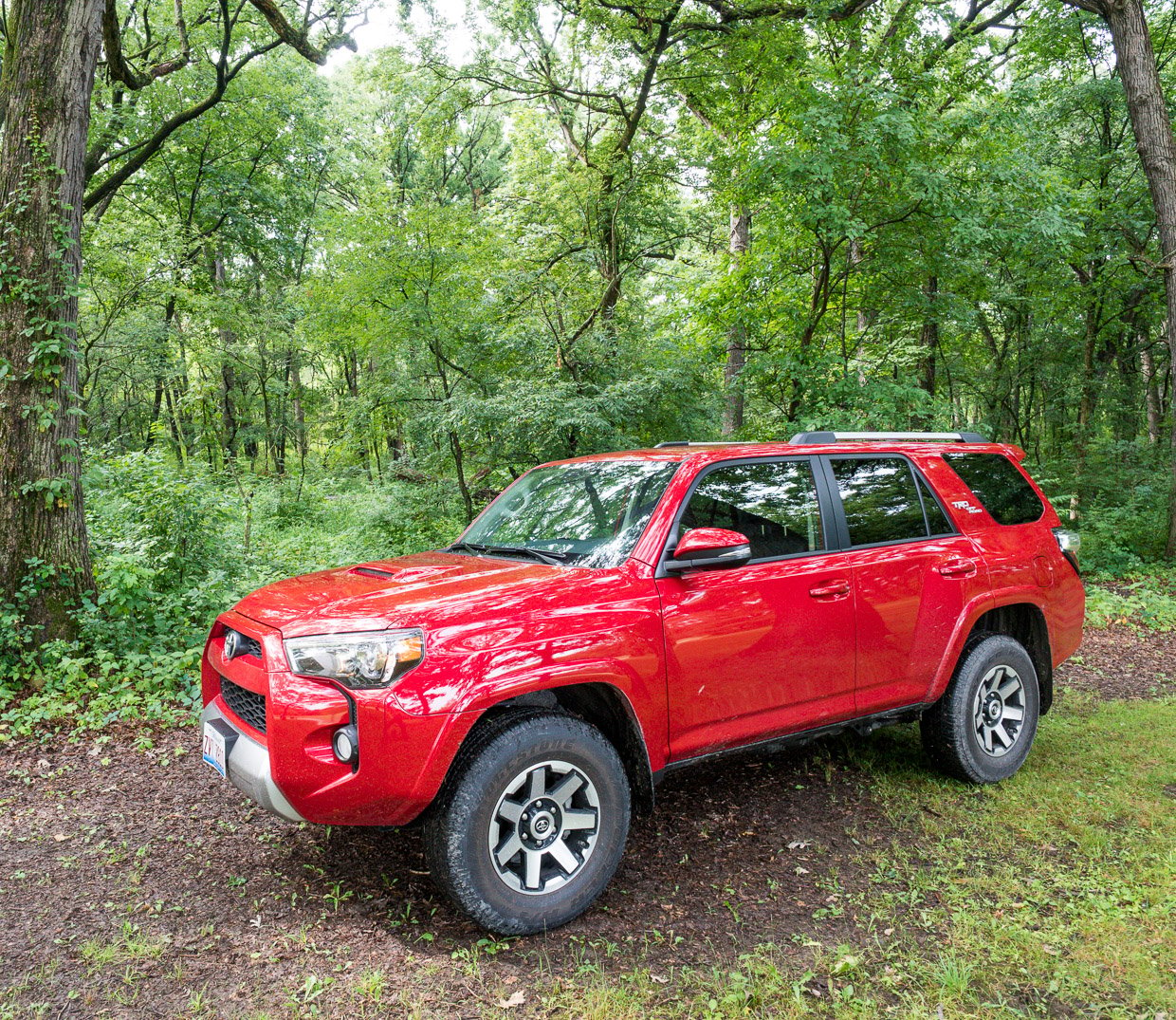 No matter which 4Runner trim you choose, you get Toyota's trusty, pretty much un-killable 4.0-liter V6 under the hood, which offers up 270 hp and 278 lb-ft. of torque. You won't be doing any off-road racing in this thing, but it's still got plenty of power for everyday tasks and trail riding. The 5-speed automatic transmission isn't notable in any way, but it gets the job done – just without the fuel economy benefits of more modern gearboxes.
Before I found my way out to the country, driving the 4Runner was an absolute joy on the streets of Chicago. It swallowed up the worst potholes, and took on the half-ripped up lanes of the perpetually under construction Cicero Avenue like it was nothing. All the while, I was comfortable and secure in its spacious and comfortable cabin. I kind of like to think of the 4Runner Off-Road as the Honey Badger of SUVs. It's fearless. Nothing phases it. 4Runner don't care.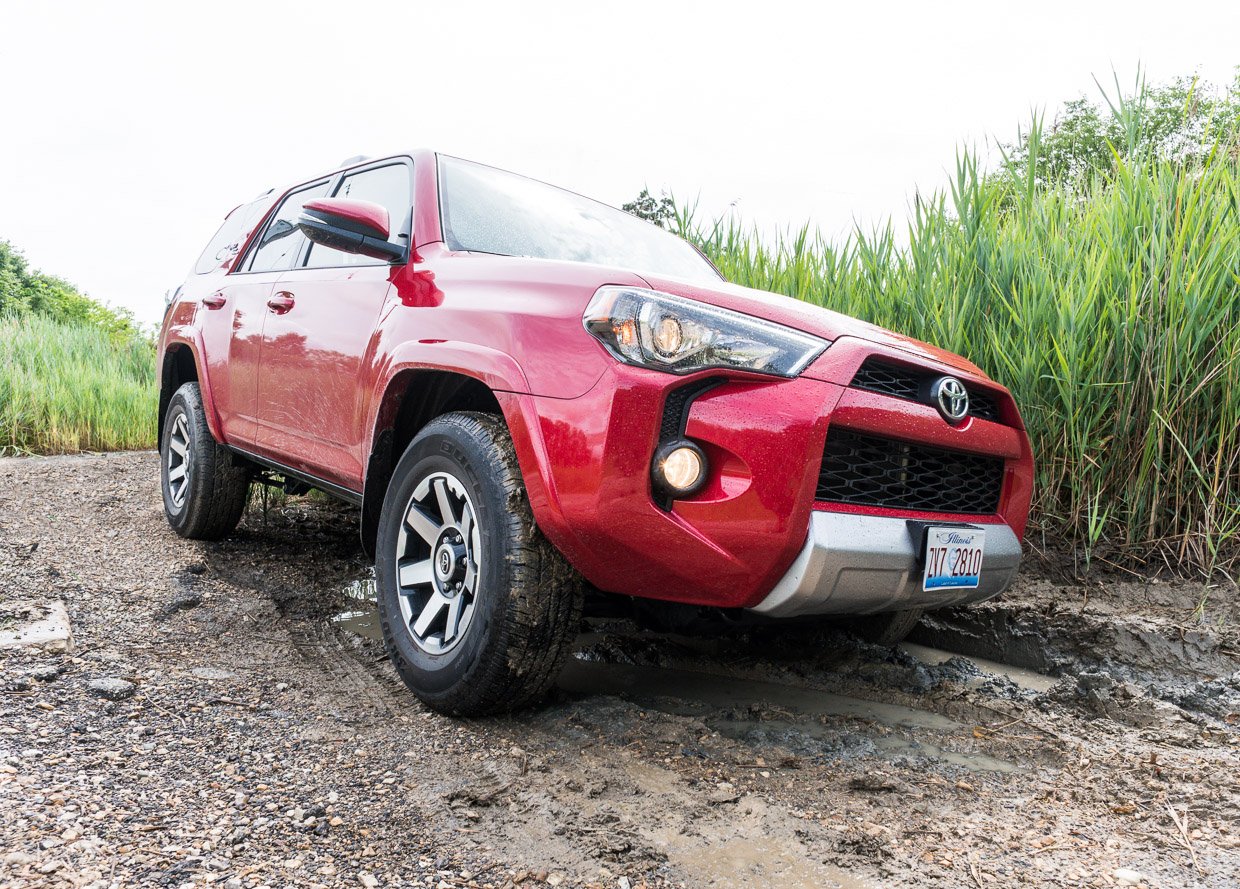 The 4Runner seamlessly transitions from urban chaos to rugged country backwoods. It comes equipped with a part-time 4WD system, so you can hang out in rear-wheel drive mode while on the highway, then kick it into 4WD High mode when you get on the trails, and then into 4WD Low mode should you encounter slippery hills, slopes, or other more challenging terrain along the way. 4WD High mode also comes in hand in slippery everyday situations like snow or ice.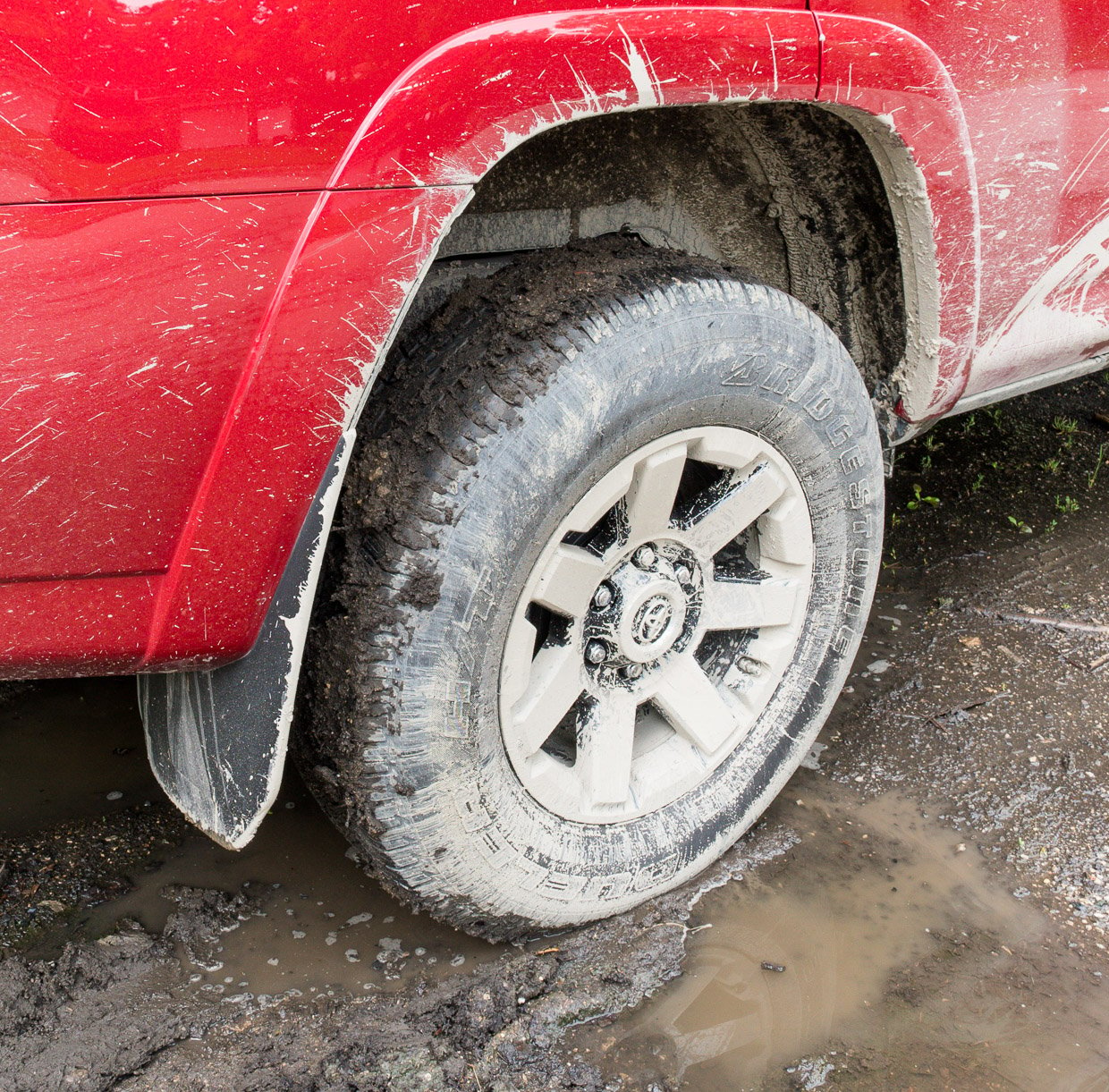 Mud, dirt, gravel, rock, sand, and grass are all no challenge at all. The 4Runner deftly handled every surface I could throw its way. If you need assistance with specific conditions, there are selectable drive modes, as well as a locking rear differential, active traction control, and Toyota's Crawl Control system, which is basically an off-road cruise control. It lets you focus on steering while the car manages throttle and brake. This is especially handy on tight and narrow trails or going down steep slopes.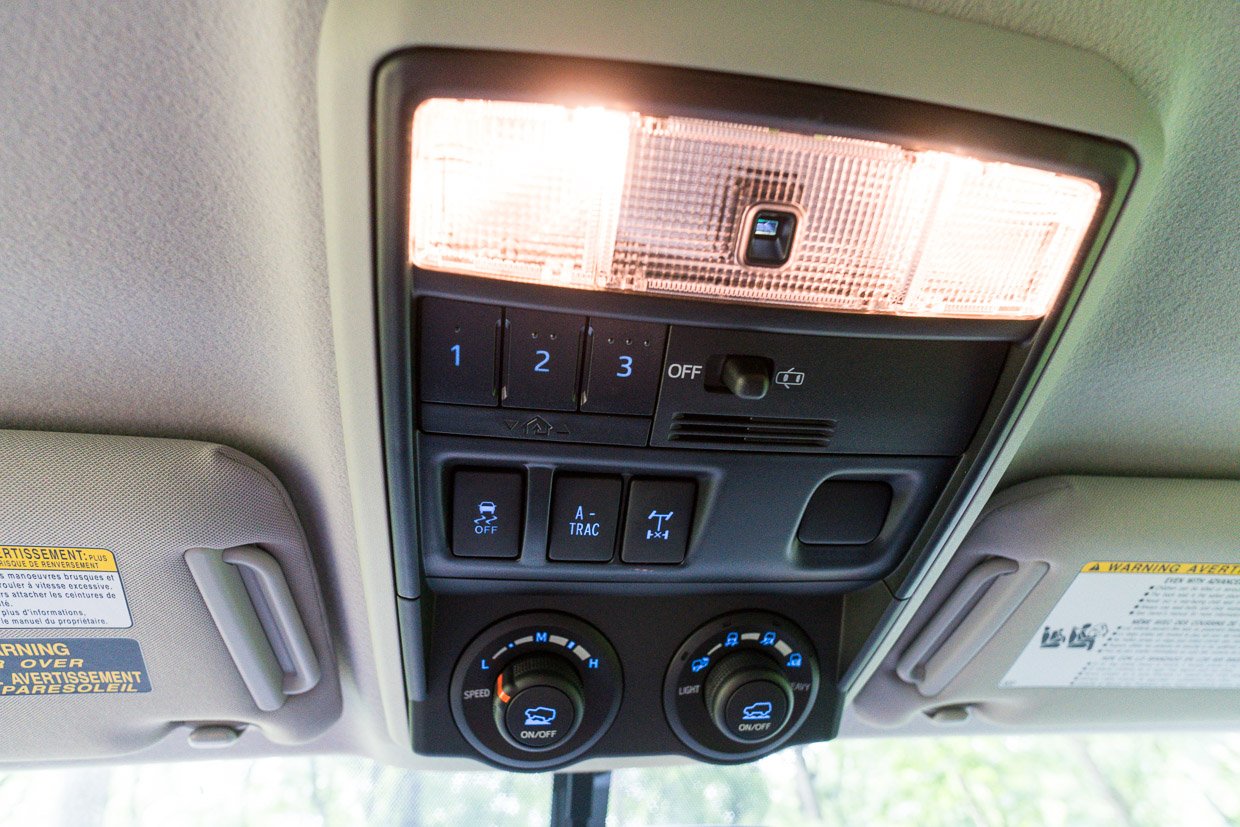 If there's one thing I'd like to see Toyota add to the 4Runner, it's a more sophisticated camera system for off-roading. Some competing vehicles can display video of the trail ahead and to the sides, but this isn't an option on 4Runner at this point. The only camera is the one used for backing up. Speaking of backing up, the 4Runner can tow up to 5,000 pounds too.
In TRD Off-Road Premium trim, the interior is still fairly utilitarian, though you do get upscale SofTex seats, with heating and power adjustments for the front row. There's also an upgraded Entune premium audio system that sounds quite good, along with navigation. However, the 6.1 touchscreen feels positively tiny by today's standards, and the infotainment system is pretty rudimentary as well.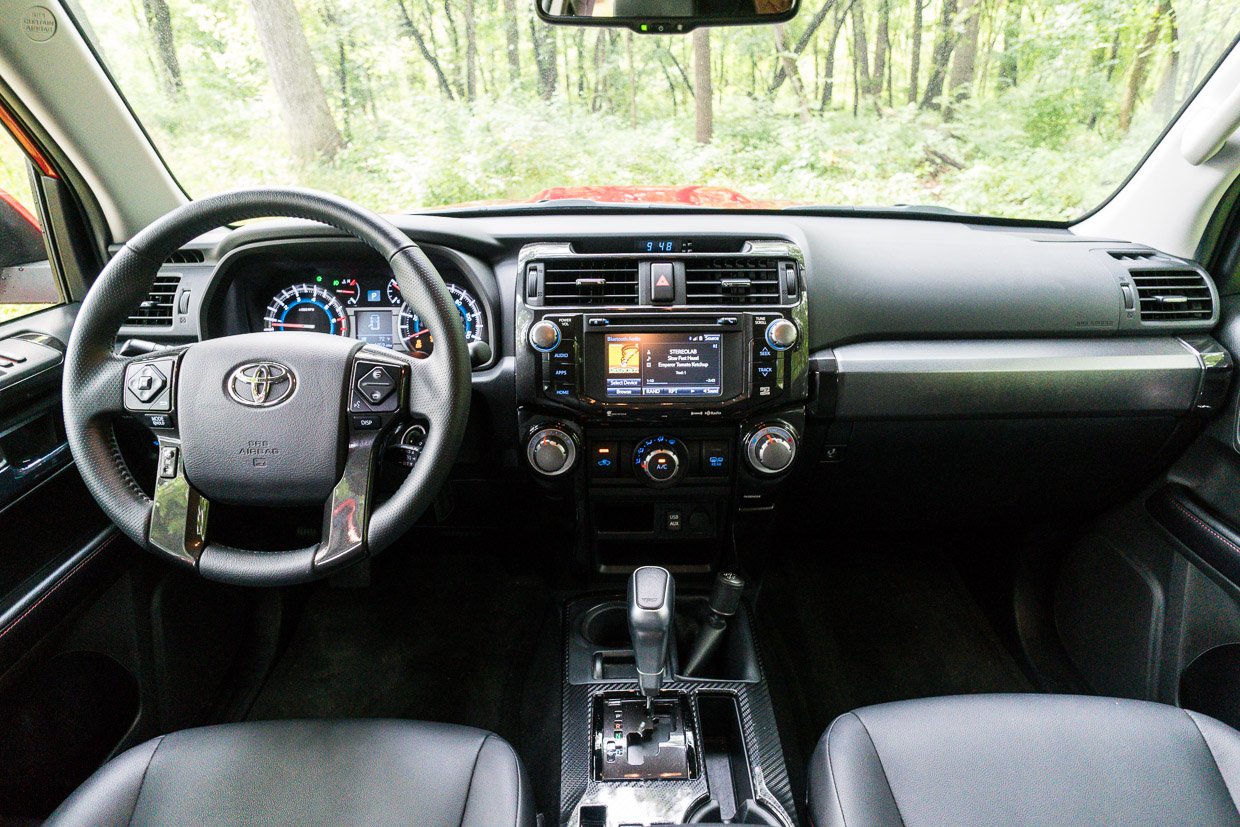 While the interior is hardly luxurious, it is extraordinarily comfortable. The seats are well padded and supportive, and there's great legroom and headroom for all five occupants. Cargo space is excellent as well, offering up to 89.7 cubic feet with the rear seats down, and 47.2 cubic feet with the back row in use. I was able to fit all the lumber needed to fix my back deck stairs behind the rear seats without a problem. I also made use of the optional sliding rear cargo deck, which makes loading and unloading easier, though it slightly reduces the height of the cargo area.
The 4Runner is one of those vehicles I really want in my garage. I just don't have the room for another car at the moment. The TRD Off-Road is particularly capable with all of its terrain management bells and whistles, and sports more aggressive looks than the more urbane SR5 models. It's also just tiny bit more civilized than the pricier TRD Pro model, which has a suspension that's seems to be tuned for extremely rough roads. With that in mind, I think the TRD Off-Road the best of the 4Runner breed – though you really can't go wrong with any trim level.