2018 Infiniti Q50 First Drive: A Viable German Alternative
2018 | infiniti | infiniti q50 | review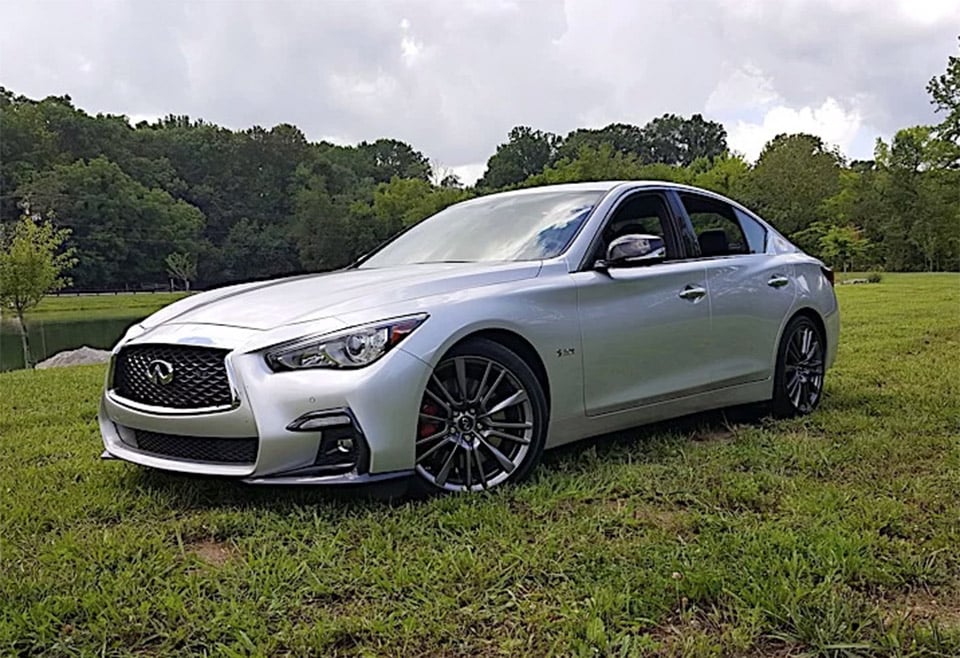 For many people, when they think of a luxury sedan they think of a brand with German heritage. But there's a make out there that delivers on everything you'd expect from the German rivals without some of the drawbacks. That manufacturer is Infiniti, and their refreshed Q50 sports sedan offers delivers what you want with Japanese reliability, and without breaking the bank.
Infiniti invited us to Nashville to thrash around their Q50 Red Sport 400 version on some entertaining country roads while checking out the beauty of Tennessee. While not your typical sports car testing grounds, the roads around Infinti's U.S. headquarters provide a challenging drive mixed with a southern charm that California just doesn't deliver. Plus, there was rain.
Lots and lots of rain.
The turbocharged V6 in the Red Sport generates 400 horsepower comes in either a rear-wheel drive or all-wheel drive setup. Our test cars were the rear-wheel drive variant, and carry a starting price of $51,000 (USD) before destination and handling. Power is sent to the drive wheels through a 7-speed automatic transmission. One of the big changes for 2018 is actually the location of the paddles shifters; they're now on the steering wheel and not affixed to the column.
We may live in a world where 700 horsepower sedans are common, but the truth of the matter is that 400 horsepower is more than enough horsepower for anyone, and the top-end Q50 handles that grunt well. Turbo lag feels like it's been kept at bay, and gobs of torque help you move quickly around town. It's a fun engine that sounds good, and it's one of Ward's 10-best.
One thing that separates the Q50 from the rest of the competition is available Direct Adaptive Steering. It's marketing speak for steering-by-wire. Unlike other steering systems, there's no real direct link from the steering wheel to the wheels. The ratio, feedback and other functions are controlled by computer. The 2018 Q50 isn't the first Infiniti with the system, but it does receive revised software in the new car.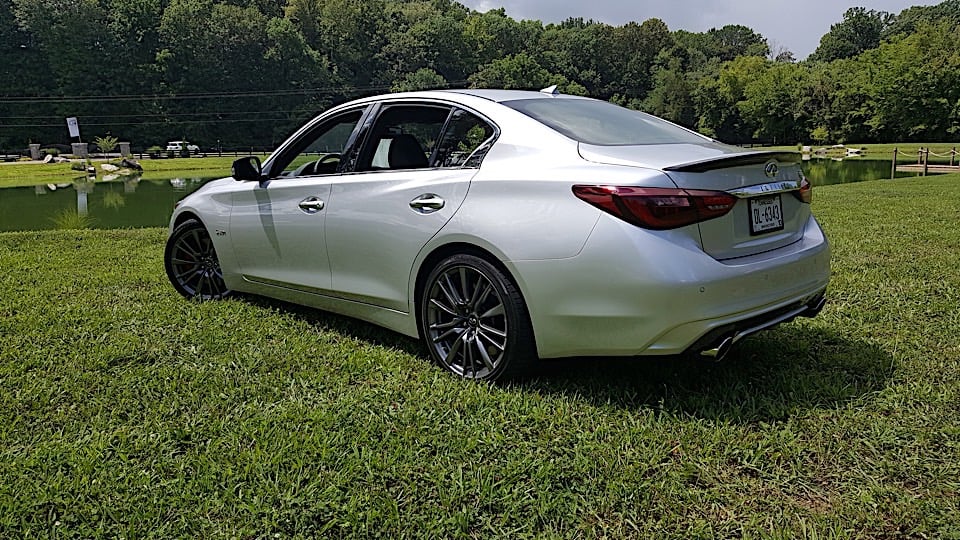 If steering by computer sounds a lot like driving a video game, it is. When you first drive a car equipped with it, it feels different. I'm not saying that different is bad, for reasons I'll explain, but the difference is something you'll definitely be aware of. There is absolutely no play in the steering wheel. People will talk about the direct steering in a car like the Alfa Romeo Giulia Quadrifoglio and praise the directness. That steering seems sluggish compared to the steering in the Infiniti. The slightest change in direction results in the car slightly changing in direction.
More impressively it really does change with each driving mode. While there's no slack in any of the modes, there's variability in how the system reacts. In sport mode, a tiny change of direction causes the car to change. In normal mode, you have to turn the wheel farther to get the same directional change. It doesn't feel any less direct, but the steering ratio itself changes.
Since I wasn't on a track I can't tell you what it's like in a true high-performance driving scenario, but on the street the system works. The technology also helps Infiniti work towards autonomous vehicles, which will eventually happen.
If you're thinking about the Q50 and unsure about the steering, drive a car with it and a car without it and then decide.
On board the Red Sport is Bose's Performance Series stereo which sounds pretty good, especially if you feed it higher-quality music than what is streamed on satellite radio. Bluetooth streaming or a good old-fashioned CD deliver better audio quality for sure.
The infotainment system itself is easy to use, utilizing two displays – one on top of the other – to deliver information. The system is responsive and quick. The glossy finish on the lower display shows fingerprints easily, but the resolution and color is fantastic.
The one thing holding the system back is the lack of Android Auto or Apple CarPlay integration. While we're sure it's coming, some buyers are expecting new cars to have it and it's frustrating when they don't.
The only other demerit in our fully-loaded model is a lack of ventilated seats. It was 90°F with high humidity on the days I was there, so not having them was a noticeable absence.
Overall our experience in the Q50 was quite enjoyable. Excellent ride comfort in the normal setting mixed with a sport mode that actually feels sporty means you can have a sedan that appeals to both your sophisticated and juvenile side. Intelligent safety features and advanced technology provide great value for your money.
Plus, while looks are surely subjective, I find the Q50 to be quite handsome and interesting to look at compared to many of its rivals.
You might not think of Infiniti when you shop for a premium sedan, but the 2018 Q50 is worthy of your attention before you make a decision.