Mercedes-AMG GT4 Racer Has a Knight Rider Steering Wheel
amg | gt4 | mercedes | mercedes-amg gt4 | mercedes-benz | race | race car | July 26, 2017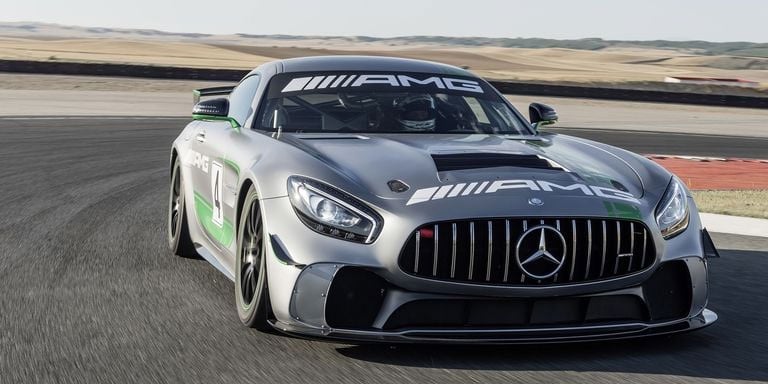 Ahead of the 24 Hour race coming to Spa-Francorchamps this weekend, Mercedes-AMG has debuted its GT4 race car. The car's design is based on the badass AMG GT R, but its engine packs specs similar to the GT S. That means less power than the GT R, in order to make it GT4 spec compliant.
The engine is a 4.0L twin turbo V8 that makes up to 510 hp and 442 lb-ft. of torque, and this is the first competition use of that engine. It's got a six-speed sequential AMG competition gearbox, along with competition-grade brakes. The car tips the scales at a svelte 3,064 pounds thanks to lots of carbon fiber, lightweight wheels, and an aluminum space frame. Its roll cage is made from high-strength steel and is similar to the cage on the GT3 racer.
The car has manually adjustable dampers and ABS brakes with an in-cockpit bias knob. Other features include track aero, racing seats, and a fancy light-up racing steering wheel that looks like it was stolen from K.I.T.T. The AMG GT4 will sell for roughly $232,000, with deliveries to customers starting later this year.