Our Family Adventure in the 2018 Honda Odyssey Elite
2018 | honda | honda odyssey | minivans | July 29, 2017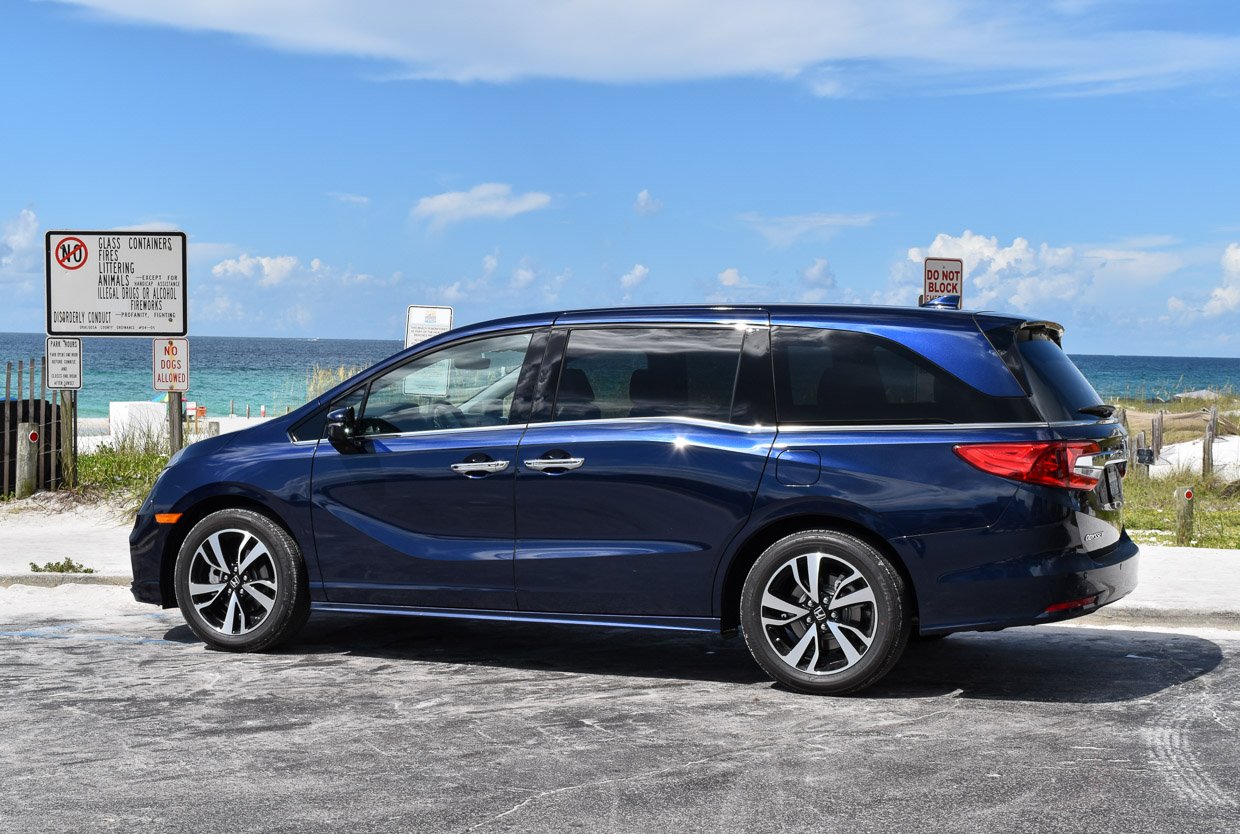 2018 Honda Odyssey Elite

Engine: 3.5-liter V6
Horsepower: 280
Torque (lb-ft.): 262
Transmission: 10-speed automatic
Drive Configuration: FWD
Top Speed (mph): 120
City/Hwy/Combined MPG: 19/28/22
Curb Weight (lb): 4593
Wheelbase (in): 118.1
Total Length (in): 203.2
Width (in): 79.2
Base Price (USD): $47,610
Few words can strike fear in a parent's heart more than "family vacation." When you choose to drive instead of fly to your family's beach vacation, it's even more stress inducing. Long trips in the car are part of Americana. Movies and songs have been made about this exact thing. 99 Bottles of Beer on the Wall was made for the great American road trip. So was the license plate game. The same can be said for the minivan.
Honda leant me and my family a Honda Odyssey to take on our trip from Cincinnati, Ohio to Destin, Florida. We were beach bound in the all the new, redesigned 2018 Honda Odyssey. During the previous generation, I referred to this minivan as a "swagger wagon" because of everything it had loaded in it, and certainly this new model adds even more swagger. There really couldn't be a better vehicle to take on a 700 plus mile trip to the beach. If only it could act like a transporter beam through traffic jams, and spare us the 12-hour road trip and unnecessary, endless brake checking throughout the state of Alabama.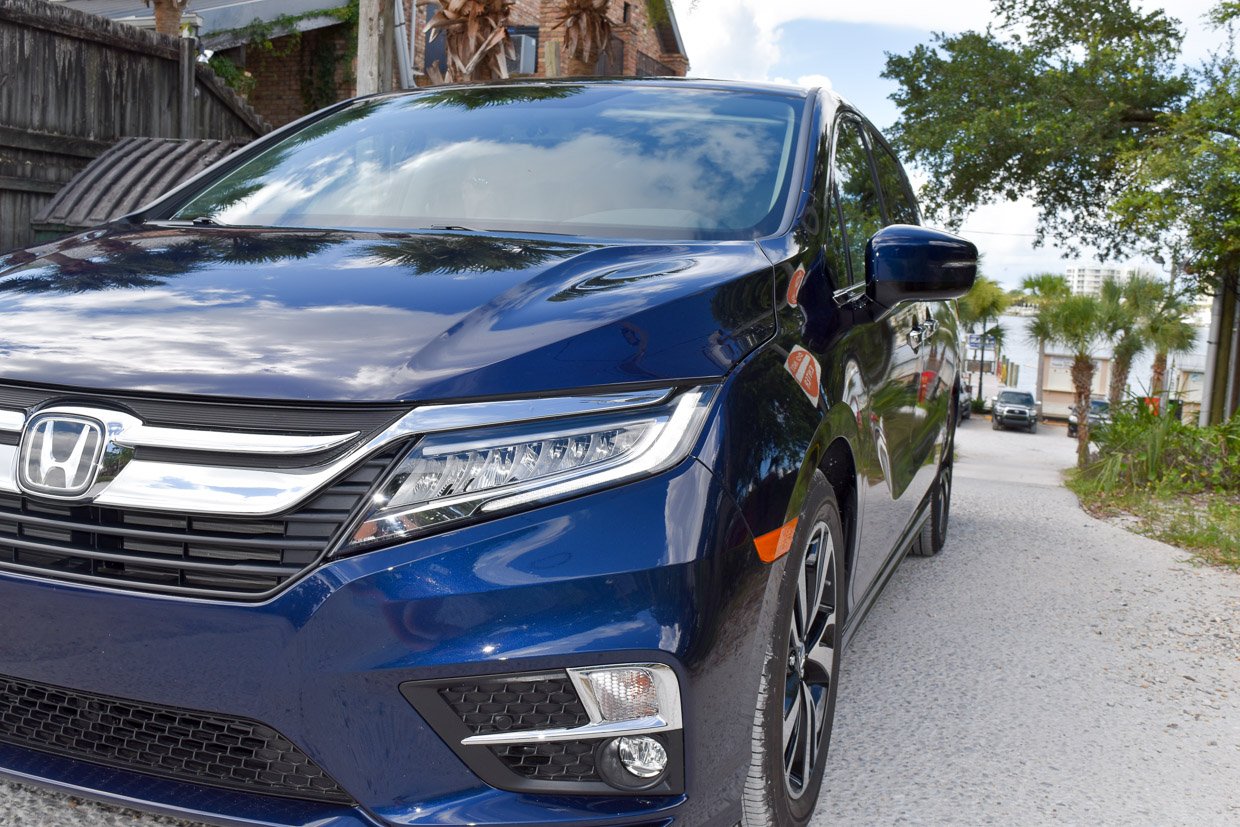 Travel frustrations aside, the Odyssey is a superb family vehicle. The new looks of the 2018 Odyssey are impressive. It doesn't try to masquerade as anything but a minivan. The dimensions for this year's Odyssey are practically identical to last year's, with the 2018 being just slightly longer (by less than an inch). The redesign helps improve the aerodynamics of the van and gives a sleek appearance. The restyling starts on the hood and runs along the top and bottom of the side panels giving a congruent, modern look. Gone is the lightning bolt design on the C-pillar (although admittedly I liked the distinction that design brought). Rather, the gentle sloping of the back-quarter panel seems to flow well and add to the aesthetics of this van.
The backside has less flair, but does have a chrome-like panel that connects both sides of the LED tail lights and adds a some visual distinction. One of the "uglies" on minivans are the sliding door hinges. For this year, Honda addresses that as the sliding door tracks are hidden in the lower portion of the rear quarter windows.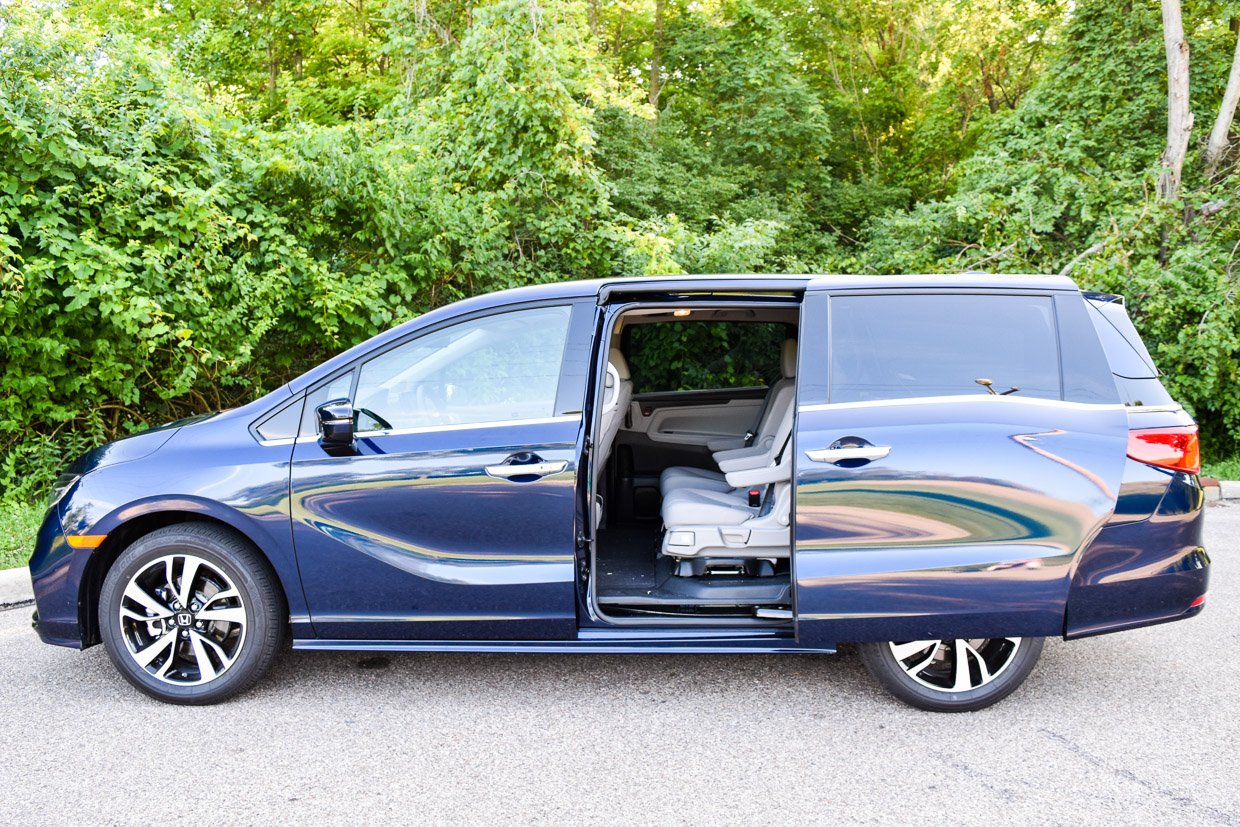 Where I live, we have (far too many) 55 MPH speed limits. Through most of our trip, we enjoyed 70 MPH zones. We were able to shave a 12-hour drive down by about an hour, in part thanks to a new 3.5-liter V6 engine which makes 280 horses, which is 32 more than the previous model. There are two different transmissions available, both new, and both more fuel efficient. For the lower trims, there's a 9-speed automatic. And for the top two trims, including my tester, there's a 10-speed automatic transmission which is a first for Honda, and a first for the minivan segment.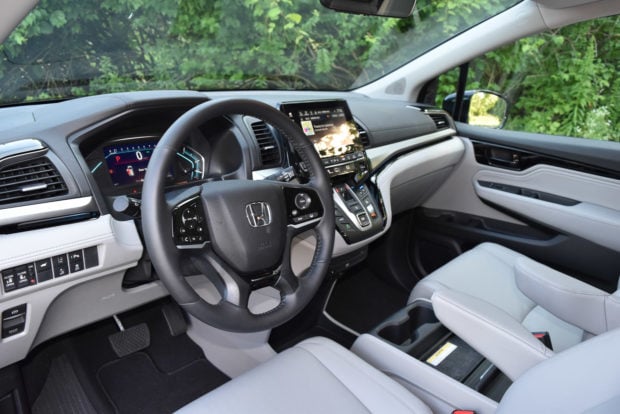 When you're traveling 700 plus miles (each way), fuel economy is a factor. The 2018 Odyssey sees a slight improvement in fuel economy over last year's vehicle. It has an EPA rating of 18 mpg/city and 28 mpg/highway. Our beach journey was almost all highway, so we averaged around 24 mpg. For our entire trip, down to Florida and back to Ohio, we fueled up only three times.
Overall, the performance of the 2018 Odyssey is significantly better than before. It drives more like an SUV than a minivan. There's much less body lean around corners, and the suspension offers a smooth over-the-road drive. Passengers will enjoy a quiet, controlled ride, as to not interfere with your teenagers fifth nap of the trip. Plus, the Odyssey is good off the line. This is the most powerful and best performing minivan I've driven.
But let's be honest, the point of a minivan is the interior space. Thankfully, this new offering excels with interior comfort and space. Just as Chrysler made a name for itself with Stow N' Go, Honda is making a name for itself with Magic Slide. This versatile seating configuration puts the second-row seats on a track that slides side to side making it easily configurable for storage and passenger comfort. With siblings fighting (mom, she's touching my arm!), slide the second-row captain's seats apart and plop a wall of pillows, blankets and suitcases so they can have their own world and space. Also, the top-of-the-line trims have a rear entertainment system that has in-vehicle Wi-Fi, a 10.2-inch screen, wireless headphones and a streaming service that works with smartphones.
Also, new for this year is CabinWatch, which is an infrared camera that front passengers can check to make sure little Timmy isn't still annoying his sister or to see if the teenager is asleep (again). Along with this is CabinTalk, which lets mom or dad speak to the rear passengers who may have their wireless headphones on. The message interrupts whatever they're watching or listening to relay a message. This type of technology shows why the Odyssey is so well-suited for families.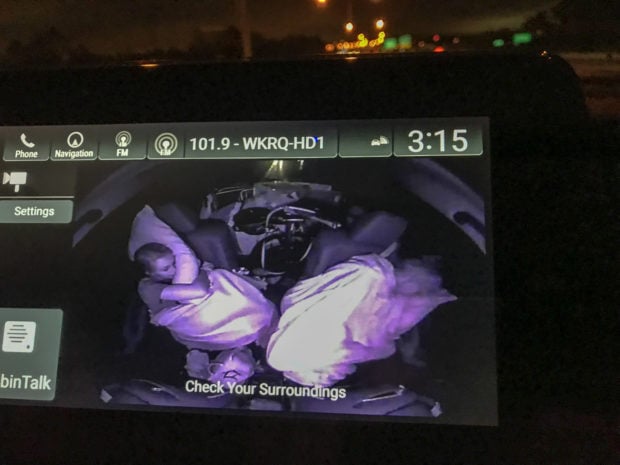 Introduced as part of the previous generation, but expanded this year, the HondaVac system again shows that Honda's engineers know how to design a van with families in mind. This vacuum system runs on the 12-volt in-vehicle electrical system. It retracts from behind the third-row seats and can stretch to every corner of the interior. It's meant for dry use only. Access to this system is easy through a hidden panel behind the rear liftgate, which now can be opened with the swing of your foot under the bumper.
The Odyssey has more cargo room this year than it did in the last generation too. It now has 158 cubic feet of space with the second-row seats removed, and the third row folded flat. The Pacifica has only 140.5 cubic feet, although their second-row seats fold flat into the floor.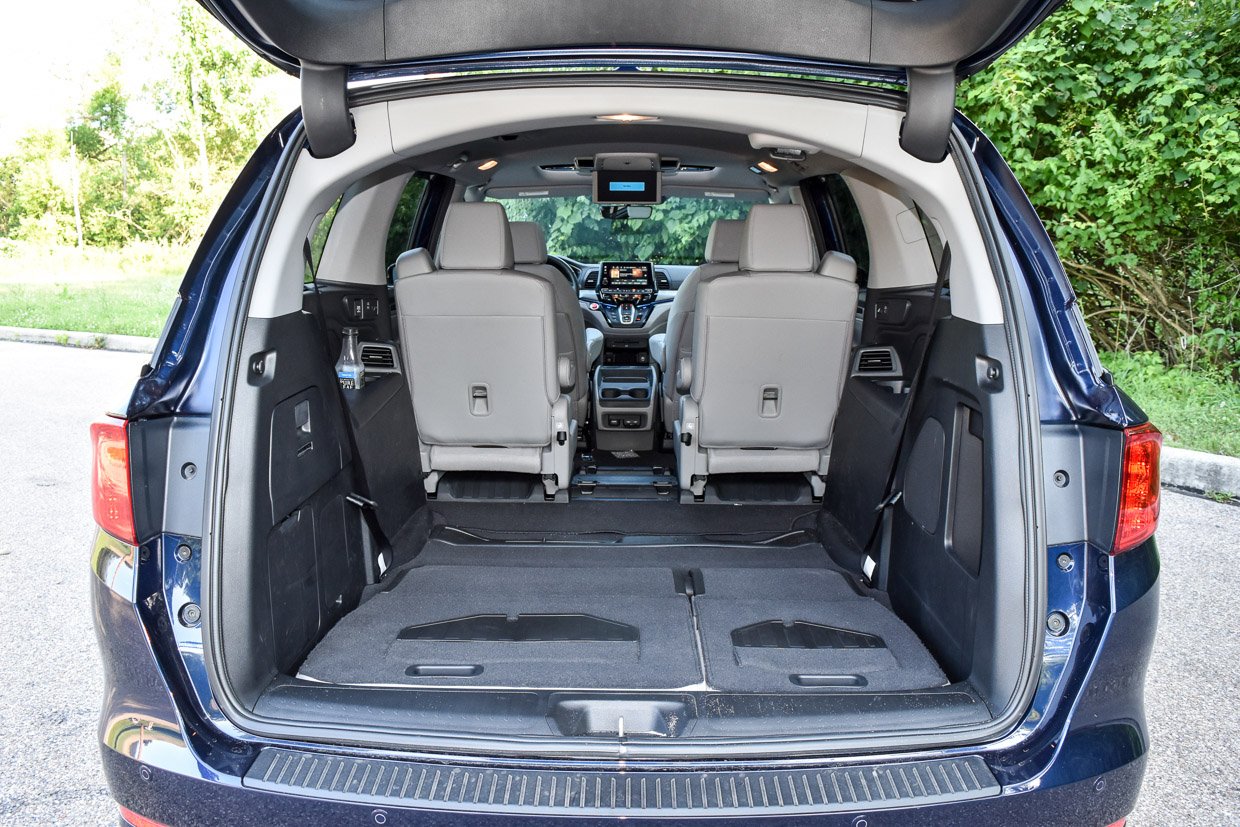 The Honda infotainment system is much improved. There's an 8-inch 720p high-resolution touchscreen. It's an intuitive system that integrates with smart phones through Apple CarPlay and Android Auto. The navigation system worked great for our family, showing live traffic updates. Plus, Honda adds a volume knob back onto the system, after much criticism over their haptic-only (and very sensitive) volume slider.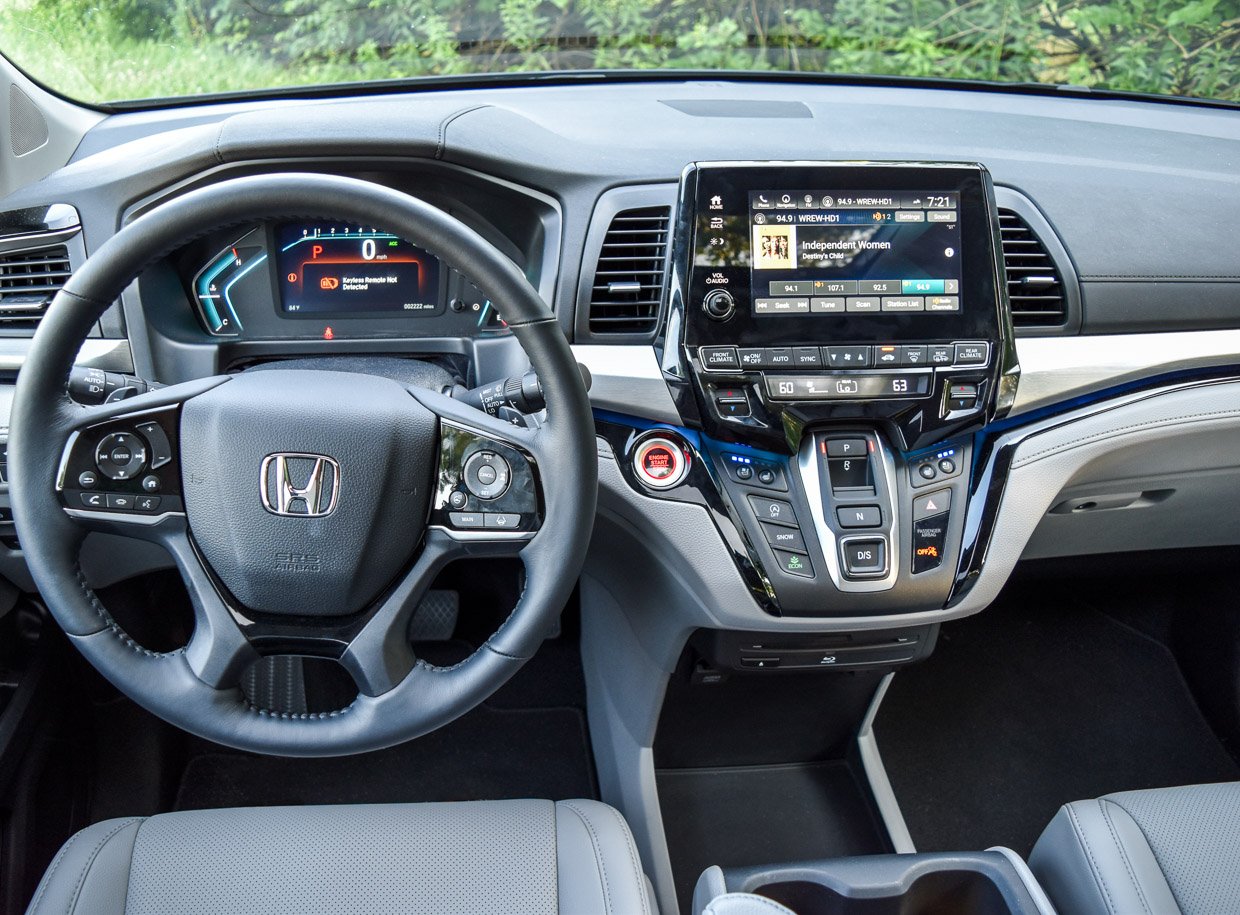 There are six trims available for this model year: LX, EX, EX-L, EX-L NR, Touring and Elite. Honda hooked me up with the top-of-the-line Elite trim which comes with cooled seats (great for the hot Florida weather), heating steering wheel (never used), 11-speaker sound system, and Honda sensing package which includes adaptive cruise control, collision mitigation braking and lane departure warning. The base LX starts under $30,000 making it competitively priced against the new Chrysler Pacifica. However, my tester had a lofty price of $47,610. Like pickup trucks, minivans, loaded with the options you want and need can become quite pricey.
Minivans may never be cool. But they sure are practical. They provide more interior space than most SUVs on the road, and space is a commodity when you're driving your family to the beach. The Odyssey's cargo room allowed for suitcases, beach chairs, coolers and pillows to be stored easily, with two happy teenagers happy… and not one person asked, "Are we there yet?" That only is amazing, and so is the Odyssey.