The Bugatti Civic Is Both Unholy and Awesome
bugatti | honda | honda civic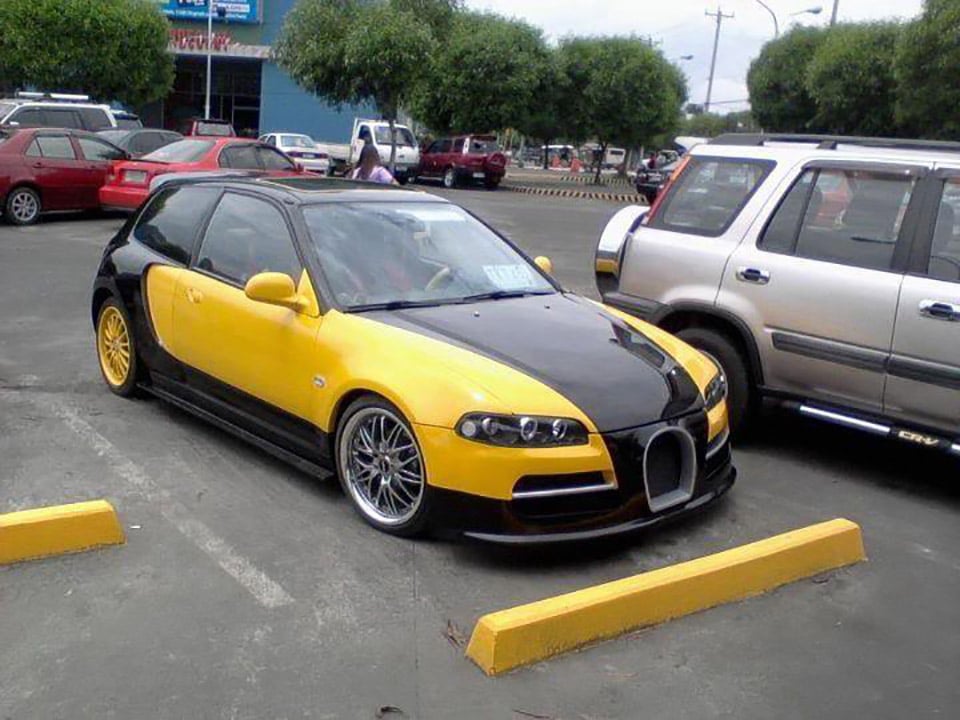 There's a very large ocean between a Honda Civic and a Bugatti Veyron. The Civic is a sub-$30,000, front-wheel drive car, with a 4-cylinder engine, and in most incarnations, less than 200 horsepower. On the other hand, pretty much every Veyron ever sold went for more than a $1.5 million bucks, is all-wheel drive, has a massive 16-cylinder engine, that pushes out at least 1,000 horsepower. Yep, these two cars couldn't be more different.
But that didn't stop one Civic owner with some serious aspirations of Veyron ownership from making his dreams come true. What you're looking at here is – as far as I know – the world's only Bugatti Civic. Or is it a Honda Veyron? Ooh, I know, it's a Hongatti Veyvic!
I don't anything about the car other than the image posted up on Imgur, but it's definitely… something. It looks like it started out as an early '90s Civic hatch, and then things went horribly right when its builder slapped on an imitation Bugatti front end, some custom side skirts, and went to down with the bumblebee yellow and black paint job.
Thanks to my pal Craig for giving me the heads up on this crazy build.