2017 Audi A7 3.0 Competition Review: Sehr Aufregend!
2017 | audi | audi a7 | August 9, 2017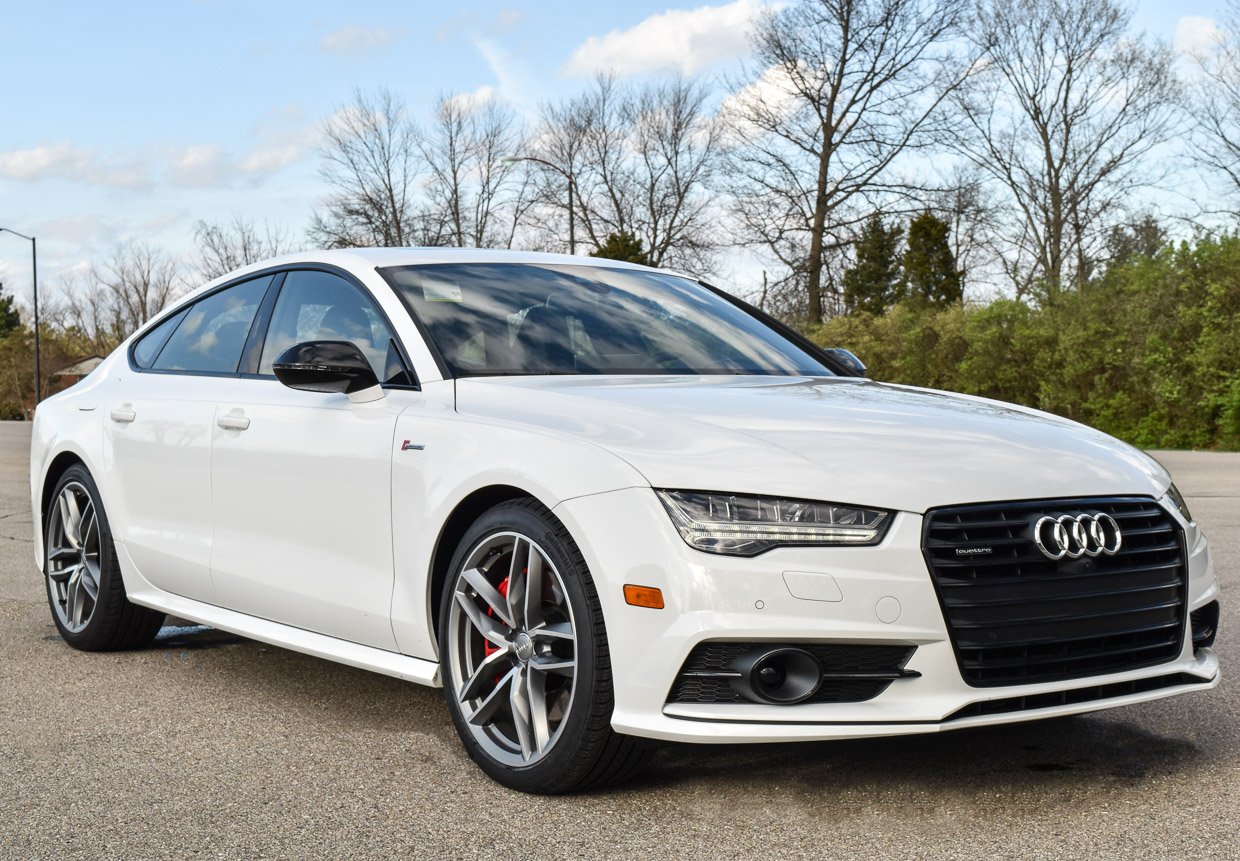 2017 Audi A7 Competition

Engine: 3.0-liter V6
Horsepower: 340
Torque (lb-ft.): 325
Transmission: 8-speed automatic
Drive Configuration: AWD
0-to-60 Time (secs): 5.2
Top Speed (mph): 130
City/Hwy/Combined MPG: 21/29/23
Curb Weight (lb): 4288
Wheelbase (in): 114.7
Total Length (in): 196.2
Width (in): 75.2
Base Price (USD): $76,550
Price as Tested (USD): $80,450
The German word "aufregend" translates to exciting, thrilling or exhilarating. I wanted to find a proper way to describe my tester this week, and decided to do it in its native language. And certainly, the Audi A7 is aufregend! Very, very aufregend! But on top of that, there are other words to describe this car, but my German is not good, so I'll stick to my native tongue to describe this full-size luxury car.
The A7 is different from so many other full-size cars because of its sleek shape and look. It's long in the front and sloping in the back. It's almost like a long, slanted hatchback. But that doesn't even do it justice in describing it. I'll go back to German and say the Audi A7 ist ein anblick zu sehen, which translates to a sight to behold.
For this model year, the A7 is mostly unchanged. There's two new trims and some improved technology. But all in all, the A7 maintains the looks and performance it had in the previous model year – and that's not a bad thing.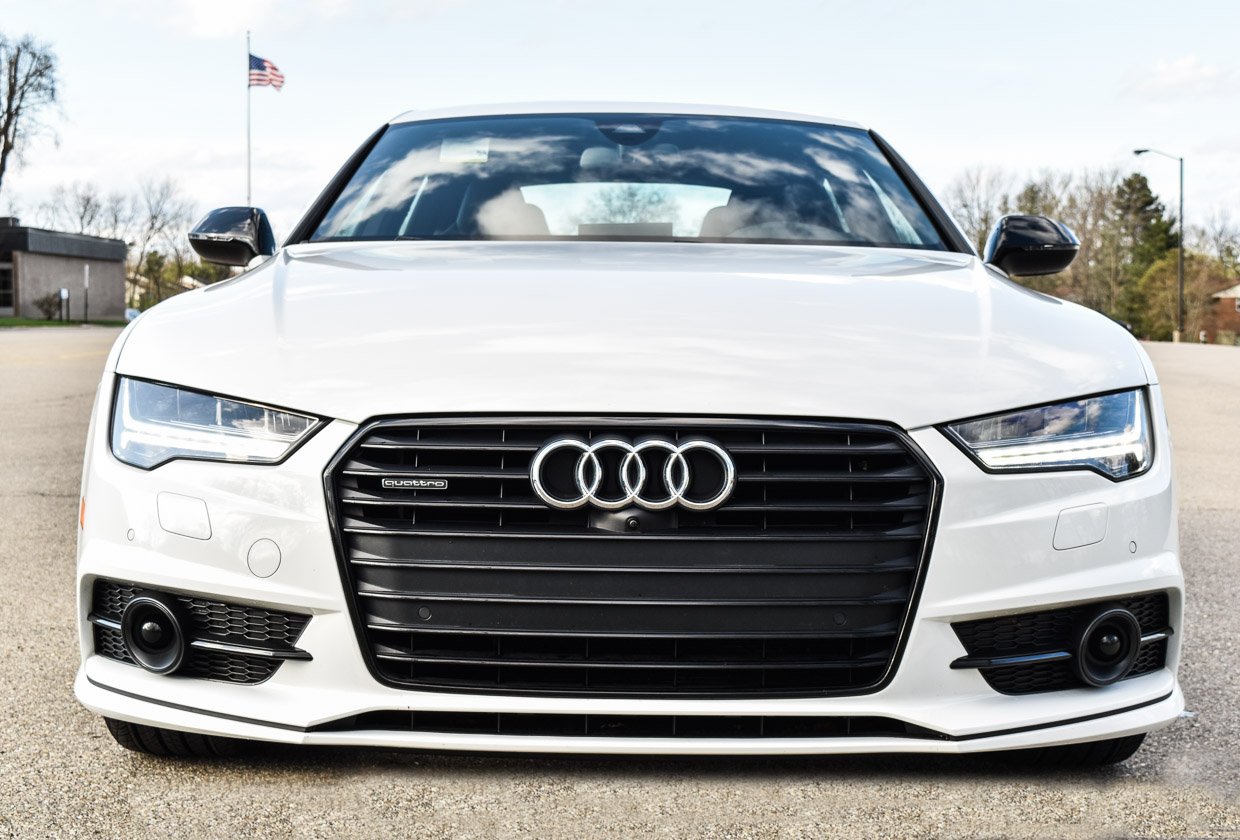 A7 shares a platform and most everything with the subtler A6. Though the angular and sleek A7 represents something a little more special. The front end is comparable to the A6, with squinty LED headlights and a strong grille. The profile is where the A7 clearly shows its difference. 20-inch double-spoke wheels with a titanium matte finish give it a more aggressive posture. The rear lights have distinction as they span from the back-corner panels onto the trunk. Dual exhausts show off the sporty side of this car. But the sloping, angular C-pillar is where the A7 makes it pronouncement clear: "I'm my own car, not an A6!"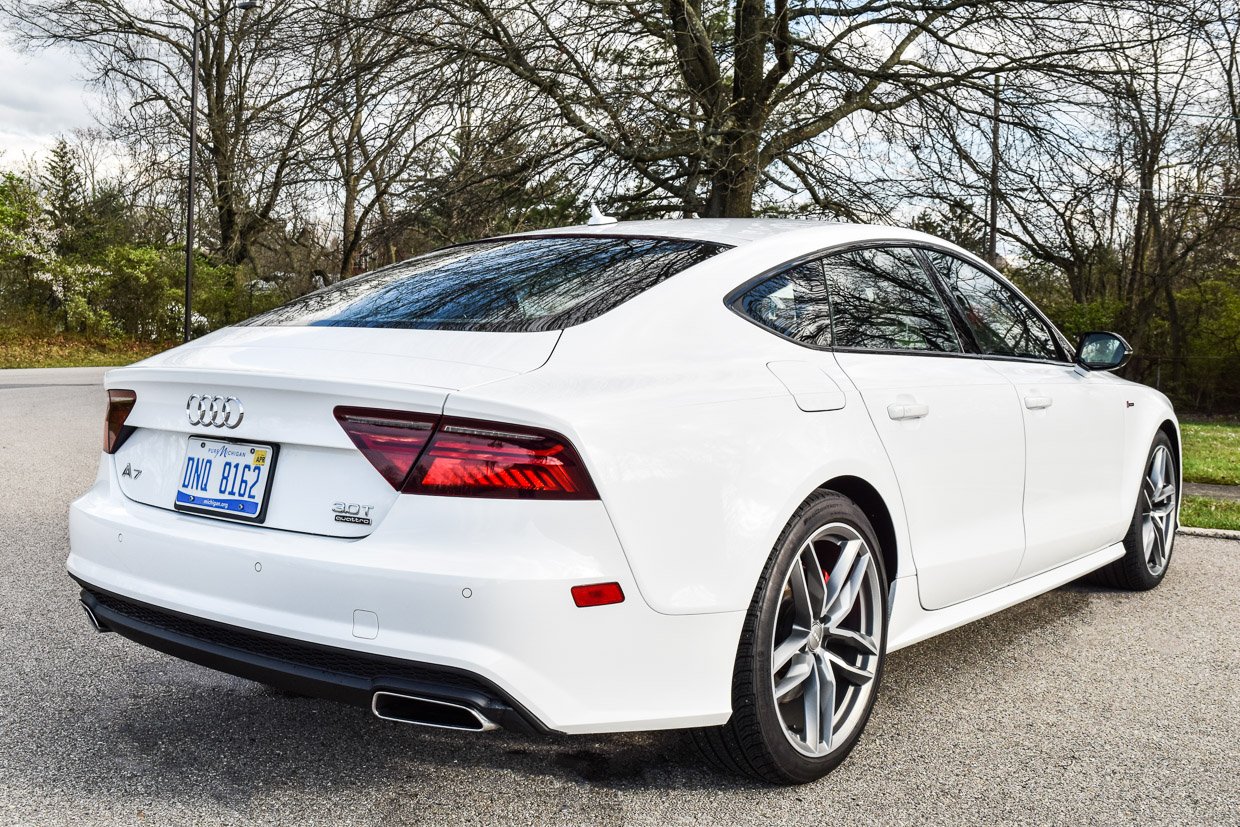 The A7 comes with a supercharged 3.0-liter V6 engine that makes 333 horsepower. My tester was the competition trim which ekes out another seven horses with some sport tuning. The 340-horsepower A7 Competition also has a sport-tuned suspension and red brake calipers. Audi's all-wheel Quattro system is standard for all trims, as is an 8-speed automatic transmission. Shifts are seamless and the A7 is quick off the line, while the supercharged engine has just enough of a purr to add an exhilarating feel to this car. Those looking for even more power should look to the S7, which offers a 450 hp V8.
The A7 has an EPA rating of 21 mpg/city and 29 mpg/highway. In a week's worth of heavy-footed driving I averaged 25.8 mpg. For such a quick car, it was nice to get such good fuel economy.
Every Audi seems to drive well and the A7 is no exception. The steering is responsive and the A7's low profile really helps the overall handling. The power may be comparable to the A6, but in driving performance, the A7 feels much more special. The A6 is refined while the A7, despite comparable output numbers, seems a little more rebellious.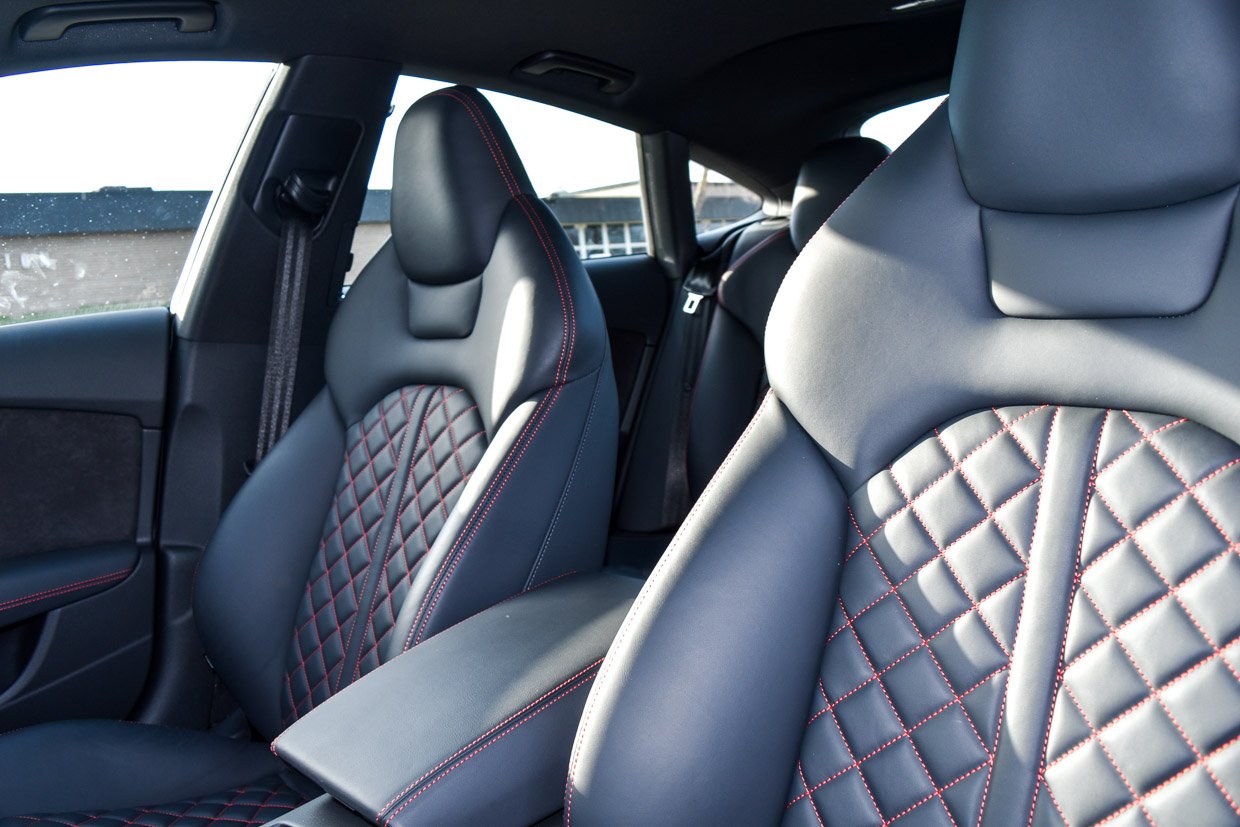 The A7's interior is elegant and features wood accents, brushed aluminum inlays and ambient lighting. The diamond-stitched leather seats offer both heat and cooling, and take luxury to the next level with massage functionality. The flat-bottomed leather-wrapped steering wheel feels great, and the driver's seat is angled well to offer an outstanding vantage point on the road, while supporting the back and the legs. The back seat can fit three passengers. However, due to the angle of the C-pillar, taller passengers (anyone over six feet) will lose headroom. In this regard, it's ironic that the A7's most attractive exterior feature is also the interior's biggest deterrent.
On the other hand, cargo room in the hatch-like A7 is tremendous. There's 24.5 cubic feet of space, substantially more than a trunk would offer. The rear seats fold down in a 60/40 split, increasing available cargo space even further.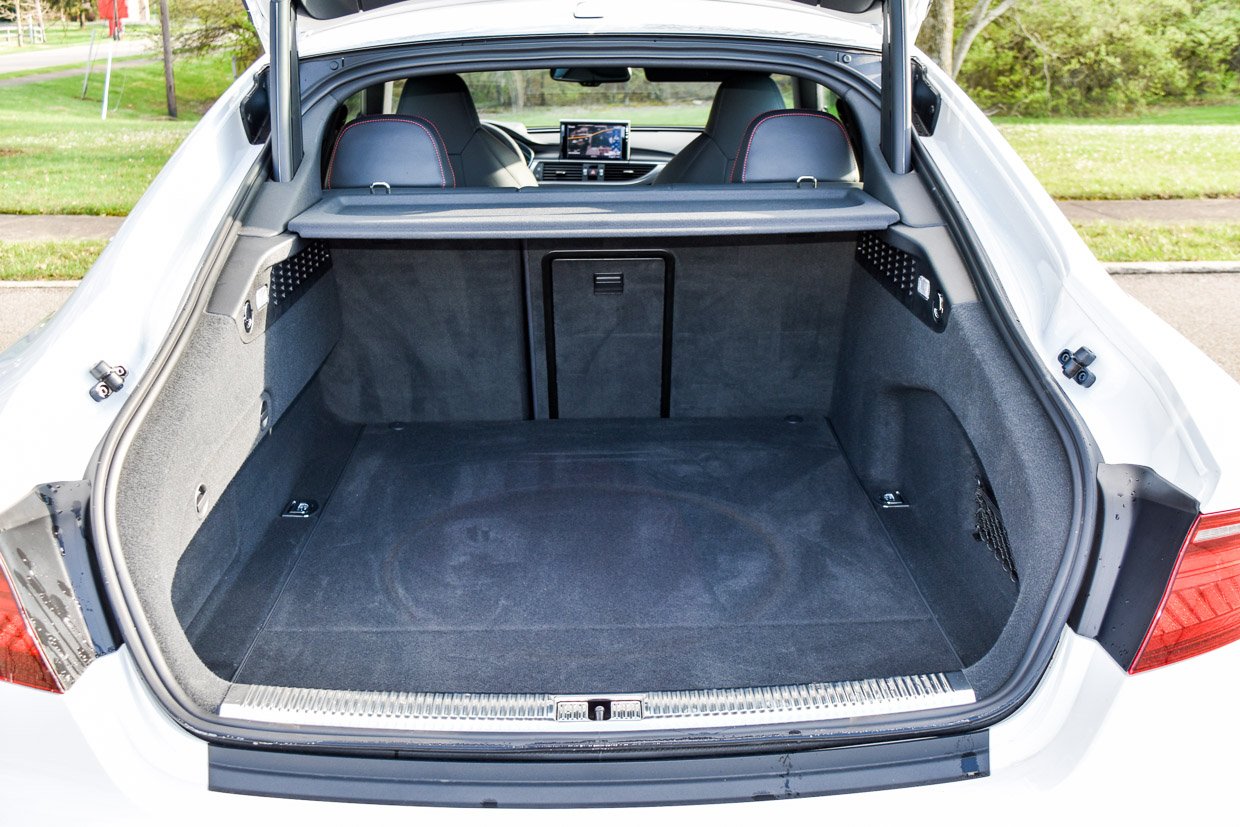 Every time I drive an Audi, I'm blown away with the technology. The A7 has Audi Connect which is a high-tech infotainment system that includes 4G LTE data and a Wi-fi hotspot for up to eight devices. The infotainment system provides real time data on traffic, weather, sports and stocks. The MMI system uses a less-than-intuitive knob to navigate through features, although it's improved over the previous generation which was cool, but clunky.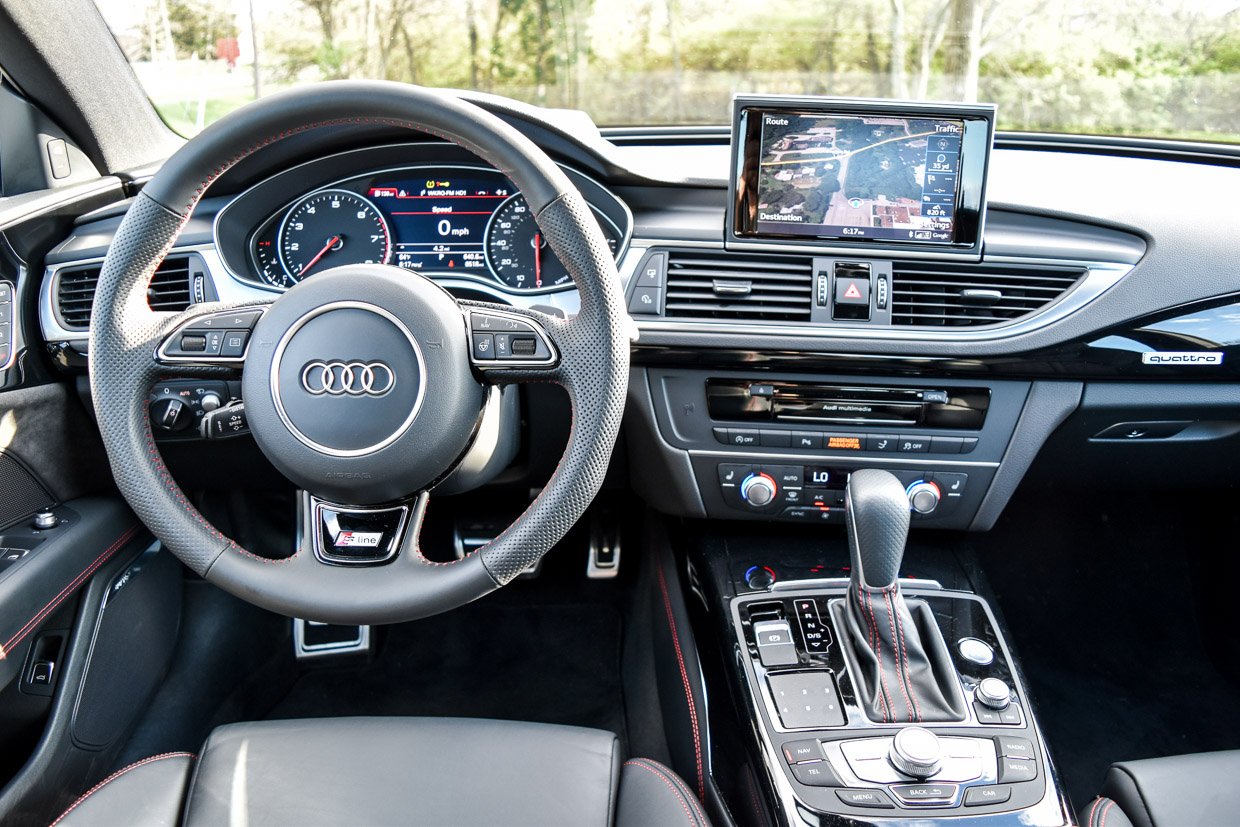 The navigation system is Google-Earth based. This may take a little time to adjust to as it's so much different than most traditional navigation maps. This information can be beamed onto the driver panel, behind the steering wheel for convenience and to help keep eyes forward. There's a real cockpit vibe to this feature which combines both safety and a wow factor.
There are three trim levels for the A7, including the Competition which is new for this model year. In addition to being slightly more powerful, the Competition trim features 20-inch wheels, sport seats with Valcona leather, a power liftgate, and black trim accents. The starting price of the A7 Competition is $76,550. My tester came with additional packages including the driver assistance and cold weather packages. The driver assistance package includes adaptive cruise control, lane assist, and corner view camera assist. Again, Audi blazes the trail with its technology, taking things further in this regard than most every other carmaker. The cold weather package adds heated rear seats and a heated steering wheel. My tester's final price was $80,450, which makes this pricey in comparison to the similar (but distinctly different) A6.
With a new trim and slightly more power, the A7 is better than ever, and is fun to drive. Its sleek, angular styling add to its distinction, giving it a unique look on the road. Among a crowded full-size luxury segment, the A7 stands out in many ways, from its design, to its technology, and its hatchback-like utility.