2017 BMW M240i Review: Hey Sexy, What's Your Number?
bmw | bmw 2 series | bmw m | bmw m240i | September 12, 2017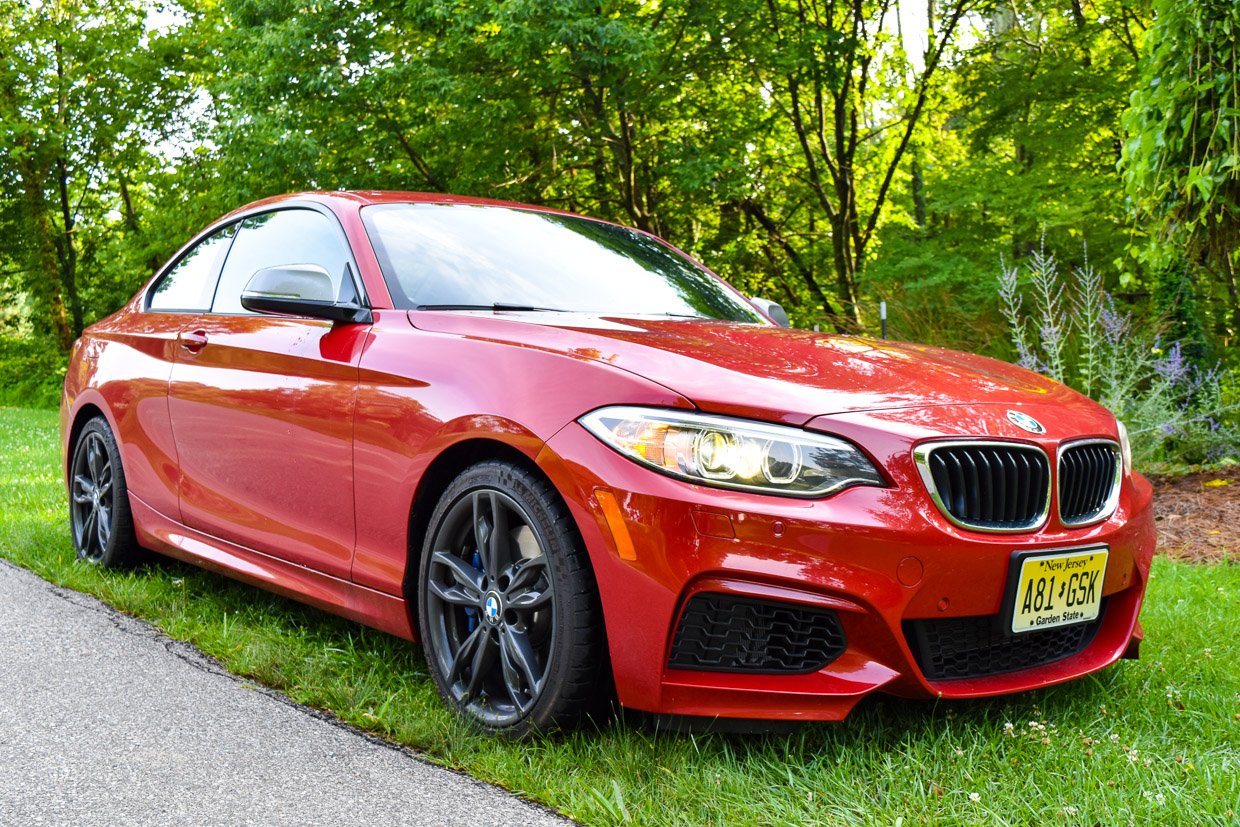 2017 BMW M240i

Engine: 3.0-liter 6-cylinder
Horsepower: 335
Torque (lb-ft.): 369
Transmission: 8-speed automatic
Drive Configuration: RWD
0-to-60 Time (secs): 4.4
Top Speed (mph): 155
City/Hwy/Combined MPG: 21/31
Curb Weight (lb): 4330
Wheelbase (in): 105.9
Total Length (in): 175.9
Width (in): 69.8
Base Price (USD): $46,450
Price as Tested (USD): $54,870
To bias myself here, I abhor seemingly random letters and numbers for car names in general. I believe the average consumer finds them confusing. It's a trend that plagues the luxury car industry. Let's just all agree to go back to calling cars by actual names already. That being said, most of the time the BMW follows its competitor Audi with a fairly simple naming convention. 3-series, 5-series, 7-series, from smaller to bigger etc. But it's the numbers within each BMW series that are baffling.
This week, I drove the 2017 BMW M240i, it's part of the 2-series. While it's comparable in price and amenities to the 3-series, the M240 has plenty of its own identity too. To say that it's a slightly smaller, sportier 3-series only tells part of the story.
For this model year, the 230i and M240i replace the 228 and 235 trim names (see what I mean by confusing?). Dimensionally, the 2-series is close to the entry level 3-series, although the M240i has more power than all but the M3, and is a bit smaller. Hopefully you're still with me and not bogged down by all the bewildering numbers.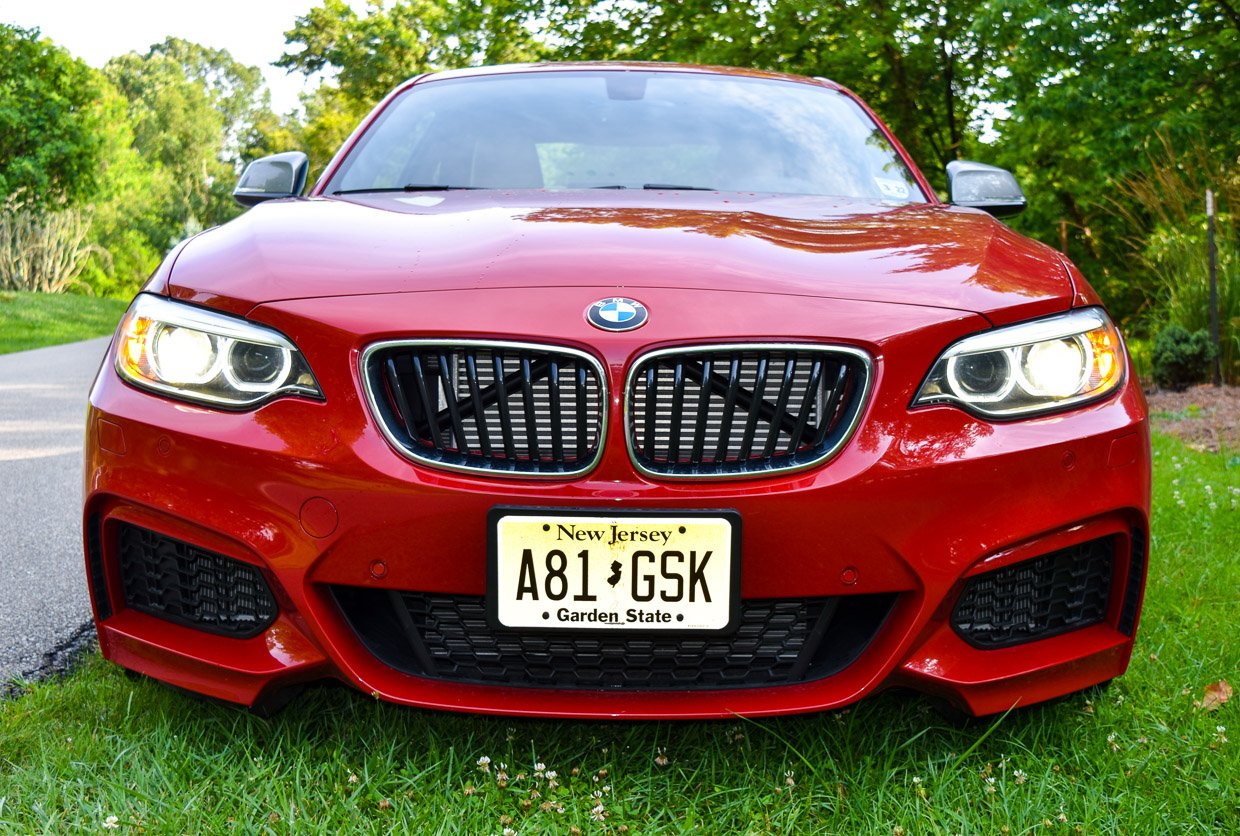 Let's talk about the looks, which are classy and stunning. BMW's styling is always on point. It's never too garish or too conservative, but still classy and luxurious. The front end features a butted nose with a kidney grille that's on the small side. The LED headlights balance things out, giving it that just right look with a hint of sportiness. On profile, the car has BMW's Shadowline design which removes any chrome accents and replaces them with a black glossy finish. My tester was painted Melbourne Red, and it was sharp. I generally like chrome, but on this design, it might've cheapened things compared to the sexy Shadowline look.
The back features a small spoiler and aggressive looking dual sport exhaust For a power-oriented sports coupe, it needed this look to break away and show off its youthful, wild side.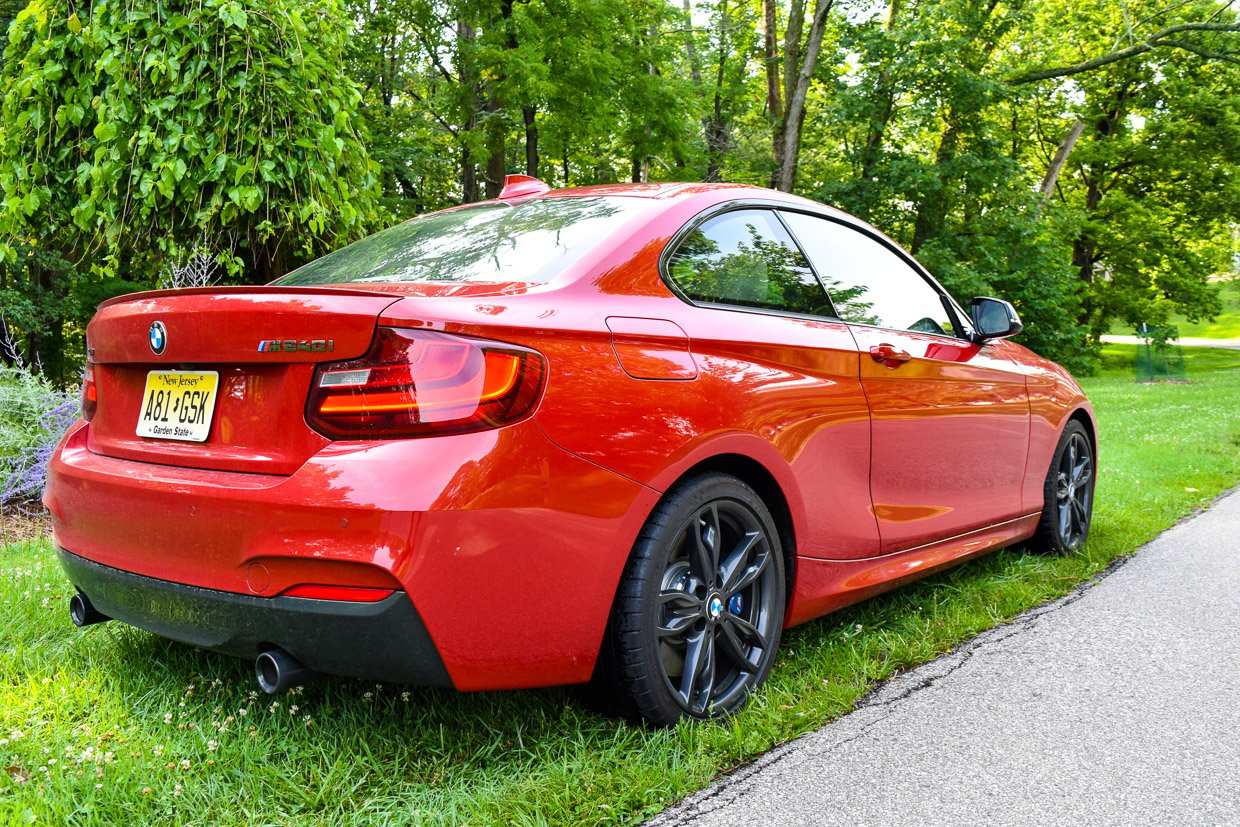 While the 230i has a 2.0-liter turbocharged four-cylinder with adequate power, the M240i is special with its own 3.0-liter inline six-cylinder engine that makes 335 horsepower and 369 lb-ft. of torque. Needless to say, this little coupe has a little bit of pickup, and can zip from 0 to 60 mph in just 4.4 seconds.
It's fast off the line and with an 8-speed automatic transmission and paddle shifters, the shifts can keep up with the turbo and power. This is one of the best transmissions I've experienced this model year. The paddle shifters (which I generally don't enjoy) are even fun and add to the exhilaration. Rear-wheel drive is standard, but my tester had BMW's xDrive all-wheel drive system. As such, the M240i was one of the quickest and most enjoyable coupes I've driven in a long time. For driving purists, this will really hit home. It's everything you want a car to be on the road.
For a sporty six-cylinder car, the 240 has good fuel economy. It has an EPA rating of 21 mpg/city and 31 mpg/highway. Over a week, through mixed driving with a heavy foot, I averaged 24.8 mpg.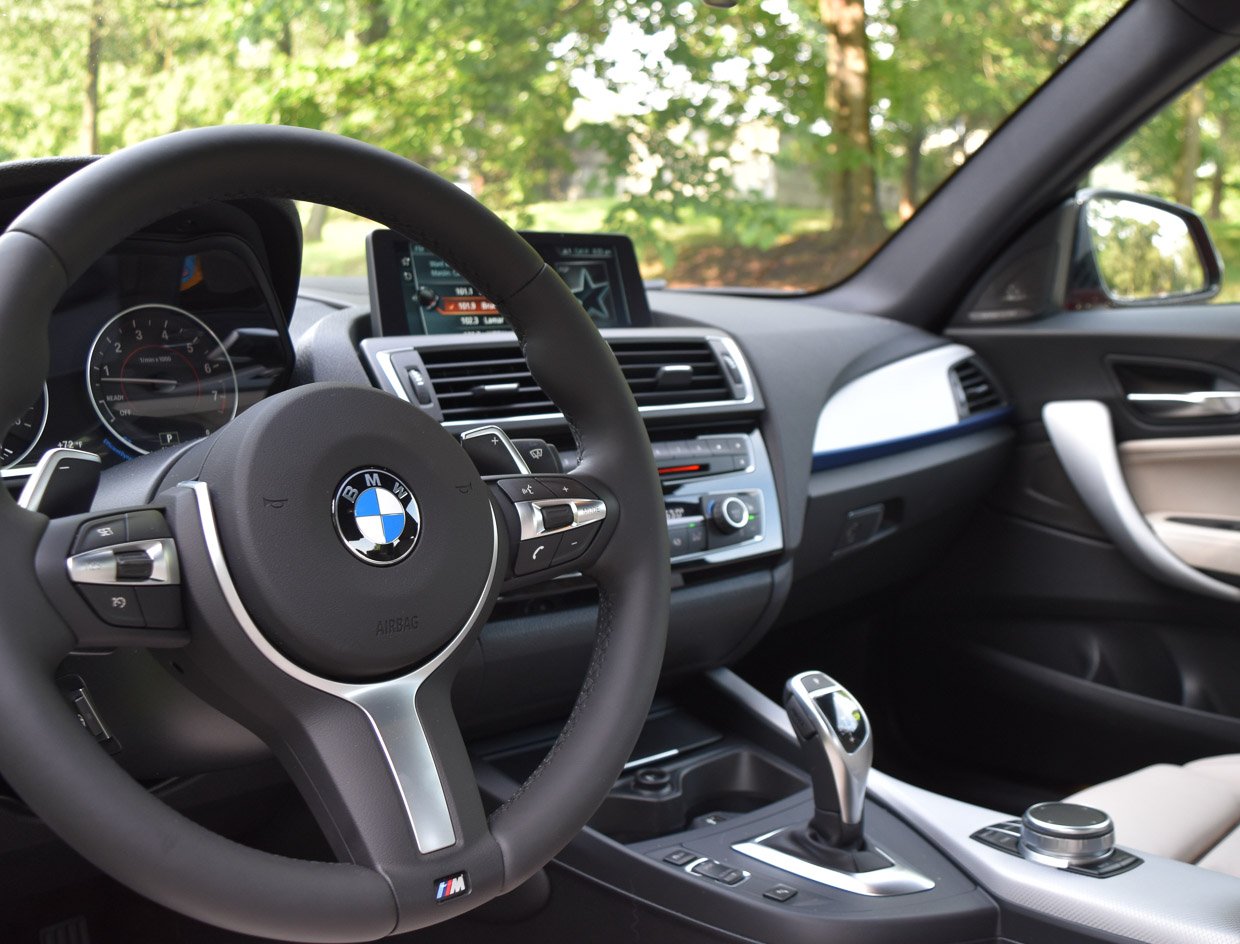 Inside, the M240i is driver-focused. With firm, supportive racing-style seats, this car gives a great angle for performance. An excellent vantage point of the road and support for the back means ideal conditions abound inside. The same can't be said for back seat comfort. The M240i is rated as a four-passenger vehicle but those rear passengers better be small children because the legroom is non-existent and even the head room is cramped. The convertible version of this car would be a real dream machine, and a bit more forgiving for the rear passengers.
The trunk has a surprising amount of space for such a small car. There's 13.8 cubic feet of cargo room. That's big enough for a couple of pieces of luggage or some golf equipment.
Overall the touchpoints are what you expect from a luxury brand. It won't wow you like a 5- or 7-series, but for the price point, the luxury is significant. Ambient lighting is an elegant touch. The sunroof is gorgeous and really becomes part of the overall interior aesthetics. Road and engine noise are practically non-existent, as you'd expect from a luxury vehicle.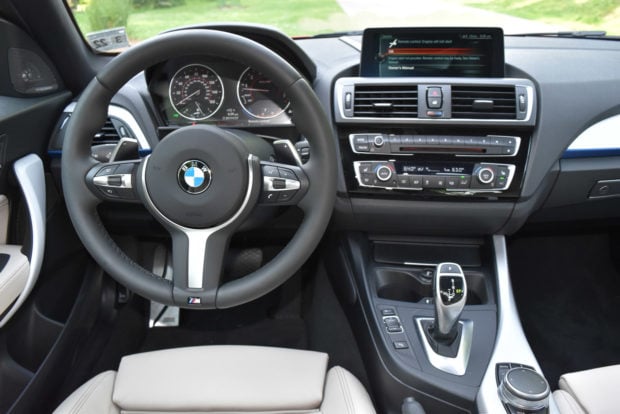 Like many of the German brands, the infotainment system is somewhat overly complicated. That doesn't mean it doesn't have great features, because it does. In fact, new for this is BMW's latest version of their iDrive system that is more intuitive than it has been. It's still somewhat clunky and difficult to master, but much like Audi's system, once you figure it out, you're treated to some outstanding technology. A 6.5-inch touchscreen is responsive, though the screen itself is a little intrusive to where it's located on the dashboard. The dial knob that controls many of the features can be difficult to manage and is not intuitively placed for easy driver access.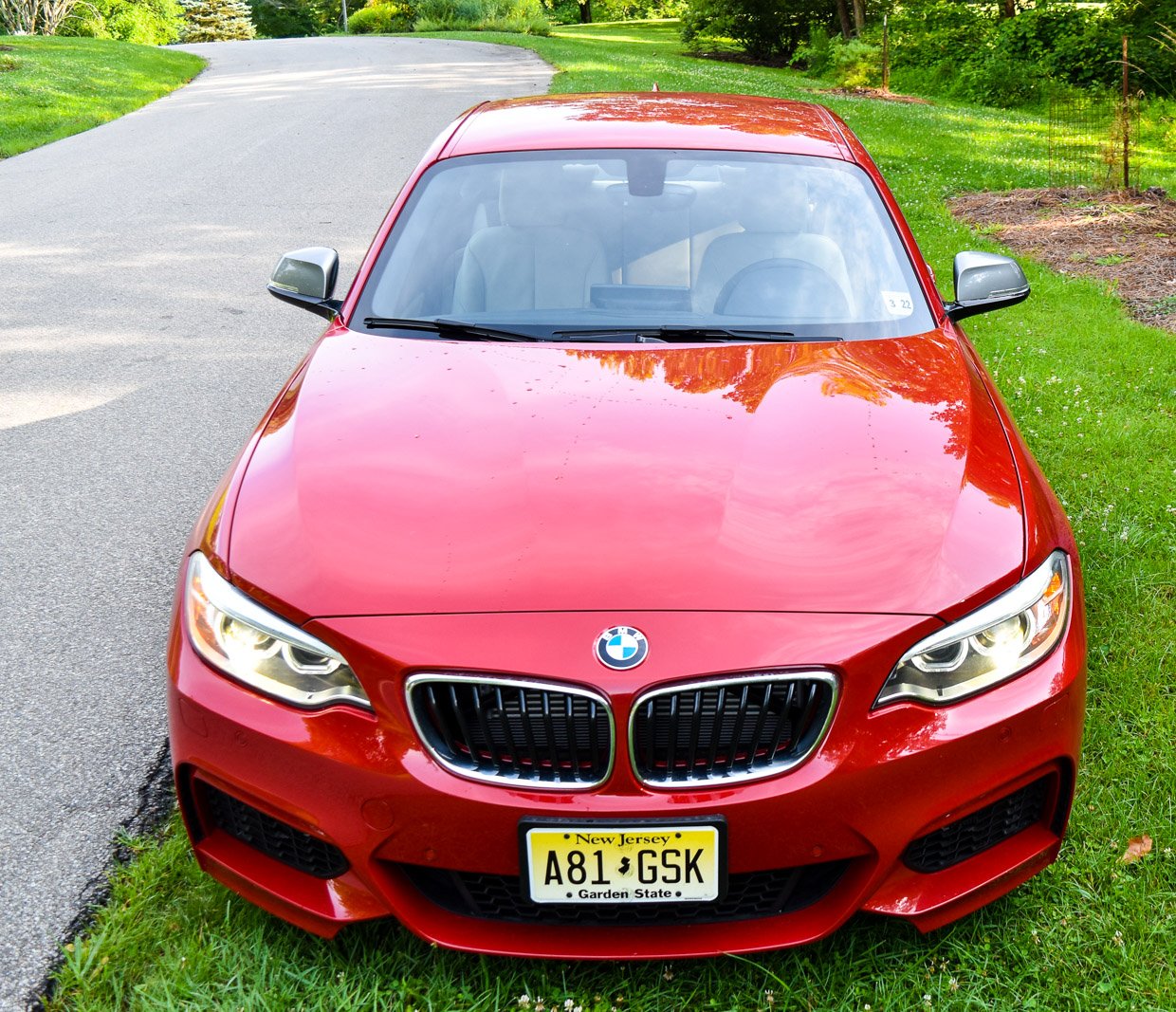 The 230i has a starting price of $33,150(USD), making it a fantastic introductory car to the Bimmer lifestyle. The M240i is pricier with its bigger engine and more amenities. There's certainly a niche market for this car and it's starting price of $46,450, which puts it in the same general range as a well-appointed 3-series. Since it is smaller, some consumers may have a difficult time justifying the price. In the end, my sporty little tester had a final MSRP of $54,870.
BMW's moniker is the Ultimate Driving Machine. They may have just developed exactly that with the 2017 M240i. It's fast, small, squatty, hugs the road and has attractive looks inside and out. It may not be for everyone, but those who want a small German sports coupe with plenty of pep and enough interior luxury, should consider the BMW M240i.