2017 Nissan Rogue Sport Road Trip Review: Micro Machine Adventures
2017 | All-wheel drive | crossover | CUV | nissan | nissan rogue | nissan rogue sport | road trip
Specs at a Glance

Engine: 2.0-liter inline 4-cylinder
Horsepower: 141
Torque (lb-ft.): 147
Transmission: CVT with paddle shifters
Drive Configuration: AWD
0-to-60 Time (secs): 9.5
Top Speed (mph): 120
City/Hwy/Combined MPG: 24/30/27
Curb Weight (lb): 3,450
Wheelbase (in): 104.2
Total Length (in): 172.4
Width (in): 72.3
Base Price (USD): $22,380
Price as Tested (USD): $27,030
There's a wildfire burning in the Pacific northwest right now that is roughly the size of Maryland. Evacuations are in order, roads are blocked, hundreds of firefighters deployed, and everywhere you look, a fine layer of ash cloaks all that it touches with a carcinogen-rich coating. It's eerie to think that just a couple weeks prior I was sashaying through these very mountains in the all-new Nissan Rogue Sport on what is commonly referred to as a #RogueTrip, blasting whatever tunes SiriusXM could pick-up, and enjoying the late summer Montana air.
At the time, the blaze was still raging deep within the upper mountains of Glacier National Park, but due to its smaller size no one seemed to be paying it much mind save for the bucket-laden helicopters overhead. Being that wildfires were more of a topic of conversation than that of concern, I instead turned my attention toward my assignment for the week: Driving Nissan's pint-sized CUV from Spokane, Washington all the way up to Glacier National Park, and then back again.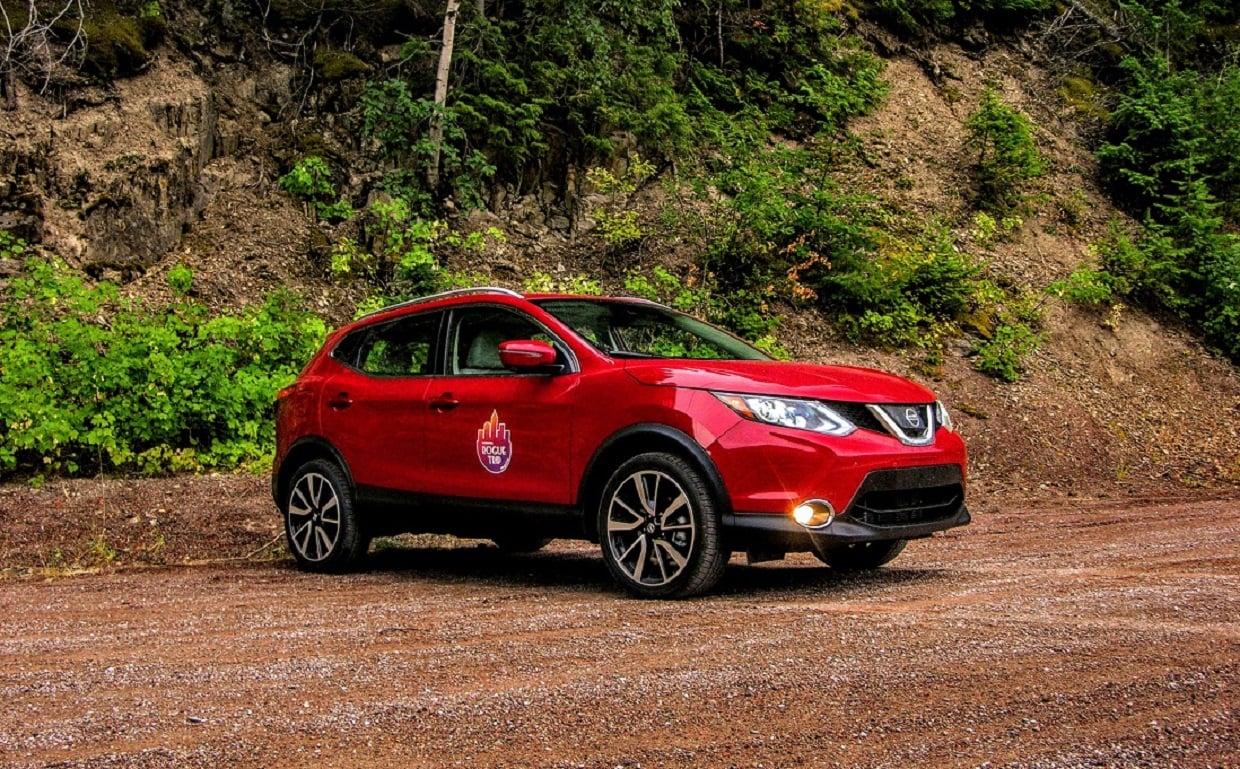 Thus far, the little scrapper had done a stellar job of shuttling me from my starting point into the northern, lake-rich lands of Idaho, and then onward toward Montana's majestic mountain tops. All told the trip had taken me over 500 miles, and each day had been packed with interesting experiences. Parasailing, observing roadside oddities, whitewater rafting, navigating the world famous "Going-to-the-Sun Road," and eating/drinking all things Huckleberry (insert Doc Holliday joke here) had all been on the agenda. The perks of purchasing a Rogue Sport had surfaced in spades too, the appeal it presented over the competition becoming more apparent with each passing mile.
Surprisingly, one of the greatest pros of opting for a Rogue Sport is its off-road inclinations. Although slogging my way through a swamp was far from being in the cards, the reassurance of having an all-wheel drive system with a set locking differential was a pleasant surprise on something so unassuming, and the surefooted nature in which this vehicle handled was fantastic to say the least. Qualms with ride quality have more to do with thin tire sidewalls and road noise/roughness than suspension tuning or traction, so if you like a quiet ride I strongly suggest swapping on some thicker rubber if you score a Sport with 19-inch alloy wheels.
The brakes fared well and not overly prone to fade, body roll felt neatly controlled, and while steering inputs may be a bit vague for enthusiasts, they were direct enough that fans of sub-compacts will have little issue upgrading. It may not be as tightly wound as the Toyota C-HR or as engaging to drive as the Mazda CX-3, nor is it as off-road-ready as the Jeep Renegade, but the Rogue Sport still makes a strong stand, especially inside its cavernous cabin.
Sharply lined and looking all the world like a lower, lighter Rogue, this internationally-marketed machine is fetching on the outside and for the most part, practical as all hell on the inside. Storage pockets in this mini CUV may not be able to go toe-to-toe with Honda's HR-V and emerge victorious, but they are still wisely positioned, plentiful, and purpose built.
Compared to competitors, the Rogue Sport kicks ass when it comes to interior space too, especially when the seats are folded, besting the bunch with 96 cubes overall, with 61 cubic-feet being available with the rear bench out of the way. That means you can pack in four full-grown campers into this thing, along with all of their gear, and still have room for a full order of burritos, a slobbering mongrel, and even a Huckleberry float or two without issue.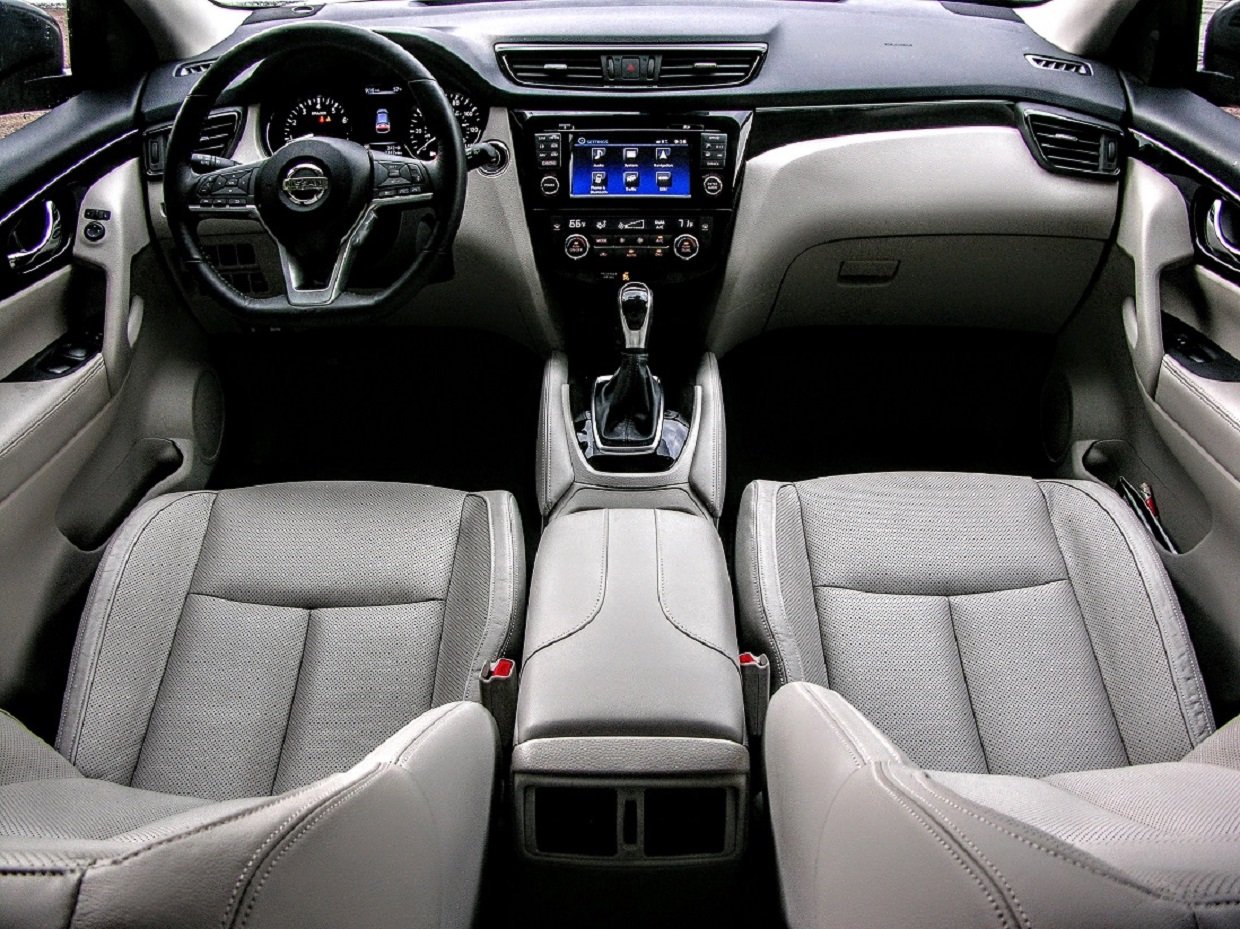 Suffice to say I was not traveling with a tent, and the "glamping" section of my trip certainly helped make storage a cinch, but the spaciousness of the Sport's interior and its cracking good window visibility cannot be denied. With its sportingly shaped and stylish steering wheel, contrasting plastics that are both polished and acutely put together, and sensational seats that seem designed to fight "ass-fatigue," the basics really help accumulate points for this CUV. It's practically a rattle-free cabin too, even when off-road, and with various padded knee braces and cushy elbow-supporting armrests on board, comfort is king in this cockpit, regardless of what seat you desire.
Don't get me wrong, performance for both the Rogue and the smaller Sport alternative certainly leave a lot to be desired if you are an automotive enthusiast. The driving characteristics of this car would be greatly improved via a deluge of NISMO tuning, and if sales take off in the same direction as the red hot Rogue, I can easily foresee this approach being implemented.
More direct steering calibrations, a fatter set of sway bars, retuned dampers and stiffer/lower springs, brakes borrowed from the Q50 Red Sport, along with a set of wider wheels would really help iron out the softer wrinkles this machine harbors. Factor in a more lithe engine featuring Nissan's variable-compression turbo technology and some hybrid electrification, and the Rogue Sport would rocket toward the hot-hatch starting grid, where the Civic Type R currently reigns supreme over the Golf R, Focus RS, and STI.
Pipedreams over Nissan finally entering the hot-hatch race aside, we turn toward the numbers game with the Sport, where pay-to-play returns appear to be a mixed affair. Although the value packed into the $27,000 SL model lands this top-tier variant ahead of the off-road focused Jeep Renegade Trailhawk and redesigned Chevy Trax, it trails fully outfitted versions of the Toyota C-HR, Kia Soul, and Subaru Crosstrek.
Also, much like the heavily refreshed Pathfinder and latest Titan, the Rogue Sport sits somewhere in the middle of the herd due to its rapidly aging tech, and missing key components like backseat USB ports and Android Auto/Apple CarPlay. But with a heated steering wheel, the latest Nissan Safety Shield protection system, and enough practical implementations to entice both outdoor enthusiasts and city dwellers, the baby Rogue still strikes a lot of the right sales notes.
Scuttling back out of the mountains and into Idaho, I gazed out over the large expanses of lakefront property in front of me and contemplated how I had gotten to where I was in my #roguetrip. I can see why they had wanted the Rogue Sport to be our road trip chariot of choice. Nissan is not just a sales powerhouse here in the U.S., but a simmering hotpot for future automotive engineering feats, and by gathering feedback from buyers and critics alike, they look to make forthcoming variations of this chassis even more outstanding.
Let's just hope that sales of the Rogue Sport spread like wildfire through the heavily populated CUV landscape, igniting a fresh round of sales similar to what it has seen with the full-sized version. By doing so, this could give Nissan the fuel it needs to update its performance portfolio, because both the Fairlady Z and the Skyline are in desperate need of updating. So if you're in the market for a smaller crossover, go out and cross-shop the Rogue Sport against its competitors. If purchased, your money will help usher in a new era for one of Japan's most iconic automotive names, and with a little luck, Nissan's sports cars won't be the only ones seeing major performance updates.