2018 Honda Civic Type R First Drive: The Complete Hot-Hatch Compendium
2018 | FWD | honda | honda civic | honda civic type r | nurburgring | race track | turbocharger | VTEC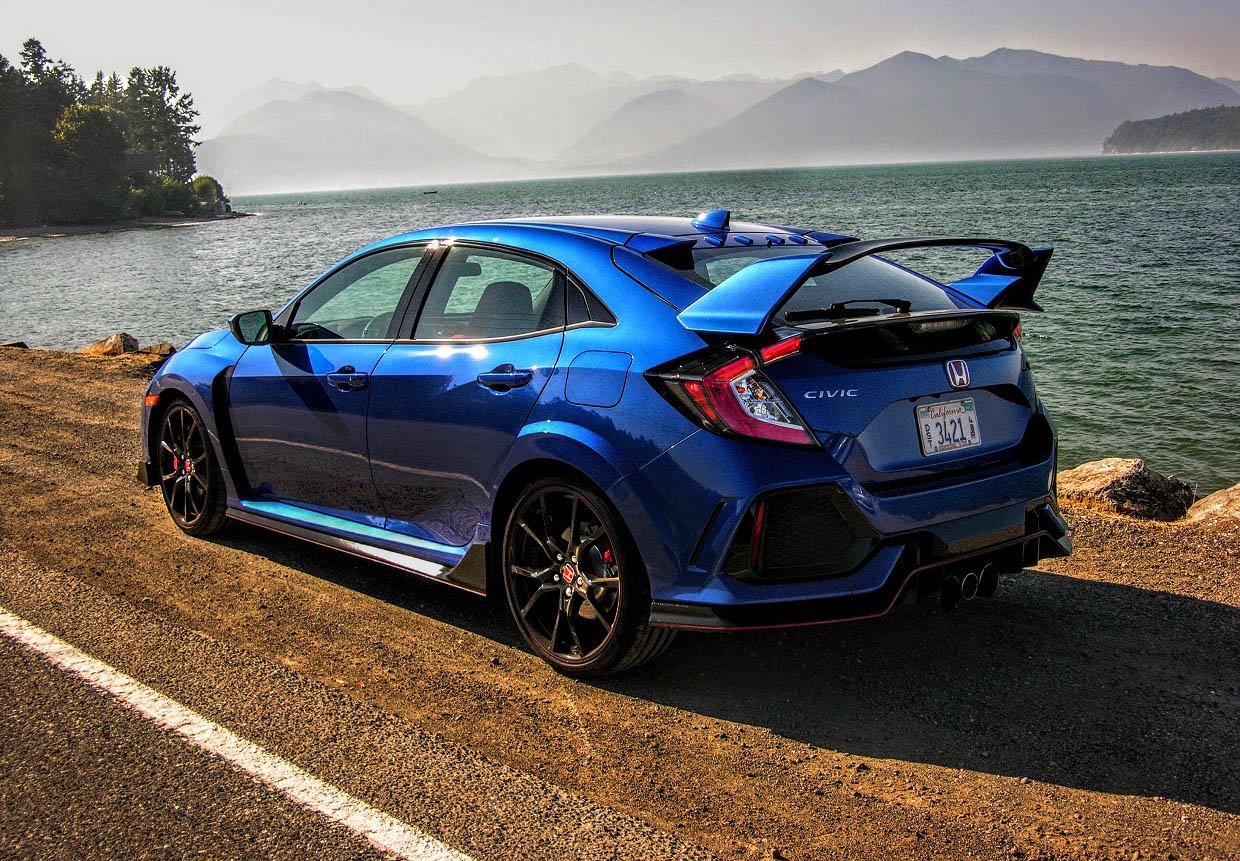 Specs at a Glance

Engine: 2.0-liter turbocharged 4-cylinder
Horsepower: 306
Torque (lb-ft.): 295
Transmission: Six-speed manual w/ helical limited-slip differential
Drive Configuration: FWD
0-to-60 Time (secs): 4.9
1/4 Mile Time (secs): 13.5
Top Speed (mph): 170
City/Hwy/Combined MPG: 22/28/25
Curb Weight (lb): 3,111
Wheelbase (in): 106.3
Total Length (in): 179.4
Width (in): 73.9
Base Price (USD): $33,900
Price as Tested (USD): $33,900
Pulled straight from the purpose-built performance pages at Honda, the Civic Type R emerges onto the scene amidst great fanfare. It's the first time in history that America has been offered the Civic with a factory R-rating, and although the PG-13 enthusiasm I felt for the all-new Si was indeed genuine, my thirst for more adult material remained unsatiated. OK, so maybe using the word "adult" is a bit much when you stand back and look at this thing, but we'll get to all those nerdy aerodynamic points in a moment.
Six years writing for Honda Tuning Magazine, a year with Super Street, over twenty trips to Japan, four major tours of corporate Honda facilities, and a dozen years of H-badged vehicle ownership have lead me to this point. I am ready. There has never been a better time than now… or has there?
Deny it all day, but a lot of people absolutely loathe the looks of the car, including Civic fanatics. From its automated flat-masked nose, to its dynamically designed coffee-holder-height rear wing, the new R is a lesson in race design infatuation and abnormal cubist creativity. Personally, I feel torn over the vehicle's aesthetics, and while a less unorthodox look certainly would make me like the R all the more, one must understand that there's purpose behind those origami folds.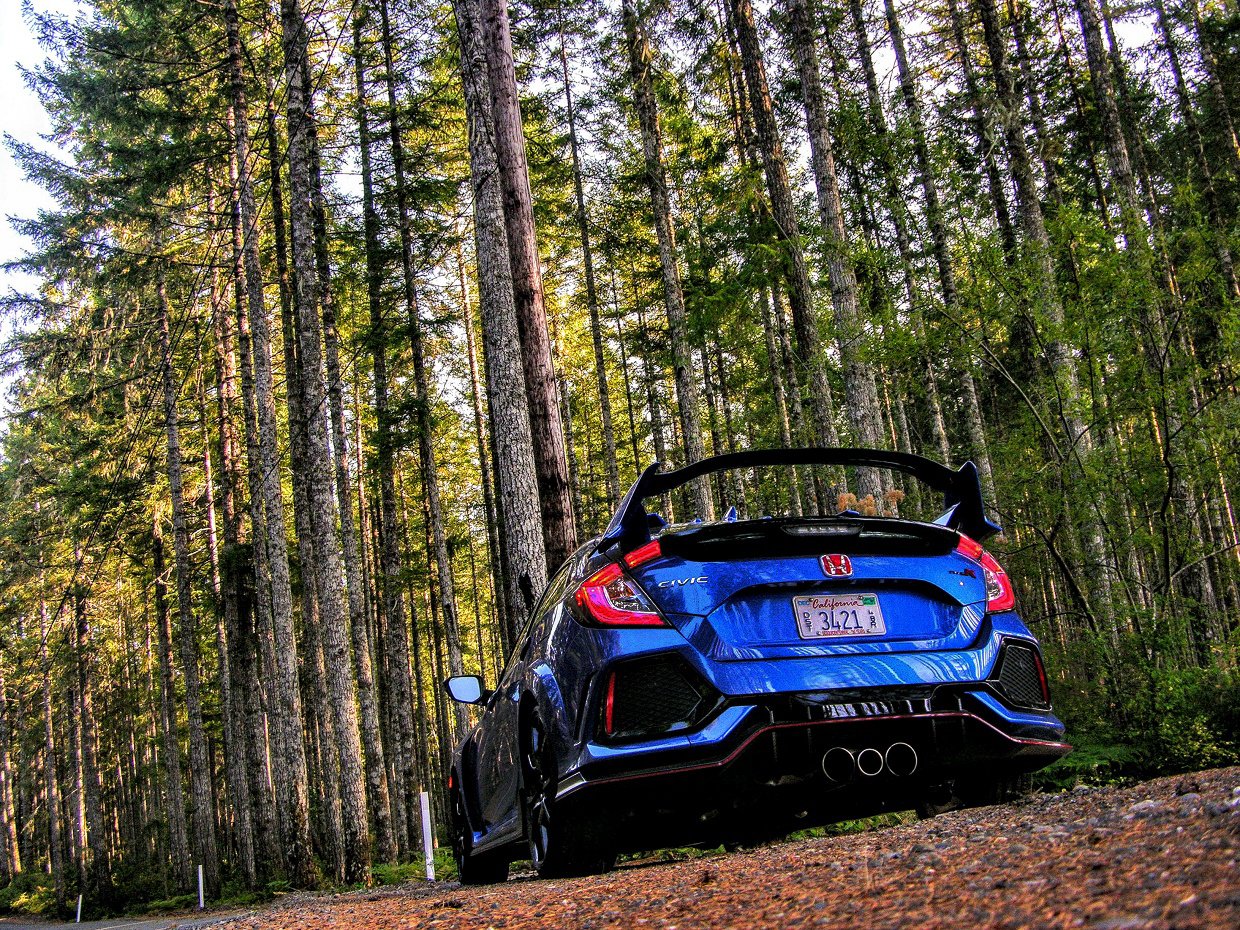 All those hooked lines and raked edges have been proven to make the car go that much faster around the track, and in true Honda fashion, every angle of this car has been carefully measured for efficiency. Function trumps form with this one, and offensive automotive appearances are still like flatulence in an R-rated film. They may gross some viewers out, but very rarely do they have a lasting effect upon the overall plot.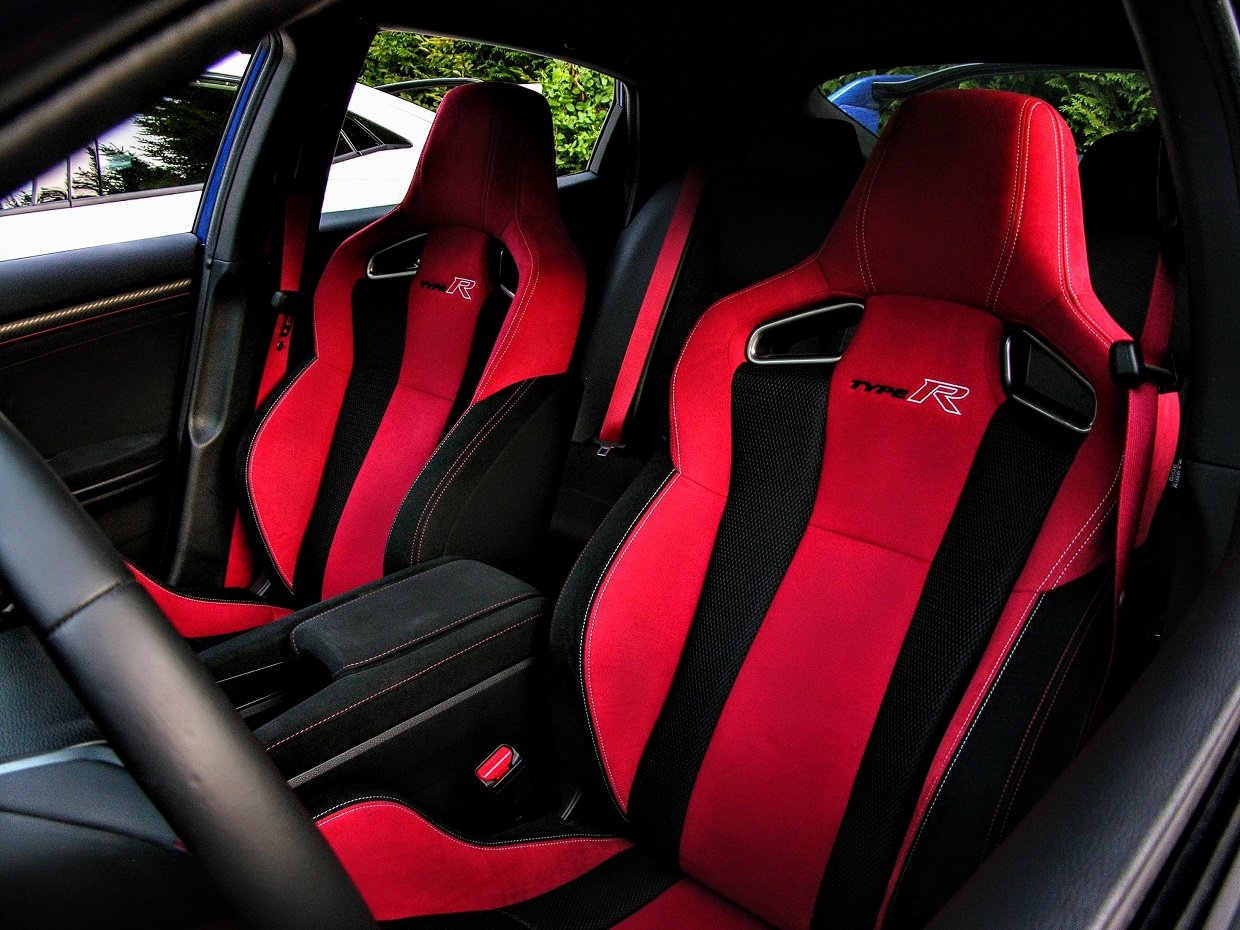 For all intents and purposes (something this vehicle has in ready supply), the Type R is an incredibly functional take on grassroots track-day performance. Honda opted to go with a Euro-inspired five-door hatch design this time, which was the right move to make on multiple levels.
It's a car that can be driven to the track, raced all day, and then used on the way home to get groceries because all those familiar hatchback perks are still present. This version is also much lighter than its non-R sibling and far stiffer than the old European version. It's also considerably lower to the ground than its competitors thanks to being front-wheel drive. This last fact plays a key roll in making sure that both lift and wheel gap remain minimal at most, and while it may be massive, that fully-functional rear wing doesn't interfere with rearview mirror visibility.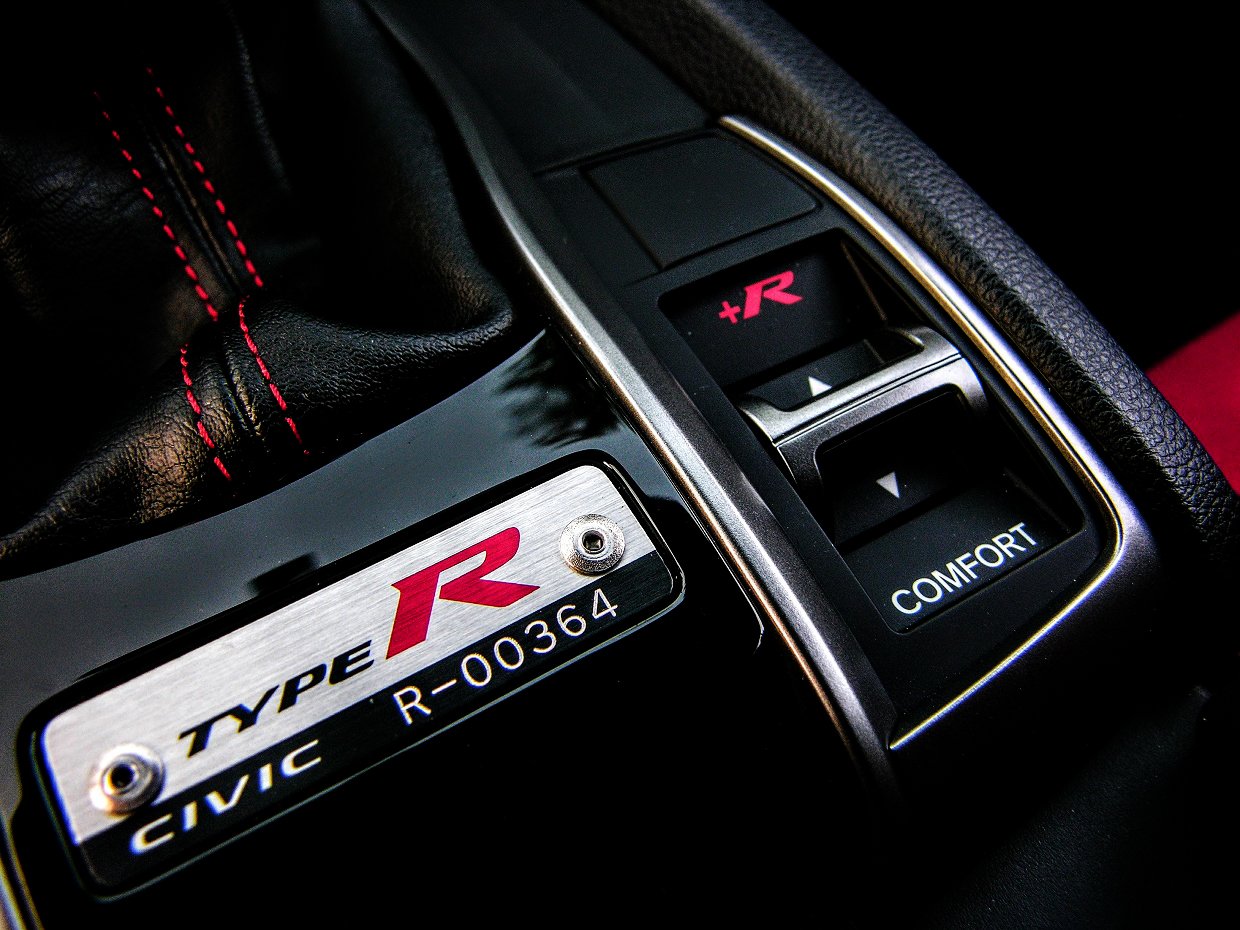 After flailing around the track for the better part of the morning in true grassroots form at Washington's Ridge Motorsports Park, there were some takeaways from the vengeful side of this machine that made me stop on a Brembo-backed dime and jot down a few notes. Where Comfort mode pushes the adaptive dampers toward a far more tolerable ride level, switching the vehicle into Sport and then into the +R setting forces everything steering, handling, and acceleration related to the edge of extreme.
Surprisingly, out on track I found +R mode to be refined and not spine-jarringly stiff like the Focus RS can be, although I would strongly discourage street usage of this setting unless absolutely necessary. The way in which the dual-pinion variable steering rack adjusts to inputs is flat-out fantastic, and how the axis alignment of the front knuckle eliminates the torque steer commonly found in a front-wheel drive cars of this caliber is bloody brilliant. Meanwhile, back in +R land, G-force and stroke sensors are busy tweaking dampers for additional grip, and traction control gets partially disabled in order to allow maximum fun when rev-matching around an apex.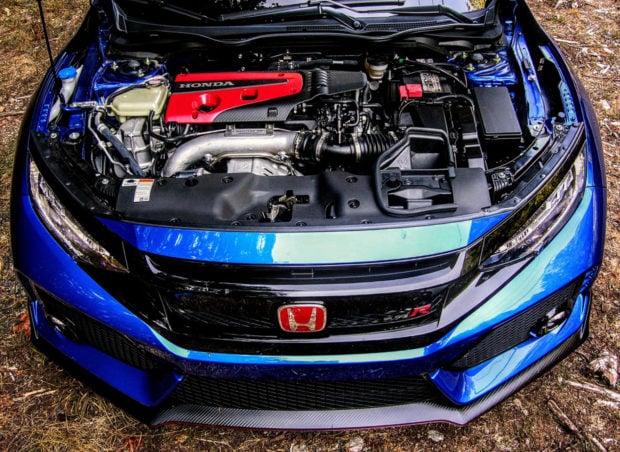 On the topic of throttle tip-in and powertrain acuteness, there is little to dislike about Honda's most powerful engine, save for its surprisingly muffled tonality, both beneath the bonnet and out back. Technologies that make this turbo 2.0-liter so magnificent include a liquid-jacketed exhaust manifold, an electric wastegate for instantaneous boost, sodium-filled exhaust valves, and a class-leading lightweight crank setup, complete with high compression pistons. Lag-free and finagling out 28 mile-per gallon gains along the highway, it's an engine that does what the car itself has long been known for: Offer acute acceleration, along with plenty of daily practicality, reliability, and drivability.
As for the transmission side of things, the R features an exclusive six-speed manual setup that conjoins a helical limited-slip differential with a lightweight single-mass flywheel, along with a 7% lower final gear for harder high speed pulls. It's a gearbox that feels right at home both on the track and in town, providing one of the most approachable performance gearbox/clutch combos ever assembled. Honda has also opted to stick with its time-honored aluminum shift knob in the R, a heritage keepsake that looks stellar, but for some may feel a bit light when feeling out throws for the first time.
Another nice touch is Honda's decision to throw a large amount of tech in the R at no additional charge, and then add a healthy array of unique interior features. Unlike its competition, this car comes standard with things like Android Auto, Apple CarPlay, navi, high-end audio components, and smart entry/start for one set price.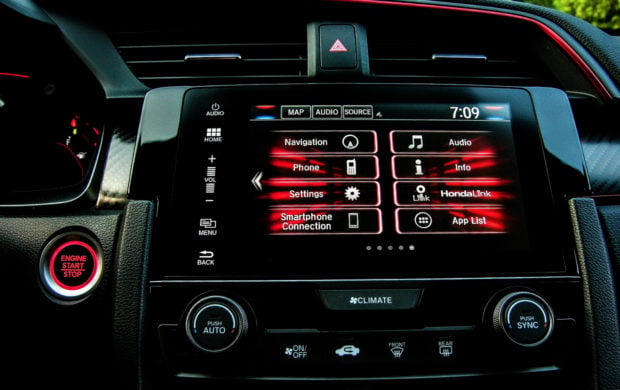 It also packs a lot of neat R-exclusive red touches, including a morphing gauge cluster that comes loaded with stylish and helpful performance specs, and a 7-inch center stack screen that doubles as a track chart for enthusiasts. And then there are those deeply hooped bucket seats, which are not just vibrant, comfortable, and bolstered to the max, but are 100% made in house at Honda for 22-pounds of total weight savings and inscrutable safety.
But while Honda's "all-in-one" packaging approach to performance and tech practicality are indeed refreshing to find, there are a few strange sides to this machine that must be mentioned, starting with its interior. First of all, there are no cabin package options available on the R, so if you don't like bright red seats with matching belts and loads of fake carbon you're going to be in a major bind right off the bat.
It also has a 2+2 seating layout, which is odd to find in a chassis that prides itself on practicality. Unlike the less aggressive version of the tenth-gen Civic hatch, Honda has opted to eliminate the center seat in the back of the R, and with it any hope of an armrest or closed storage compartments. Although engineers speak of how this increases corner balancing when passengers are aboard, it seems strangely un-Honda of them to forego this feature in favor of making the car more ideal for four person time attacks, a form of racing that we have yet to witness.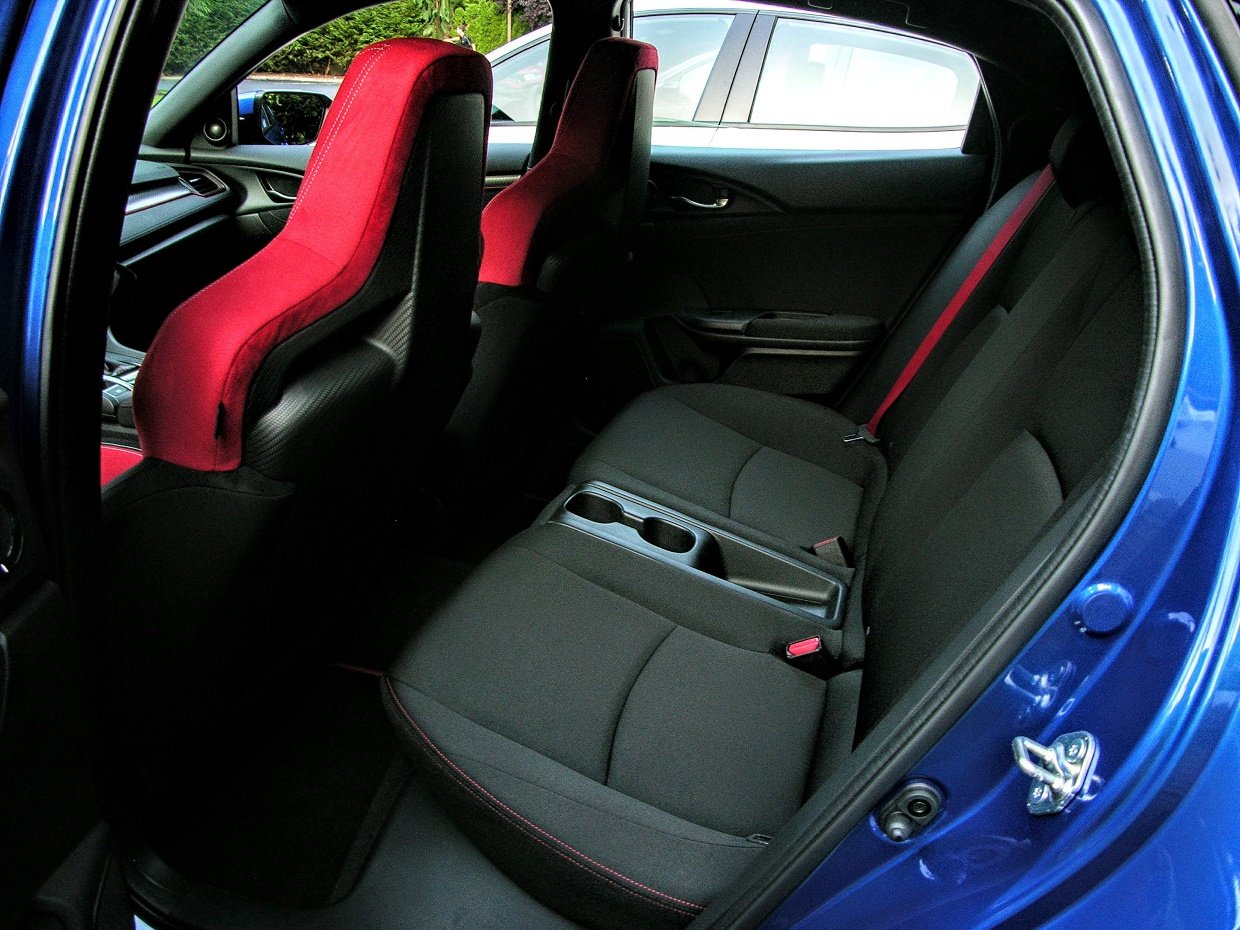 There also is no 40/20/40 split in the back bench, so when it's snowboard season someone's either going to have to give up their seat or you're off buying a bulky roof rack. I also found the minimal use of padding in armrest areas to be elbow aggravating, and the blind spots cast by the C-pillar were sizable enough that they forced me to crane my neck on several occasions.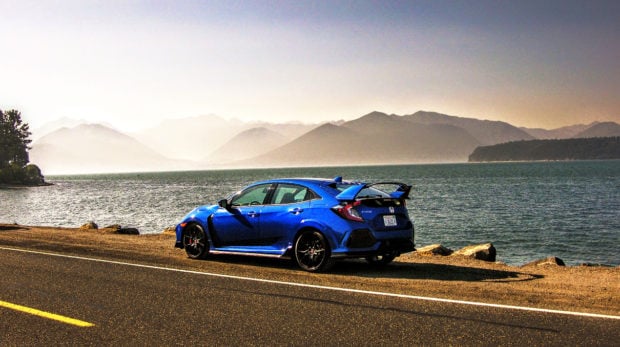 Still, even with its divisive design language and odd interior missteps, the all-new Honda Civic Type R demands applause for what it offers enthusiasts. It's brilliant in the corners, aggressive in the straights, refined enough for daily use, and adaptable to the point where it can still be billed as an "all-inclusive" daily driver.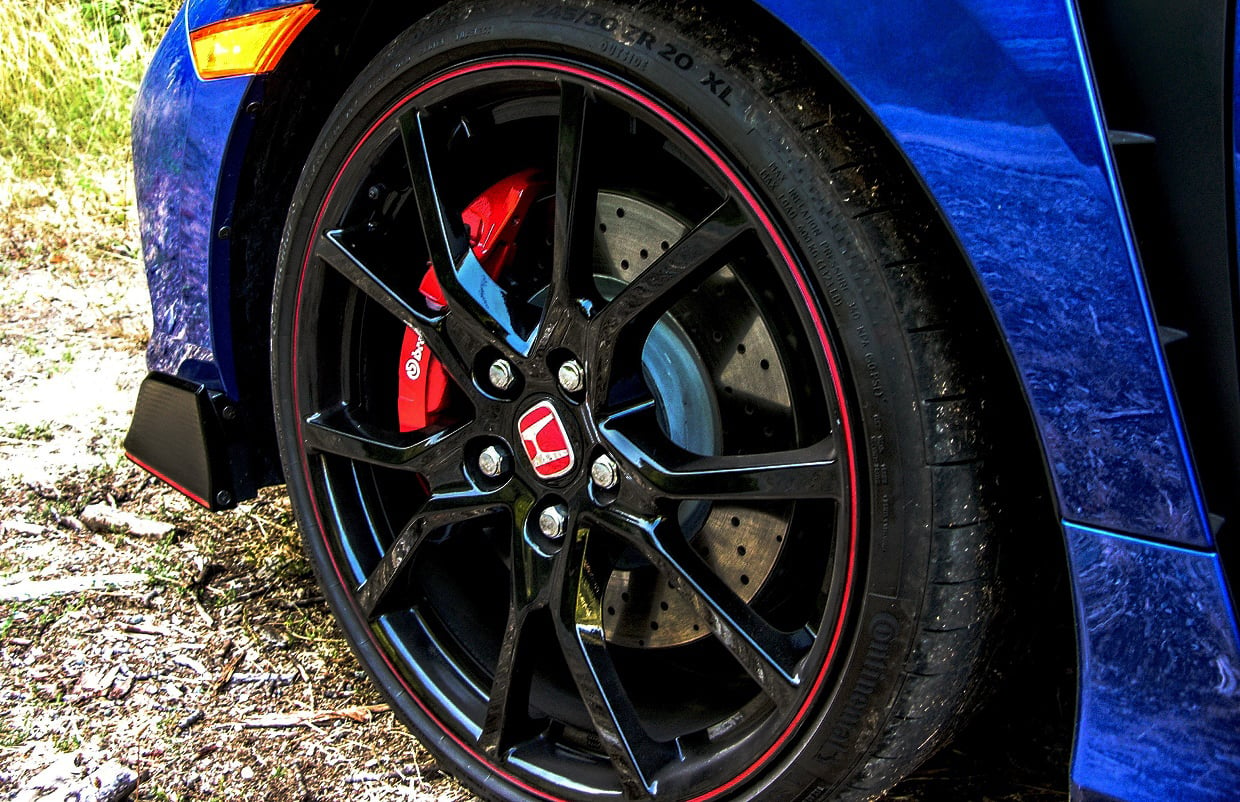 So if you have $34,000 on hand, don't mind all those origami lines and outlandish aero elements, can drive stick, and have zero need for all-wheel drive, or a fifth seatbelt in the rear, you are going to love the Civic Type R. The R-rated legacy that this badge has built for itself since the 1980s lives up to the hype and then some, and I truly believe that Honda has one hell of a blockbuster hit on its hands with this action-packed studio production.