2018 Lexus LS 500 First Drive Review: Big, Bold, and Breathtaking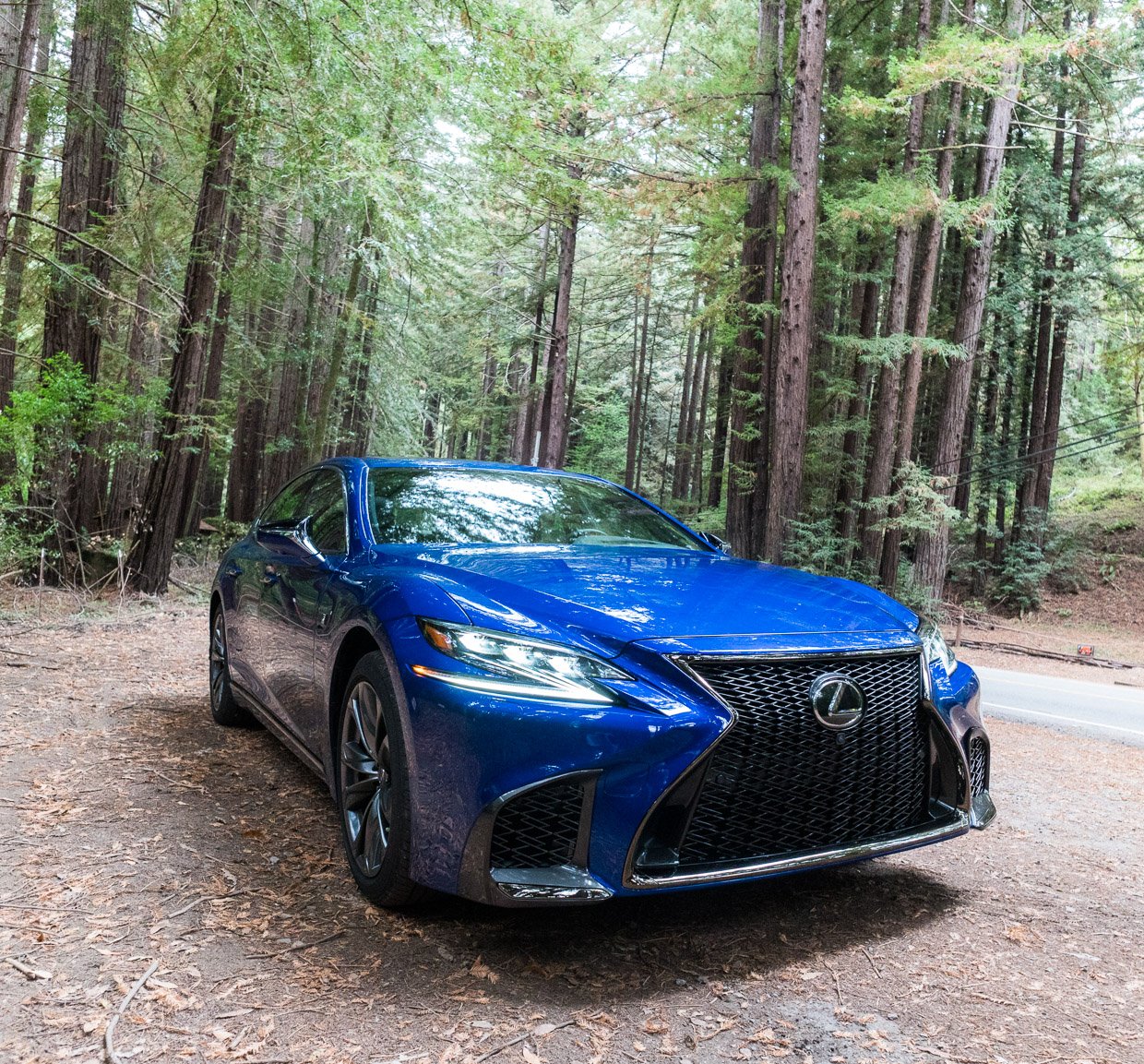 2018 Lexus LS 500

Engine: 3.5-liter DOHC twin-turbo V6
Horsepower: 416 @ 6000 rpm
Torque (lb-ft.): 442 @ 1600-4800 rpm
Transmission: 10-speed automatic
Drive Configuration: RWD or AWD
0-to-60 Time (secs): 4.6
Top Speed (mph): 136
City/Hwy/Combined MPG: 19/29/23 (RWD) / 18/27/21 (AWD)
Curb Weight (lb): 4751 to 5093
Wheelbase (in): 123
Total Length (in): 206.1
Width (in): 74.8 (mirrors folded)
Base Price (USD): ~$75,000
The LS 400 was the first ever car sold by Lexus, all the way back in 1989. Since then, the brand has evolved quite a bit from its original persona of quiet and reserved elegance, to one of bold luxury and performance, while honoring the company's Japanese heritage. With excellent cars like the GS F and LC 500 to their recent credit, it was only a matter of time before its flagship full-size sedan would get brought up to snuff with the rest of the line.
Historically, the Lexus LS has been one of those cars that was better to be driven in than to drive for yourself. Sure, it was comfortable and had lots of space, but its ride was soft and mushy, and its interior was upscale, but not exactly dynamic or modern. That's all changed with the 2018 LS.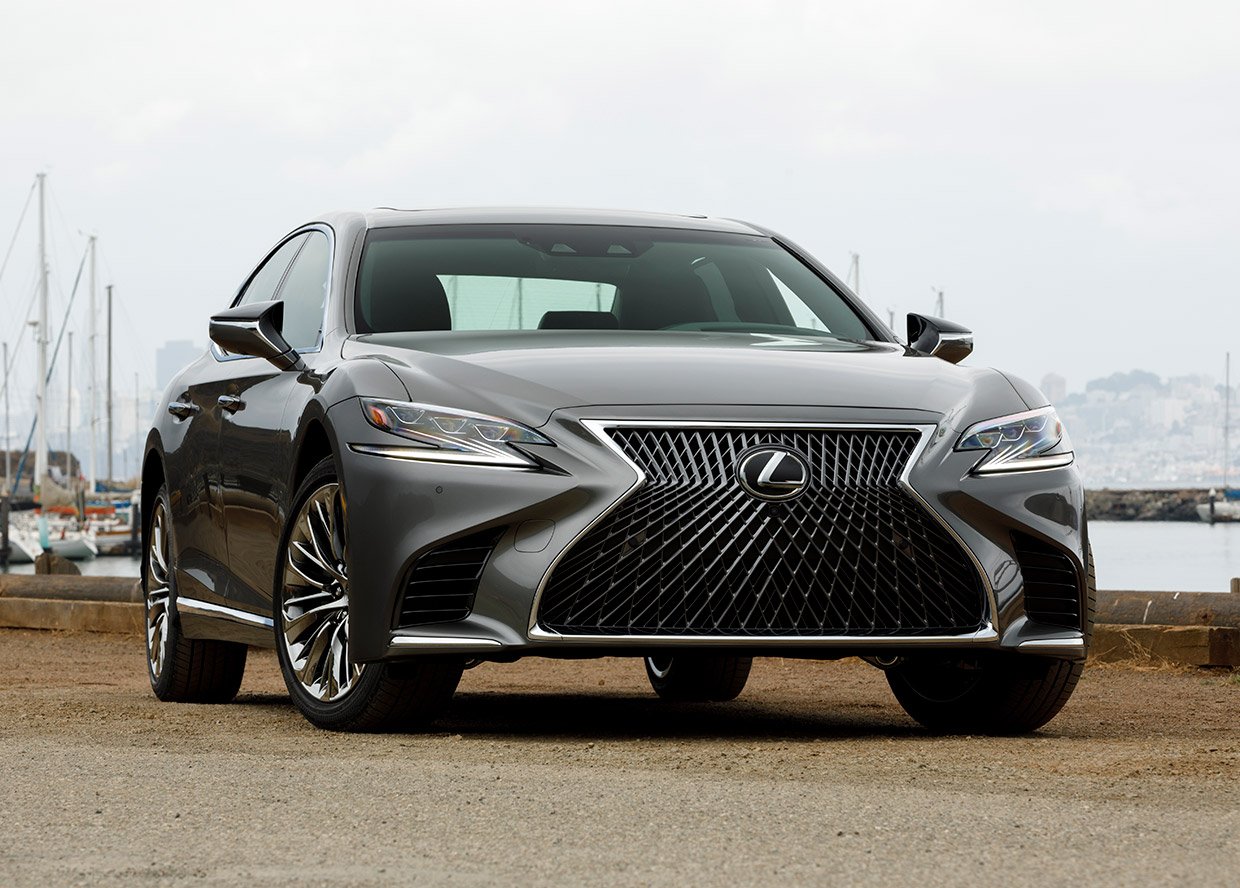 The new LS is as bold and dynamic from the outside as anything in the Lexus line. Normally, Lexus biggest spindle grilles are reserved for the F SPORT line (the blue car shown above), but even the more elegant LS models get their own special version of the multifaceted grille, with a more vertical approach to the pattern. The car's dramatically sculpted lines radiate out from the grille, continue outward through the headlights, down the side of the car, onto the taillights, and meet back in the middle of the trunk, echoing the spindle shape from up front.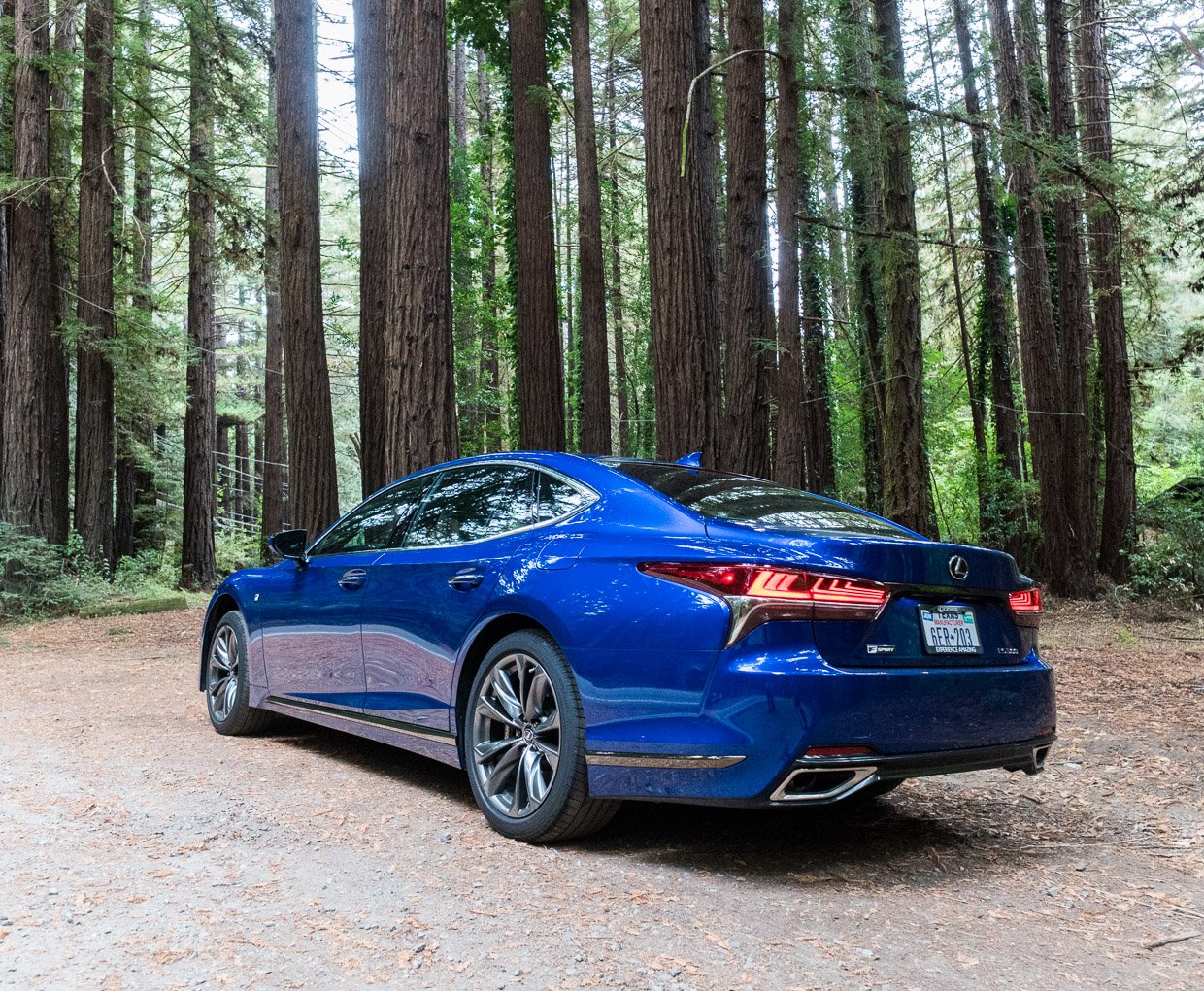 The headlamps are especially dramatic, with their zig-zag shape, LED accents, and three tiny projector light sources to illuminate the road ahead. Those lights offer an intelligent high-beam function, as well as the ability to swivel into curves to improve nighttime visibility.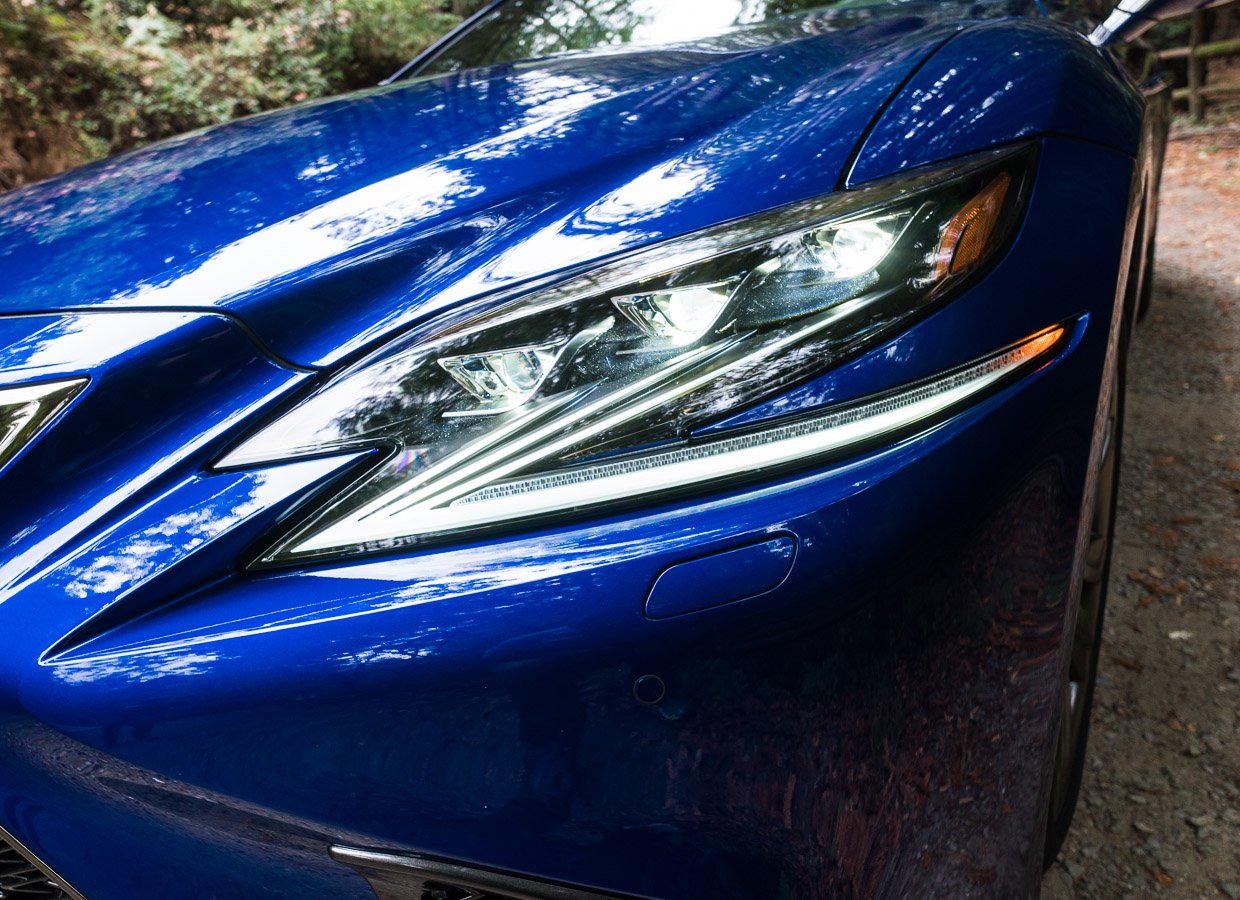 For 2018, Lexus moved the LS to their new GA-L global luxury platform, which is designed to provide better ride quality and improved chassis rigidity, while also reducing weight. Compared to the 2017 model, the new LS is about 0.6″ lower than the outgoing model, with both the hood and trunk getting dropped in height by more than an inch each. The result is a more aggressive and engaging driving stance than ever before. By stretching the wheelbase by 1.3″, handling is improved as well.
Under the hood, the LS packs a brand new engine, a 3.5-liter twin-turbo V6 that makes a respectable 416 horsepower, and 442 lb-ft. of torque. These figures represent a substantial bump over the outgoing 4.6-liter V8, which made 30 fewer hp and 75 fewer lb-ft. of torque, and burned more fuel doing it. Combined with a smooth-shifting 10-speed automatic transmission, the new LS 500 manages to turn in some impressive mileage for its size – up to 29 mpg on the highway with the rear-wheel drive models.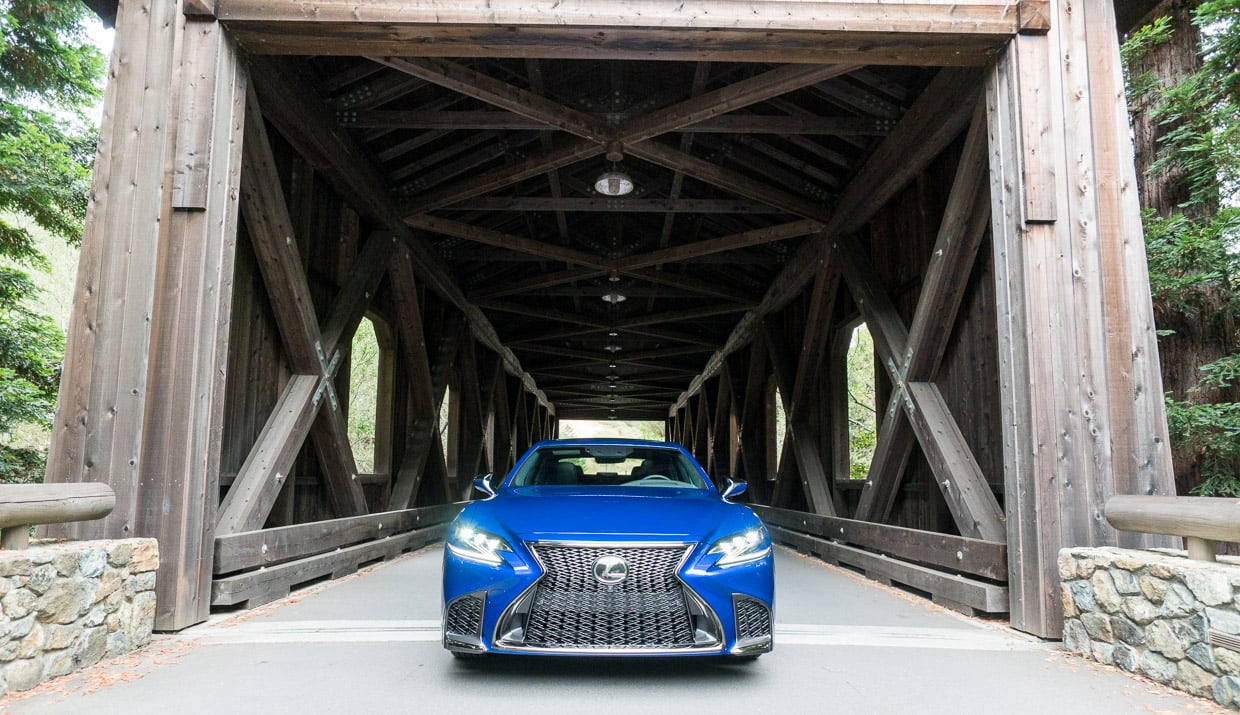 Thanks to its new platform, and a variety of improvements to its multilink suspension, the new LS handles like a dream. In Normal or Comfort modes, the ride is soft and comfortable without being squishy, and in Sport S or Sport S+ mode, it tightens up nicely, offering a good connection to the road while still being smooth. Body roll has been all but banished, and the boat-like ride feel of past LS models is nowhere to be found. That's not to say this isn't a big and supremely comfortable car – it just drives more like a mid-size performance sedan this time around.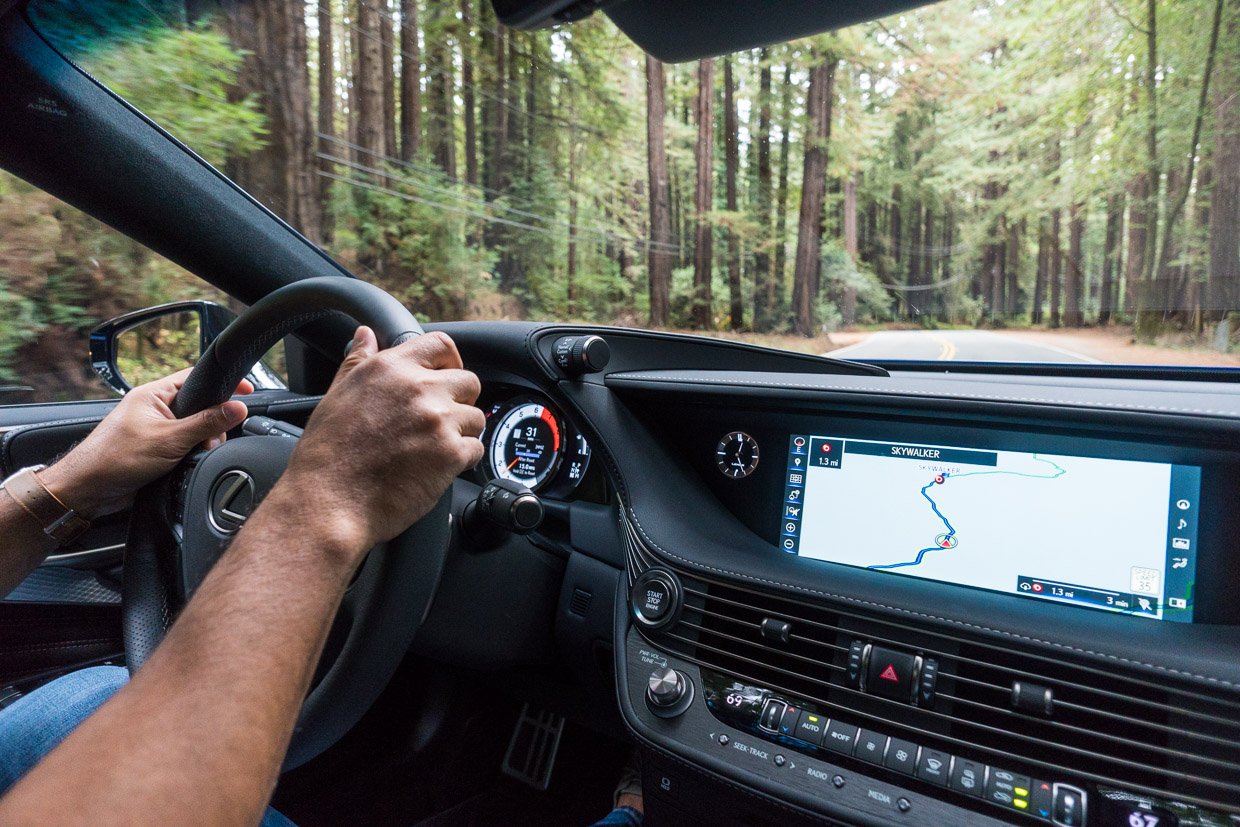 Speaking of performance, the LS 500 is speedy – especially for its size. It'll launch to 60 mph from a standstill in just 4.6 seconds. Acceleration is fast and smooth, and turbo lag is virtually imperceptible. In Sport S or Sport S+ mode, it even sounds like a sports car in the cabin – though Lexus admits fully that the rich and powerful exhaust note you'll hear is artificially generated through the car's stereo system. I guess that's what you get when you make a car with such good sound insulation. I didn't manage to get any time behind the wheel of the hybrid version, but it offers 354 hp total system power, and will do 0-to-60 in 5.1 seconds in RWD and 5.2 seconds in AWD.
In F SPORT trim, the LS sees specific tuning of its suspension and chassis dynamics, rides on 20-inch alloy wheels, and gets jumbo 15.7″ 6-piston rotors up front and 14.1″ 4-piston rotors in the back to improve braking performance.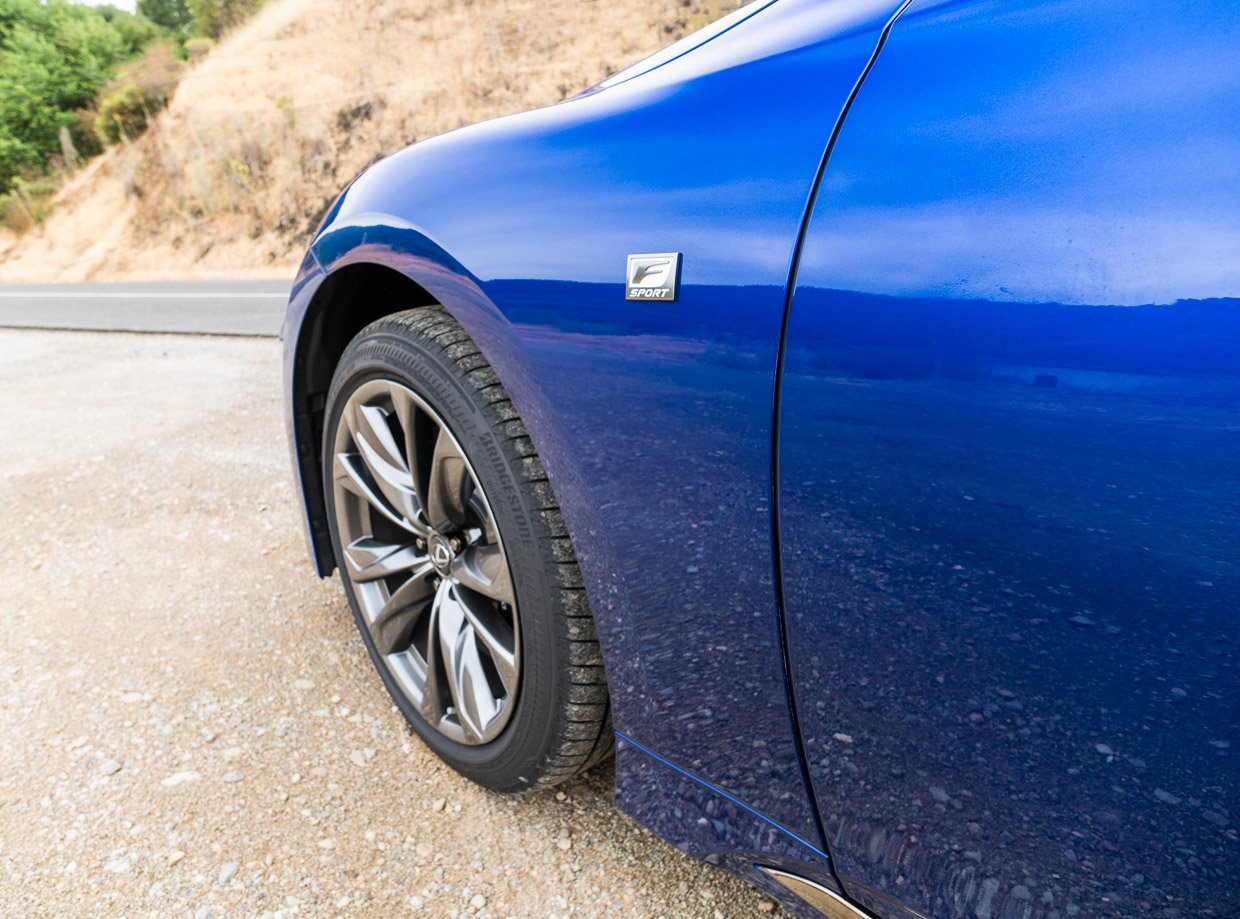 An adaptive variable suspension system is standard on all LS models, offering up 650 levels of continuously variable damping, compared to just 9 levels from the old system. What this means is a more natural transition between differing road conditions and driving styles. F SPORT models can also add a dynamic handling package, which includes variable gear ratio steering and active rear steering for more direct cornering response. Those looking for a more cushioned ride can opt for the air suspension package, which also has the ability to raise the car slightly to make entering and exiting easier, then hunkers back down towards the ground when driving.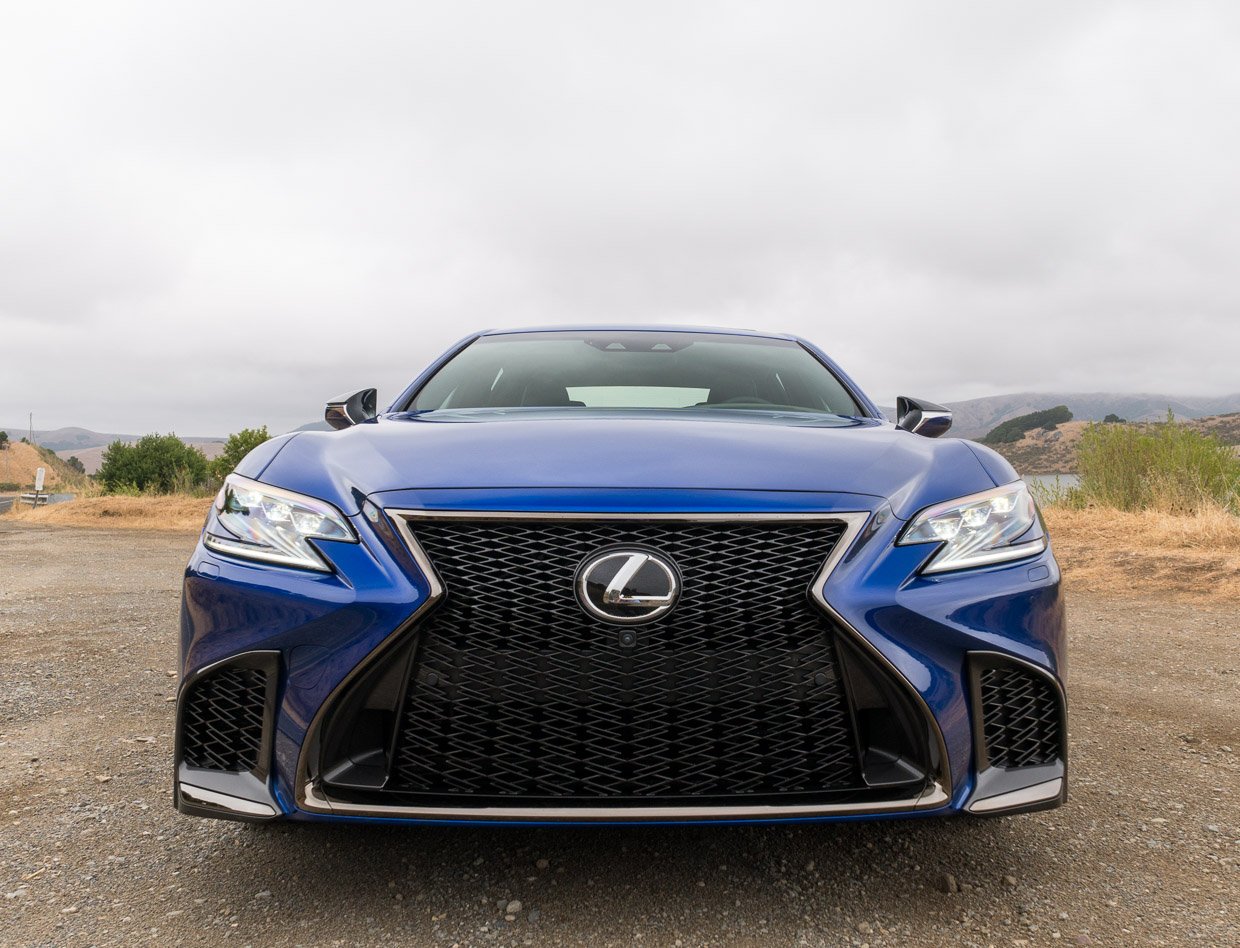 Beyond its impressive new drivetrain and handling, the interior of the LS 500 is where the really good stuff happens. The Lexus design team went all out to create an environment unlike any other production car today. Every surface is beautifully sculpted, from the curvilinear horizontal lines that run through the center of the dashboard, to the sweeping curves found on the leather door and seat trim.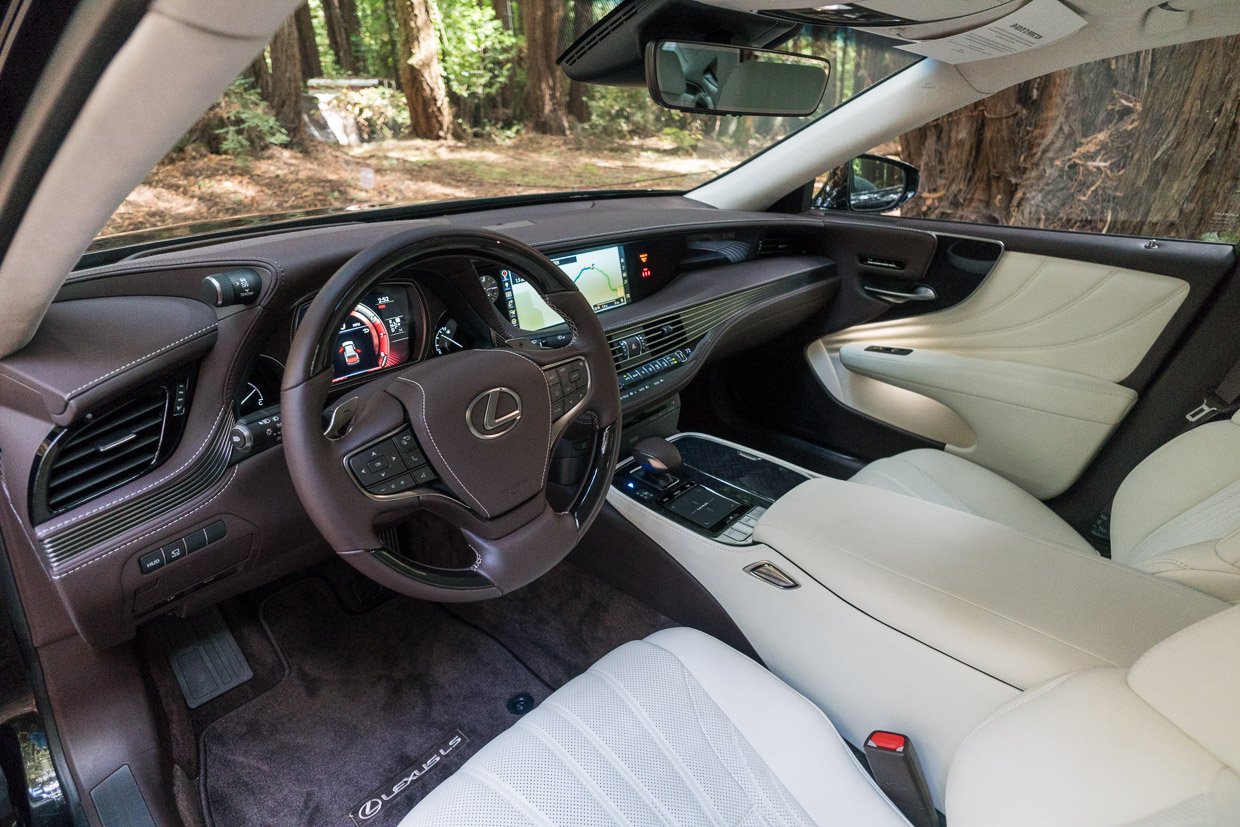 Like most Lexus vehicles, the interior is exceptionally quiet, blocking out virtually every exterior noise, in part thanks to its active noise cancellation system. From the moment you shut the doors, you're transported to an environment reminiscent of the best of what Japan has to offer – elegance, comfort, hospitality, and artfulness. It also has a few clever tricks up its sleeves, like the smartly-designed center bin which can be flipped open towards either the driver's or passenger's side. It's a small detail, but one that's greatly appreciated.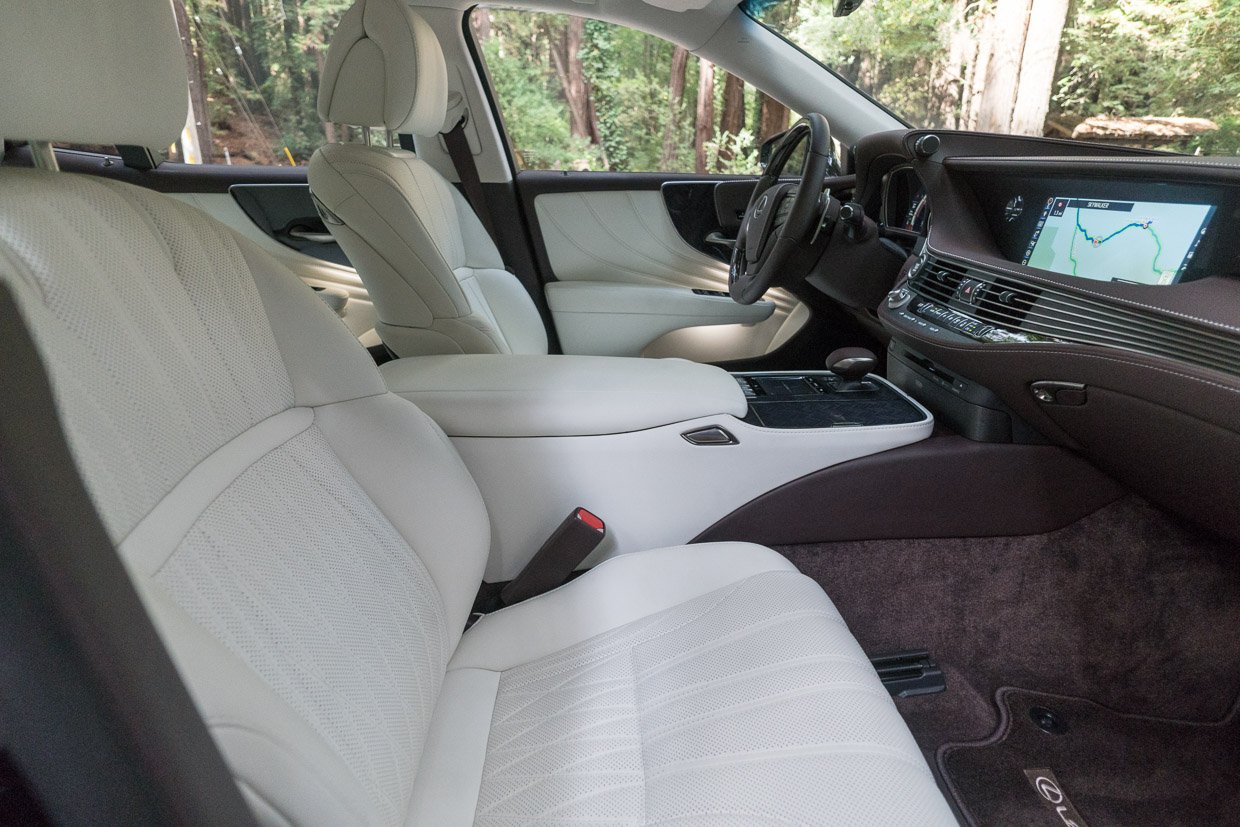 Typically, I've preferred the more aggressive styling of Lexus' F SPORT packages, but here, I would rather have the more sophisticated and upscale materials found in the LS' more elegant trim levels. Fortunately, there are plenty of choices available, with nine different interior color schemes and nine different interior trim selections. Depending on trim level and options you choose, the cabin can be adorned with several truly impressive materials, including a handmade origami pleated fabric and Kiriko-cut art glass, or a more subdued, but still elegant laser-cut herringbone wood pattern.
As you can see below, the F SPORT's black and grey interior doesn't quite have the panache of the other colors and trims, and while there's not a lot of it, the shiny piano black bits have got to go.
For those planning to spend more time in the back seat of the LS than in the front, the Executive package provides a huge amount of rear seat legroom, and the ability for the right rear seat not only to recline up to 48 degrees, but to scoot the front right passenger seat forward in order to really stretch out. Both the front and rear seats can be equipped with a massage function which uses air bladders to provide relaxation to your upper body, lower body, shoulders, and lumbar areas.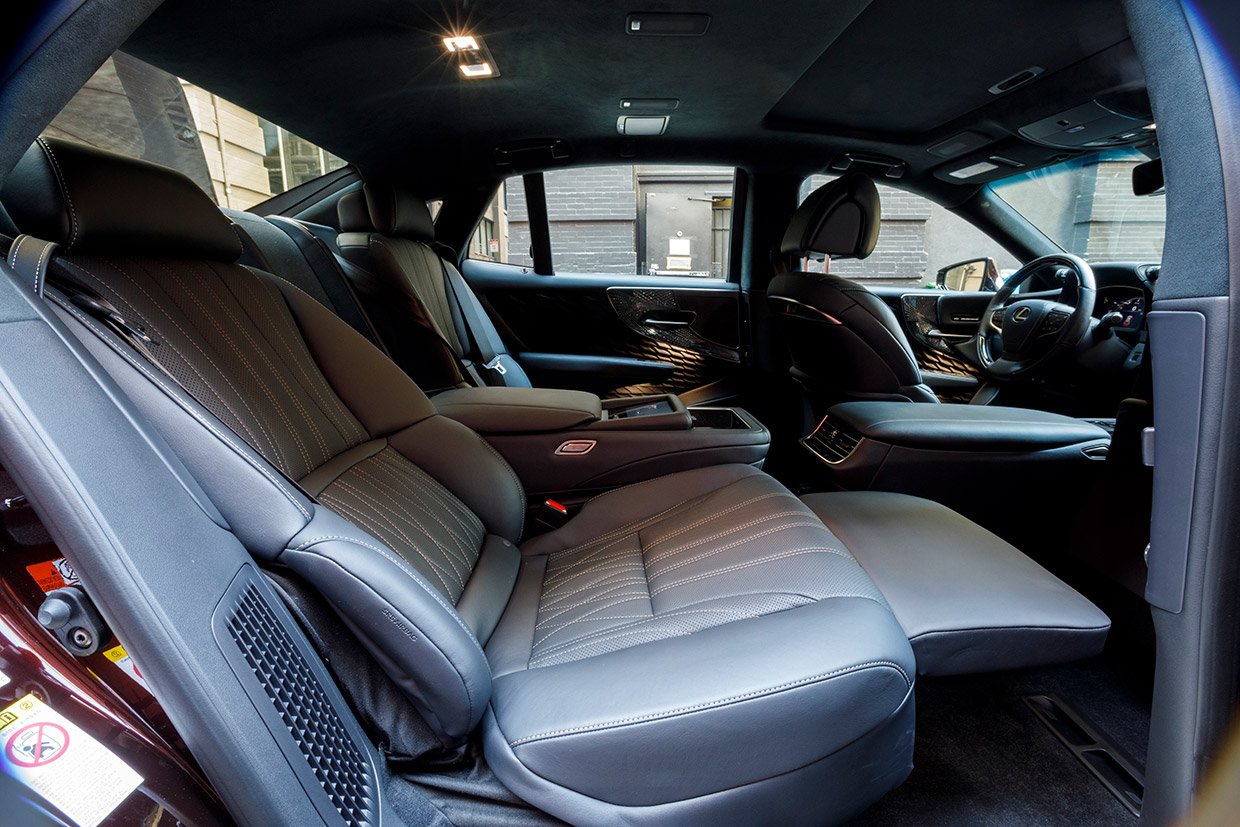 Rear seat passengers can also control their own environment thanks to an available touchscreen control interface, which provides access to audio, climate control, seating, suns shades, and lighting at your fingertips. A sophisticated four-zone system offers each passenger independent climate control, aided by 16 climate sensors placed throughout the cabin.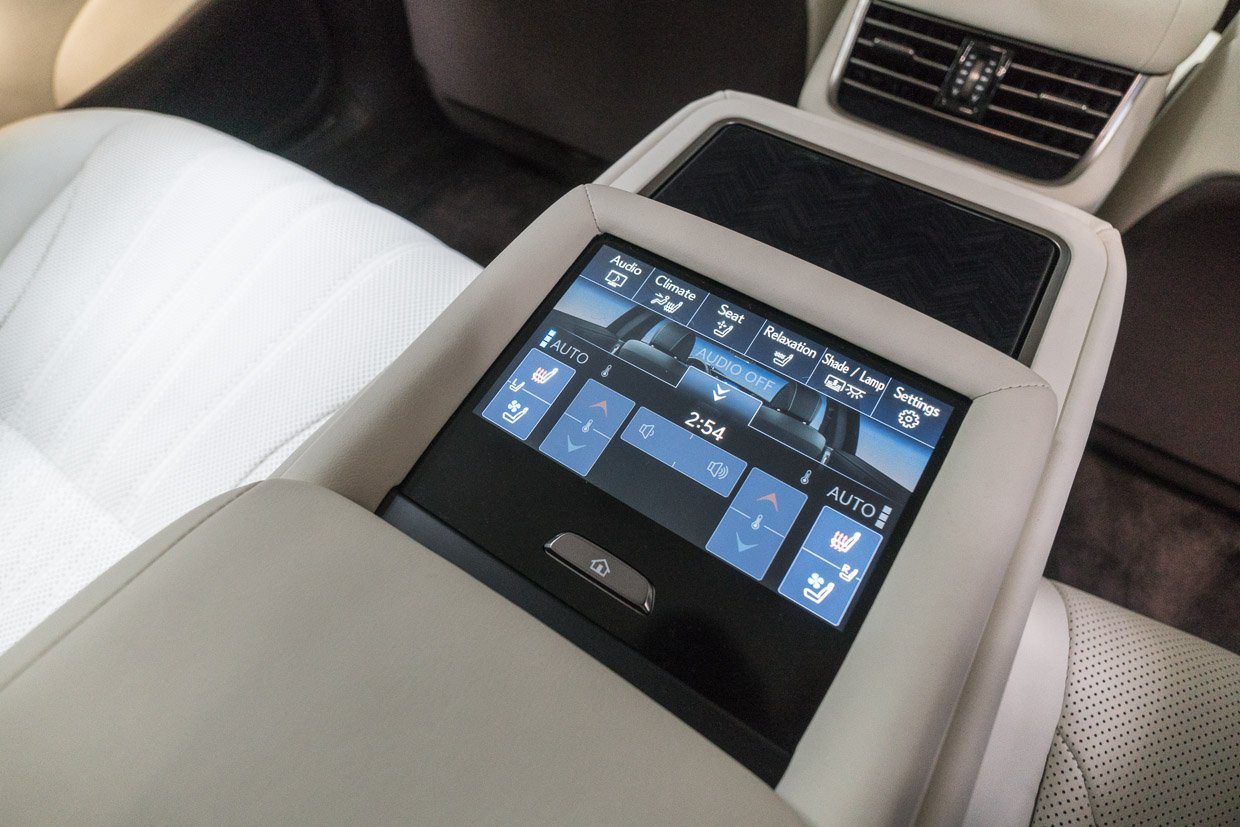 And let's not forget about the sound system. If you're going to be traveling in fatcat style like this, you're going to want the best audio money can buy. Mark Levinson doesn't disappoint with their Reference sound system, which has a whopping 23 speakers, 2400-watts of system power, and 7.1 surround sound with Quantum Logic Immersion tech. Close your eyes and imagine sitting in the middle of the stage at a concert hall, and that'll give you a good idea of what this system sounds like. If you decide not to splurge, the standard Pioneer system has "just" 12 speakers, though I didn't get a chance to hear how it sounded.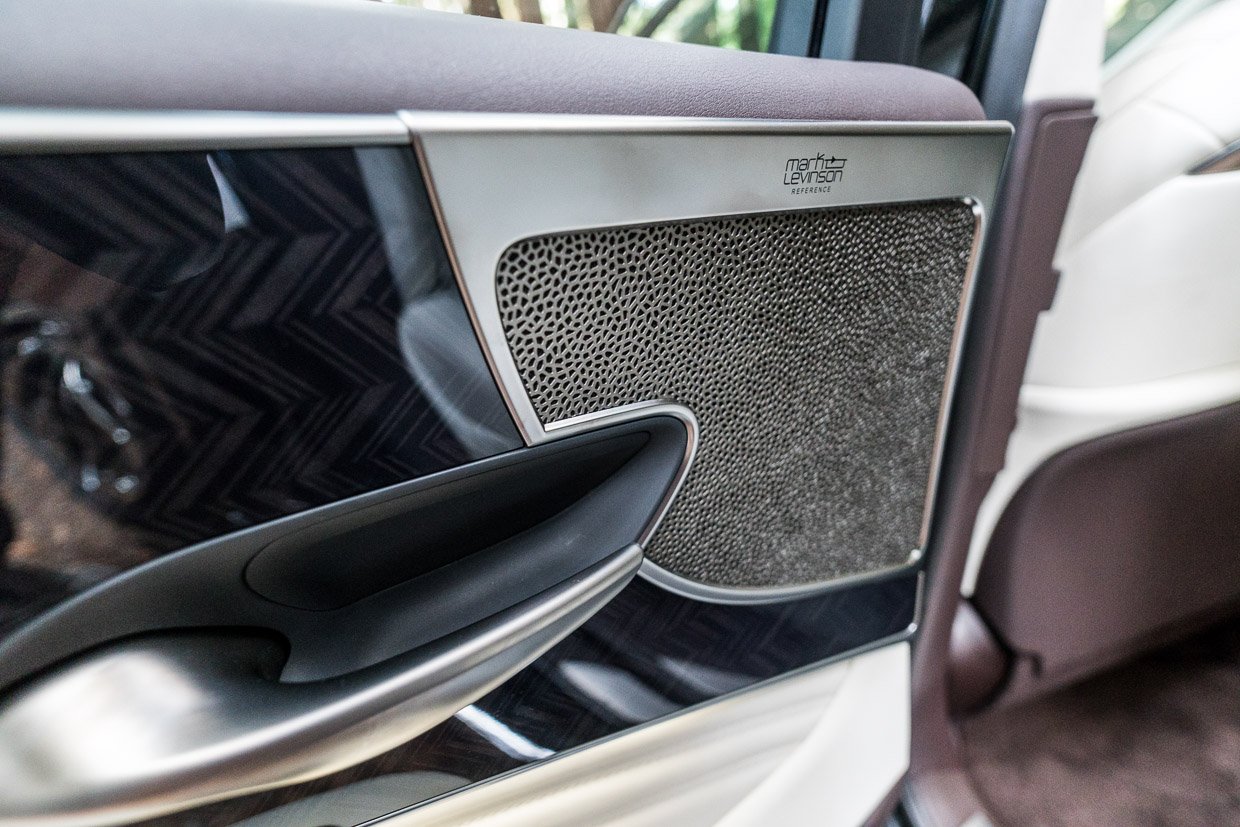 Naturally, Lexus is offering up a full array of safety and convenience technology in the LS, including a 12.3″ widescreen infotainment display, and massive 24″ x 6″ heads-up display. A new dynamic navigation system connects to the cloud to provide real-time route updates, much like smartphone-based navigation apps. However, I'm still a little bummed out by Lexus' twitchy trackpad interface, and lack of Android Auto and Apple CarPlay support.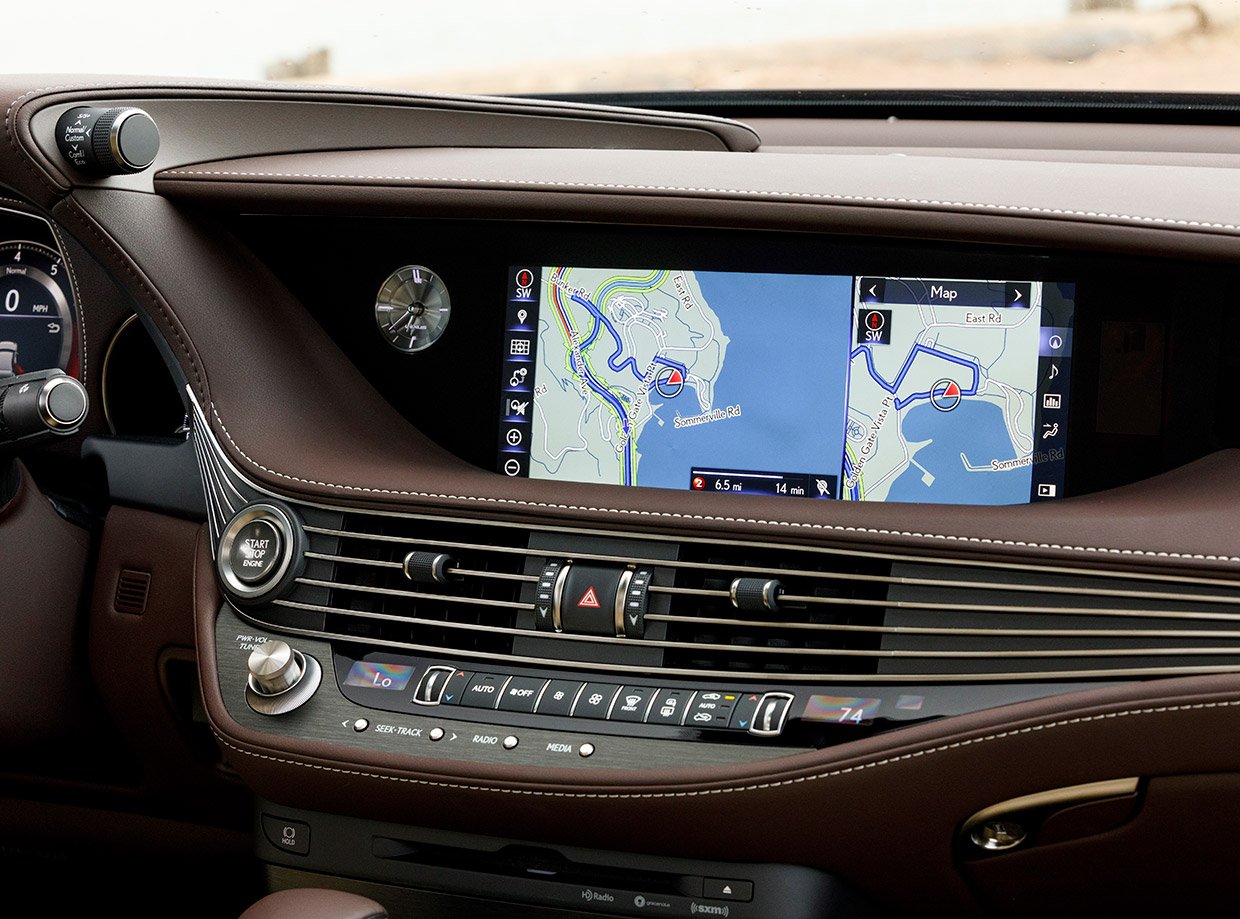 There's also a panoramic surround view camera system, dynamic radar cruise control, lane-trace assist, road sign assist, front and rear cross-traffic alert, and a pre-collision safety system which can not only assist with braking in the event of an impending rear-end crash, but can brake or steer out of the way if it senses that's the only way to avoid hitting a pedestrian. In the unfortunate event of a pedestrian collision, the hood pops up slightly to reduce impact.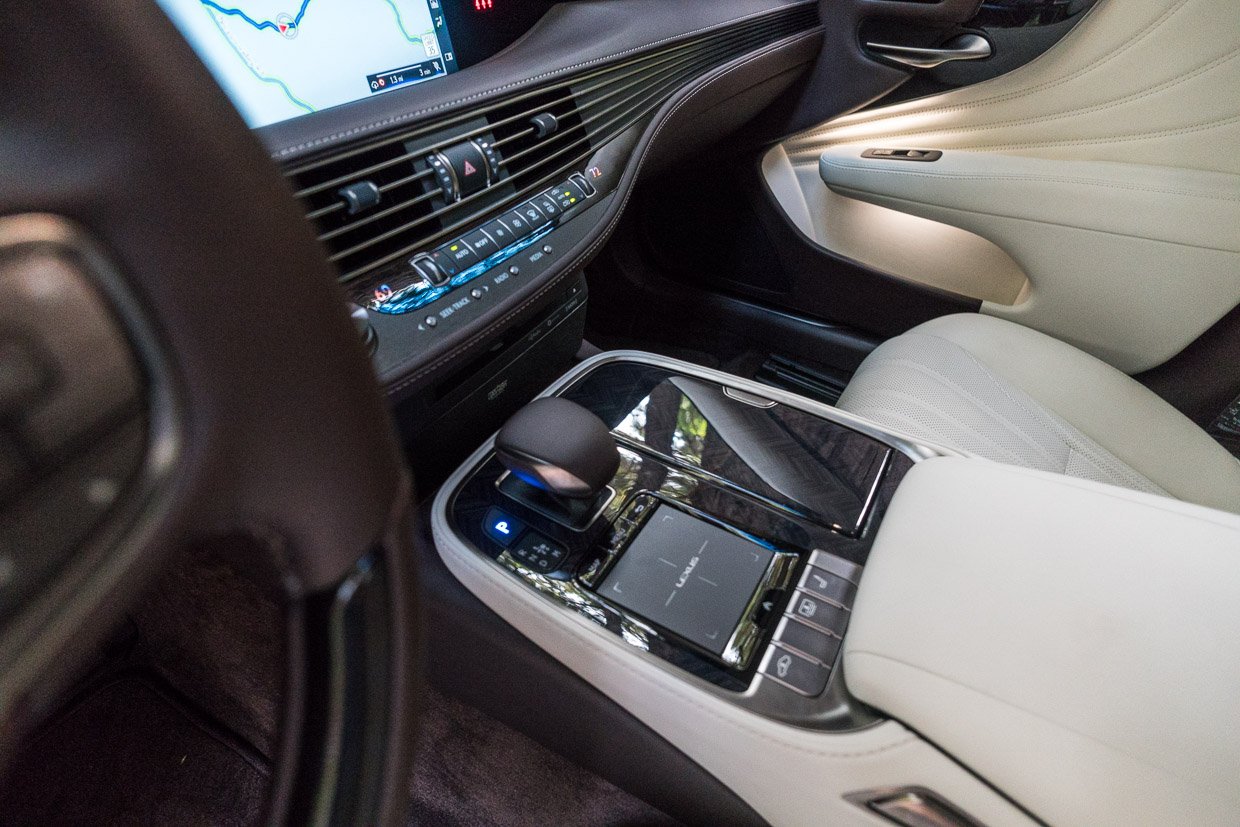 Lexus really has done a fantastic job upgrading nearly their entire line in the last few years, and the LS 500 is no exception. Its design is far more dynamic and confident than ever before, and its handling and performance are excellent for a full-size car. With the exception of maybe some Bentleys and Maybachs, I also think the LS has the most elegant and appealing interior on the market today. It's just flat out gorgeous inside, and doesn't achieve this by trying to copy its European competitors, and instead embraces what makes Japanese design special.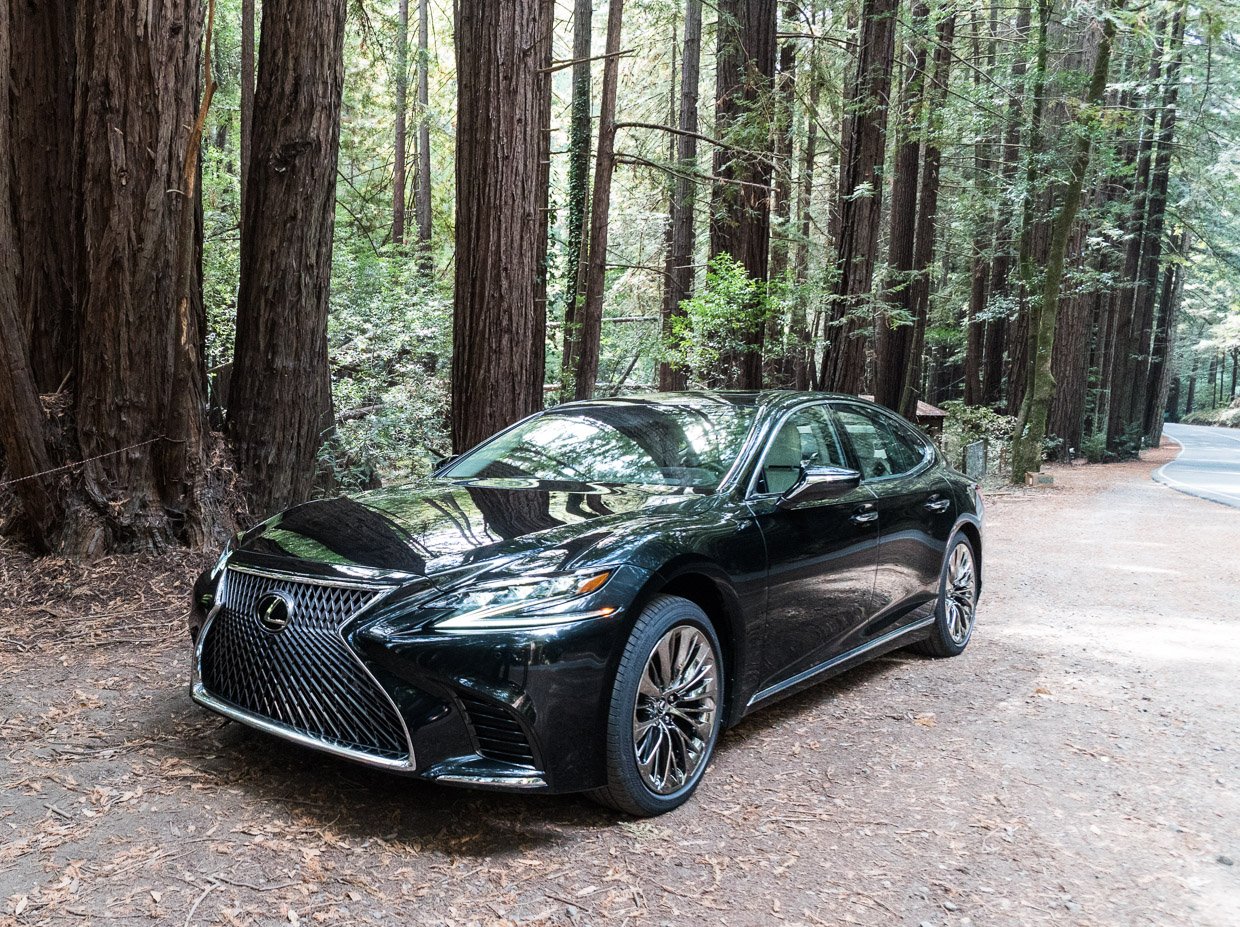 Lexus has yet to announce final pricing for the 2018 LS 500, but says that its base price will start around $75,000(USD). I'd imagine if you went with a fully-equipped Executive model, the price would be closer to the 6-figure mark.