2017 Dodge Durango GT Review: The Big Bad Wolf Abides
2017 | dodge | dodge durango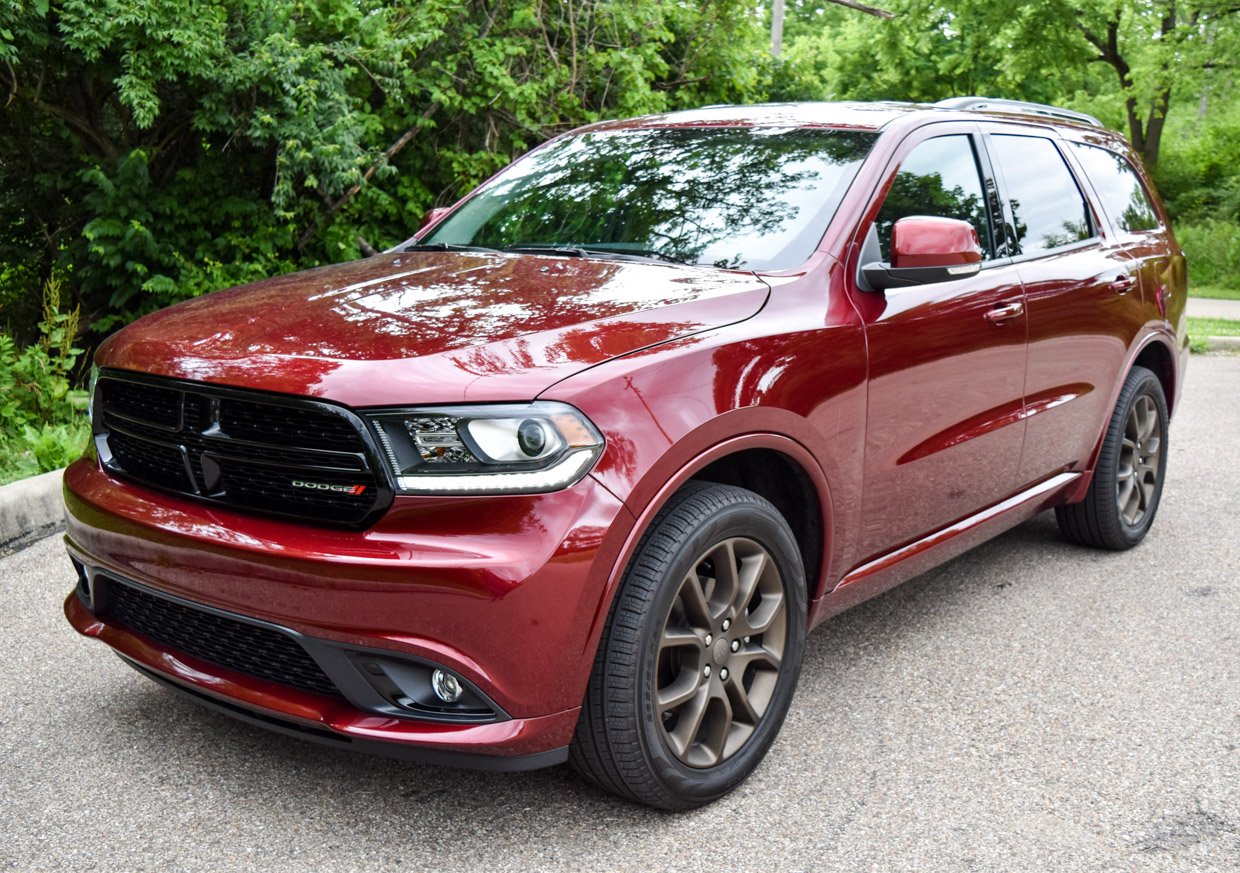 2017 Dodge Durango GT

Engine: 3.6-liter V6
Horsepower: 295
Torque (lb-ft.): 260
Transmission: 8-speed automatic
City/Hwy/Combined MPG: 120
Curb Weight (lb): 4,330
Wheelbase (in): 119.8
Total Length (in): 201.2
Width (in): 75.8
Base Price (USD): $40,095
Price as Tested (USD): $49,360
The villain in the fairy tale The Three Little Pigs is the big bad wolf. And that villain doesn't get enough credit for his plucky attitude and overall never give up attitude. Plus, he is big and bad. Why reference a fairy tale and make a case for a villain that ultimately failed at the hands of a pig that's good at masonry? Well my tester this week is a little like that wolf. It's certainly big and mean looking. And it won't given up; huffing and puffing its way through a segment that is shrinking – the traditional, boxy SUV.
On looks alone, the 2017 Durango is long – just inches short of being 17 feet long. It's an SUV and don't ever think otherwise. It has an imposing grille with an upright posture. The boxy, sharp-edged design is a bit of a throwback, but some modern updates throughout this current generation help keep the Durango relevant. My tester was the GT trim, outfitted with the tough looking "Brass Monkey" package which has a sexy gloss black grille, black headlight bezels and 20-inch bronze wheels. There's a special Blacktop package that ups the aggressive look by adding blacked out wheels and other blacked-out trim features.
Unfortunately, the back side of the Durango is dated and lacks the boldness of the front end. Dual exhaust pipes in the back give a hint at the power that the Durango has but otherwise, the rear end could use an major update.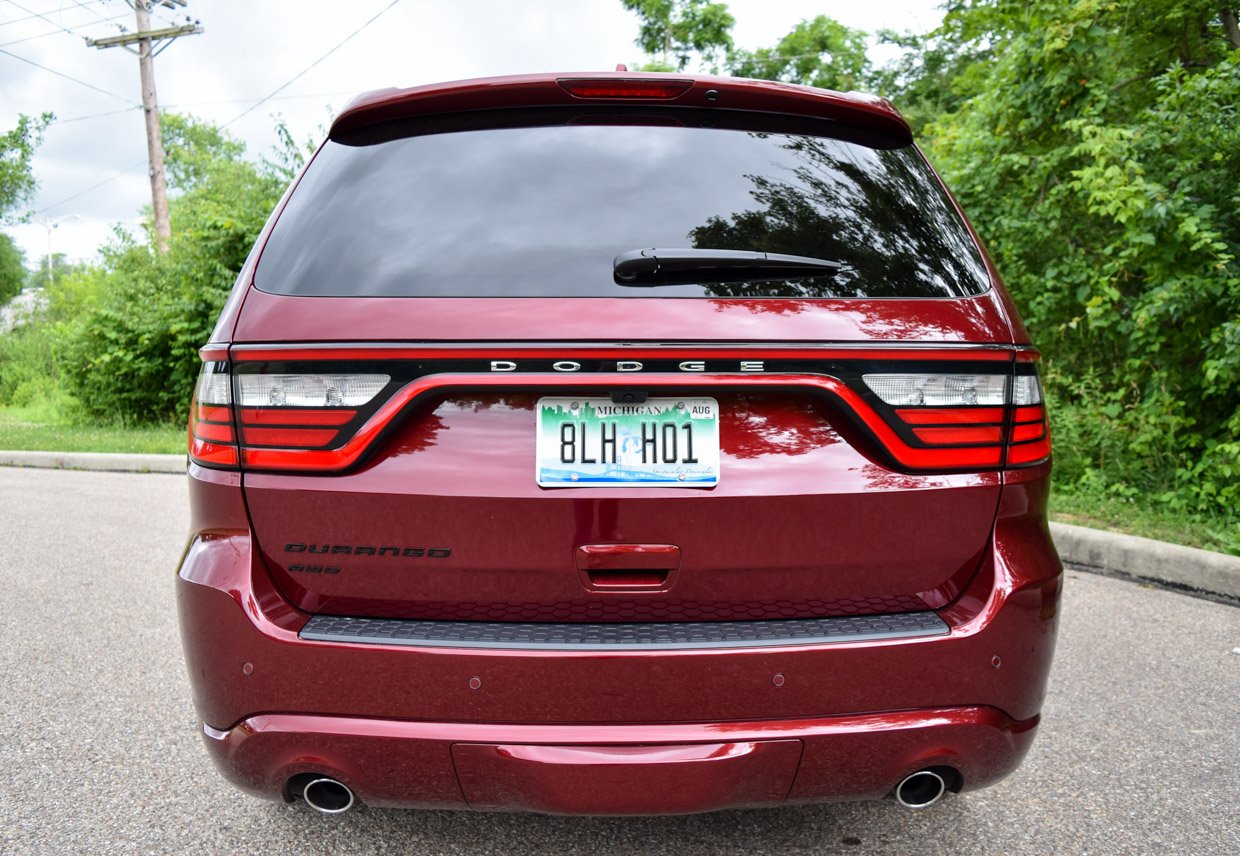 For a vehicle as hefty as the Durango, a V6 engine doesn't seem like a sufficient choice, especially when you know you can get it with a V8. The standard V6 does its job with 290 horsepower, but feels somewhat lackadaisical burdened down with the girth, length and weight of this 4300+ pound SUV. The eight-speed automatic transmission performs well, and helps to improve the engine's performance with quick, easy shifts.
That said, the 5.7-liter V8 engine would be the ideal option for off-the-line speed. It makes 360 horsepower, or up to 475 hp in the new Durango SRT. Rear-wheel drive is standard, but my tester thankfully came with all-wheel drive. For an SUV this size to not have AWD would be detrimental. At more than two-and-a-half tons, the weight distribution would work against it, especially if you encounter slippery roads or take it off the asphalt.  As such, the big Durango with AWD is good performer with excellent handling and only minimal body lean through turns.
Thanks to its unibody construction, the Durango performs more like a big crossover than an SUV and that's certainly a plus. As a bonus, the V6 Durango has a towing capacity of 6,200 pounds making it superior to many other three-row V6 SUVs on the road today.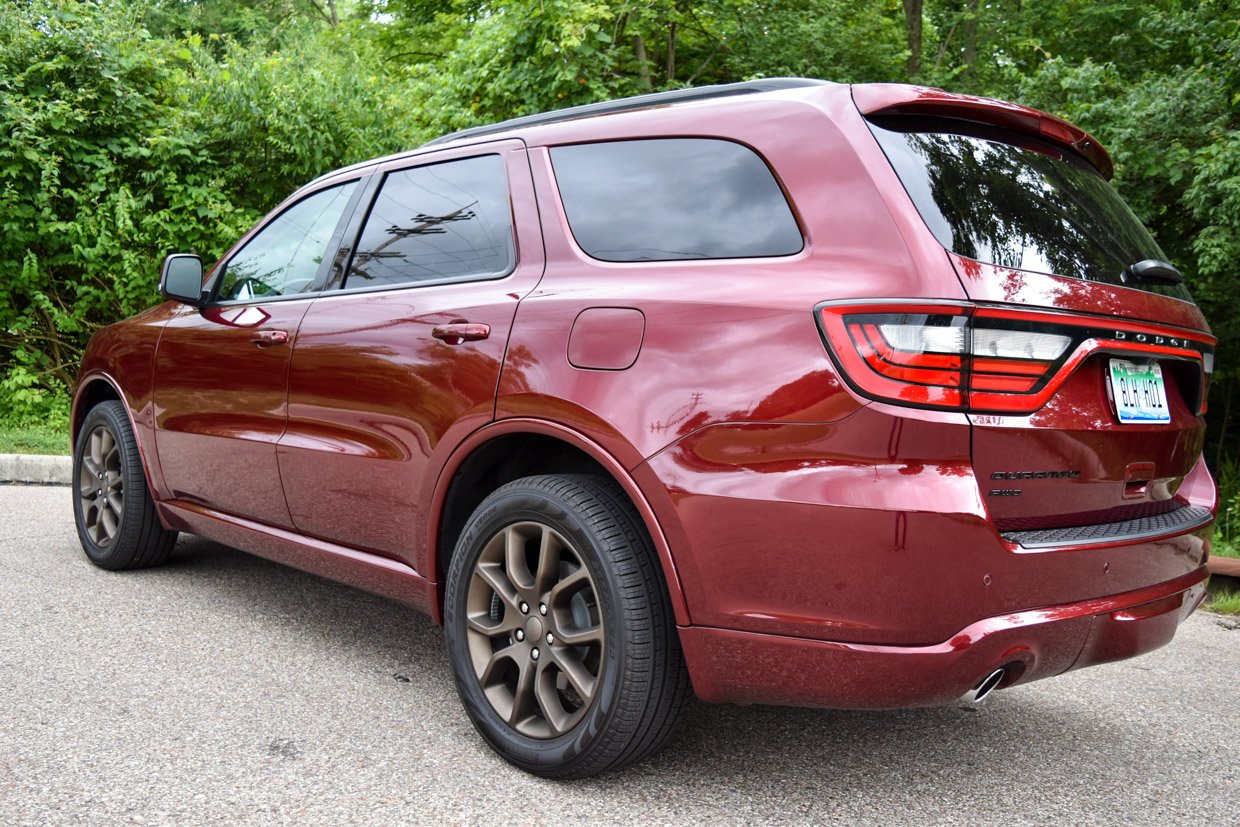 Fuel economy for the big Durango is 18 mpg/city and 25 mpg/city. For the V8 option, the fuel economy drops to a gas guzzling 14 mpg/city and 22 mpg/highway. In a week's worth of mostly suburban driving, I averaged just over 20 mpg on with the V6.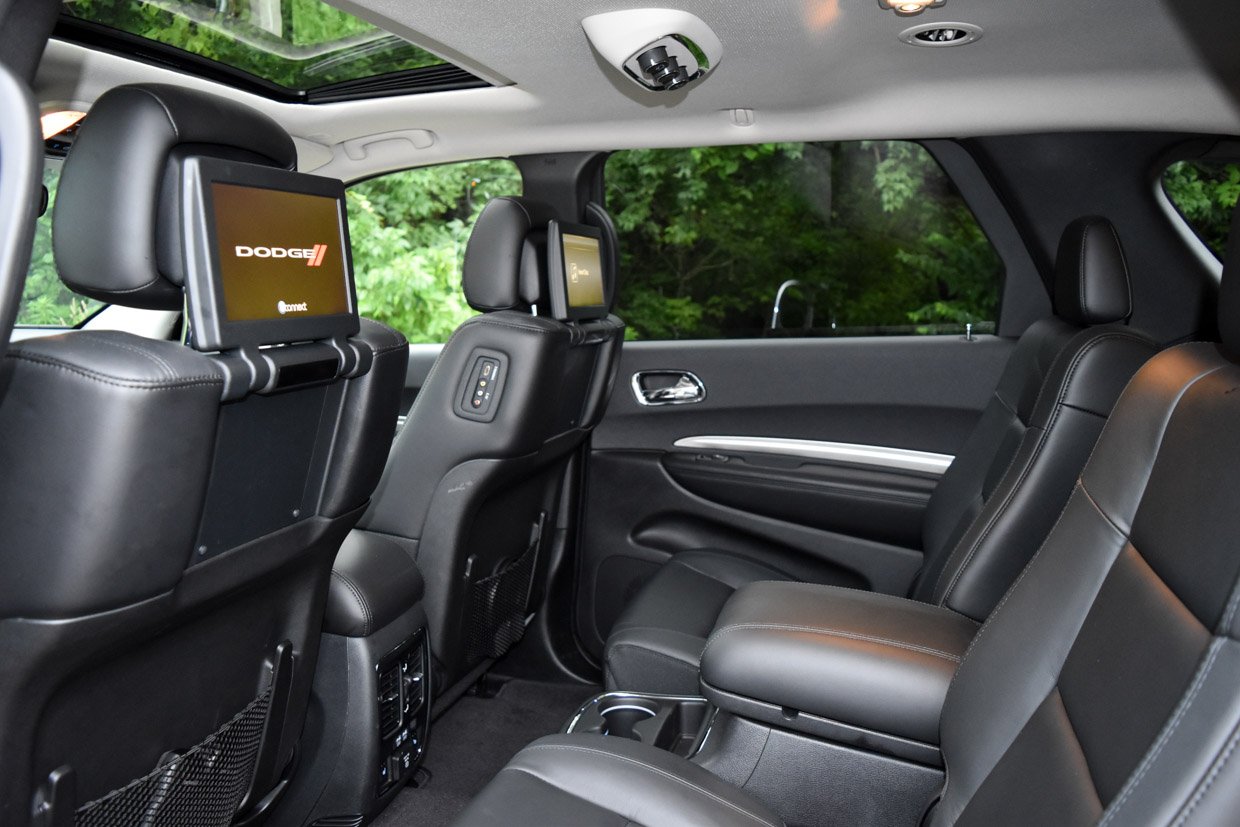 Inside, the Durango's length is one of its biggest assets. Passenger comfort is at a premium. Even adults can sit comfortably in the third row, which is practically unheard of for most SUVs. The second-row boasts tremendous leg and head room. The doors swing out extra wide, can be tricky in tighter parking areas and garages, but that wide entry makes getting in and out of the Durango easy. The flip/fold second row makes accessing the third row easy. There's 17.2 cubic feet of cargo room behind the third row seats. Fold those seats flat and the cargo room increases to 47.7 cubic feet. With the second row also folded down, there's a cavernous 84.5 cubic feet of cargo room.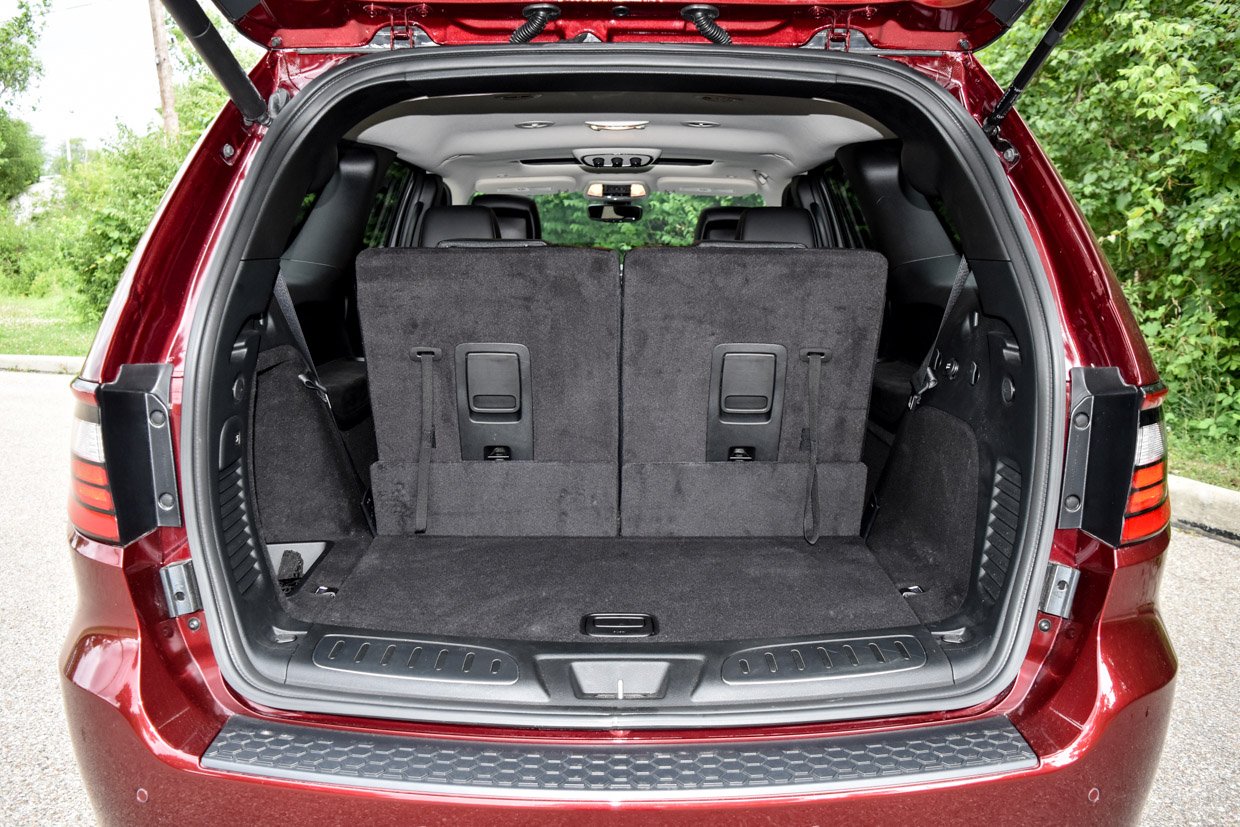 For a non-luxury vehicle, there are adequate upscale touch points in the Durango. Soft materials are found throughout the cabin and the center stack is clean and well organized. Chrysler's Uconnect system never disappoints and is so intuitive. The 8.4-inch touchscreen has easy-to-use menus and sports a good mix of actual buttons to go with the virtual ones. The UConnect system continues to be one of my favorites in the industry. Unfortunately, Apple CarPlay and Android Auto are not supported with this system, and that's really the only drawback.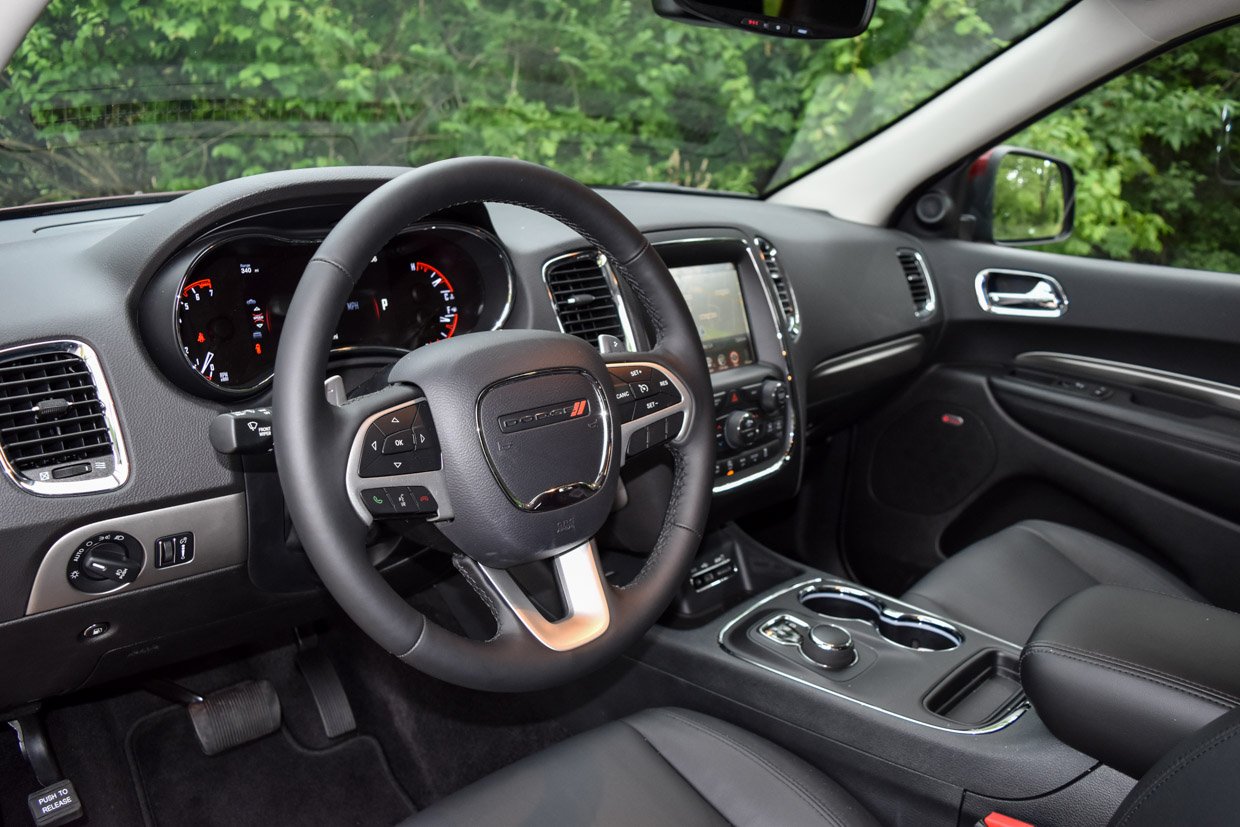 In addition to the aforementioned SRT (coming for 2018), there are four main trim levels for the Durango. The base SXT is offered as a two-row option, while the GT, R/T and Citadel have the third row. The SXT has a starting price under $30,000, making this an attractive point of entry for such a large vehicle. My GT tester had a base price of $40,095. That's a huge leap in price from the base trim, but also comes with so much more including all-wheel drive, remote start, leather upholstery, heated front seats, heated steering wheel, and parking sensors. Additionally, my tester had rear-seat entertainment, an upgraded dual-screen entertainment system and sound system, and trailer-tow package. Final MSRP of my tester was $49,360 – nearly $20,000 more than the cheapest Durango.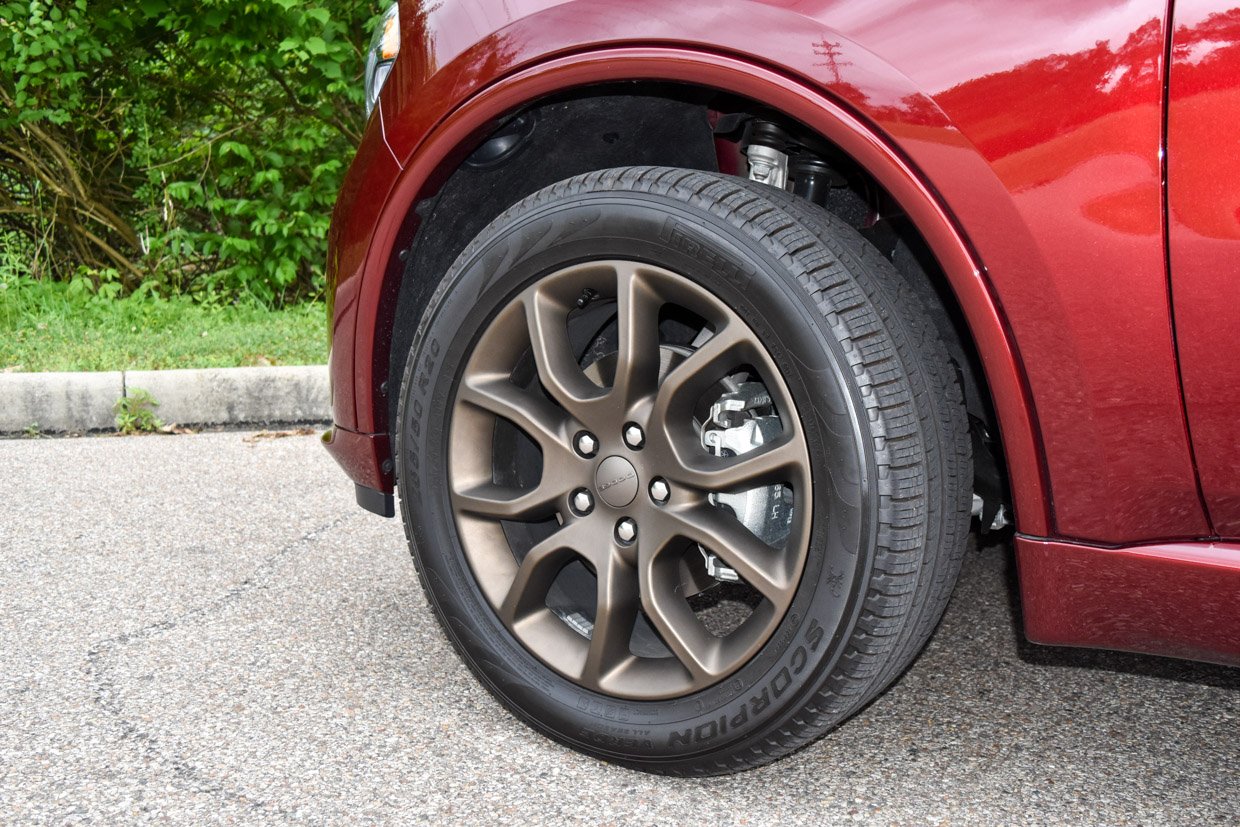 It may not huff or puff, but in many ways the Dodge Durango is the big bad wolf on the SUV block. It continues to break away from the pack with its own unique attributes and looks. With an aggressive design, and an old-school persona, the Durango is definitely a lone wolf on the horizon.