2018 Mitsubishi Outlander PHEV First Drive: EV = "Electric Value"
2018 | hybrid | mitsubishi | mitsubishi outlander phev | plug-in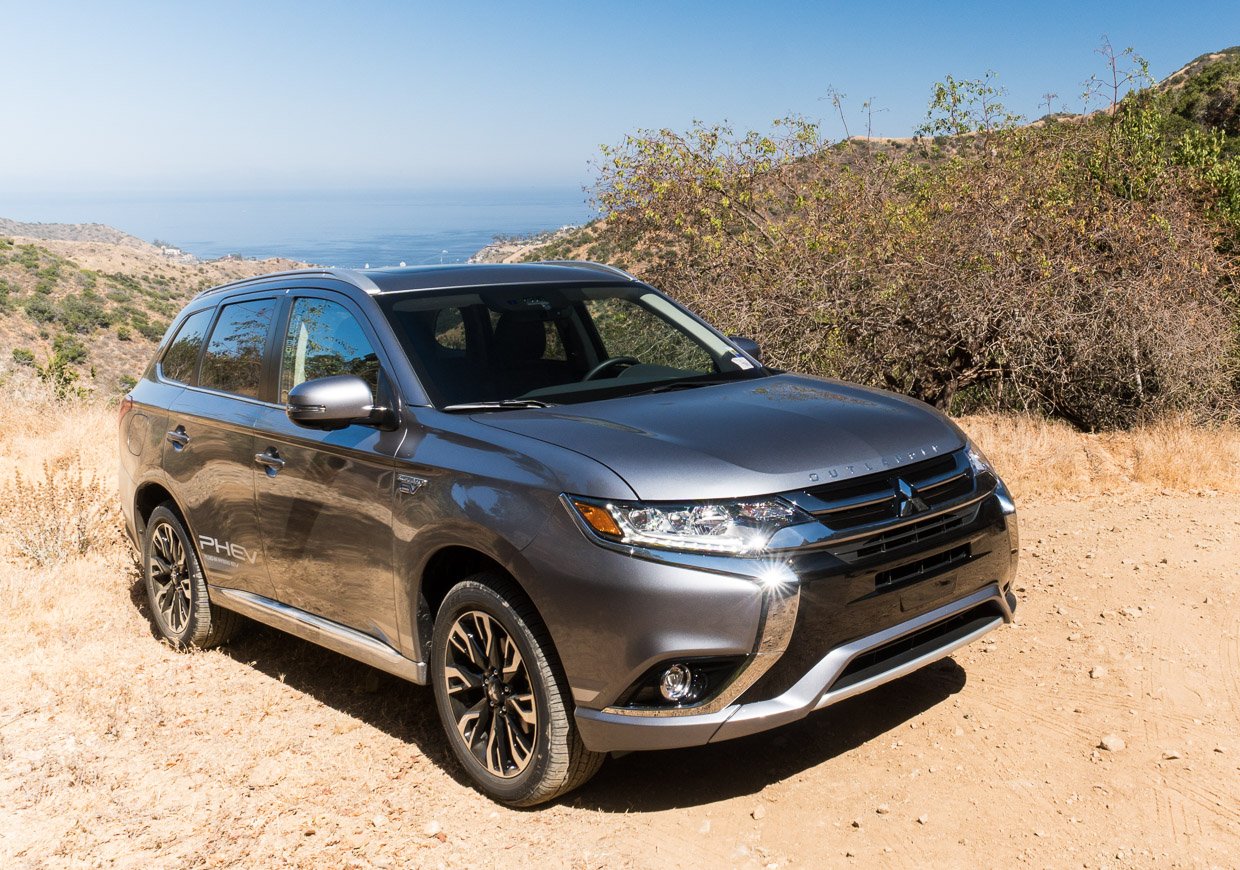 2018 Mitsubishi Outlander PHEV

Engine: 2.0-liter DOHC 4-cylinder + dual electric motors
Horsepower: 197 hp (gas + electric combined)
Transmission: Single speed, fixed reduction gear
Drive Configuration: 4WD
Wheelbase (in): 105.1
Total Length (in): 184.8
Width (in): 70.8
Base Price (USD): $34,595
Mitsubishi gave the Outlander a pretty dramatic design update back in 2016, which gave it bolder, more modern looks, and other refinements. In addition, the company has been selling a plug-in hybrid (PHEV) variant in Japan and much of Europe since 2013, where it is currently the best selling PHEV. Now, both the redesign and the hybrid technology have come together for the 2018 model year, with the first ever Outlander PHEV destined for the US.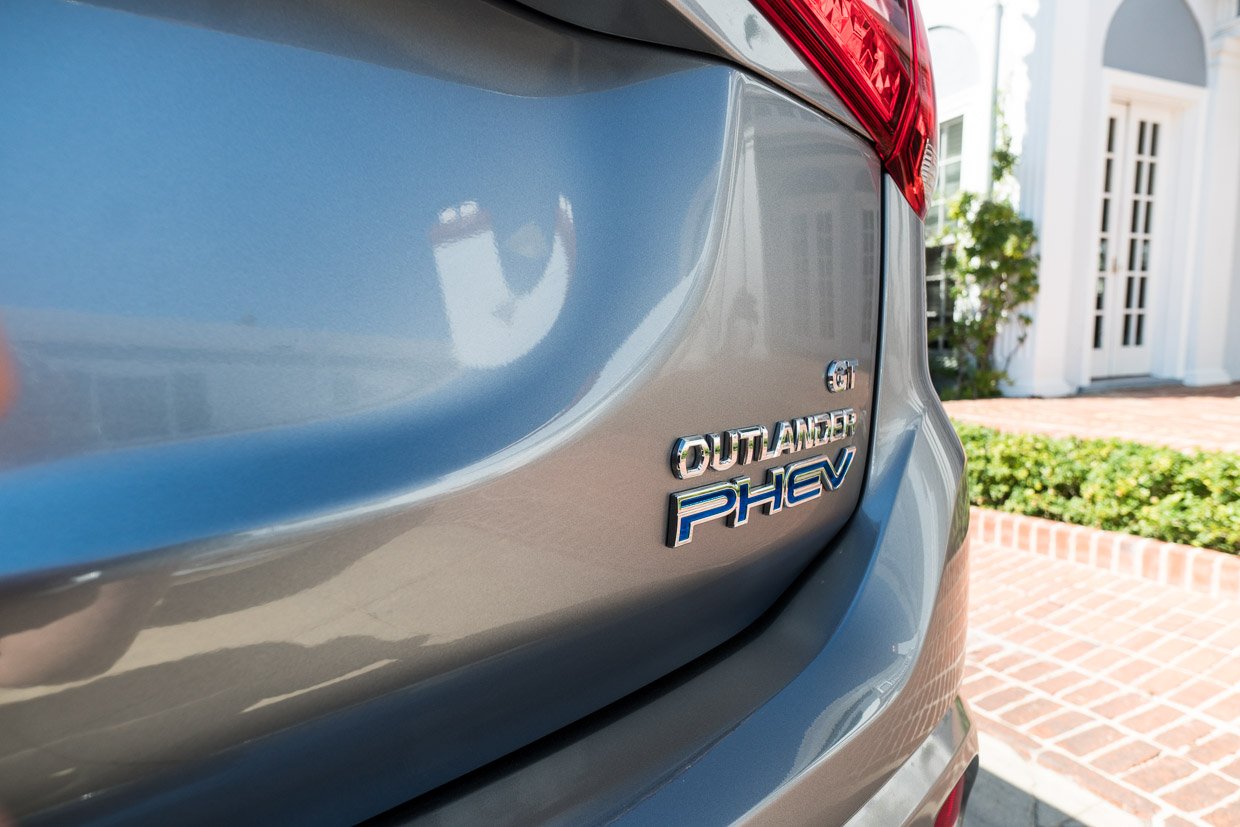 The fine folks at Mitsubishi recently invited me out to southern California to spend a day with the new 2018 Outlander PHEV, to take it for a spin on the back roads of the beautiful and largely unspoiled Catalina Island. While I didn't get any highway or city driving time with it, I was able to learn quite a lot about the vehicle and why it might be an appealing choice as a family daily driver for many.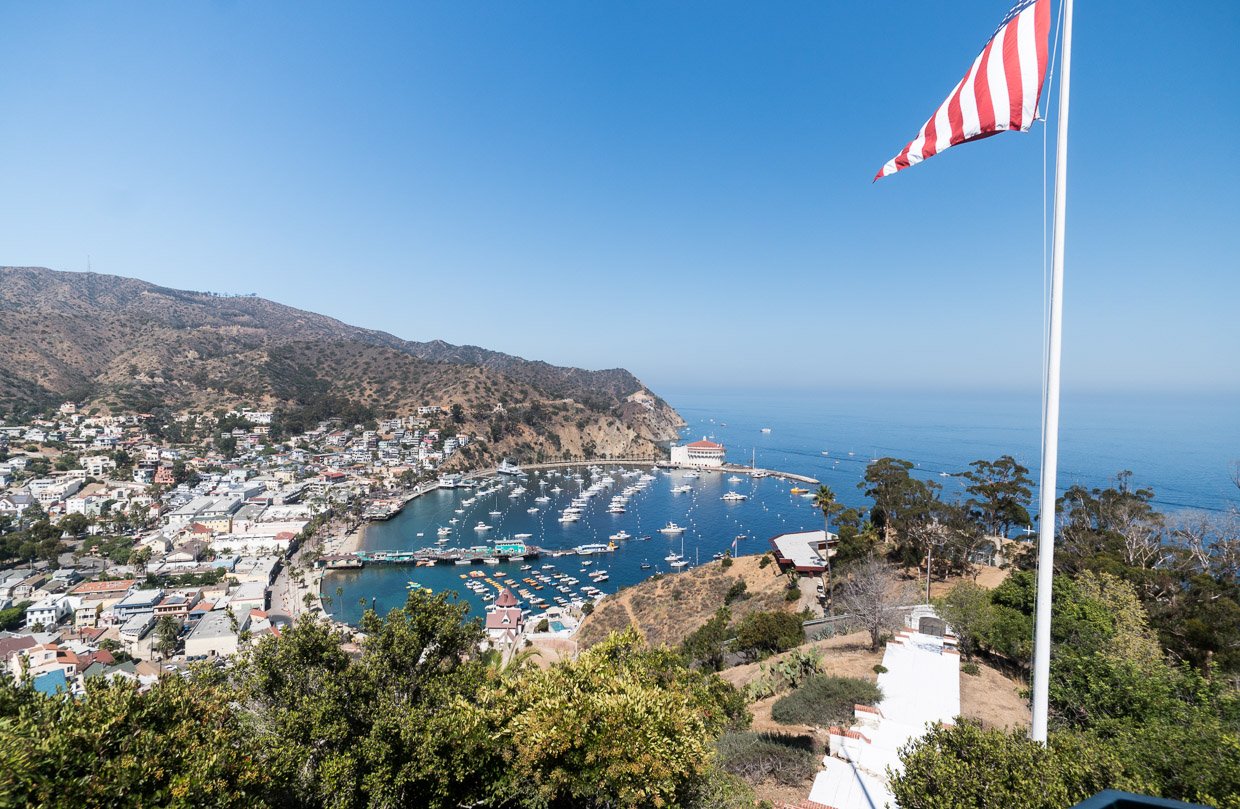 The Outlander PHEV is designed to offer the best of gas and hybrid electric technologies combined with a versatile and spacious vehicle, and exceptional value. For those of you unfamiliar with plug-in hybrid tech, these drivetrains offer significant advantages over both plain gas engines and traditional hybrids. In addition to the increased fuel economy typical of hybrids, you get the advantage of being able to drive the vehicle on pure electric power, using zero gasoline, and producing zero emissions while you do it.
The 12kWh lithium-ion battery in the Outlander PHEV isn't designed for long-range driving, but should offer enough pure EV range to get most folks back and forth to the office or around their town for errands. Since that's the majority of daily driving for many of us, there can be significant savings in fuel costs and environmental impact.
At its core, the Outlander PHEV is like other Mitsubishi Outlanders – a mid-size crossover utility vehicle with a good amount of space for passengers and cargo. It's not designed for thrills, but it is a very useful and well-equipped vehicle, and scores some serious points for its drivetrain and overall value proposition.
The Outlander PHEV's drivetrain consists of a 2.0-liter gas internal combustion engine, which works in concert with two 60 kW electric motors, and produces approximately 197 total system horsepower. Unlike most hybrids, the Outlander has the rare distinction of offering four-wheel drive, since one motor is connected to each axle. This provides much improved handling and traction compared to the typical front-wheel drive setup of hybrid SUVs.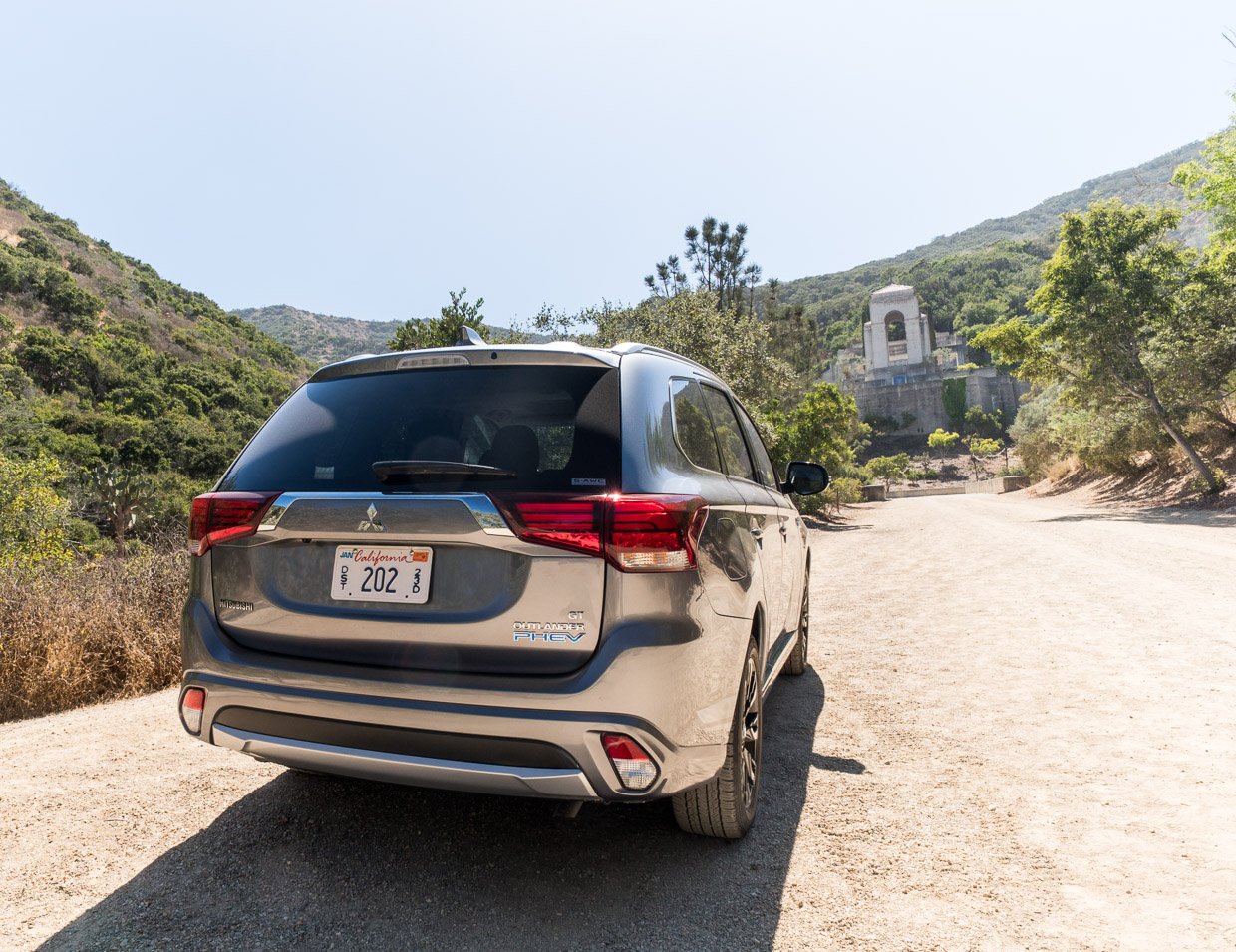 Of particular note is Mitsubishi's "Super All-Wheel Control" (S-AWC) system, which inherits learnings from the rally-oriented Lancer EVO. This system is capable of dynamically adjusting the torque and braking to each wheel, which results in sharper cornering, improved traction and stability, and reduced body roll. As I made my way through the twisty, unpaved roads of Catalina, this system proved its worth. Despite a very light and somewhat numb steering feel, the Outlander PHEV followed curves well, without the unpleasant body roll that many SUVs experience, and never lost traction on the loose gravel and dirt roads.
The hybrid drivetrain is capable of recapturing energy from braking and downhill driving to recharge the battery pack, and the Outlander PHEV offers the best setup for controlling regen level that I've ever experienced. Basically, they give you six different levels of regen resistance which can be selected using a pair of steering column-mounted paddle shifters. So if you've ever used paddles on an automatic transmission, it's very intuitive. Click the left paddle, and resistance increases from the regen – like downshifting. Click the right paddle, and the resistance decreases – like upshifting. This system worked extremely well as we made our way downhill, and helped me to avoid riding the brakes, which is always a good thing when descending a steep grade.
Of course one of the challenges of driving on an island with a strict 25 mph speed limit like Catalina is that there aren't any opportunities to open up the throttle to see how a vehicle handles at speed. So I can't really comment on things like acceleration, road noise, or stability at highway speeds. Instead, the ride was more about enjoying the fun and adventurous side of the Outlander PHEV.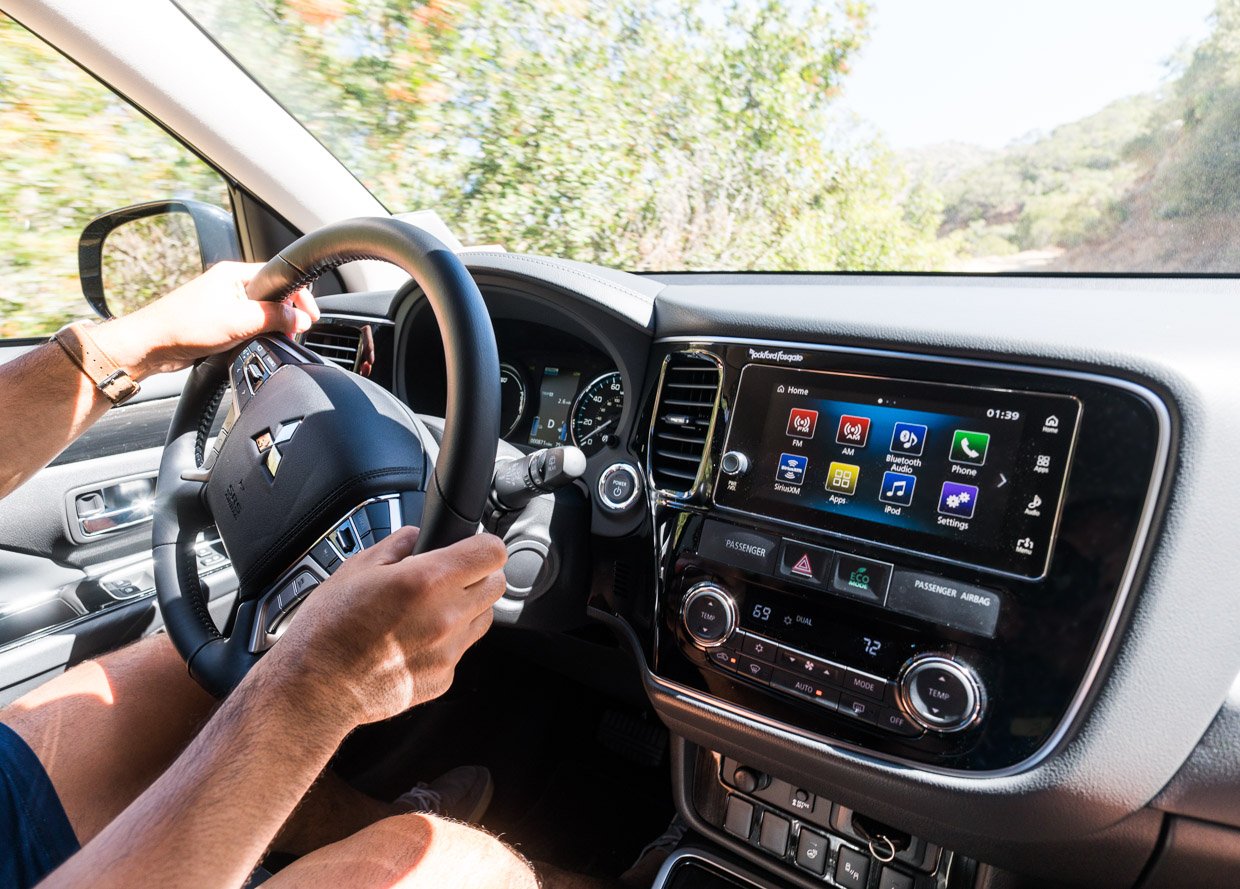 Along the way, we stopped at Catalina's famed Shark Harbor and experienced both a stunning view, and another big advantage of the Outlander PHEV's battery pack – the ability to pull power back out of the vehicle to operate everyday plug-in items. With the optional 1500-watt AC power supply, you get two outlets, and the ability to run everything from a blender for making smoothies to power tools. Of course, you'll reduce your pure EV driving range if you use these with the engine off, but it certainly adds to its versatility.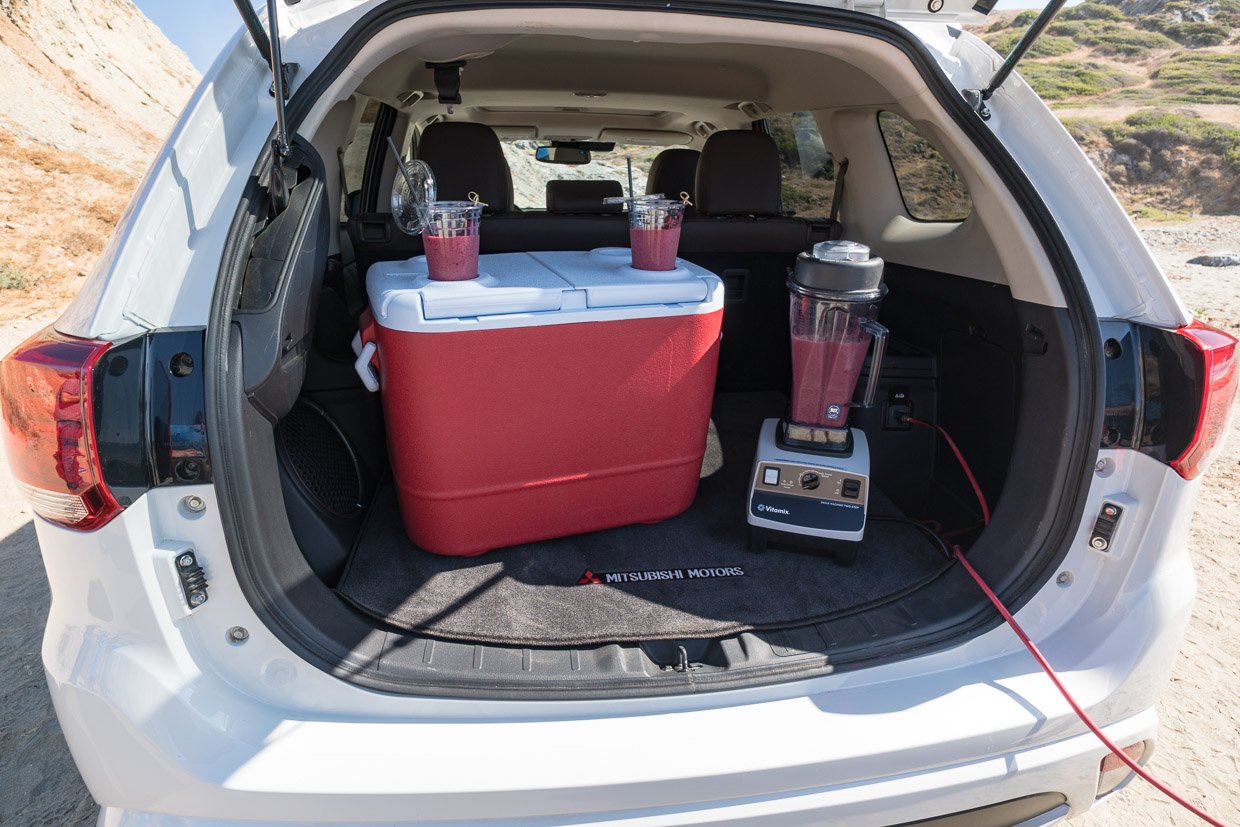 Speaking of the battery pack, charge time is less than 8 hours on a standard power outlet, and less than 4 hours on a Level-2 outlet. In other words, you can just plug this in overnight in a standard garage outlet, and have a full charge when you leave the house in the morning. A Level-3 quick charge cable is also available.
One critical aspect of the Outlander PHEV which we don't yet have official numbers on are stats on EV driving range and EPA fuel economy. What we do know is that competing (and much higher priced) PHEVs from Volvo, BMW, Mercedes, and Porsche range from 12 to 14 miles in pure electric range, and a 43 to 56 MPGe EPA rating – and Mitsubishi expects to beat those numbers. At one point on my drive, the display showed that I had 20 miles of EV cruising range, so that might provide a clue.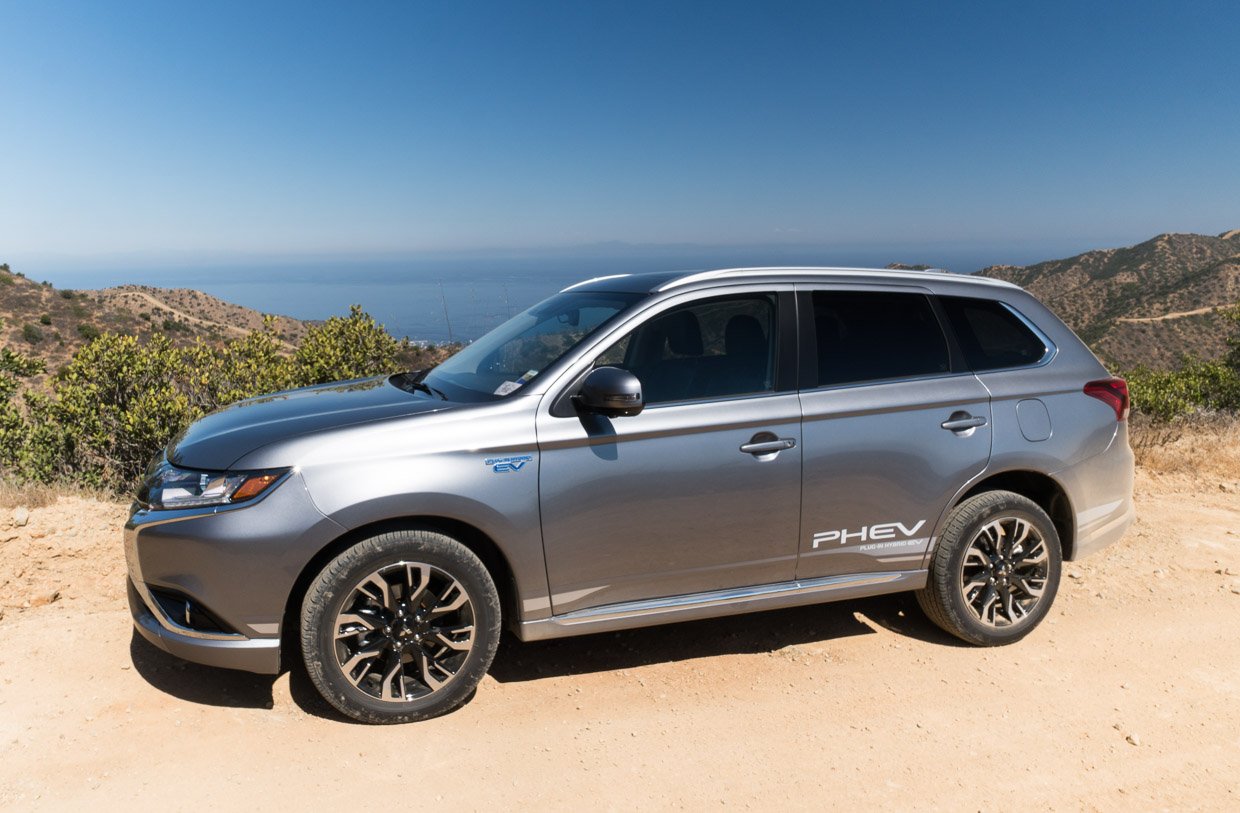 The interior of the Outlander PHEV is comfortable with lots of soft-touch surfaces, and comfy, stylish leather seats. The dashboard and center console are pretty unspectacular, though I appreciated the pattern in the glossy plastic which does a good job hiding fingerprints compared to traditional piano black. Controls are well placed, and there's a good mix of touch-based and tactile inputs. On the center console, you'll find conveniently-placed buttons for engaging full-time 4-wheel drive and full-time EV modes.
The infotainment system's 7″ touchscreen interface isn't exactly state of the art, but it does offer something even some luxury manufacturers don't yet – both Android Auto and Apple CarPlay support. The system also has special modes tailored to the PHEV which can display things like battery charge level, regeneration stats, driving efficiency, and more.
Mitsubishi also offers up a variety of safety and convenience features for drivers, including hill start assist, auto hold brakes, blind spot warning with rear cross-traffic alert, lane change assist, a 360º camera system, and optional adaptive cruise control, automatic high beams, forward collision mitigation, and lane departure warning.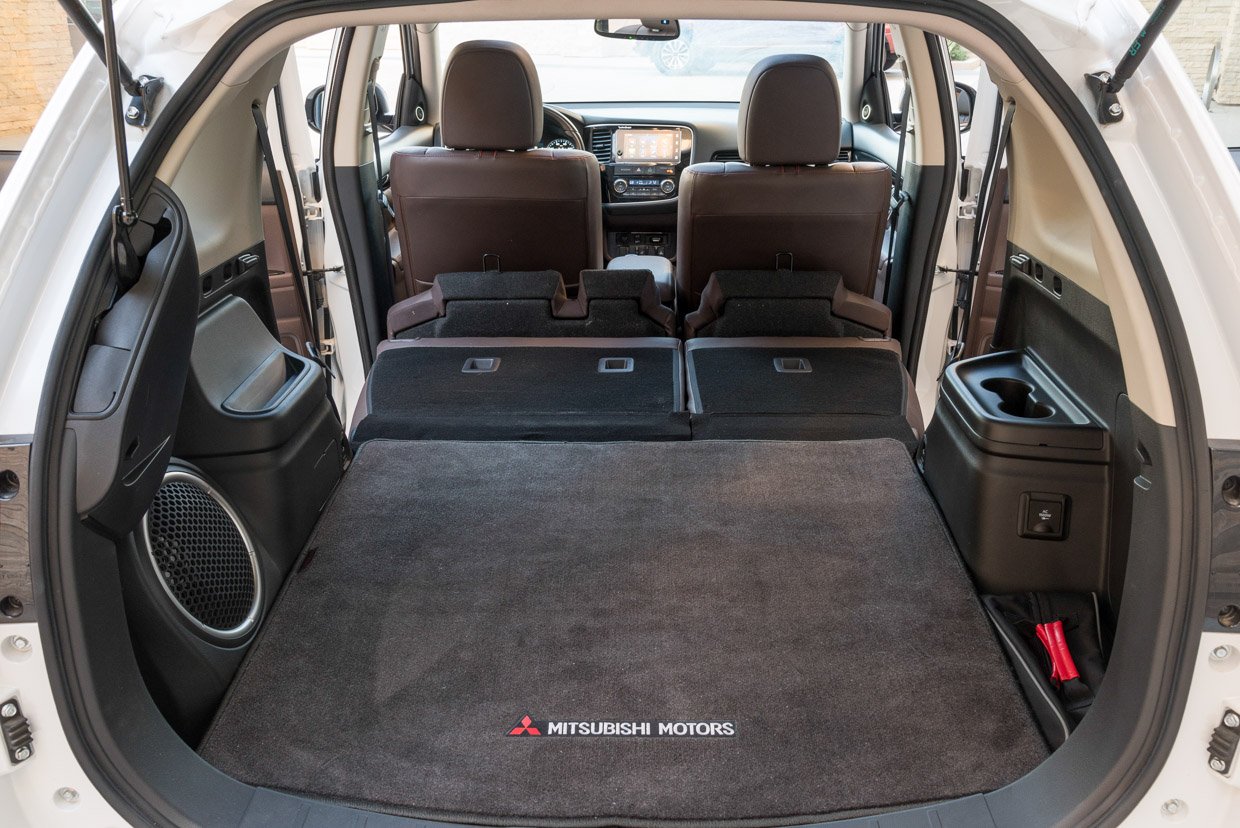 There's a ton of value here relative to the handful of other plug-in hybrid SUVs on the market – all of which are currently in the luxury market. With a base price of $34,595(USD), you're looking at less than $29,000 after the currently-applicable federal EV tax credit of $5,836. And even fully-loaded, the Outlander PHEV is just $40,295 – so about $35k after federal credits. And that doesn't take into account any additional state-level incentives. Add to that a 10-year/100,000 mile powertrain warranty – that includes the battery and EV components – and you've got an outstanding deal for a very versatile vehicle.