A Devilish Day at the Drag Strip with the Dodge Challenger SRT Demon
2018 | dodge | dodge challenger | dodge challenger srt demon | dodge demon | srt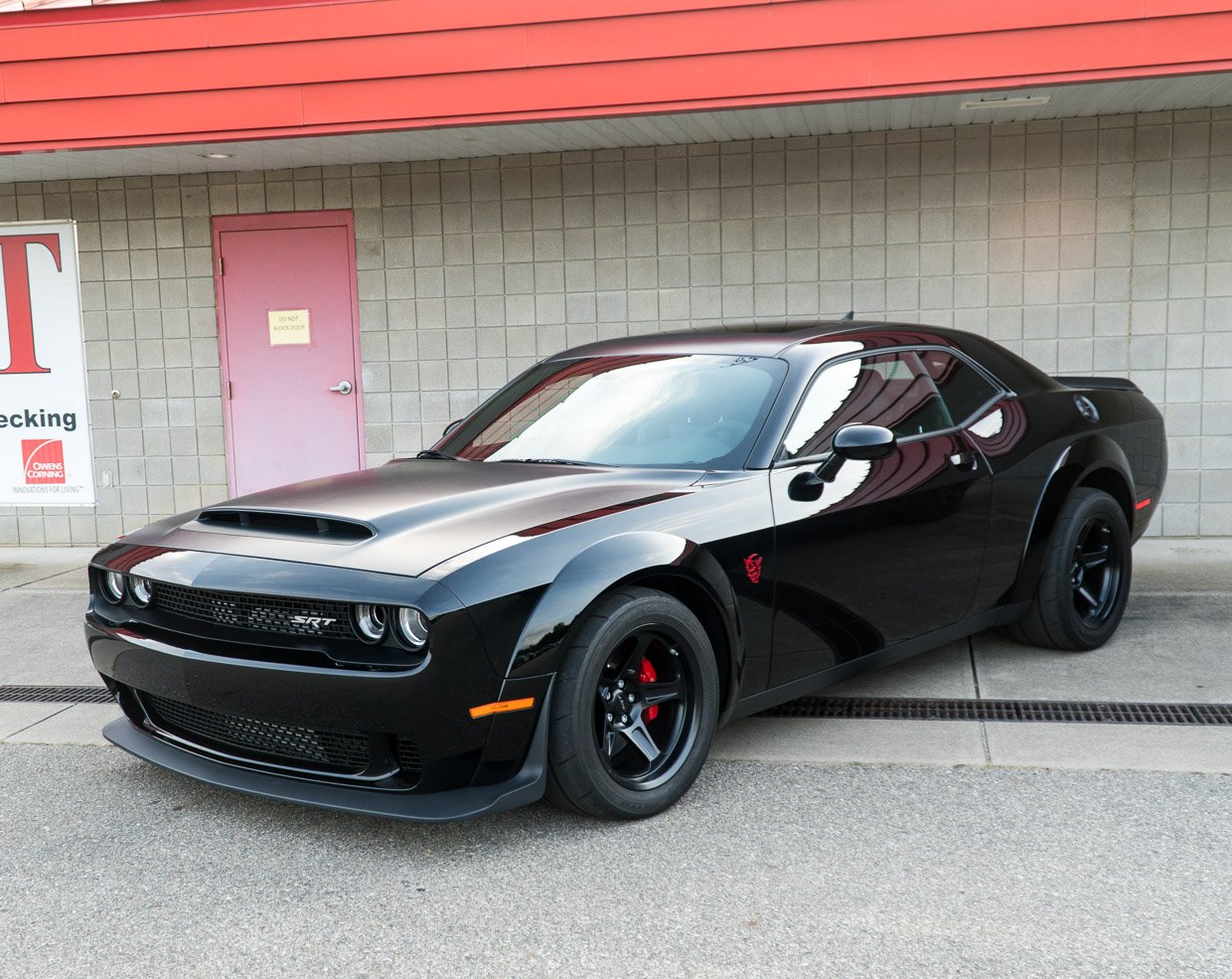 When I drove the Dodge Challenger SRT Hellcat, I thought it probably would be the most powerful production car I would ever drive. After all, it's pretty rare that you get behind the wheel of a car with more than 700 horsepower. So go figure that the madmen and madwomen at Dodge and its SRT performance division decided that 707 horses weren't enough, and they went and built the 840 hp Demon.
The Challenger SRT Demon already is famous for its incredible 9.65 second 1/4-mile time, and it's 0-to-60 time of 2.3 seconds, both world records for a production car. Perhaps that's why all 3,000 of the limited-edition cars slated for production have already been sold. While all of the production cars have been spoken for, Dodge kept a handful of its Demon prototypes around, and allowed some of us very lucky folks from the media to give them a go on the drag strip.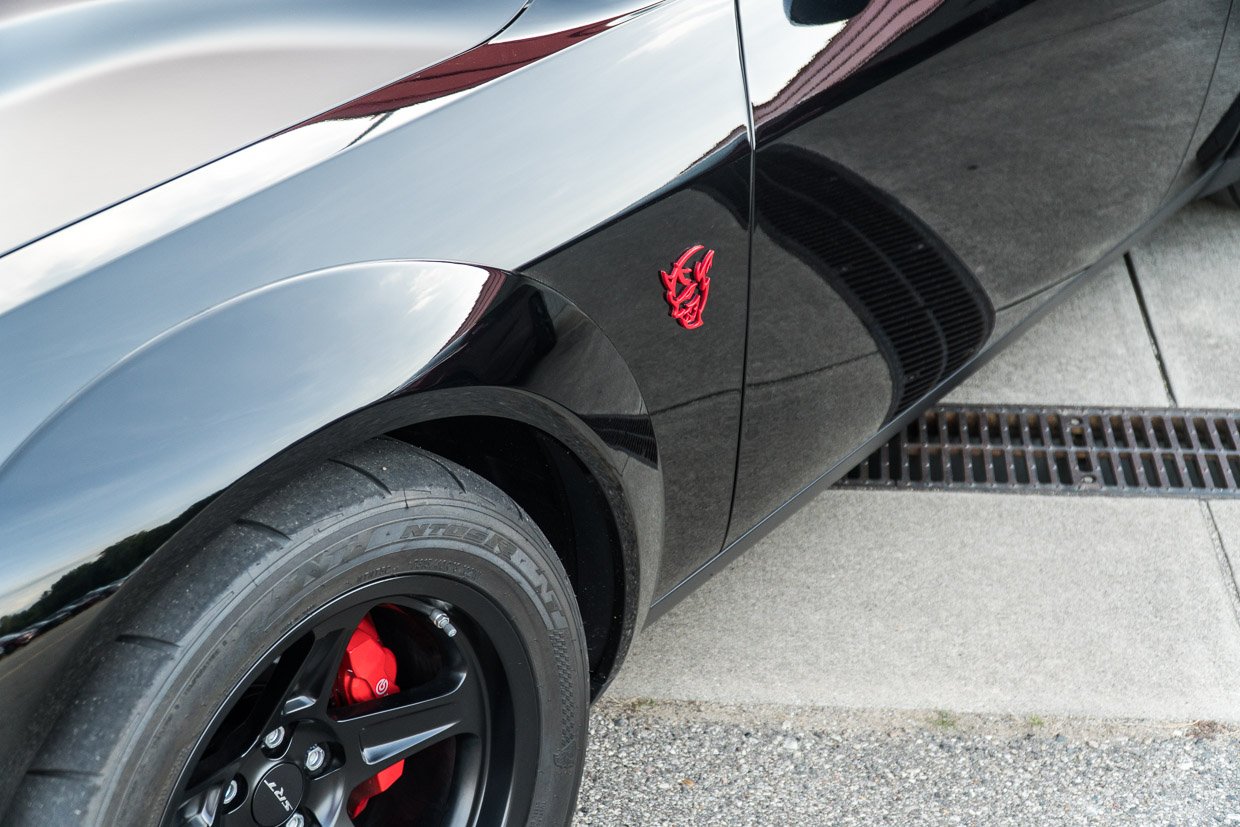 I recently spent the day at US 131 Motorsports Park in Martin, Michigan for the once-in-a-lifetime opportunity to drive the Demon, and it did not disappoint. This incredible work of automotive engineering is unlike any other Challenger before it, with massive upgrades and modifications to its engine, drivetrain, and suspension, all designed to make it the fastest production car down the drag strip.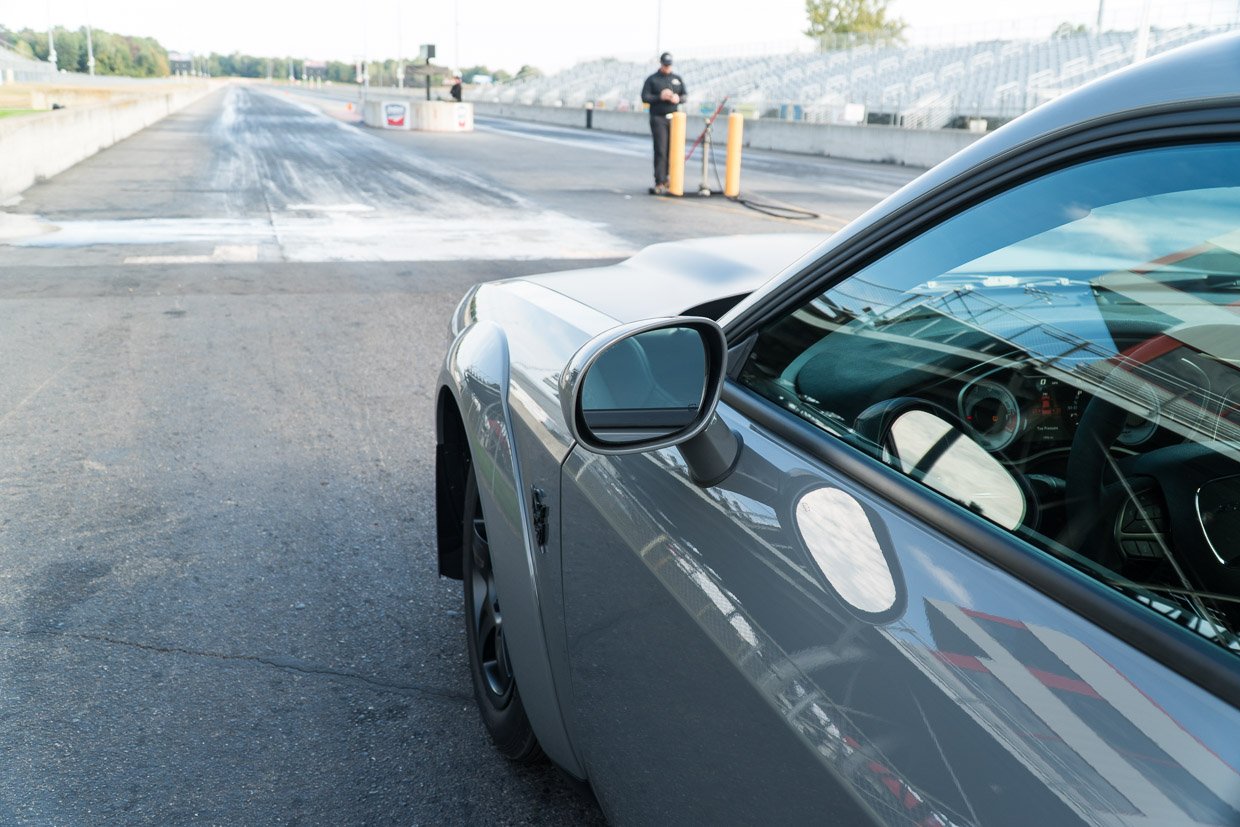 By cutting everything from the front passenger and back seats, trunk liner, parking sensors, and reducing the size of the brake rotors and sway bars, the Demon is nearly 200 pounds lighter than a Challenger SRT Hellcat, yet it packs 133 more horsepower. With a total of 840 horses and 717 lb-ft. of torque on 100 octane race gas, this thing can launch down the drag strip like a missile, subjecting its occupants to an insane 1.8Gs of force at take off.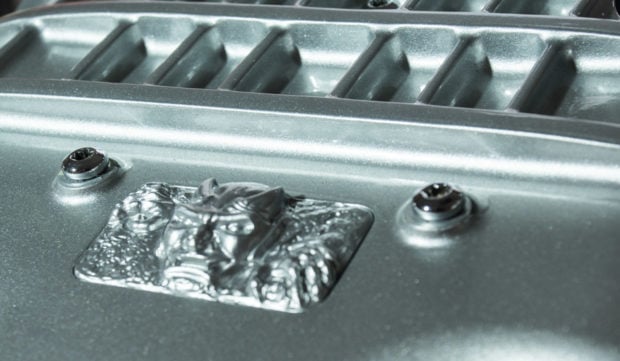 SRT acheived those performance numbers through a number of changes that go far beyond just increasing the size of the supercharger from 2.3-liters to 2.7-liters, and upping boost from 11.6 to 14.5 PSI. There are dual fuel pumps that can flow as much as 1.32 gallons per minute, and major cooling upgrades, which range from a massive "Air-Grabber" hood scoop to a unique "Power Chiller" which can redirect air conditioning coolant to keep the supercharger's heat exchangers nice and cool, and an after-run cooling system which can get the engine temperature back down to normal in between runs on the drag strip. In addition, numerous components of the driveline have been upgraded to handle the Demon's massive amount of torque.
Unlike aftermarket modded drag racers, the Demon is shockingly friendly to those with limited drag strip experience. It's got a stupid-simple Line Lock mode which sends all brake pressure to the front brakes, and holds them in place while you burnout the fat back tires to get them good and warm. It's also got an amazing transbrake system that uses the transmission to hold the car while you build up revs for the fastest launch possible. This isn't like other launch control systems which hold the brakes. Using a looser torque converter and custom software on the ZF 8HP90 automatic transmission, transbrake launches can shave a couple of tenths off of each run. For me, my times were nearly half second faster down the drag strip using the transbrake vs. using brake-based launch control.
Using the transbrake takes a little getting used to at first – but once you sort it out, it's immensely rewarding. Basically, the sequence requires that you hold both paddle shifters while braking, then throttle up to the 1500 to 2400 RPM range and hold it there. Then release one of the paddles, come off of the brake, then release the second paddle. From there, the Demon launches you out of the start box like a rocket ship, and you can go full throttle almost immediately, thanks to the huge and sticky P315/40R18 drag radials on the back wheels.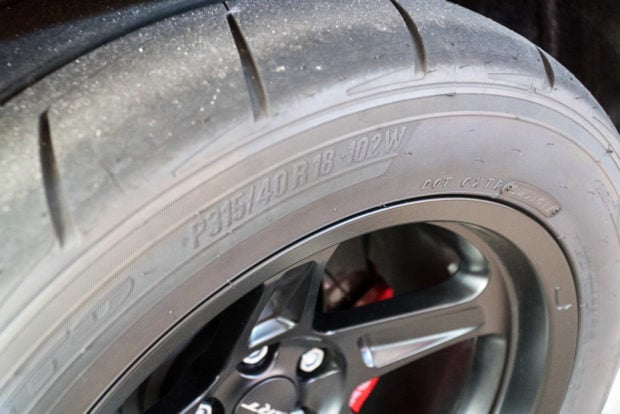 The sensation at launch can only be described as "visceral," as your brain struggles to catch up with the physical effects of being launched out of a cannon for the first second or two. If you're lucky, you may even get the skinny front wheels off the ground. Then the sensation changes from one of vertigo to one of sheer joy and thrill, as you realize you're in control of a metal monster capable of taking you to 1/4 mile in less than 10 seconds, and a 140 mph speed as you cross the line with a massive smile on your face.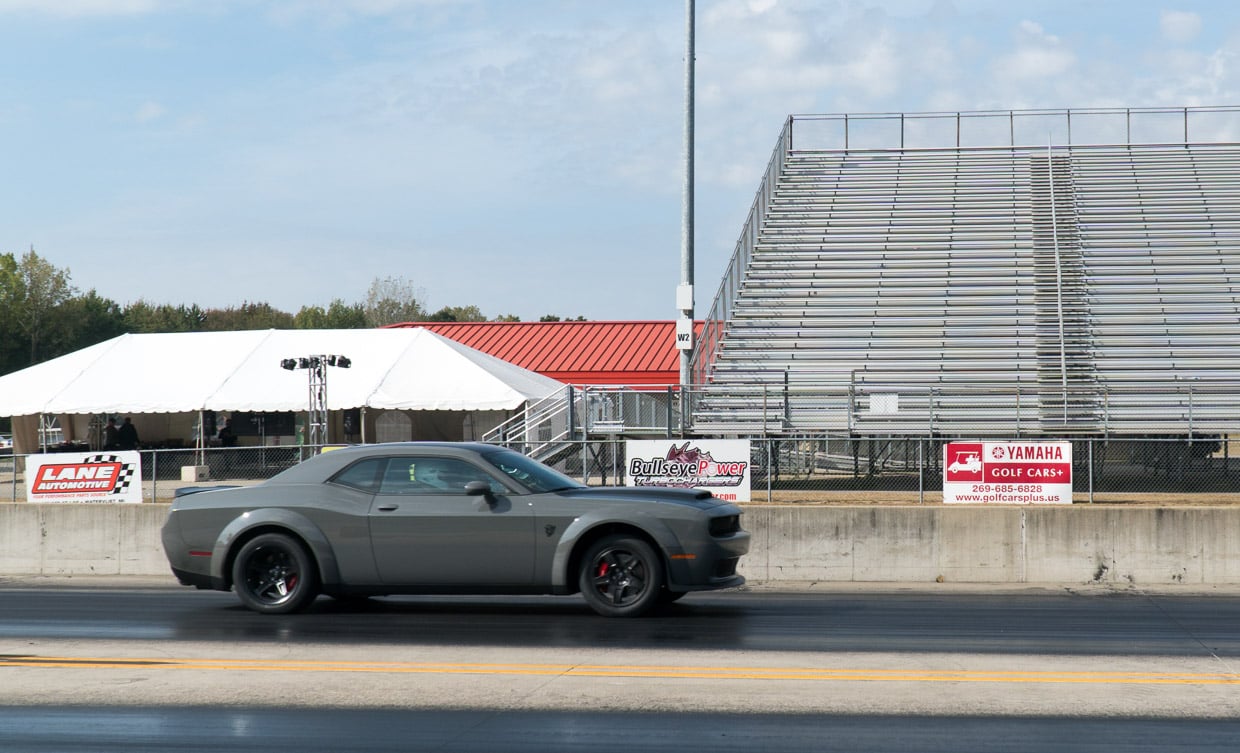 Throughout the course of the day, I took 9 runs down the dragstrip – one with an SRT engineer behind the wheel, and the rest at the controls myself. My best time for the day was 11 seconds flat, and my best 0-to-60 time was 2.7 seconds. A few others managed 1/4-mile times in the mid 10's. Those are some mighty impressive numbers for a bunch of auto journos who don't live their lives on the drag strip. None of us managed to get into the record setting 9-second range, but none of us are pro drivers. That said, I'm convinced that with enough time and practice, I could get down into the low 10s.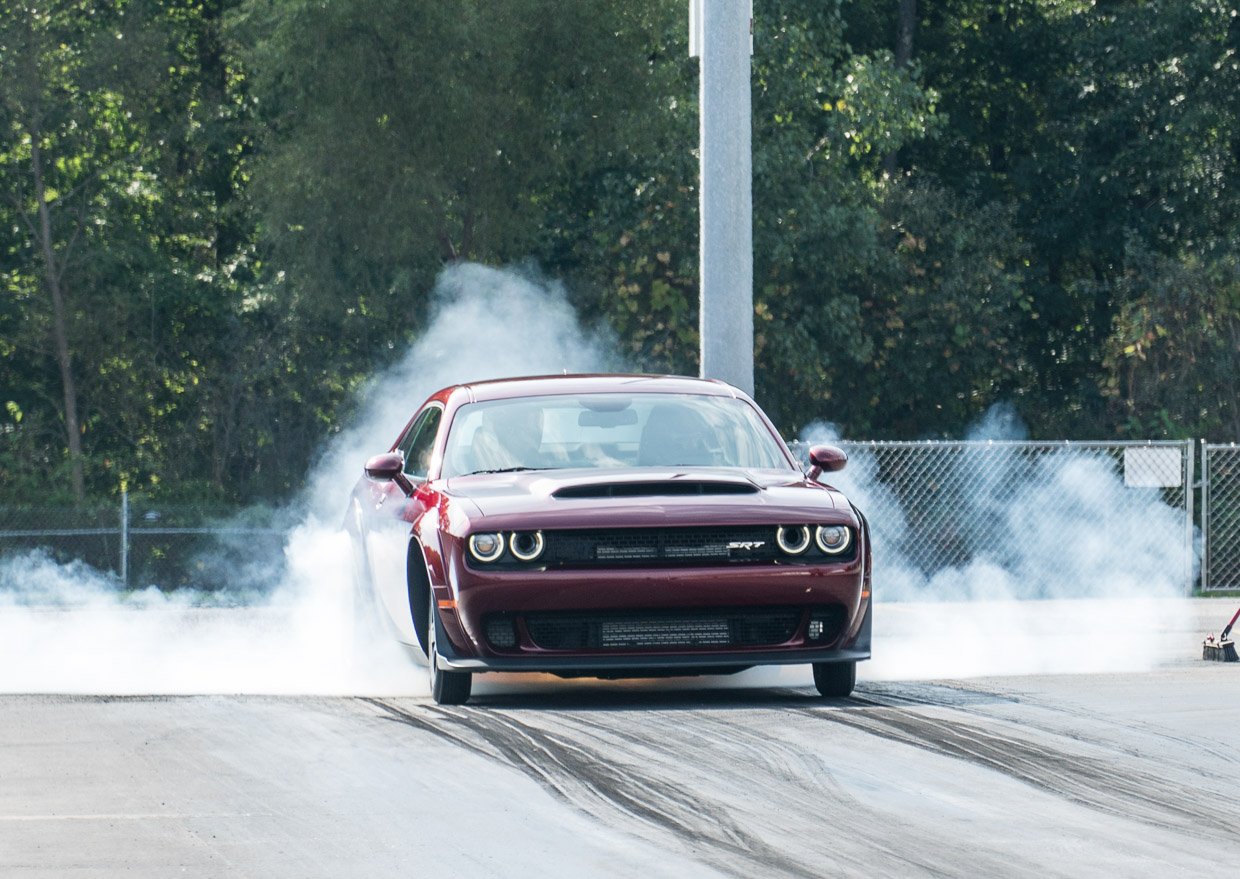 I didn't spend much time off of the track with the Demon, but riding on street tires and out of drag mode, it's actually not too shabby. It definitely doesn't handle as well as the Hellcat, and rolls quite a bit more due to its straight-line-optimized suspension changes, but inside, it's just as comfortable and spacious as any other Challenger, and it's a hoot to pass every other car on the highway with this beast, even if that other car is a Ferrari or Lamborghini.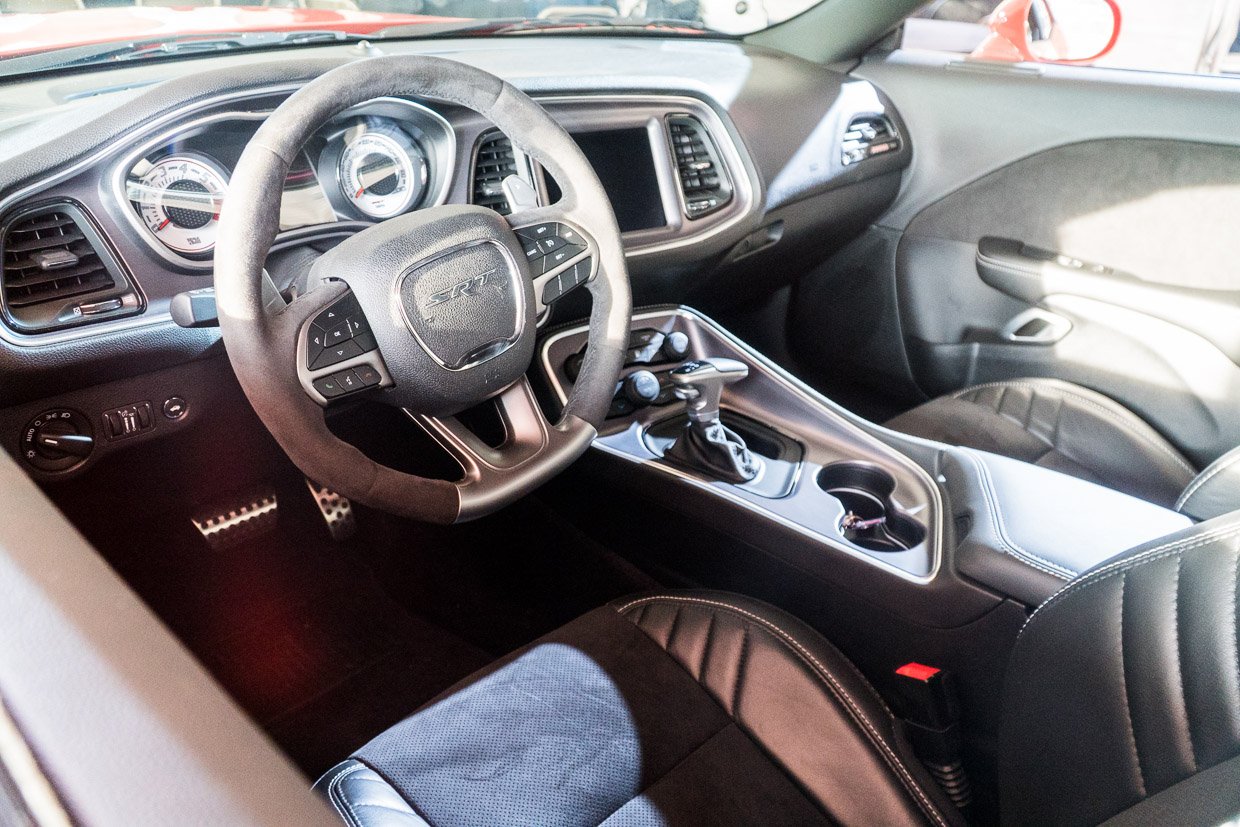 Dodge has really done something quite special with the Challenger SRT Demon, creating a car that is at once incredibly intimidating to look at and listen to, and surprisingly easy to muscle down the drag strip and feel like a pro doing it. While many of the 3,000 Demon buyers may just garage them away as collectible cars, they're doing themselves a disservice if they don't head down to the drag strip to really experience what this incredible car can do.