Mopar Lets Us Hellcat All the Things with the Hellcrate Engine
engines | sema | October 30, 2017
---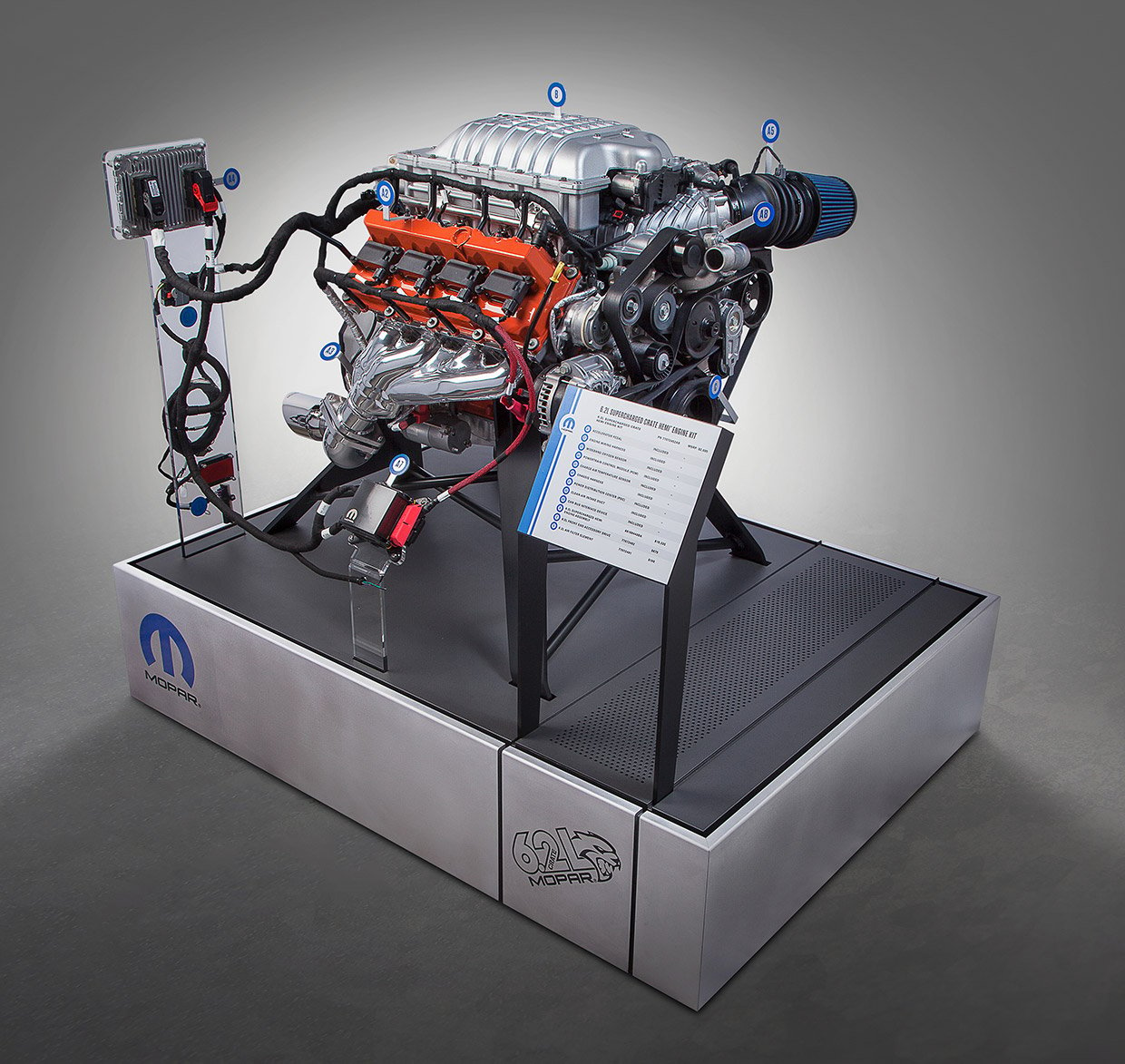 The 6.2-liter, supercharged 6.2-liter HEMI engine found in the Dodge Challenger Hellcat, Charger Hellcat, and Jeep Grand Cherokee Trackhawk is about as impressive as any factory engine to ever find its way into a sub-$100,000 vehicle. Up until now, the only way to get a Hellcat engine was to buy one of those cars and rip it apart, or find one that was in a crash.
Now, if you want to slap a Hellcat engine into your project car, you'll be able to buy one in crate form, directly from Mopar. Fiat Chrysler Automobiles announced today that the 707 horsepower engine will soon be available as a ready-to-install kit, complete with three-year factory warranty.
The kit includes a powertrain control module (PCM), power distribution center, engine wiring harness, chassis harness, accelerator pedal, ground jumper, oxygen sensors, charge air temperature sensors and fuel pump control module for the 6.2-liter supercharged Crate HEMI Engine. The PCM is unlocked and set to the factory 707- horsepower calibration. The Mopar "Hellcrate" HEMI Engine Kit is optimized for use with manual transmissions, such as the Tremec Magnum transmission kit.

An essential Front End Accessory Drive (FEAD) Kit, which includes an alternator, power steering pump, belts, pulleys and more, is among additional engine accessory hardware components available to assist in installing the Mopar "Hellcrate" HEMI Engine Kit.
Apparently, the kit is intended for use in older, pre-1976 street and off-road vehicles, so is aimed at hot-rodding crowd. Those interested in the engine can order the engine assembly for $19,350, and the engine kit (which I assume includes the remaining parts needed) is an additional $2,195.