2018 Lexus LC 500 Review: Concept as Reality
2018 | lexus | lexus lc 500 | November 5, 2017
---
2018 Lexus LC 500

Engine: 5.0-liter V8
Horsepower: 471
Torque (lb-ft.): 398
Transmission: 10-speed automatic with paddles
Drive Configuration: RWD
0-to-60 Time (secs): 4.4
Top Speed (mph): 168
City/Hwy/Combined MPG: 16/26/19
Curb Weight (lb): 4,280
Wheelbase (in): 113
Total Length (in): 187.4
Width (in): 75.6
Base Price (USD): $92,000
Price as Tested (USD): $105,060
When Lexus first showed off its Lf-Lc concept a few years back, I thought it was a pretty stunning design. But it's pretty rare that a production car ends up looking so close to the concept that it's based on. But in the case of the recently released Lexus LC 500, the version of the car you can buy lives up to the concept, and in some ways exceeds it.
I've driven the LC 500 and its hybrid counterpart, the LC 500h before, but only for an hour here and an hour there. This is the first time I've been able to live with the car for a whole week, and I absolutely fell in love with it. In brief, it's simply the greatest production car Lexus has ever built. Dare I say it, I like it even better than the $400,000 LFA, granted, that car was released nearly 8 years ago, so it's not exactly a fair comparison.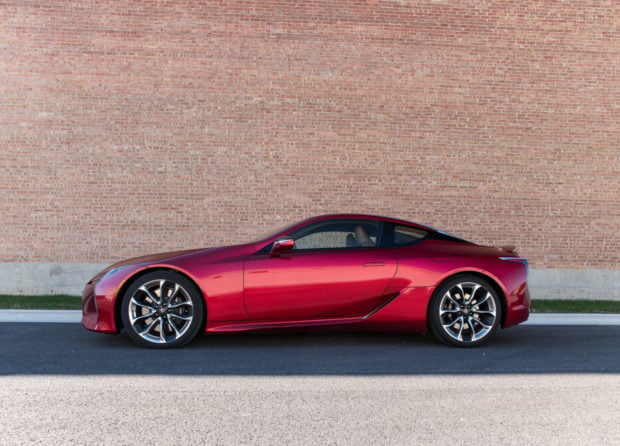 Not only is the LC 500 visually stunning, preserving much of the aggressive, exaggerated styling of the concept, but it's a fantastic car to drive. The design largely speaks for itself, with its long nose, dramatic, angular grille and headlights, giant 21″ alloy rims, and sleek, supercar-grade styling. Unlike some cars which have little presence when viewed from the side, this is where the LC 500 puts its best foot forward, with an attention-getting look that lives up to its $92,000 starting price.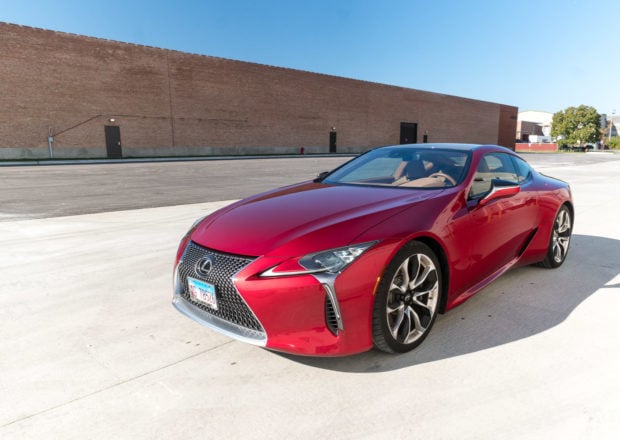 But beyond its curvaceous looks, what makes this Lexus the one to beat is the way it drives. Sure, this isn't the first Lexus to offer a powerful V8 engine – an older version of its power plant is in the RC F and GS F – but everything about the LC 500 is just so much more poised and direct than those cars, which both feel a bit on the heavy side. While the RC F feels like a muscle car, the LC 500 feels like a precision surgical instrument. Point and shoot. It goes exactly where you want it, without one iota of body roll or unwanted movement after moving the wheel.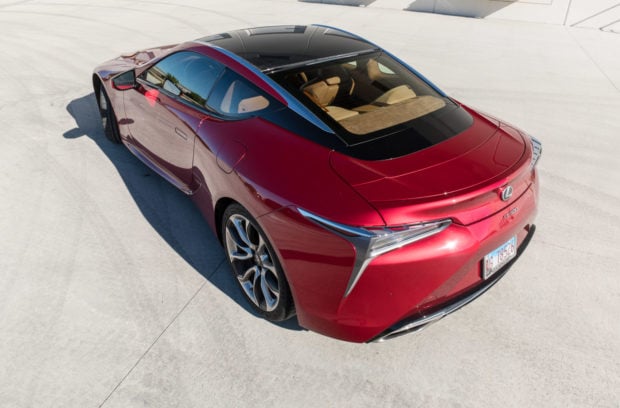 Part of the reason for this exceptional handling is that the LC 500 rides on the new rear-wheel drive Lexus Global Luxury platform, which is just wonderfully stiff and agile when it comes to ride dynamics. Lexus also incorporated aluminum and carbon fiber in the construction of the car to reduce weight while retaining stiffness. It's still no lightweight, with a curb weight over 4200 pounds, but it certainly feels more nimble than the stats would indicate.
Combined with a fast-shifting 10-speed automatic gearbox, the 5.0-liter engine offers up ferocious power on demand, pushing the car from 0-to-60 in 4.4 seconds. Because of the way it's geared and the torque curve, it's particularly impressive right off the line.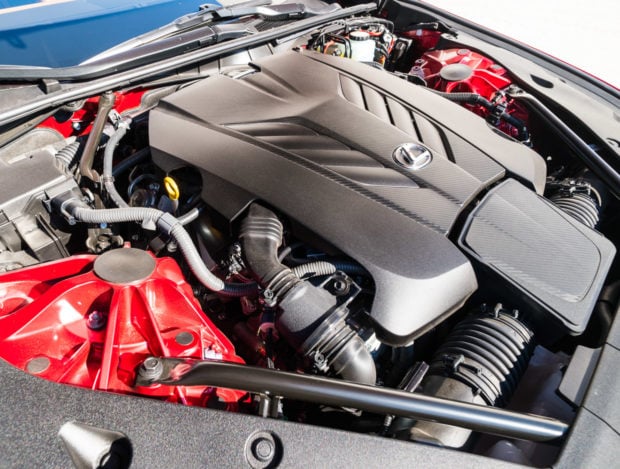 Push your foot down, and the LC 500 emits a wonderfully growly midrange exhaust note that's more race car than the baritone usually associated with V8s. The car's sharp aerodynamic styling really makes it cut through the air at speed, and the deployable active rear spoiler adds a good dose of downforce to help keep it planted.
It's a small detail, but the door handles retract flat into the body of the car, offering not only a smooth, uninterrupted look, but also cutting down on turbulence, which has both performance and wind noise benefits. They're not a mechanically smooth as the fold-flat handles on recent Jaguar and Land Rover models, but the thought is still appreciated.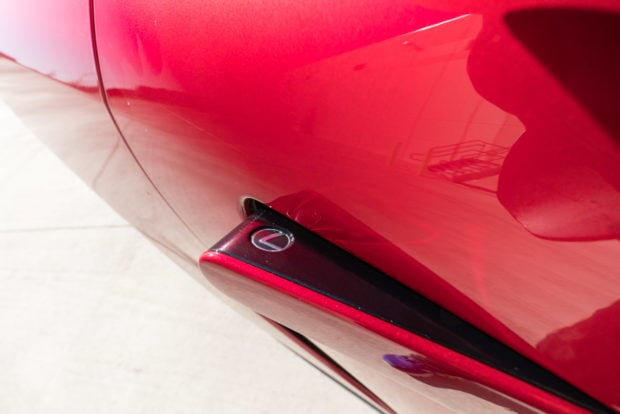 The LC 500's V8 engine pushes out 471 horsepower and 398 lb-ft. of torque, and brings on that peak torque at a satisfying 4800 RPM. Despite all the power, fuel economy isn't bad, offering up 16 mpg in the city and 26 mpg on the highway. In a week of driving a mix of highway and city streets, I managed a better than expected 22 mpg average.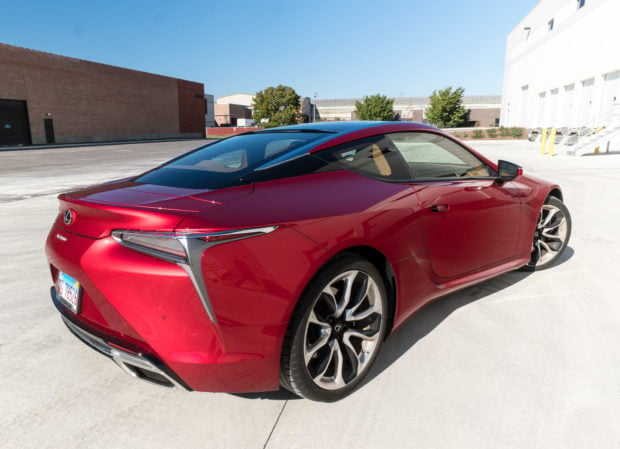 For those who like some control over their driving dynamics, a small Frankenstein neck bolt protrudes from the right of the instrument cluster provides access to several driving modes, letting you establish a preference for a more sporty or more comfortable driving feel.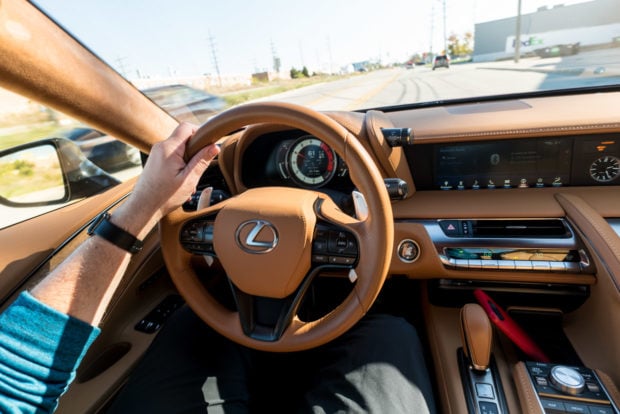 Personally, I preferred the heavier steering, higher shift points, and tighter suspension setup of "Sport+" mode, but I have a tendency to enjoy the most sporty feel possible. Regardless of its power and aerodynamic prowess, the interior of the LC 500 is museum quiet and more than lives up to Lexus' reputation for a luxurious and comfortable atmosphere.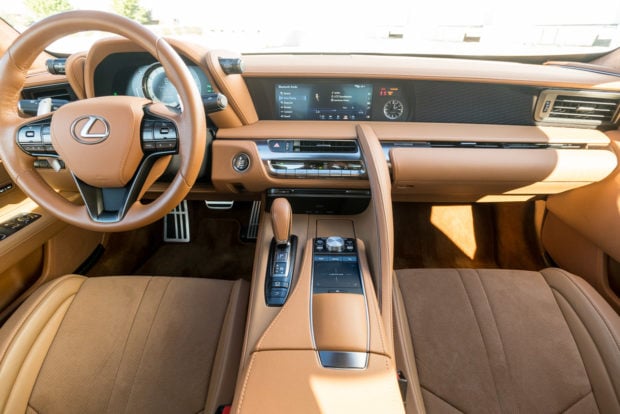 I especially loved the decadent butterscotch brown interior of the vehicle I drove, which came with the nearly $6000 Performance package, that includes tactile, body-hugging Alcantara sport seats, more of the fuzzy stuff on the headliner, along with carbon fiber door sills, and a slick carbon fiber roof. That package also adds some serious mechanical benefits, including active rear steering, variable gear-ratio steering, and the aforementioned active rear spoiler.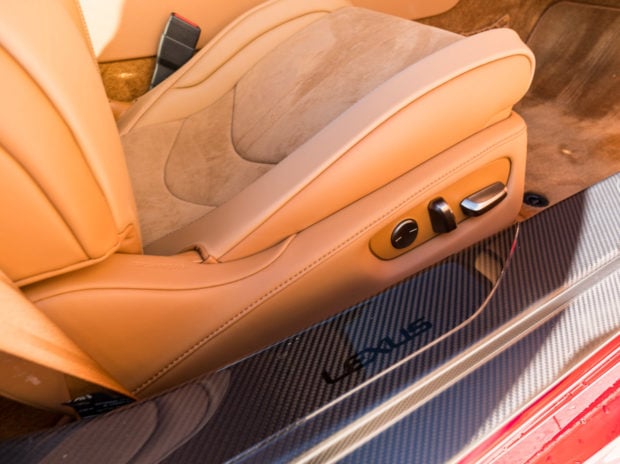 The front seats offer very good bolstering, though the side bolsters can be a little noticeable if you're not used to driving a car with them. Still, they provide great support when cornering. The seats offer both heat and ventilation, though I was a little disappointed that there are no hard buttons or dials for controlling these, and you need to dig into on-screen menus with the trackpad to control seat temperature. Fortunately, there's a sort of "set it and forget it" mode called "Climate Concierge," which automatically adjusts the HVAC and both front seats based on a pre-set temperature preference.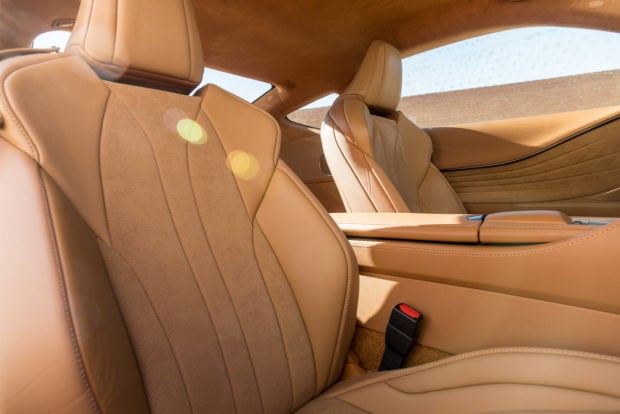 The only things you hear inside the well insulated cabin are the dreamy exhaust note when pushing the go pedal, and the optional 13-speaker Mark Levinson Reference sound system, which in my opinion is simply the greatest factory audio system I have EVER heard. It's sublime. Audio quality clearly benefits from a deep collaboration between Lexus and Levinson to offer up the studio quality listening environment, incredible imaging, and phenomenal dynamic range. It's like a living room audiophile sound system on wheels.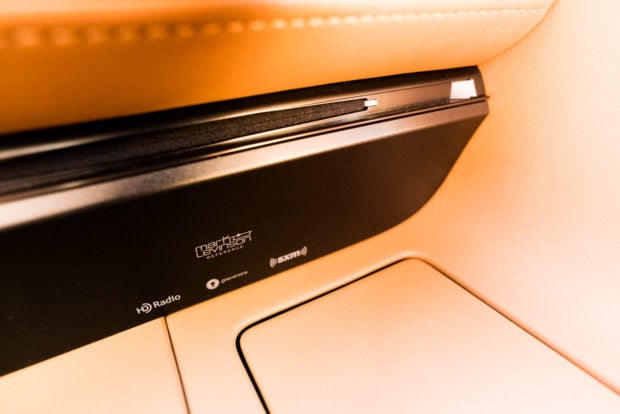 Officially, the LC 500 is a 4-seater, but much like most 2+2s, the rear seat isn't of use except for very small children, or maybe a dog, neither of which I'd want messing up my fine Alcantara seating surfaces. So with that said, consider the back seat a storage space, which you may need given the diminutive 5.4 cubic feet of storage in the trunk.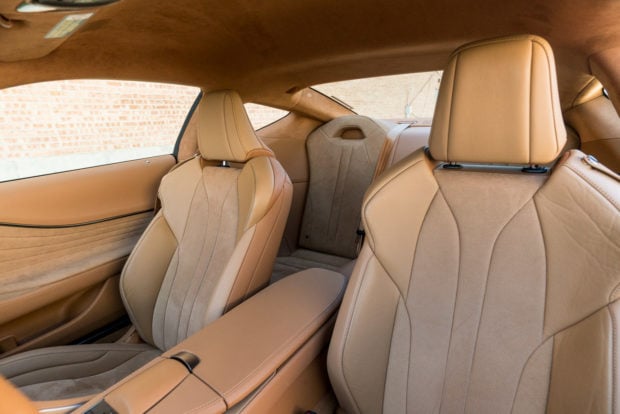 Lexus also packs the LC 500 with a wide variety of safety and convenience tech, including all-speed radar cruise control, intelligent high beams, lane-keep with steering assist, and pre-collision braking assist with pedestrian detection as standard. For some odd reason though, parking assist, blind spot monitoring, and rear cross-traffic alert are a $1000 option, which I really think they should include as standard on a car this expensive.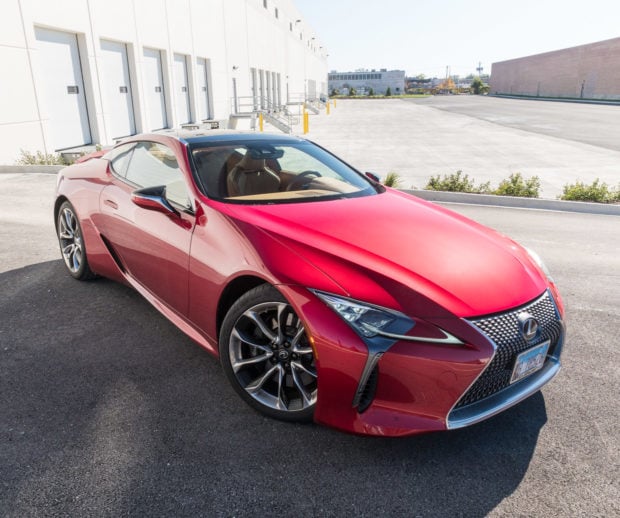 The Lexus LC 500 is a joy to drive, offering awesome power, great handling, auto show-worthy styling, an exquisitely rich interior, and just about everything you could ever want from a luxury performance coupe. I highly recommend it if you've got the money to spend.