2018 Ford Expedition First Drive: An All-Inclusive Resort for SUV Fans
2018 | ecoboost | ford | ford expedition | off-road | Towing | Twin-turbo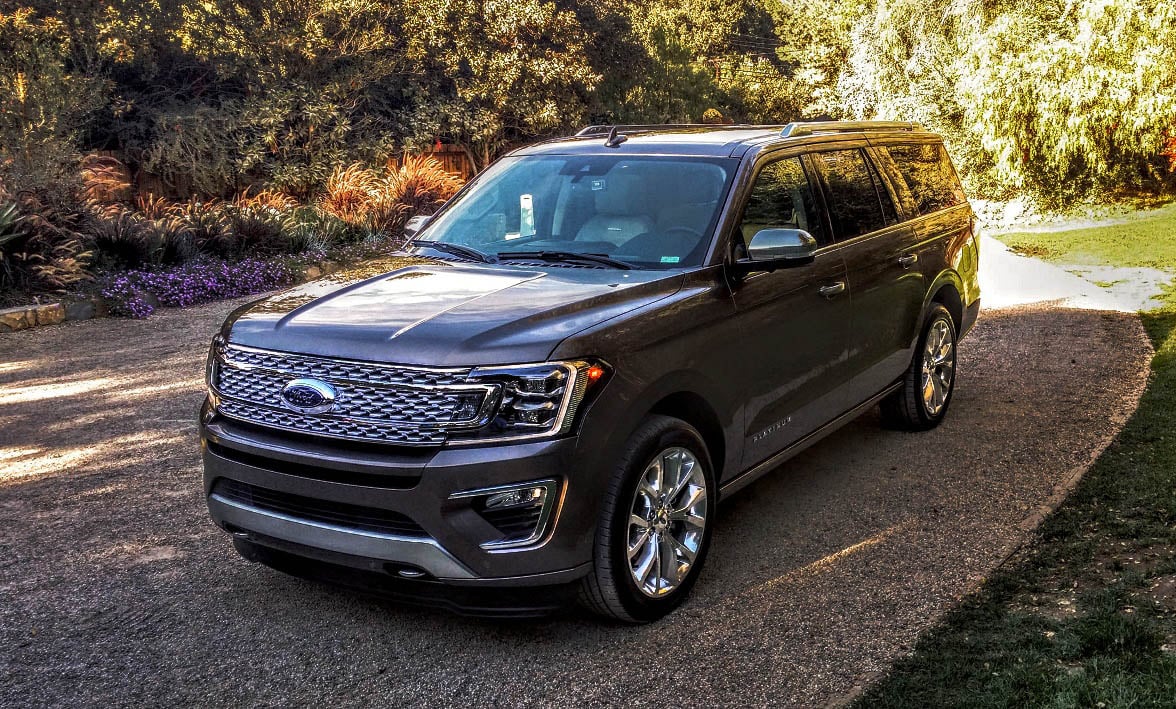 Specs at a Glance

Engine: 3.5-liter twin-turbo V6
Horsepower: 400
Torque (lb-ft.): 480
Transmission: 10-speed SelectShift automatic
Drive Configuration: 4WD with 2WD mode
City/Hwy/Combined MPG: 17/23/19
Wheelbase (in): 131.6
Total Length (in): 221.9 (Max Edition)
Width (in): 81.6
Ground Clearance (in): 9.7
Base Price (USD): $48,095
Price as Tested (USD): $82,090
Put every ounce of ingenuity into building something special, and the results are guaranteed to impress. Nowhere is this adage more appropriate than within Ford's latest lineup, especially when considering its completely overhauled models.
Regardless of whether you are considering a microscopic GT/GT40 LEGO kit or a hulking F-150, The Blue Oval has something for everyone, and it's only getting better as time progresses. Thanks to advancements in EcoBoost turbo technologies, dynamic traction setups, and sensational 10-speed automatic gearboxes, the truck side in particular remains a top-tier weapon in the automaker's arsenal.
As for the Expedition end of the Ford lineup, let's just say that it has been in desperate need of a complete update for a hot minute now. Fortunately, the time has finally come for a new generation, and after driving the 2018 model, I am pleased to announce that we have not waited in vain. From its revised lines and tricked-out LED lights, to its brilliant interior and useful tech, only the best ideas appear to have been implemented in this rendition, regardless of which wheelbase you desire.
But before we get to all of those brilliantly balanced proportions and practical technological additions, we should probably approach the power side of this triple-rowed ride. Throwing 400 horsepower and 480 pound-feet of torque to the pavement, acceleration is snappy and sophisticated, and Ford's 10-speed automatic gearbox holds true to its focus on efficiency, intelligence, and silence. While I plan to save my full exposé on the 3.5-liter, class-leading EcoBoost engine for a full review down the line, note that I found zero issue with the 2018 Expedition's powerplant, and look forward to conducting a road trip feature with one in due time.
Another mechanical winner (which was more technological than anything), was Ford's 7-mode "Terrain Management System," a useful option for when inclement weather or challenging topography rears its head. After effortlessly trouncing an off-road course in an FX4 model (an experience that will soon receive its own write-up), I came away feeling impressed not just with the grip and gumption this machine harbors, but its steering inputs as well. Whether you are on road or off, this SUV steers and handles like a much smaller vehicle, with perfectly assisted turns in every drive setting.
Off-road excitement complete, and both steering and handling receiving a solid stamp of approval, it was time to put a full-size version in 2WD and test out the trailering side of the Expedition ownership experience. Horse ownership may not be for everyone, but the same can be said for owning a Super Duty, making the Expedition an ideal candidate for hauling all things heavy while still swinging the kids by soccer practice.
Since positioning a trailer with Ford's "Pro Trailer Backup Assist" remains a cinch to say the least, weighing down the vehicle and attacking a sweeping hill climb with four people on board seemed like the next best test. In true Ford fashion trailer braking, acceleration, and on-road mannerisms remained stellar the entire time, with little additional noise to be heard, as we effortlessly cruised up mountain passes with 7,500 pounds of the SUV's 9,300 pound limit met.
Back at the stable, I climbed from one seat to the next, testing and inspecting every inch of the SUV's interior. There's a whole lot to love in this cabin, and although a long wheelbase, MAX iteration of the Platinum model will set you back a cool $82,000 with the optional 600A equipment package attached, hot damn is it worth every penny.
Dual headrest rear entertainment touchscreens, SYNC 3 with Apple CarPlay and Android Auto, WiFi for up to 10 devices, and a gazillion shades of mood lighting start things off on the right frequency. From there you get heated/vented seating, digital displays for days, six USB ports spanning all three rows, wireless charging, and a 12-speaker B&O Play audio system to name just a few more of the electronic goodies that stood out.
All that tech may be useful and entertaining, but it was the layout and practical considerations that struck me as the 2018 Expedition's strongest internal specialty. Sure, I adored the way in which all the real wood trim, panoramic views, and quilted leather surfaces enhanced the quality of the cabin, but these are all just drops in the bucket when compared to the sort of space smarts you'll find.
Sticking my driving partner (who is 6′4″) in the second row, I climbed into the far back bench, reclined the seat with the push of a button, and then instructed them to adjust their captain chair. Even with my driving partner stretched all the way out, I still had loads of leg and headroom in the third row, thus marking-up strong points for the Expedition once more.
Family-focused buyers will also be pleased to find that the new Expedition packs 15 cupholders, a split-glass rear hatch for easy access, a raised cargo lip that prevents items from rolling out, and a cargo divider that is just as large as it is reconfigurable. And for all you DIY dads out there, note that every seat in this monster folds flat, allowing you to stuff entire sheets of plywood inside without any liftgate clearance issues.
Now that we have established that fully-loaded, extended versions of the 2018 Expedition borderline on being opulent and pack more storage and tech smarts than a space shuttle, while offering F-150 levels of off-road assertiveness, what else is there to cover? How about looks? Surely there has to be something to be said for all of that modern design language and sleek sheet metal.
Jabbering on about how the new Expedition, with its stacked LED lights, balanced glass-to-metal proportions, and deeply etched grille look equal parts masculine and sexy is just a waste of key strokes. This is without a doubt the most attractive SUV in its class right now, and with some different wheel options and an integrated set of Explorer Sport style exhaust finishers, would make for something truly drool-worthy.
Yet the old saying still rings true, because looks truly aren't everything. Ford wants this to be a family car in every meaning of the phrase, and that doesn't just mean engineering the Expedition for half-pint tikes and tall teens. Grandparents are going to love this SUV, with its deployable side-steps, wide door arches, roomy seat spacing, and ideal ride height. The truck's engineers even went as far as designing the vehicle with injured/frail individuals in mind, with ergonomic handles, latches, and controls all receiving specific dimensions and placements in order to alleviate strain.
The 2018 Ford Expedition isn't just the new front-runner in the full-size SUV game, it's the award-winning coach overseeing it all. So many boxes were checked during my time with this vehicle that I had to start creating new ones, and I walked away feeling impressed to the point where I actually wanted one for myself.
Ford's latest Expedition is a triple-rowed masterpiece that drives way tighter and swifter than expected, and with its drive modes, towing strengths, quality materials, clever tech, and dapper lines receives stellar marks in every test bracket we have developed over the years. That said, I strongly encourage you to drive this overhauled version when time permits. All of that proven F-Series brilliance that you love thrives within this SUV, making it a first-round pick in my playbook, and a clear contender for best family vehicle of the year.