2018 Ford Mustang GT Review: California Screamin'
2018 | Adaptive suspension | ford | ford mustang | GT | horsepower | Magneride | Performance Package | Torque | V8 | November 13, 2017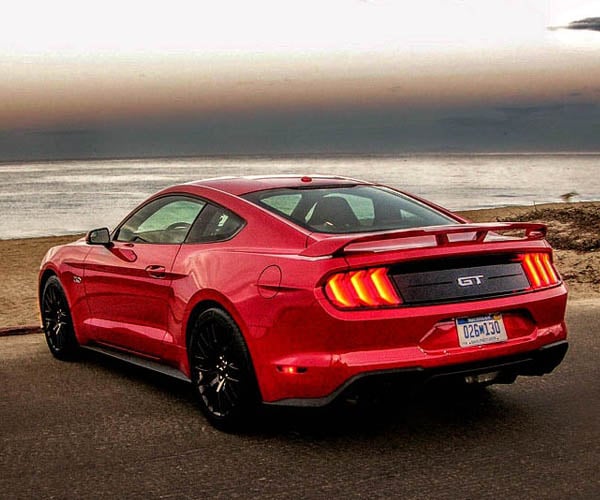 2018 Ford Mustang GT

Engine: 5.0-liter V8
Horsepower: 460
Torque (lb-ft.): 420
Transmission: 6-speed manual or 10-speed SelectShift automatic
Drive Configuration: RWD
0-to-60 Time (secs): 3.9
1/4 Mile Time (secs): 12.7
Top Speed (mph): 160
Curb Weight (lb): 4,000
Wheelbase (in): 107.1
Total Length (in): 188.5
Width (in): 75.4
Base Price (USD): $39,095
Price as Tested (USD): $50,770
All the leaves were brown, and yes, the sky was grey. But I'd be damned if I was walking that wintry day. Ford had gone through all this trouble to make sure that I had ample access to the heavily revised, and downright devilish Mustang GT in Malibu, California, and I sure as hell wasn't about to pass up on seat time.
Instead of just massaging the lines of the super sleek 'Stang, Ford has gone the extra mile and upgraded both performance and tech ends of the notorious pony car. It's a mid-cycle refresh that offers more than one might expect, making the already outstanding fastback that much more desirable.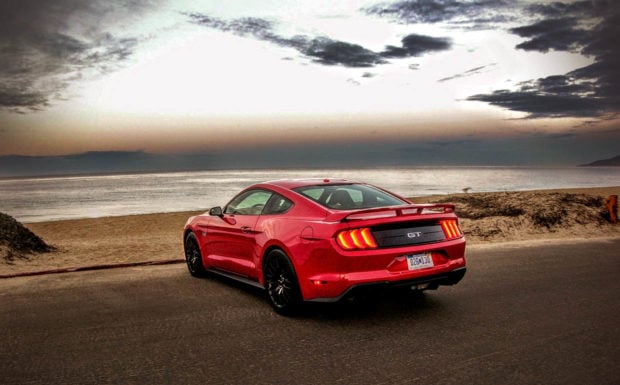 Loaded and tipping the scale at $50,770 after destination and delivery charges, the Premium version I had gotten ahold of definitely was running a few grand higher than its Camaro SS and Scat Pack Challenger competitors. But upon closer inspection, I quickly realized that the nearly twelve grand bump in price was completely worth it. Recaro Sport seats, Magneride adaptive suspension, Ford's "Active Valve" exhaust, the tech and luxury-focused 401A package, as well as both a security and a Performance Package had all been tacked-on, and holy hell were they worth every penny.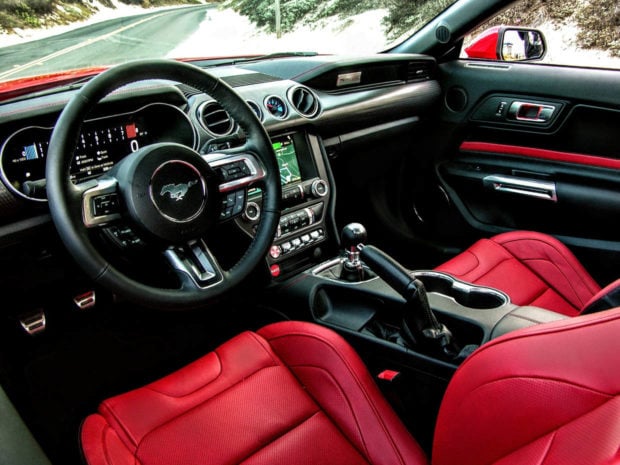 After blasting through mountain tunnels in Sport mode, which brought with it approving nods over the notes emanating from the ass-end of the 5.0-liter Mustang, it was time to critique the power side of the iconic American sports car. Compared to the version it replaces, horsepower in this fastback is now up 20 ponies to 460, with torque jumping 25 pound-feet to 420 thanks to ECU recalibrations and a higher redline. It's a riotous, naturally-aspirated, rev-happy V8 that remains refined when in normal driving mode, but is always eager to please when throttle tip-in or downshifting to redline are desired.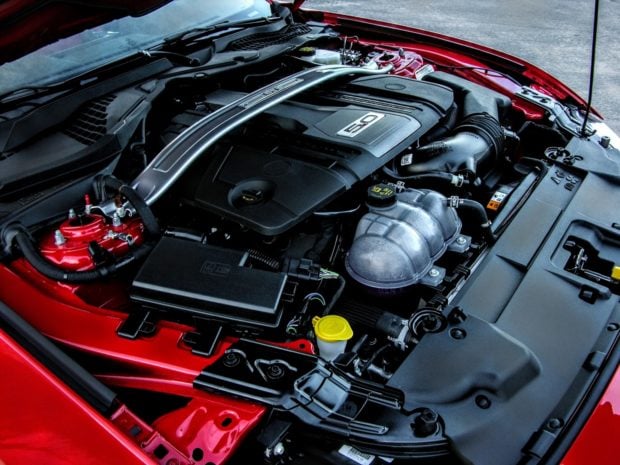 Speaking of shifting, although everyone remains atwitter over the fact that the Mustang can now be had with Ford's fantastic 10-speed automatic transmission (even in the now torquier 2.3-liter EcoBoost version), it's the manual gearbox in the 5.0-liter GT that steals the show. With its fresh syncros, twin-disc sport clutch, dual-mass flywheel, and beautifully gated box, throws aren't just purposeful and precise, they are flat-out potent. Even the height of the shifter assembly itself and weight/sizing of the knob are on point, earning this gearbox a top spot in my standings for best manual transmission on the market today.
Manual lovefest aside, there is a ton to appreciate within the GT's cornering and control department as well. This is not the sloppy, muscle-bound badger you remember from the fox-body era, but a corner-caressing canyon carver with an affinity for dangerous curves. Plunging head-first into Malibu's upper rim, I was flabbergasted by the Mustang's ability to smoothly slither through corners, all while keeping a controlled feel at the forefront. It may still be a hell of a lot heavier and less precise than say a Civic Type R, but dammit if the latest Mustang doesn't behave like a properly bridled stallion, and here is why.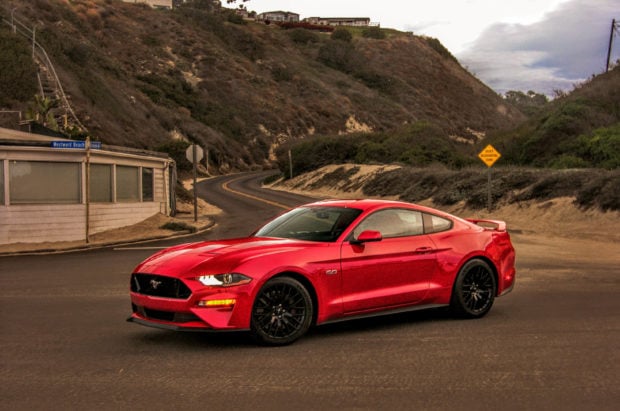 Ford has done the right thing by giving Mustang owners the option of Magneride adaptive dampers with multiple drive settings, as well as the ability to manually toggle on things like drag strip mode, steering feel, exhaust notes, and ride stiffness. But there are many more goodies inside the "GT Performance Package" that deserve praise other than just some fun driving modes and a beautifully balanced level of steering feedback.
This four-grand performance upgrade starts off with a beefier radiator and a Torsen limited-slip differential before throwing a series of slick gauge pods and a spoiler into the mix. Over-engineered for good reason, peace of mind and purebred potency gallop hand-in-hand here, with the biggest thrill being the way in which this 'Stang stampedes through canyons.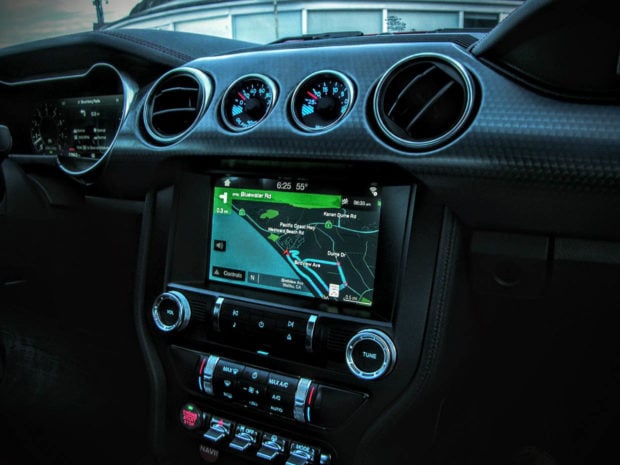 From the massive strut tower brace and fatter roll bars, to the underbody K-brace, stiffer springs, 6-pot Brembo calipers, up-sized 15-inch discs, and staggered 19-inch alloy wheels, harnessing power seems just as important to Ford as providing it. Farewell crappy muscle car handling. Hello control and confidence. Once assembled, with sticky Michelin Pilot Sport 4S summer rubber sitting beneath, the GT hits an all-time handling high that borderlines on idealism, particularly for the rear-wheel drive enthusiast.
Physically, the Ford Mustang gets minor updates like a more raked beak with a new front splitter, fresh fenders, and a grille to fit, along with LED headlamps and tail lights that come at no additional cost, optional LED signals and fogs, and a fat quad exhaust. There also are all-new interior touches, like a heated leather steering wheel, the redesigned dash, hand-stitched soft touches, padded knee bolsters, as well as the optional (and completely customizable) 12-inch digital gauge cluster.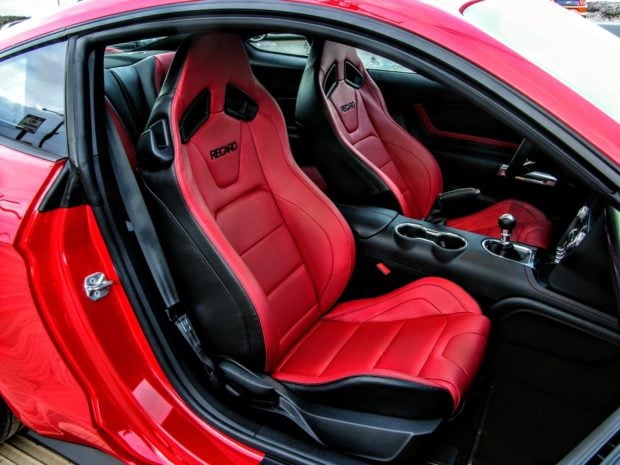 Revisions like these are akin to the administration of a performance enhancing serum to an athlete that was already damn close to being at the top of their game. The Mustang GT in Premium trim is a powerpack on beta blockers, a car that comes with a luxury-to-dexterity ratio that borders on being brilliant in every way. It may cost more to have a Mustang outfitted to the point where it can compete athletically with the Camaro SS, and the Shaker-equipped Challenger certainly has more nostalgic appeal, but you also get what you pay for.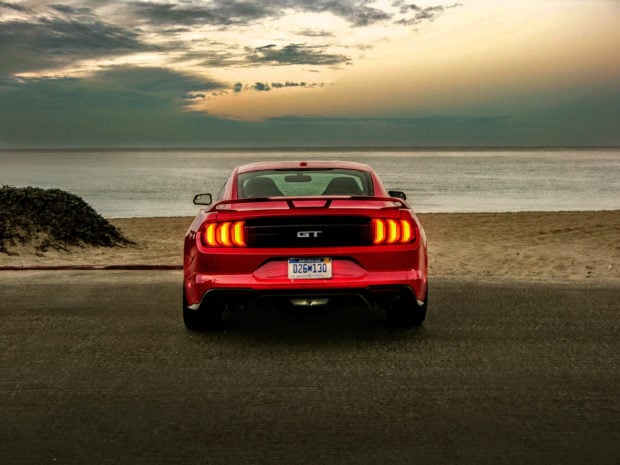 The Mustang trumps the similarly outfitted Camaro with superior visibility, interior build quality, and manual gearbox precision. It's not just nicer and more controlled feeling, but a lot more fun to drive as well. While we're on topic of fun, for as enjoyable as it is to see that Shaker scoop jump every time you hit the throttle, the Challenger has nothing on the Pony Car's cornering strengths, stopping power, and lighter weight, thus landing the Mustang GT in the top spot.
But for aftermarket performance fanatics like yours truly, it's Ford's invested interest in offering more options than you can shake a piston at that pique my interest. Want to swap Recaro buckets with power controls onto your ride? Done. Do you relish the notion of having four different grades of brake caliper at your disposal when it's time to buy? Their all here for purchase. Don't feel like the GT Performance Package is wild enough and you want to upgrade to the Stage 2 grade for even more extremes? Do eeeeeeet…..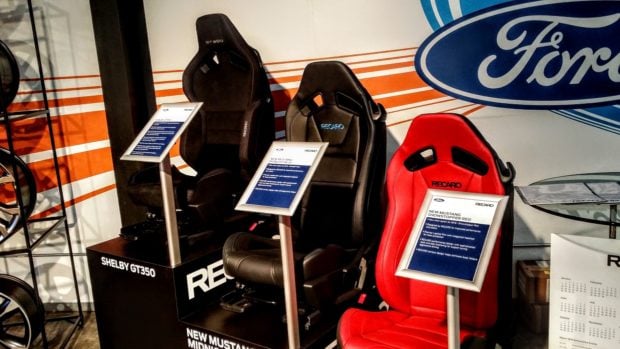 This is without hesitation one of the most rewarding mid-cycle refreshes in recent memory, and my hat is off to Ford for going the extra mile in order to make sure it was executed properly. So next time someone asks you if you think it's worth buying the new version of the Mustang over the outgoing model, just smile and tell them to go drive one if they are a fan of the brand. The difference will be pretty obvious.