Put on Your Winter Coat, 3M and Meguiar's Style
3M | cleaning | Meguiar's | Protection | restoration | winter | December 17, 2017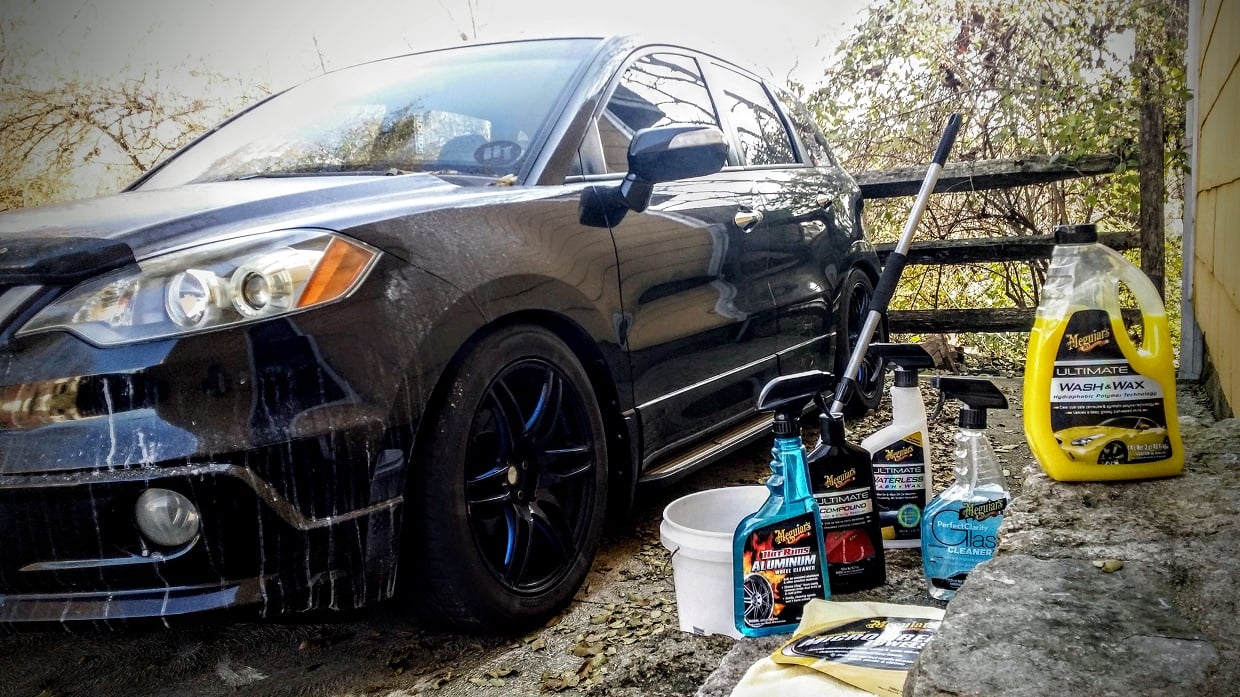 Salted roads and snow. They both suck, and for completely different reasons. One makes commuting a potentially life-threatening inconvenience, while the other is put in play in order to alleviate said slippery disposition, but poses a threat to your automobile and is a chore to remove. It's a "Which is worse, the disease or the cure?" sort of situation, and if you live up North, chances are your car is coated with some sort of salty concoction as we speak.
Fortunately, our friends over at Meguiar's and 3M have been doing their due diligence and have come up with a few products that can alleviate some of the more notable external automotive maladies. I recently put a handful of these items from both brands to work on the old family battle wagon, a 2007 Acura RDX that we lovingly refer to as "The Black Pearl."
3M Headlight Restoration Solutions (Medium Duty Kit)
Since both of our headlights remained about as fuzzy as my recollection of last week's wedding reception, I opted to start things off 3M's Medium Duty Headlight Restoration Kit. Hazed headlamps aren't just an eyesore, but an impedance of the projection deemed necessary to safely see at night. Having seen zero to poor results from various other kits in the past, I approached this product with a skeptical eye, especially since it was not the most hardcore offering from the brand.
After taping-off all of the areas surrounding the headlamps, and spritzing them down with water, it was time to get to scrubbing. Once attached to the polishing pad, the 1,000-grit sanding disc quickly turned the hazy headlamps into an even more foggy piece of plastic, a result that is to be expected with such a refinishing procedure. Remember, like tidying-up the garage, it's going to look a lot worse before it looks better.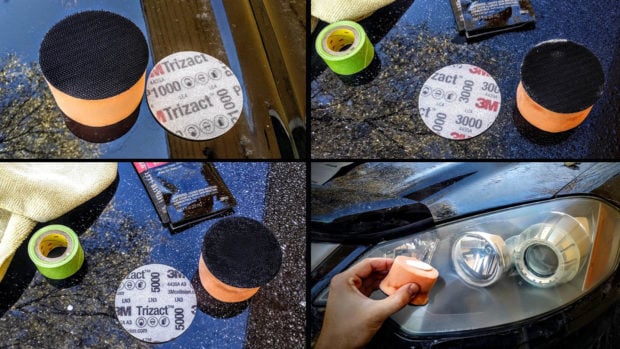 Being sure to keep both my lights and the polishing disc drenched at all times, I graduated from the 1,000-grit stuff to the 3,000, and then onward to the 5,000-grit pad. As the coarseness of each 3M disc became less extreme, I noticed that the heavier scratches across the headlamps were no longer nearly as noticeable, a blemish that had not been removed by previously tested products. Things were starting to look promising.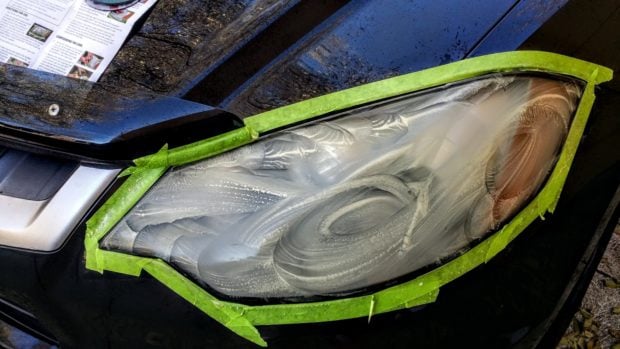 With sandpaper scrubbing complete, I moved on to the next stage, where I flipped over the provided Velcro pad, and used the foam sponge side for the application of 3M's headlamp polishing compound. This my friends is where all the magic happens. All of that wet sanding had removed years of road grime, exhaust soot, snow salt, and sand, leaving in their place a fine layer of swirls and scratches. After just a few rounds of rubbing, the polishing compound eliminated these microscopic marks, leaving behind a crystal-clear lens and one satisfied customer.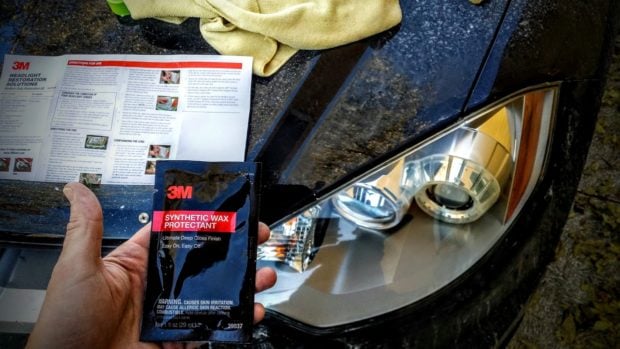 Tossing a fresh coat of wax on both lenses was the only thing left to do, and after several weeks of road trips, multiple snow storms, and heavy layers of salty silt, the battle wagon's lights still look as crisp as the day they were assembled. All told, this restoration process took me less than 45-minutes and to date is the best headlight restoration product I've come across. Its only drawbacks are that the included tape peels-off easily once wet and requires reapplying, and since both the polishing compound and wax  come in packets and not resealable bottles, excess waste and clean-up are a concern.
Meguiar's Hot Rims Wheel Cleaner and Ultimate Waterless Wash & Wax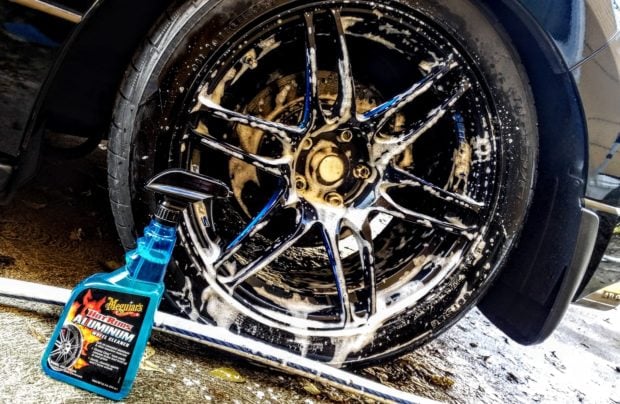 The next morning, I got back to cleaning the rest of the Acura with a sudsy bucket of Meguiar's soap and a microfiber mitt, and after toweling the entire car off, got to hitting the wheels with the brand's Hot Rims Aluminum Wheel Cleaner. Offered in chrome and OEM grade as well, this spray-on/rinse-off solution broke loose all sorts of caked-on crap, and after some towel time, my Wedsport SA-60M alloys looked better than they have in years.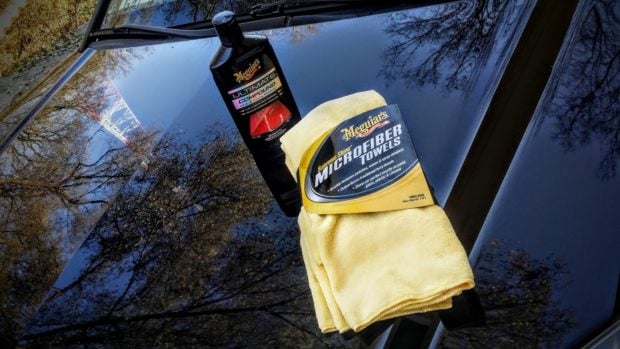 With all four rollers relieved of brake dust and road grime, I moved on to the rest of the vehicle, which was marred with all manner of malady. Although the soapy bath had removed the massive layer of crap that had been collecting on the car's candy shell, deep pockets of grit were still embedded in the body. But after a thorough round of polishing with Meguiar's Ultimate Compound (a product I've been using for years and can't speak highly enough about), the majority of the gunk that had eaten its way into the clear-coat had been removed, and I then focused my attention on the final round of winterizing.
In the past, "waterless wash & waxes" have left me somewhat short of impressed. They either don't clean as they should, leave a greasy film behind, or don't stand up to the test of time like traditional waxes. This is not the case with Meguiar's Ultimate Waterless Wash & Wax. Just spray it on, wipe it off, and marvel at the clean sheen it leaves behind.
Even weeks later, a quick swipe with little more than a microfiber towel reveals a glistening shine beneath that requires minimal touch-up time. While Meguiar's "Mirror Bright" detailing spray remains my go-to for interior and exterior touch-ups, this new product of theirs is a great paint protectant for weekend cleaning usage.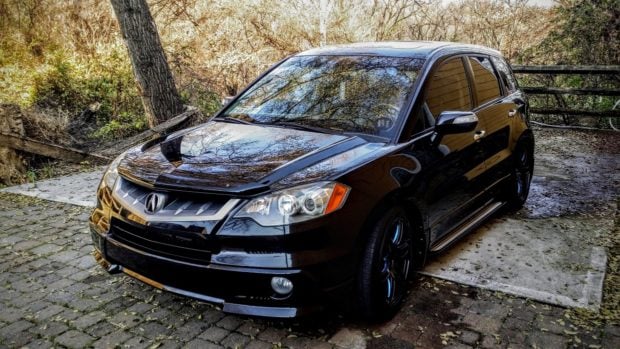 All told, both the wheel cleaner and waterless wash & wax did a superb job of cleaning up any leftover contaminants on the car after deep cleaning, both of which did so in a very speedy manner. Although the super sweet scent of the latter may be a bit potent to some, the convenience of having this level of cleaning quality in products that only require rinsing or wiping is outstanding.
With a protective layer applied to the outside of the family battle wagon, I am curious to see how these products hold up to the elements as winter progresses, and how much this round of preventative maintenance will help once spring arrives and another deep-clean is deemed mandatory.