2018 Kia Soul Turbo Review: Tiny Tremors and Animalistic Behavior
2018 | crossover | CUV | DCT | Dual-Clutch Transmission | kia | kia soul | Turbocharged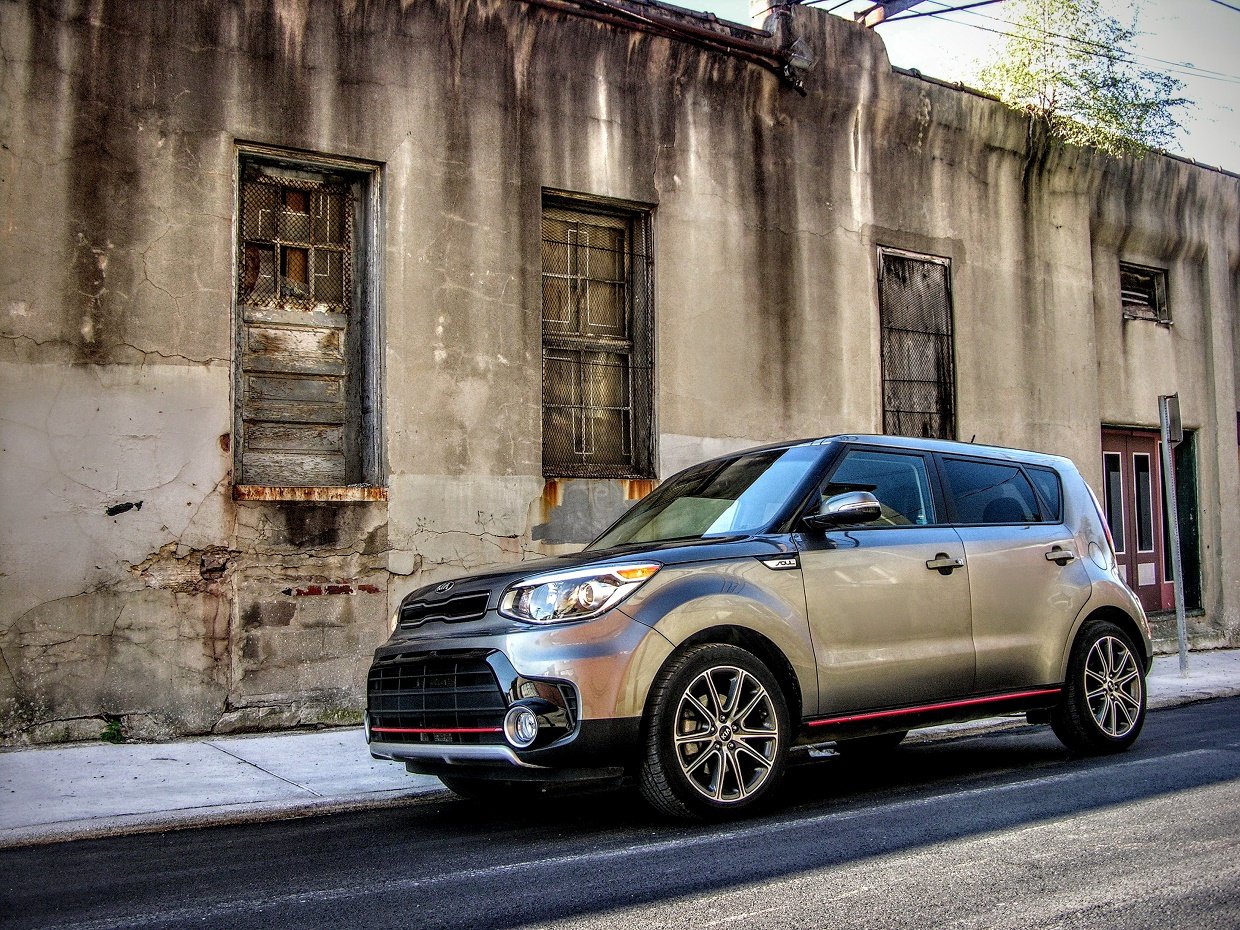 2018 Kia Soul Turbo

Engine: 1.6-liter, turbocharged 4-cylinder
Horsepower: 201
Torque (lb-ft.): 195
Transmission: 7-speed dual-clutch automatic (DCT)
Drive Configuration: FWD
0-to-60 Time (secs): 7.6
1/4 Mile Time (secs): 15.9
Top Speed (mph): 125
City/Hwy/Combined MPG: 26/31/28
Curb Weight (lb): 3,250
Wheelbase (in): 101.2
Total Length (in): 163.0
Width (in): 70.9
Base Price (USD): $22,650
Price as Tested (USD): $23,620
Drop all of the animal analogies and jabber about buyer interest for a moment and actually stare at the Kia Soul, and you will see a small, round-eyed automobile that if seen on the streets in 1959 would likely have been mislabeled as "UFO activity." It's the sort of smart, silly, George Jetson kind of car that cartoons are made of, and save for its overall lack of masculine lines, makes for a damn fetching little escape pod.
My time with the riotous little rocket ship came well spent, with extra trips to the corner store, daycare drop-offs and pickups, pilfering the wifey for a night on the town, and purpose-filled downshifts playing equal parts over the course of the week. Still just as little as before, but re-tuned and punchy to a point, everyone in the family enjoyed frolicking around in the playful little Soul.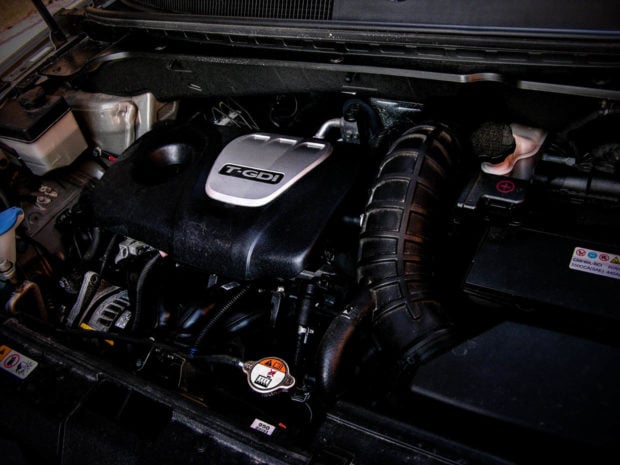 Aiding significantly in the vehicle's appeal is the word TURBO, something that the Soul has long needed and from 2017 forward receives. Intercooled forms of forced induction have spread like wildfire throughout the automotive sector in recent years, providing the pep to make new car buying even more enjoyable, and long term ownership costs an abhorable headache.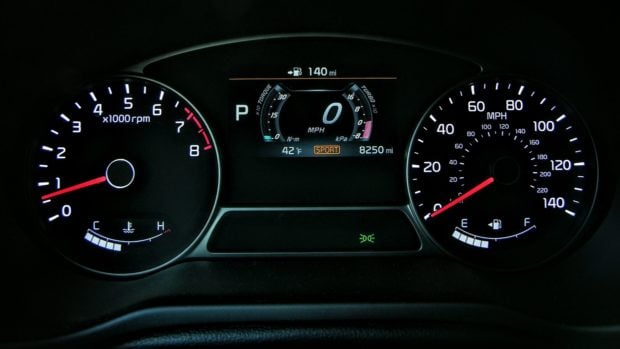 Gripes over engine simplicity aside, the boosted backside of the Turbo Soul is an easy one to see, because quite frankly, it truly is that zippy. Stomping the throttle in the bubbly CUV turns the 1.6-liter T-GDI engine into quite the ravenous rodent (Crap, didn't we agree to no animal analogies? My bad.), and for the typical daily voyage, it generates plenty of twist to keep things fun. From snagging parking lot spots and engaging Sport Mode for interstate overtakes, to scurrying around on-ramp curves, the Soul's controlled suspension setup and sporty powertrain offer reassuring, rollicking good fun.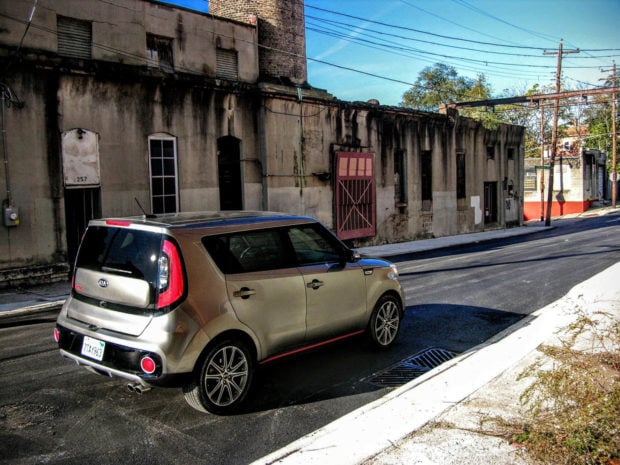 Although the absence of a manual option is a major disappointment, and the automatic version's lack of paddle shifters certainly cause me to curse, I find the 201-horsepower, 7-speed dual-clutch-combo to be quite competent. But smoothly putting a couple hundred ponies and 195 pound-feet of torque to the pavement is sometimes easier said than done, and the Nexen tires that came on the car caused all manner of complaint. Squealing even in the mildest of corners, slow to heat-up, and prone to wheel spin on inclines, I strongly suggest dumping this stock rubber for something else in a 235/45/R18 configuration, preferably with a V or higher speed rating.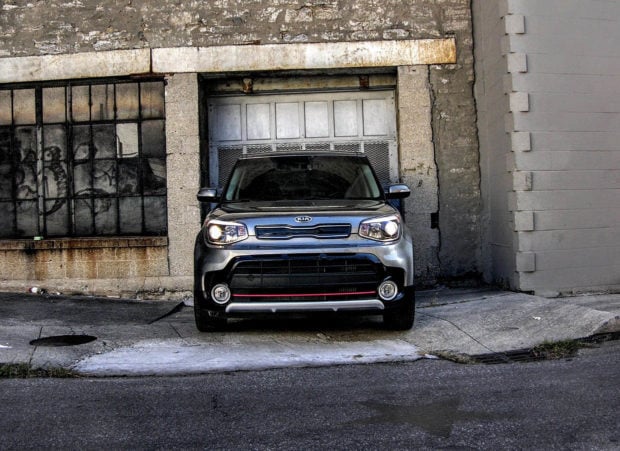 But there's so much more here than just some squealing tires and sporty alloys. The Soul's 18-inch wheels are appropriately proportioned and stylish, while the rest of the car features all manner of unique accent. From the bulbous rally fogs down bottom and the dual-tip exhaust out back, to the large rear LED lamps, the playful side of this CUV is impossible to ignore. All that bright molten striping and black accentuation screams "Soul," and although a tasteful wing touch and a more purposeful exhaust would be nice, I feel that the majority of Kia's budget-focused buyers likely won't care.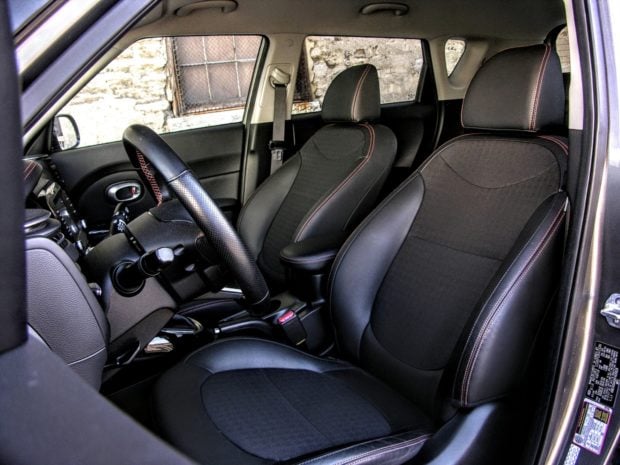 All of that two-tone accentuation skips into the interior like a bawdy Broadway ballad, a cleverly orchestrated, fully-connected main attraction for the masses. With three USB ports and a trio of 12-volt plugs on point, and an instantly recognizable UVO infotainment system installed with all of the latest updates, you get a basic, but entirely acceptable sweep of tech in the stripped-down Soul. Buyers also get an overall government crash rating of five stars, a reassuring statistic to remember when shopping for something so small in this price range.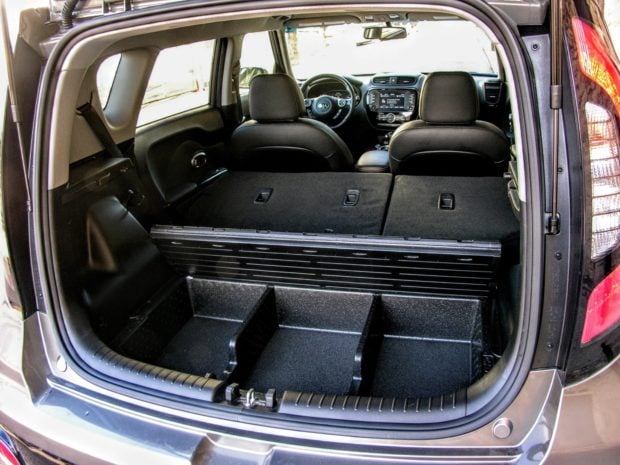 So instead of a massive tech sweep, what you get are surprises like a leather-trimmed, D-cut steering wheel, hidden storage bins in the back that are both large and perforated, and some dash tweeters that were clearly inspired by the turrets on Jabba the Hutt's palace. Other noteworthy touches include a colorful and intricately detailed digital driver display pod, which is limited but remains a joy to glance at while driving, and the fact that all of the cabin controls are both easy to access and self explanatory. You also get real leather and cloth mixed seating materials, class crushing amounts of cabin feels, and a cracking good amount of storage space for possessions in both buckled rows.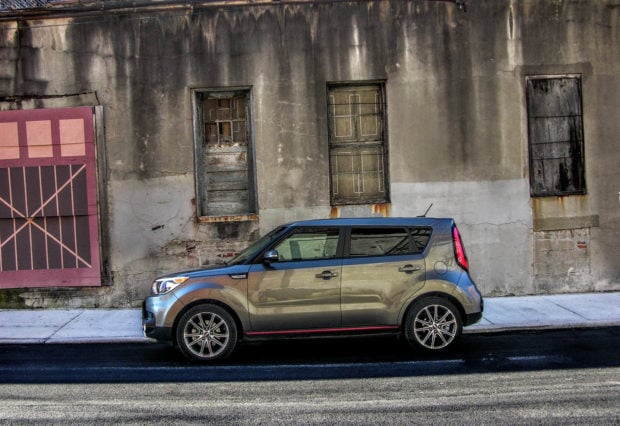 Back on the tarmac, traction to the front wheels is still giving me headaches in the rain, and for the first time I question why Kia has not equipped this car with all-wheel drive. Highlighting obvious concerns over cost and fuel consumption only makes the issue all the more annoying too. A lot of people would be willing to spare a couple grand and a minor MPG loss for added traction and peace of mind in a car that only costs $23,000, so why hesitate in giving buyers the best of both worlds?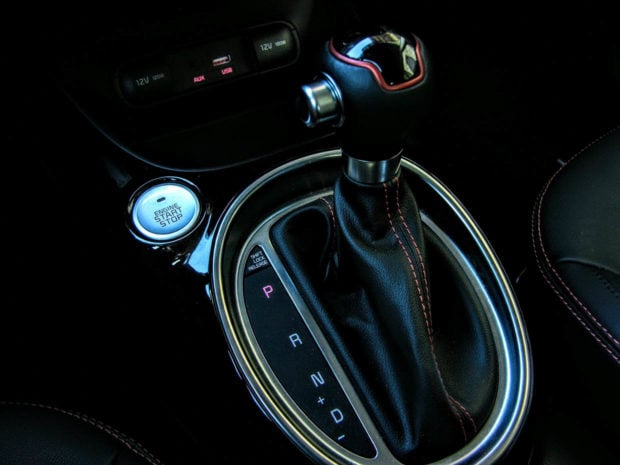 Hobbled by its front-wheel-drive exclusivity, lack of manual gear inputs, and sorely missed paddle-shifting perks, the Turbo Soul fails to offer crucial mechanical dividends, but makes up for them with character and commuter common sense. For inexpensive, sport-loving Kia hatch buyers it's either this or the Forte5 SX; a nicely revised five-door subcompact that comes equipped with the same 1.6-liter turbo, but ups the ante with a manual option. However, since the Forte5 SX falls to the Soul in regard to interior space, interest in the bubblier subcompact CUV continues to conquer the slighter machine in the sales department.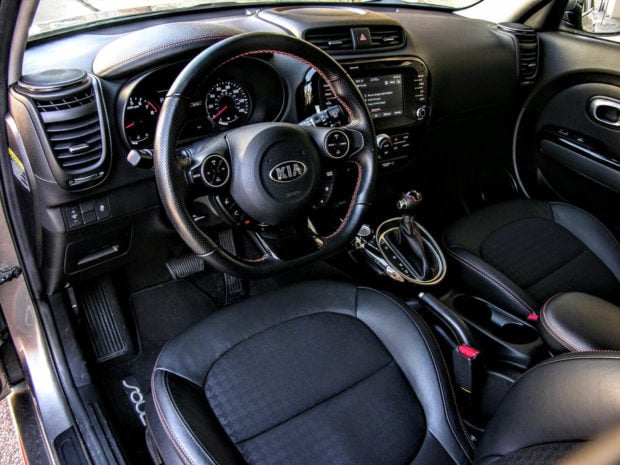 Perhaps the biggest quandary over the Soul isn't what is missing or how it performs, but whether or not you would actually buy one. Even with all of its flashy Turbo trim upgrades, tight brakes and suspension, and zealous throttle habits, this car is not an aesthetic winner for a lot of people. Taking oneself seriously while driving a Kia Soul is like eating a marshmallow-stuffed cupcake and trying to critique its subtler culinary nuances with a straight expression. Just smile, enjoy it for what it is, and know that someone will always be judging you based upon your life choices.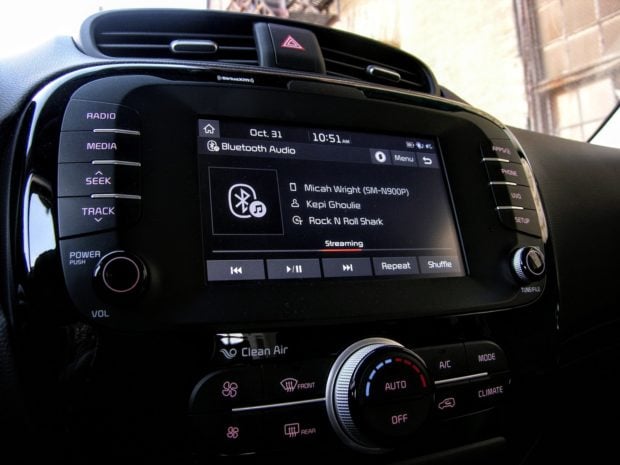 Personally, I say laugh it off and ask for extra whipped marshmallow fluff, and here's why. When it comes to smart decisions, nothing states superiority during the concrete-clad commuter mad-dash to the office and back quite like a subcompact crossover concoction, and much like previous models, the latest Turbo Soul taunts these facts. You just have to pay attention to notice them.