2018 Jaguar E-PACE First Drive Review: Small, but Mighty
2018 | jaguar | jaguar e-pace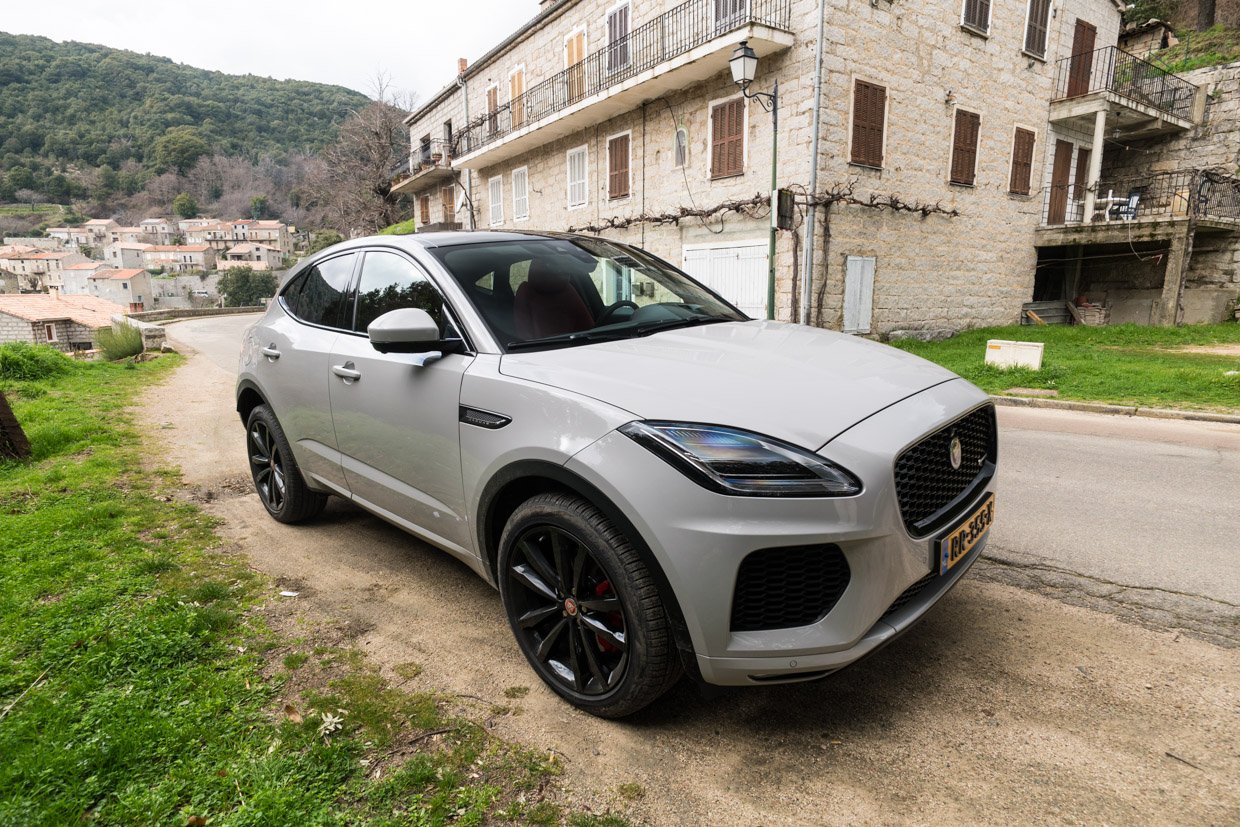 2018 Jaguar E-PACE R-Dynamic S

Horsepower: 296
Torque (lb-ft.): 295
Transmission: 9-speed automatic with paddle shifters
Drive Configuration: AWD
0-to-60 Time (secs): 5.9
Top Speed (mph): 151
City/Hwy/Combined MPG: 21/27/23
Curb Weight (lb): 4175
Wheelbase (in): 105.6
Total Length (in): 173
Width (in): 78.1
Ground Clearance (in): 6.4
Base Price (USD): $47,250
When you think back just a few years, Jaguar was almost exclusively a maker of luxury sedans like the XF and XJ. Fast forward to 2018, and the Brits not only make one of the best sports cars on the road, but they've released not one, but two crossover SUVs. When I reviewed the F-PACE back in 2016, I thought it was an exceptional first effort from a company which had never made a single SUV, and fully capable of keeping up with some of the best and sportiest crossovers on the market. Can Jaguar repeat the same level of excellence with release of its little brother, the E-PACE?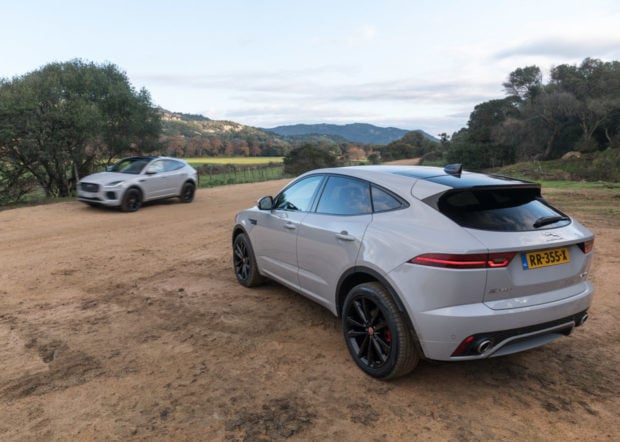 Jaguar was kind enough to ship me across the pond to the island paradise of Corsica, off the Southern coast of France. There, I was given the opportunity to put the compact crossover through its paces. Along the way, we traversed  some exceptionally twisty and turny roads on both paved unpaved surfaces, and even did a little sand-drifting.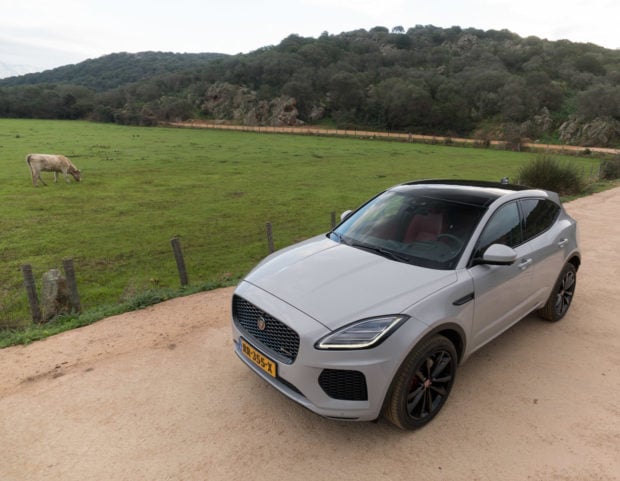 At first glance, the E-PACE looks like an F-PACE that's been put through the shrinker ray – but in some ways, its looks are even closer to the F-TYPE sports coupe than its crossover kinfolk. Measuring in at 173″ long, the E-PACE is almost 13″ shorter than the F-PACE, and it's actually a hair shorter than the F-TYPE, which clocks in at 176″. The short, wide platform gives it a playful, yet athletic stance, while the front end's bold shapes, large air intakes, and J-blade LED lights borrow quite heavily from the sports coupe, especially when compared to the looks of the F-PACE.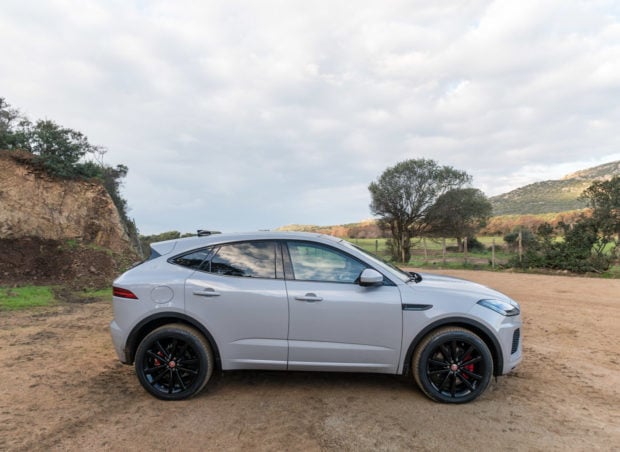 The E-PACE can be had in the US with one of two powertrains – both 2.0-liter turbocharged Ingenium 4 cylinder engines, with either 246 or 296 horses on tap. I spent all of my time in the R-Dynamic S model, which comes with the more powerful engine. All US-bound E-PACEs come with all-wheel drive standard, though the R-Dynamic versions get a sophisticated active driveline which you'll really want if you like the performance handling that recent Jaguars are known for.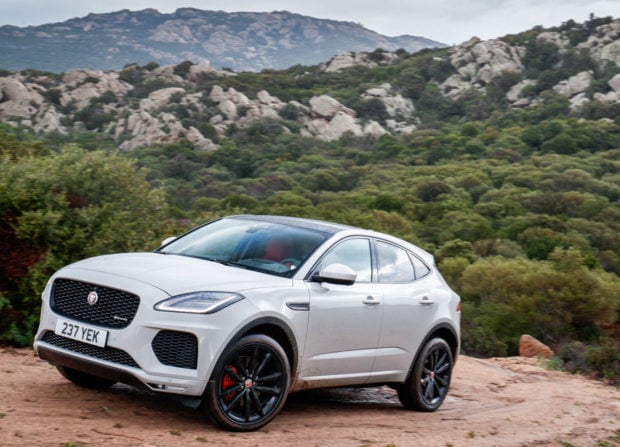 The 296 hp engine offers plenty of zip and zoom, launching the E-PACE from a dead stop to 60 mph in 5.9 seconds, with a top speed of 151 mph. There's a tiny bit of turbo lag, but it's barely worth mentioning. The 2-liter turbo is mated to a ZF 9-speed automatic transmission, which puts its best foot forward in this implementation. In some other vehicles, that gearbox has struggled with software issues and shifting glitches, but in my time with the E-PACE, it worked brilliantly, offering up smooth shifts, and holding lower gears into turns nicely. For control freaks, the aluminum paddle shifters let you participate in the gear selecting fun, though I found little need to take over when I had it set to sport shift mode.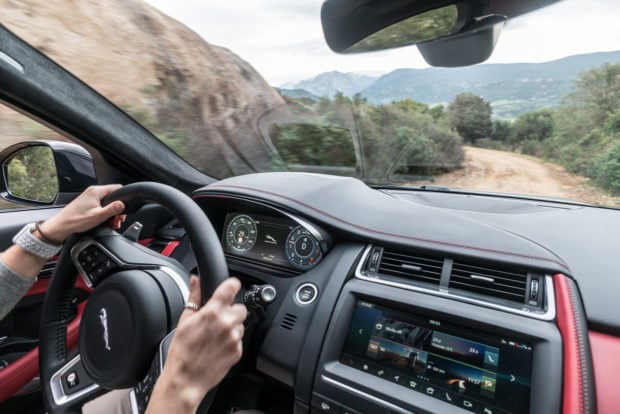 Thanks to MacPherson struts up front and a multi-link suspension in back, the little crossover handled quite nicely, with minimal body roll and overall much more sporty handling than either the Range Rover Evoque or Land Rover Discovery Sport, both of which are built on the same architecture. An optional adaptive damping suspension promises an even sharper handling in Dynamic mode, and a more compliant ride in Comfort mode.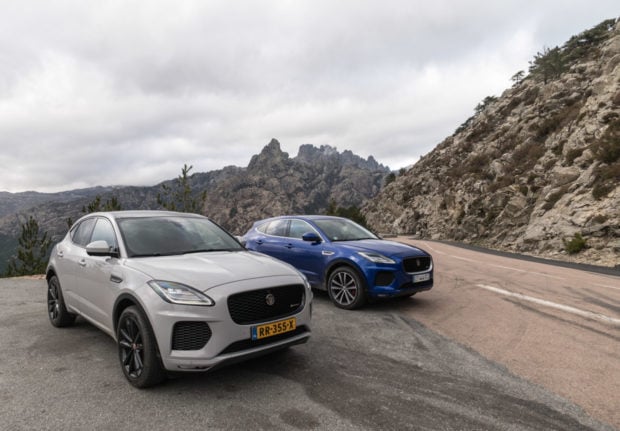 At one point on our journey, we missed a sharp turn and found ourselves off of our planned driving route. The road – if you could call it that – was a rough and rugged off-road stretch that was more Land Rover than Jaguar territory. But the E-PACE handled it with confidence and charisma, and got us safely back to our course after we reached the end of the backwoods path. One thing to keep in mind is that its limited 6.4″ ground clearance and lack of skid plates means you really don't want to try and conquer anything too rocky or steep.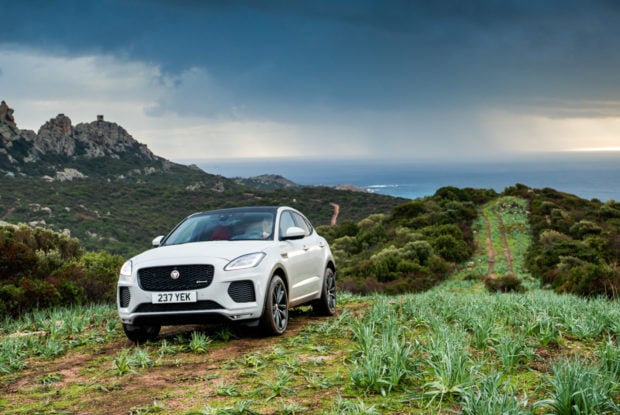 As we darted along the narrow roads and sharp switchbacks of Corsica, the E-PACE offered up a well-balanced, planted feel, without a tendency to either over- or under-steer. This is in large part due to the active driveline that's present in the R-Dynamic models. While the system defaults to a front-biased configuration, it's able to rapidly distribute nearly all power to the rear wheels, turning what otherwise might be an ordinary compact crossover ride into one that is sporty and agile. Torque vectoring can also apply braking to one of the front wheels while increasing torque to the opposite rear wheel, getting it around corners with ease and grace.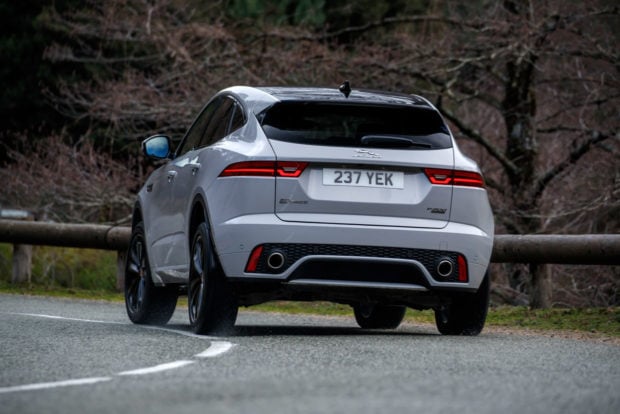 At one point during our day, I had an opportunity to thrash about in a course made of loose sand, and experienced firsthand how this system offers improved traction and confidence on challenging terrain, but also the ability to let loose and have some fun. Inducing oversteer and drifting the E-PACE was easily accomplished when coming into a sharp corner and accelerating through the turn. While its ride character is definitely not as sporty as the rear-biased F-PACE, it's still a whole bunch of fun to drive thanks in large part to that active driveline.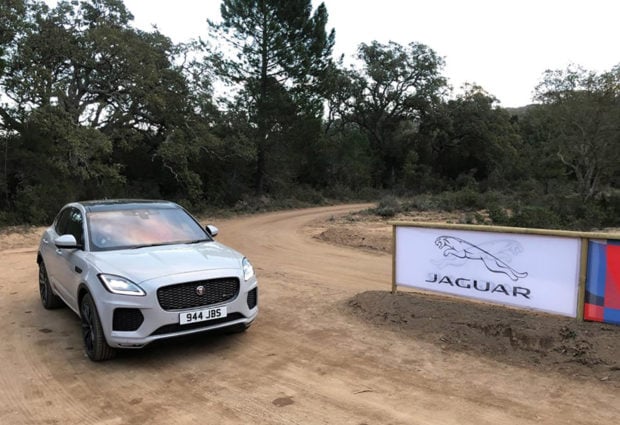 The inside of the E-PACE is quite a lovely place to spend time. I especially enjoyed the red and grey two-toned leather environs of my tester, with double red accent stitching throughout the cabin, and a fuzzy Alcantara headliner surrounding the panoramic sunroof overhead. There's heat and cooling on board for both front seat passengers and heat for the rear seat. Jaguar also did something that every modern car should – include a USB port for each occupant – five in all. Fit and finish of the interior is impeccable as well.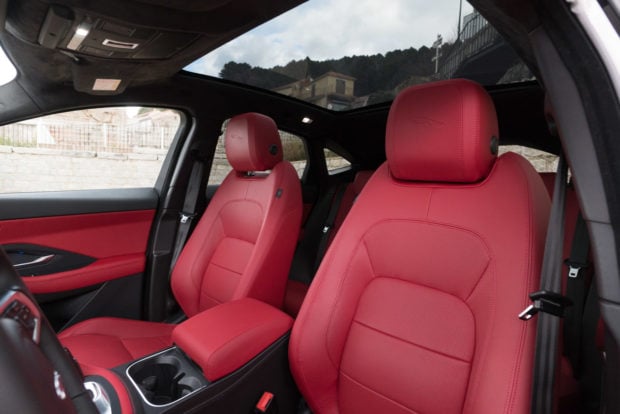 There's a definite emphasis on the driver's side of the cabin, something that's consistent with Jaguar's other performance vehicles, and thoughtful use of tactile inputs for radio and climate controls. Unlike some Jaguar models which have opted for a dial-based shifter, I appreciate that they went with the flightstick design found in the F-TYPE.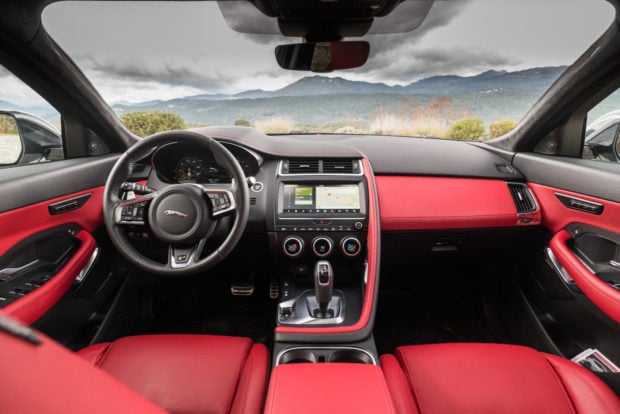 Just because the E-PACE is small doesn't mean that it's interior isn't thoughtfully laid out. There are plenty of smart storage areas, including a large tub that extends underneath the cupholders in the center console, and wide, deep door pockets which are big enough to hold those giant bottles of Gatorade. While rear seat kneeroom is a little snug for six-footers, it's fine for average height adults or kids, and when you fold those seats down, you get a capacious 52.5 cubic feet of cargo space.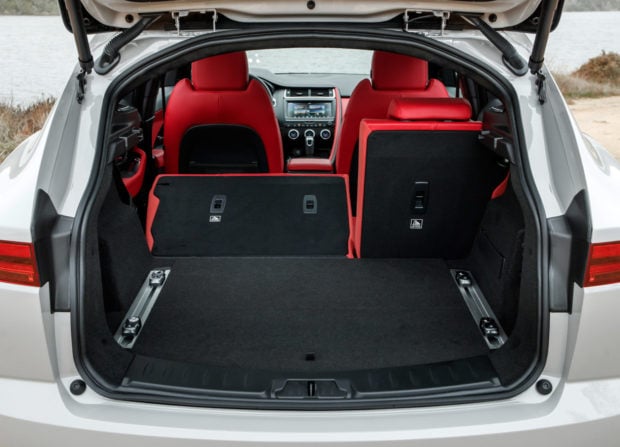 The cabin isn't just good looking and practical, it's comfortable and quiet. There's no wind noise, road noise, or vibrations to be heard – the only sound you'll hear is the occasional vroom of the engine as you push the pedal closer to the floor. There's definitely a satisfying grunt to the exhaust, though it's not the sort of crazy snarling snap, crackle, pop that the car that inspired it is capable of emitting.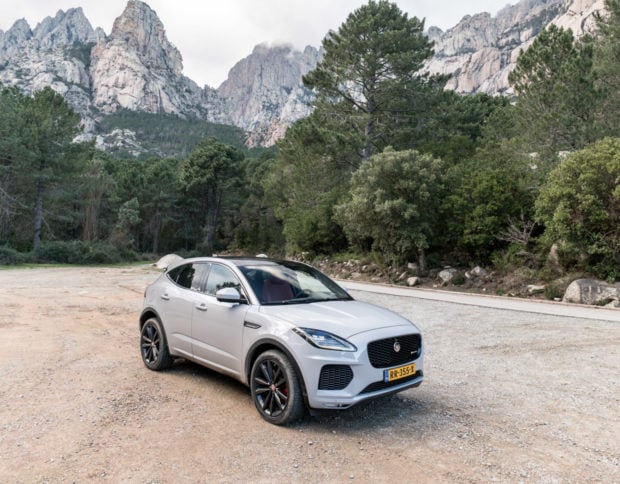 As I completed my time with the E-PACE and my all-too-short visit to France, I arrived at my destination with a smile on my face. The little British crossover had done its job admirably, offering up an engaging and connected ride, while enveloping us in creature comforts and fantastic styling both outside and in. Should you be shopping for a compact crossover like the BMW X1, Mercedes-Benz GLA, or Audi Q3, you should definitely put the E-PACE high on your test drive list. It's got way more personality, handles better than all three of those vehicles, just looks great doing it.