2019 Infiniti QX50 First Drive Review: Compress and Release
2019 | 4 cylinder | infiniti | infiniti qx50 | turbo | Variable Compression Engine | VC-T | February 2, 2018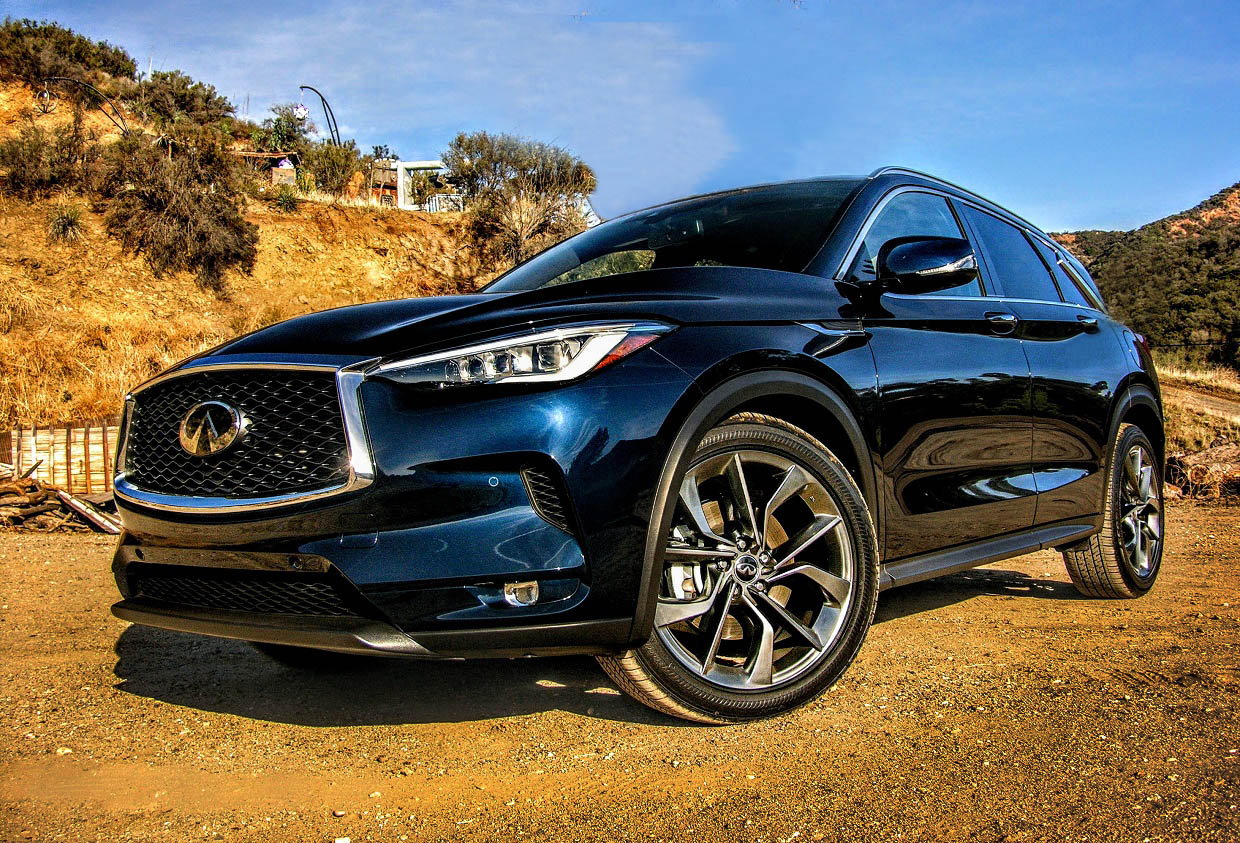 2019 Infiniti QX50

Engine: 2.0-liter variable compression turbo (VC-T) 4-cylinder
Horsepower: 268
Torque (lb-ft.): 280
Transmission: CVT
Drive Configuration: FWD or AWD
City/Hwy/Combined MPG: 24/30/26
Curb Weight (lb): 3,857
Wheelbase (in): 110.2
Total Length (in): 184.7
Width (in): 74.9
Ground Clearance (in): 8.6
Base Price (USD): $36,595
Price as Tested (USD): $64,085
If there were but one unsung automotive love song, it would be the one composed for the Infiniti brand. While other luxury automakers are busy vying for waltzes with high-brow buyers, the opulent Nissan counterpart bides its time, a ravishing wallflower with fire in its eyes.
It hasn't always looked at you this way, but then again, it wasn't always this confident either. The frumpy girl in the corner has matured into a dazzling woman in her late twenties, and she knows exactly what she wants. Let's not forget that this is the same entity that brought us the twin-turbo, 400-horsepower Q50 Red Sport, the slinky Q60 coupe, and the utterly astounding Q Inspiration concept. Infiniti is turning itself into a performance powerhouse, and while its transformation may be a slow one, it is happening.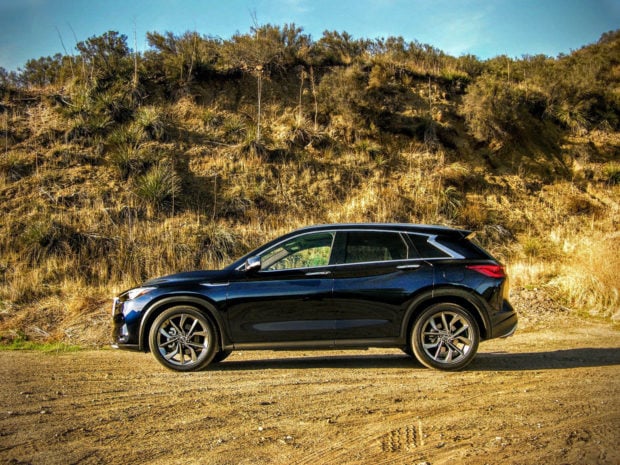 Often overlooked, yet growing by a 9.6% margin globally, the brand that brought us everything from the bizarre and bulbous J30 to the brilliant G37 Sport Coupe is now on its second wind, and boy does it have some fun stuff in store. Take the timely arrival of the CUV seen here, which may look stylish and sophisticated, with its 20-inch alloys and tightly drawn beltlines, but beneath all its visual revisions packs a completely different punch than its predecessor.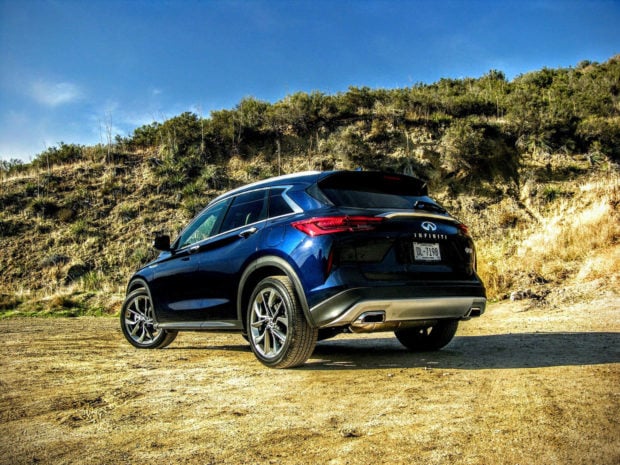 Folding a short bonnet over a high-tensile strength frame and then packing a variable compression turbo motor up front has given Infiniti not just a better QX50, but a center attraction at the CUV dance party. Sparking a stunning contrast to the old version and shedding 100 pounds, this girl has changed up her approach in a major way and is now confidently gliding toward the dance floor. Here are a few reasons why you are going to want to take the QX50 for a spin and potentially agree to a long-term relationship.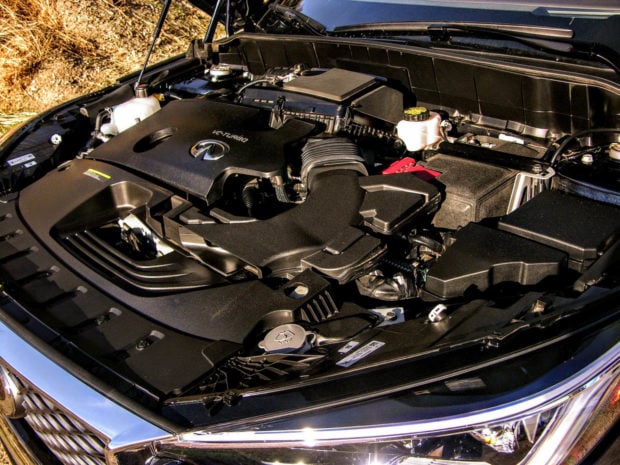 Before we get to the design side, and the subsequent list of technology and luxury allotments, let's discuss the performance end of things. I have been both intrigued and excited since the moment the news broke of Infiniti's planned launch of a variable compression turbo engine. By installing a pivoting actuator arm to the bottom of the block, engineers have found a way to adjust compression on the fly in less than 1.5 seconds, subsequently creating more low-end power while bumping fuel efficiency by 35% over the old 3.7-liter model.
So what if it has 57 fewer ponies than the engine it replaces? The turbocharged inline-four packs both direct and port fuel injection, a head-integrated exhaust manifold for increased scavenging, and specialized cam phasing when in sport mode for even more thrills. You also (finally) get paddle shifters, and a lot more go from down low, with 280 pound-feet of torque tapping in at 1600 RPM instead of at 5200 like in the old model. In this lighter, far nimbler rendition, that translates to a feistier, far more balanced approach to power. A power move that the average luxury CUV buyer can use and enjoy without a whole lot of drama.
Other aspects of this car's powertrain worth noting include how the engine's unique design have made balance shafts completely obsolete, and that the use of an electrical signal emitting active torque mount now decreases driver fatigue, engine noise and vibration. There also are some nifty GT-R touches like mirror-coated cylinder bores for increased longevity and heat dispersion, with all VC-T motors being assembled in the same factory in Yokohama. With the brand's 7 year, 70,000 mile powertrain warranty backing things up, the long-awaited variable compression solution looks ripe for sweeping buyers off their feet.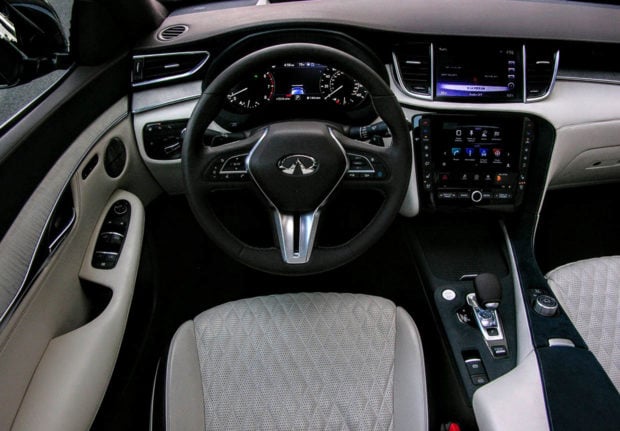 Instead of going off on another diatribe about the joys of quilted Zero Gravity seats and smart interior design cues, let's now turn toward the tech side, with Infiniti's ProPILOT system playing center stage. Typical semi-autonomous safety suite set aside, the one big upgrade this car has over the rest of the brand is its use of Direct Adaptive Steering (DAS), an electric feedback function that firms-up when spirited driving and/or sport mode are engaged. Penned as the "world's first digital steering system," I find that this setup may take some getting used to since it tends to react faster than you do and can be neck-snappingly sharp when pushed.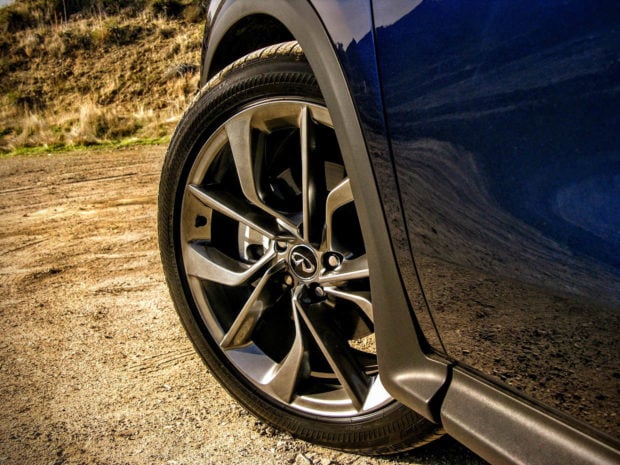 While on the topic of nimble footwork, let's discuss the maneuverability of the overhauled QX50, because buyers will likely find that portion to be quite the pleasant surprise. Despite sticking with a non-adaptive damper setup in an independent/multilink layout, pitch and roll in this luxury-grade ride remains moderate, and planted control can be felt with every corner crested. It's a very balanced, if somewhat soft suspension setup that will provide exactly what the typical millennial or empty nester needs: A quiet, slightly sporty ride that rests right in the middle.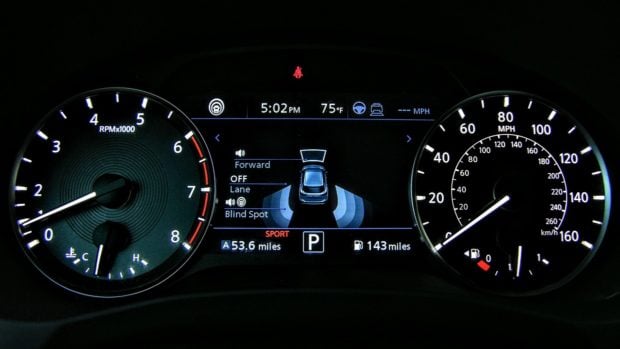 Sliding the CVT snooze box into fun mode and skipping down a "gear" via paddle shift adds a jolt of sport to the drive, with torque taking the lead when it comes time to tango. While this generation's engine whine and wispy exhaust notes are undoubtedly bland when compared to the thunderous V6 version it replaces, I still found myself having fun in the latest QX50. Sure, it may take a sec for the actuator arm to extend and for sport mode to sync up, but once dialed in you get one hell of a taught little CUV that loves to break it down on the dance floor.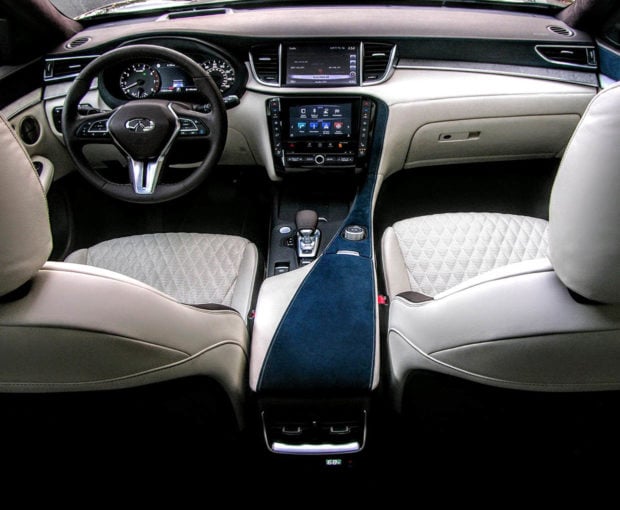 With the southern California landscape whizzing by, I turn to the QX50's interior and smile with admiration. Maximum cargo yields on this thing are 65.1 cubic-feet, which is a massive 15 cubes over the old model, and well above both the Lexus NX and RX, Audi Q5, BMW X3, and Mercedes GLC. Toss in a ProACTIVE safety suite and a luxurious Sensory sweep, and the Autograph Edition gets a bunch of function to go with all of that white leather and navy blue and brown Ultrasuede. It's a spectacular, beautifully stitched space, with sizable under-storage smarts and contrasting colors striking a near-perfect balance between beauty and brains.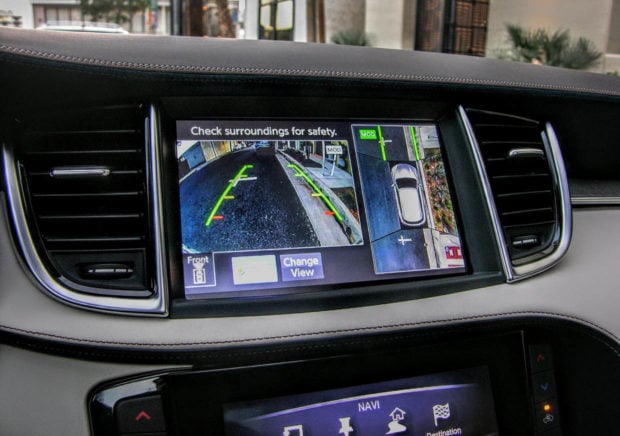 Nevertheless, the QX50 does stumble at times too. When compared to Audi's Virtual Cockpit, FCA's Entune offerings, or JLR's InControl infotainment system, Infiniti's revised InTouch connected services are still quite a bit behind the curve. Slow to respond at times, graphically uninspiring, and unable to be projected digitally within the gauge cluster like some of the competition, this portion of the puzzle continues to be an albatross for Infiniti and Nissan alike.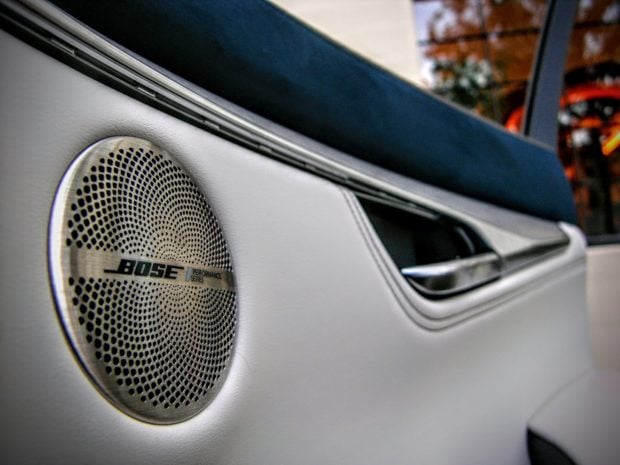 There also are issues with the rear bench plastic pull tabs, which feel prone to premature failure, and although they can slide for increased leg room, the rear seats themselves are quite heavy and require some strain to flip back upright. Other complaints include the 17-speaker Bose audio system favoring dash projection even when adjusted, and how unlike the old QX50, the bumper-integrated exhaust ports on this generation are purely for show.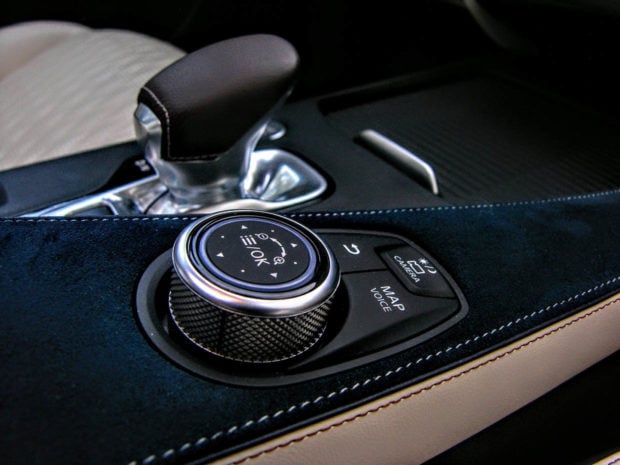 Oh, and let's not forget that once outfitted with all of the package options, a top-tier AWD Essential version hits $65,000, a hefty price even by luxury standards. There also is an issue with the ProPILOT/ProASSIST/ProACTIVE safety packages, which may do a solid job of keeping you in your lane while following someone at a safe distance, but unlike Cadillac's "Super Cruise" technology, still requires the driver to cup their hands around the steering wheel at all times. It's a good system in almost every regard save for this last fact, especially since maintaining extended arms really doesn't do much to alleviate driver fatigue.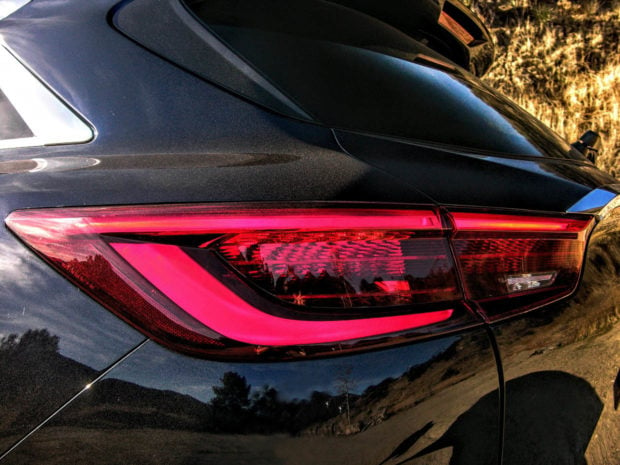 While I will save personal opinions as to why Infiniti should make a sport model of this CUV for another day, I must admit that their team has done a splendid job of turning the Qx50 around. Do I miss the old V6 rumble and 7-speed gearbox? In certain situations, yes I do. Does the new model's approach to torque, efficiency, refinement, cornering fun, and showroom appeal positively crush the old version? Without question.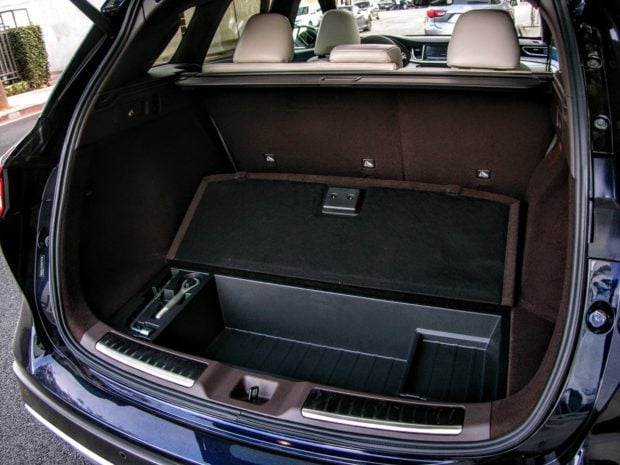 For the most part, the all-new Infiniti QX50 fixes all of the issues with the old version and adds a massive amount of practical value to the bottom line. Everything from a more intuitive, enthusiastic driving experience, complete with semi-autonomous safety smarts, to the fantastic use of interior space and stunningly stitched materials make this one of the best CUV options ever created. Nissan's luxury arm has officially extended its actuator and is asking if you are up for an all-new kind of open-road rendezvous. I strongly suggest you take her up on the offer.