HD Black Bow Tie Affair: Chevy Silverado 4, 5, and 6 Class Trucks
Chassis Cab | chevrolet | chevrolet silverado | chevy | diesel | Duramax | Medium Duty | Work Truck | March 8, 2018
Mere months after witnessing Chevrolet reveal its all-new generation of Silverado trucks at the Detroit Auto Show, the Bowtie Brand has returned for another round of ruggedness. Referred to simply as "Silverado Class 4, 5, and 6 chassis cab trucks," the American monsters pictured here are the brand's first swing at hardcore conventional cabs, and are set to kick-start into production later in 2018, with order guides arriving this spring.
Unveiled at NTEA The Work Truck Show, an annual industry event in Indianapolis, Chevrolet admits that it plans to continue following the same vein as the regular Silverado by making these versions America's "most customer-focused trucks." Over 400 Chevrolet dealers are slated to carry these new work trucks, a major push for a brand that has already seen exponential growth in recent years.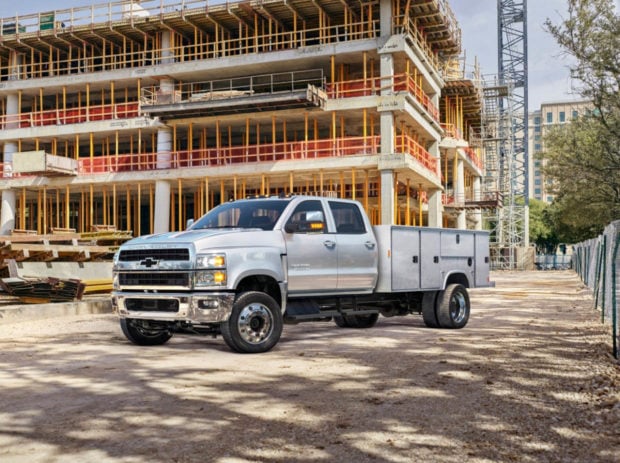 Ed Peper, U.S. vice president for GM Fleet operations explains. "By customer-focused, I mean work-ready trucks that are easy to upfit, easy to drive, easy to service, and easy to own." By gleaning input from fleet managers, truck drivers, upfitters, technicians, and dealers, Chevrolet says that it was able to tweak the genetics of the forthcoming Silverado line to the point of perfection, and for a multitude of reasons.
"It's not just numbers on a spec sheet that make us different and better," says John Schwegman, director of Commercial Product and Medium Duty at GM Fleet. "These new Silverados are designed to solve the most common upfit and ownership challenges fleets have with many of today's medium duty trucks."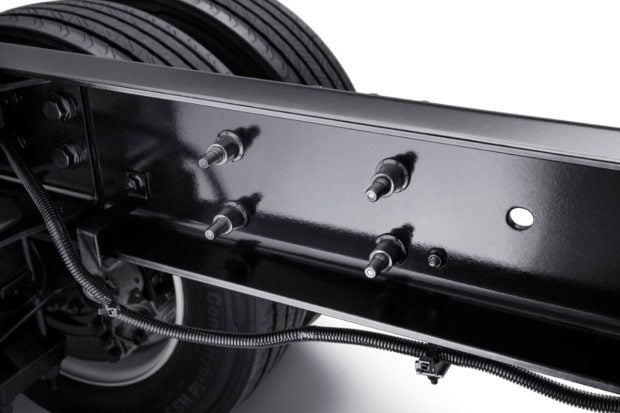 This meant that every issue pertaining to the expense and complexity of truck upfitting needed to be considered. Frame rust and body mounting interference concerns were eliminated via the use of a factory-painted frame and one-piece frame rails, which allowed clean top sections and frame-encapsulated fuel lines. Short frame rail issues from the rear axle back are no longer a problem either, thanks to seven Cab-to-Axle (CA) options ranging from 60 to 162-inches, alongside five axle-to-back-of-frame (AF) lengths that increase in 8-inch increments.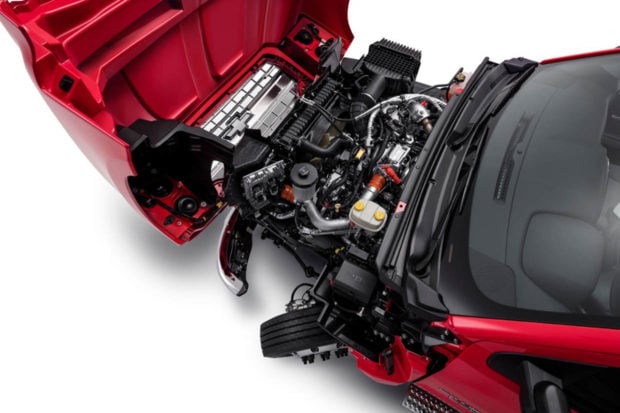 In regard to servicing, the fact that the average HD truck hood design requires a mechanic to use a ladder or remove components in order to access the engine demanded immediate amendment. By utilizing a lightweight, front-hinged "clamshell" style bonnet, these new Chevy work trucks eliminate many of the service woes of yesteryear and pave the way for new design advancements.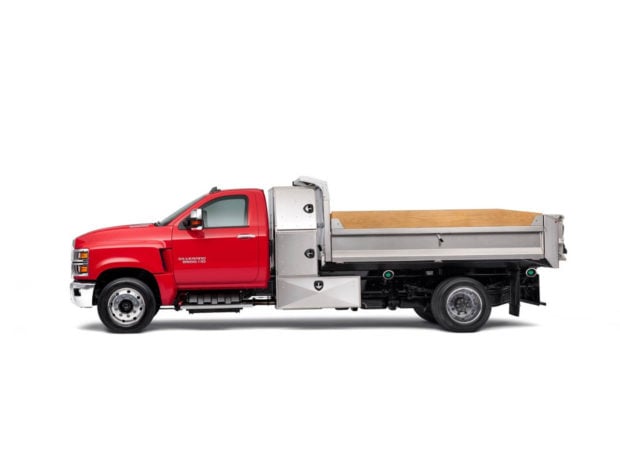 As for driving difficulty, sub-par visibility, poor low-speed maneuverability, and turning radiuses reminiscent of Panzer tanks, engineers had to really put some thought into how Silverado Classes 4-6 should look and behave. This meant that when designers crafted that clever clamshell hood, they made sure that it was sculpted for maximum road visibility, and with up to 50-degree wheel cuts on deck, turning became easier and more precise than the competition.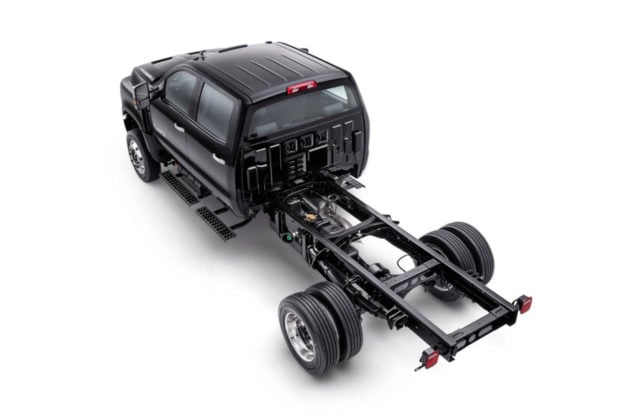 Meanwhile, an available, factory-installed rear air suspension setup keeps the ride smooth, while triple-sealed doors and huck bolts within the frame add superior sealing power, reducing vibration and noise in the process. The team even went as far as moving the diesel exhaust fluid (DEF) tank to the passenger side of the truck in order to eliminate refueling risks, a surprisingly prevalent issue with diesel-powered vehicles.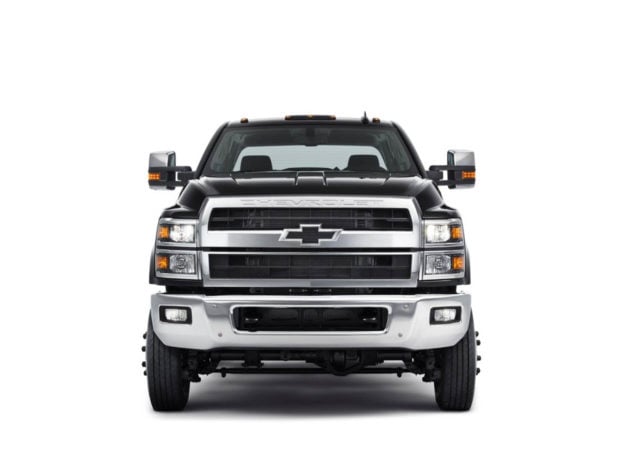 Available in both 2WD and 4WD versions, the 6.6-liter Duramax diesel churns out 350 horsepower and 700 pound-feet of torque, and will come attached to an Allison transmission that features a Power Take Off (PTO) option. But don't just get tied-up on power numbers, because the new Silverado chassis cab line is already being revered as "the most connected commercial truck available." Tech options include OnStar and Commercial Link accessibility, built-in 4GLTE Wi-Fi hotspots, wireless charging, Bluetooth connectivity, as well as Apple CarPlay and Android Auto compatibility.
With America fawning over trucks like never before, Chevrolet's existing triple-truck attack has made it the leader in pickup deliveries four consecutive years in a row, with the Colorado, Silverado ½-ton, and full 1-ton models leading the way. By adding both commercial and government products to its lineup, Chevy has created a way in which it can advertise itself as a "one stop shop" for fleet managers, industrial workers, and small business owners.
"It's a fact," Peper says, "The more choices we offer truck customers, the more we drive sales across our entire portfolio. That's because brand and dealer loyalty run deep in this business."