Mercedes-AMG Petronas F1 Paddock LEGO Kit Review: One Heavy Build
amg | car toys | f1 | formula 1 | lego | mercedes-benz | Paddock | Petronas | toys | March 11, 2018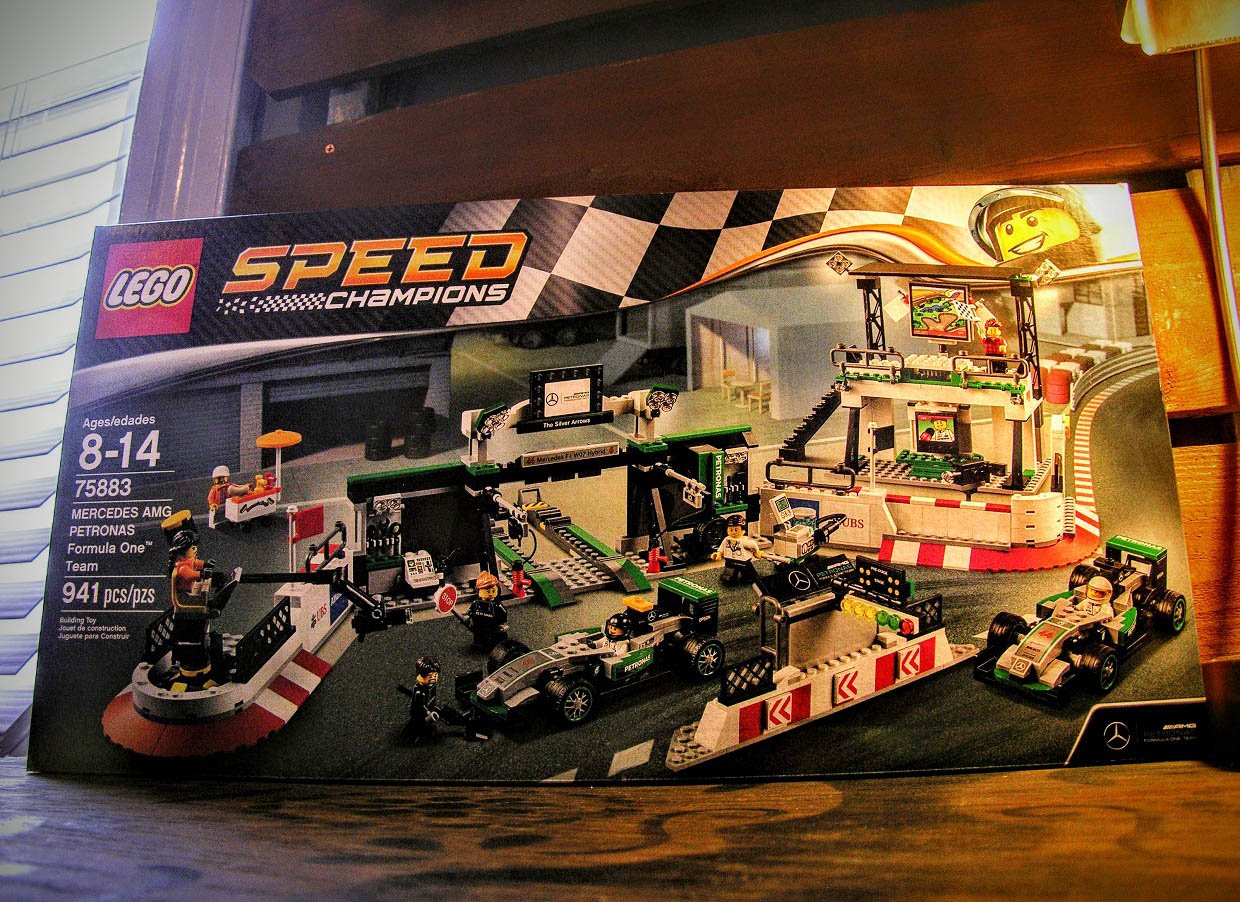 When I was recently handed some life-changing health news, along with a phone call a few weeks later explaining my grandmother's passing, I flat-out lost all hope, and everything in my life was suddenly put on hold. The woman who had in essence raised me from a baby boy had just left me with little more than memories, and I was not feeling physically well at all.
But just as thoughts of my grandmother Fleta's death and my own terrible misfortune began to take root and fill me with darkness, memories of times well spent with the most wonderful person I had ever met came to clear away the shadows. To say that Fleta Watson was special would be an understatement of massive proportions. She was the one who made sure I went to art openings when I was little more than two, encouraged me to graduate college when I felt like quitting, and perhaps most importantly, gifted me with copious amounts of LEGO bricks every birthday and Christmas.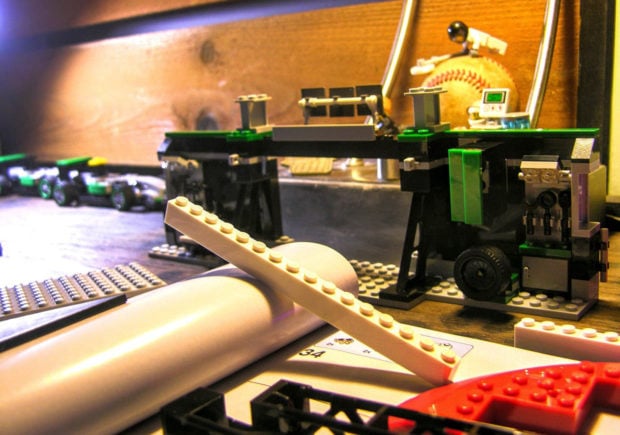 I have gone to some length in the past to discuss how later in life those LEGO kits fostered my love for all things automotive, yet I never expected to someday be scared of starting one. While tackling a 941-piece build like the one pictured here may sound daunting to the unskilled LEGO Maniac, it was the fact that I was tearing up every time I touched the damn box that caused me to hesitate. Toys are supposed to be fun. Not an emotional metaphor for cliche notions about "best laid plans" and other written forms of uninspiring ilk. So the Mercedes-Benz AMG Petronas F1 LEGO kit sat, all the way up until the day my hands felt steady enough to open it and begin the build.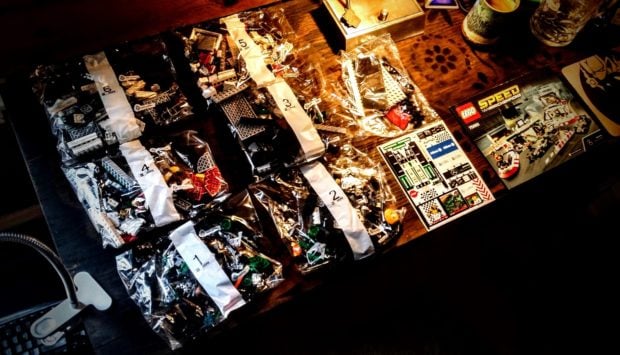 Navigating nearly a thousand bricks and a half-dozen build stages is a daunting endeavor to say the least. A notion that becomes even more difficult when it conjures forth images of someone whom you have loved dearly, and lost all too recently. But after laying out all six bulging bags, and skimming the 146-page build book, I felt confident in my capabilities as a LEGO fanatic once more. Having everything broken-down into automobile and building structure sections helped immensely, and after assembling both race cars, I was sure that the rest of the build would fly by.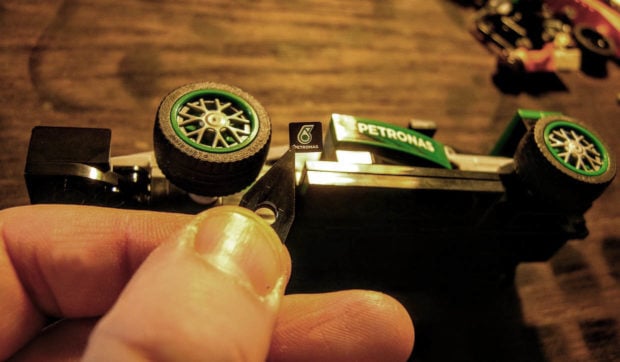 Despite featuring a singular axle shaft design (as opposed to an independent layout), both vehicles roll surprisingly well and are brilliantly detailed in the aero department. They also feature disconnecting noses, so interchanging front ends after a collision is completely feasible and quite easy. Just be prepared to break-out the needle-nose tweezers at some point, because much of the livery requires the placement of extremely small stickers.
Moving on to the core part of the paddock, you find yourself submerged in a section of the kit that features a splendid array of shop tools, lighting touches, and vehicle diagnostic machines. From monitors and keyboards, to tool storage solutions and a functional tire balancer, the care that went into arranging this portion of the set is utterly outstanding and a lot of fun.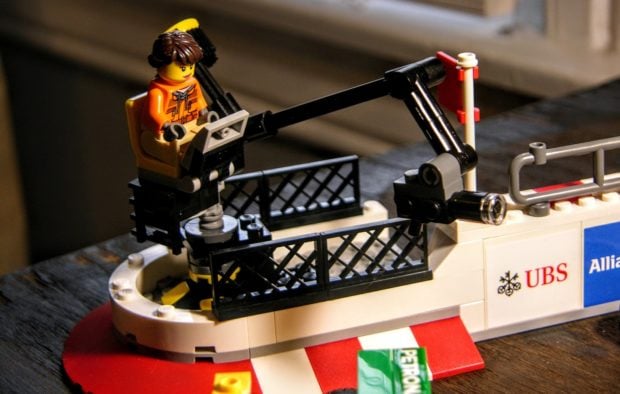 With that area out of the way, it was time to tackle the camera equipment end, which in a way, is the coolest part of the kit. While assembly yielded a single broadcasting camera with some nifty details and moving components, it's the boom-armed broadcasting contraption toward the end of the paddock that deserves the most praise. Self-leveling, loaded with both a ladder and a command center, and featuring 360-degrees of rotation for unsurpassed race coverage, it's a unique approach to an F1 staple that works just like the real thing.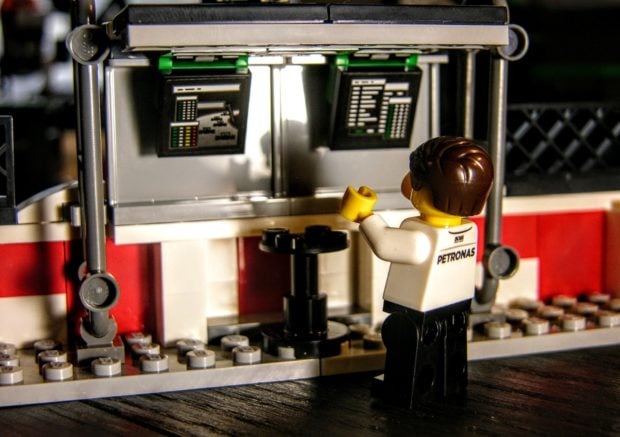 From there we head over to the control room, which features the kit's first notable design flaw. With its pivoting staging lights and arrowed straightaway wall, this crucial piece of any paddock looks the part, all the way up until you realize that the stool's placement is entirely too close to the overhead monitors, thus preventing the AMG roof from closing fully. In order for the pit chief to see what's going on and the roof to close as intended, he would need to lean back considerably, making for quite the awkward pose. This miscue could be easily fixed via the addition of a flat ground brick, which would allow the stool to move back a bit, while giving novice builders easier accessibility to the control room.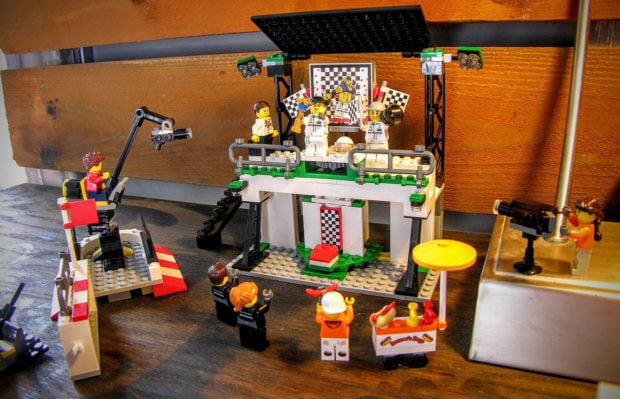 After assembling the other end of the paddock, which is more of a barrier than anything, it was time for the grand finale: The Podium. Featuring stairs, girders, lights, a pivoting roof, and a gear-driven big screen that spins to show either live coverage and interviews, or victorious celebrations and a trophy, this is without question the tallest section of the entire Petronas AMG F1 kit.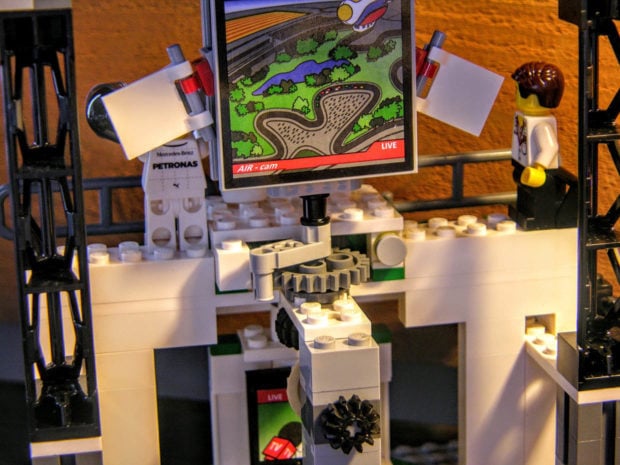 Despite having a great layout and attractive structural elements, lining-up the gears so that both screens face straight forward once spun is a royal headache. After tinkering with various settings I eventually realized that nothing would make the lower portion match-up with the upper screen, docking a fraction of a brick from my overall score in the process.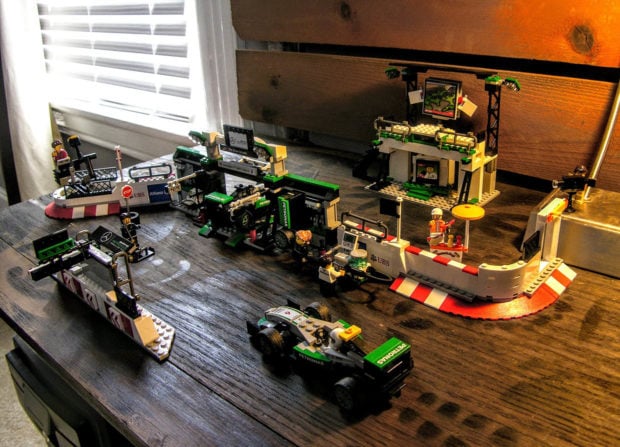 Fully assembled and ready for play, the Mercedes-Benz AMG Petronas F1 Paddock looks, and for the most part, performs extremely well. The hinged design on each end allows builders to reconfigure both entrance and exit to their liking, and the surplus of paddock tools are a lot of fun when someone pulls in for fresh tires or a diagnostic scan. While seeing a race car pull into the garage is never a good thing, the fully functional lift, quick-disconnect noses, adjustable lighting, and rotatable tires all make for a very realistic and enjoyable play experience.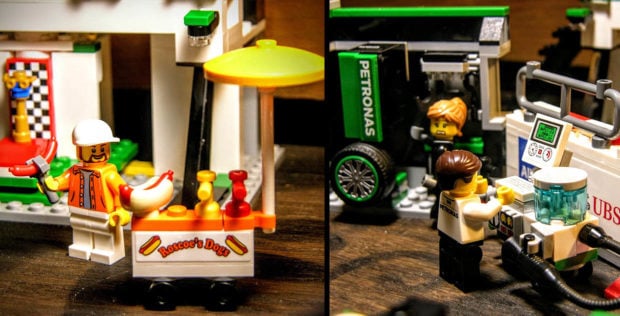 My favorite portions of this set outside of the garage include the rolling PSI diagnostic machine, the way in which tool storage has been addressed and illuminated, that self-leveling camera setup, and Roscoe's undeniably delicious hot dog cart. I also am a fan of how LEGO designed both Petronas cars with livery and aero design in mind, two crucial components that roll extremely well and totally look the part. So while the silly stool position in the control room and OCD-aggravating podium displays certainly earn this set a slightly lower score, I still have to give it 4.5 out of 5 bricks for creativity, authenticity, functionality, and fun.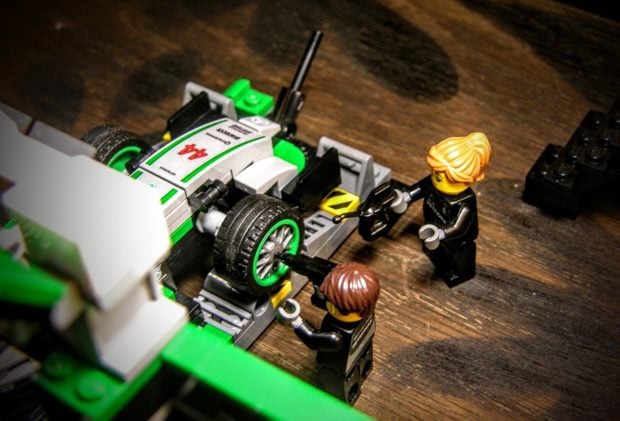 Losing Fleta was one of the most emotionally deflating experiences I have ever felt. Yet despite her departure from this plane, the subsequent months have reminded me of what I am capable of as a journalist, photographer, blogger, husband, and father.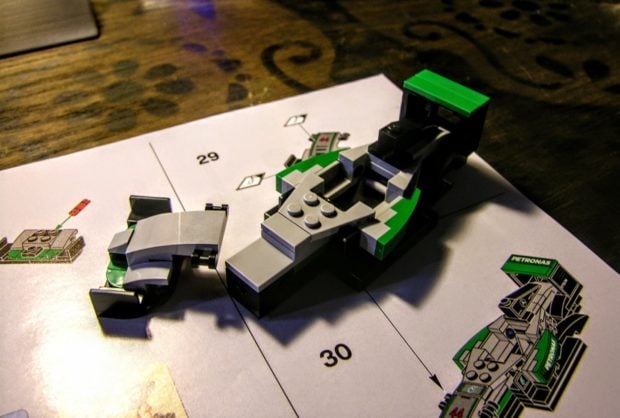 This LEGO build provided a way for me to work through my grief and develop some sort of closure in the process. It may have been one of the most challenging things I have ever had to face save for calculus class, but upon completion, made me feel far better than when I began. Interestingly enough, this particular build also taught me a valuable lesson about LEGO, something that had never occurred to me until now.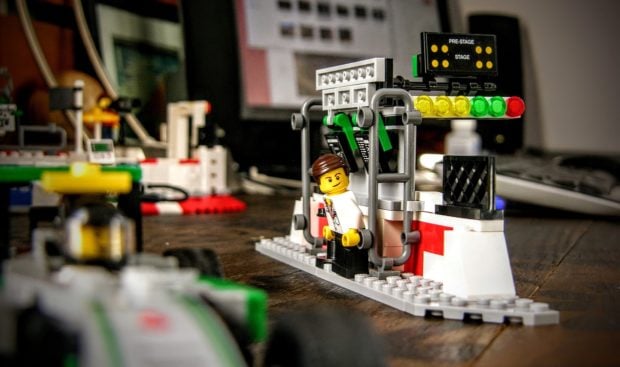 The LEGO Group has always been about fun, because… well… they're a toy company. But what most of us don't consider, is that from those early Duplo days, all the way up into Technic time, this company is helping our children learn and grow like no other through creativity, problem solving, and careful instruction. Isn't that what life is all about? Turning life's challenges into ways in which we can better ourselves, while maybe having a bit of fun along the way? My grandmother Fleta certainly thought so. Maybe, I should too.