2018 Mercedes-Benz E400 Coupe Review: 2-Door Perfection
2018 | mercedes-benz | mercedes-benz e-class | March 31, 2018
---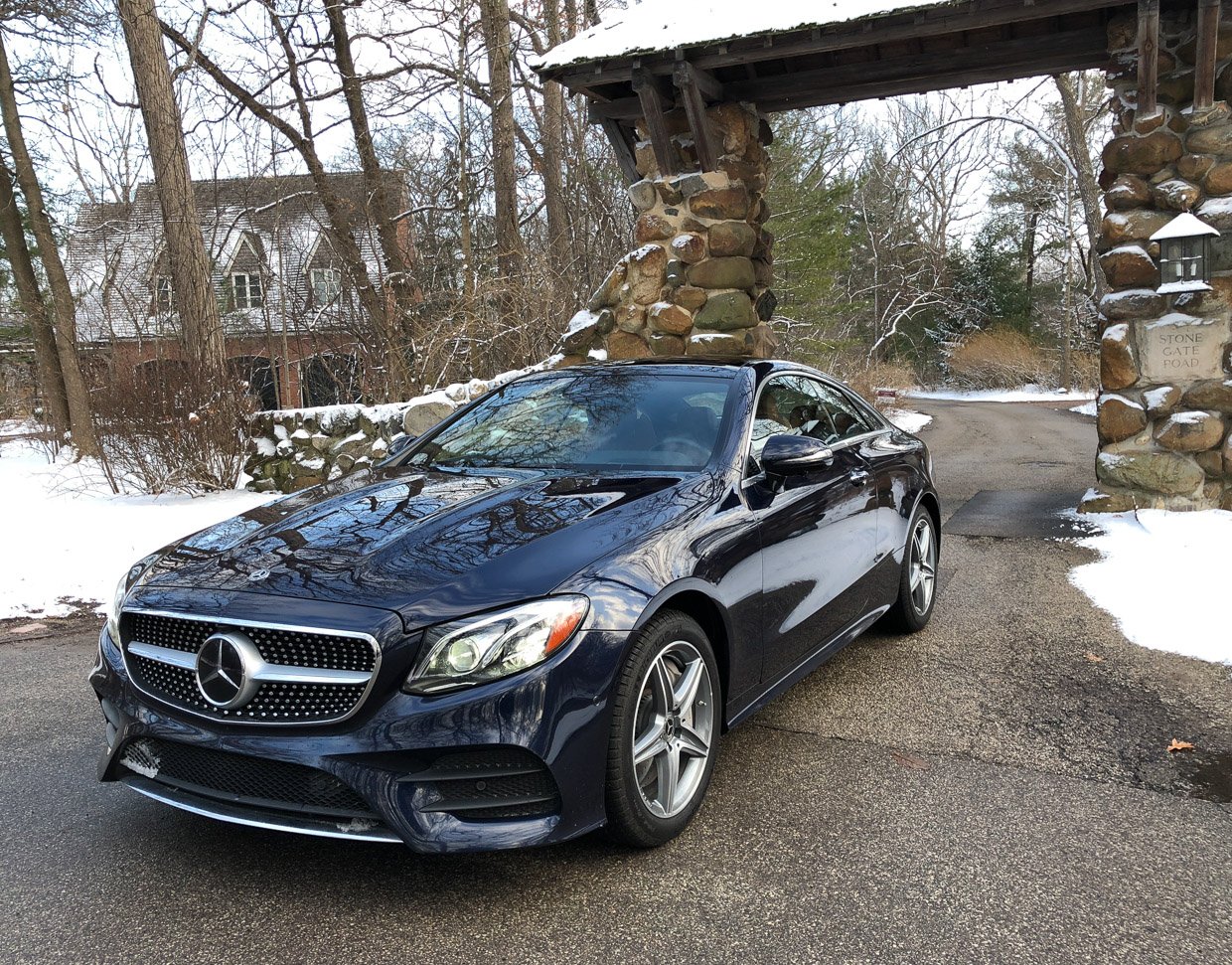 2018 Mercedes-Benz E400 4MATIC Coupe

Engine: 3.0L Bi-turbo V6
Horsepower: 329
Torque (lb-ft.): 354
Transmission: 9-speed automatic
Drive Configuration: AWD
0-to-60 Time (secs): 5.5
City/Hwy/Combined MPG: 20/26/22
Wheelbase (in): 113.1
Total Length (in): 190.0
Width (in): 80.9 (w/mirrors)
Base Price (USD): $61,400
Price as Tested (USD): $86,685
The first time I laid eyes on the Mercedes-Benz E400 Coupe at last year's Chicago Auto Show, I absolutely fell in love with the styling of this elegant vehicle, both inside and out. From its muscular and confident stance, to its dramatic faceted grille, the E400 just exudes substance and power from every angle.
The E-Class coupe simply looks like it means business. Large sculpted ridges hint at the power beneath the hood, and the smoothly sculpted floating roofline is accentuated by a continuous arc of chrome trim over both the front and back rows. To round things off, my loaner was equipped with sporty and dynamic AMG 19″ 5-spoke wheels – though they were wrapped in Pirelli Alpin winter tires rather than the factory standard all-seasons.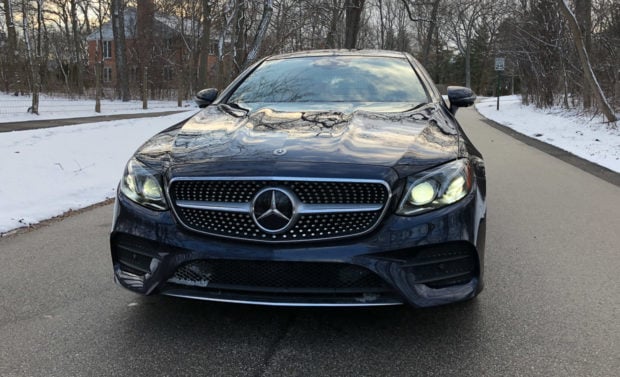 Under that big hood is a 3.0-liter V6 engine which has been boosted by a pair of turbos. With 329 horsepower and 354 lb-ft. of torque and Mercedes' 4MATIC all-wheel drive system, it launches fast and smoothly, and in Sport+ mode it sure felt like I got to 60 mph faster than the spec sheet's 5.5 second time. The 9-speed automatic transmission offers up smooth shifts, and satisfying interaction via paddle shifters.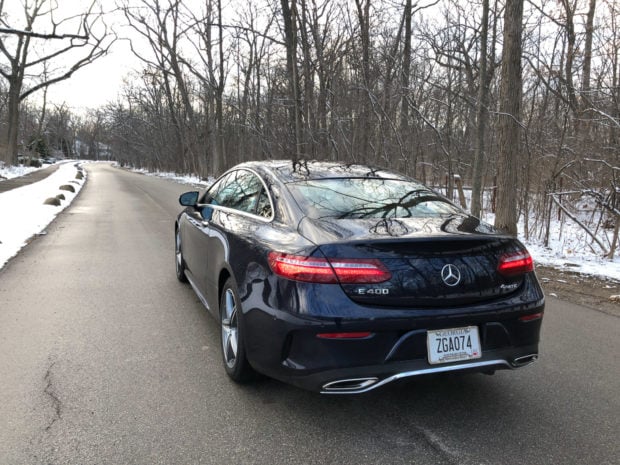 Of note are the E400s user-selectable driving modes, which are extremely well executed. In Comfort mode, the ride is quiet, cushioned, and luxurious – and the optional Air Body Control suspension does a great job isolating the cabin from bumps. Flip the switch into Sport+ mode, and revs climb towards the redline on acceleration, steering effort becomes more direct and weighty, the suspension tightens up, and the exhaust note goes from quiet sophisticate to angry beast mode. I even heard a few snaps and crackles let loose as I pushed my foot down and the coupe lunged forward like a hungry cheetah ready to catch its prey.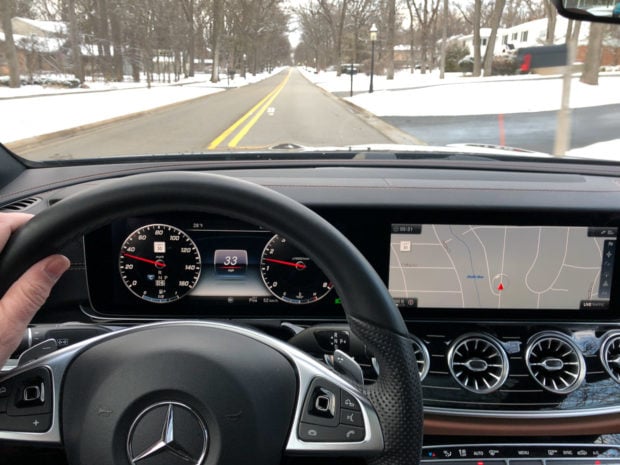 The difference between these modes is as impressive as I've ever encountered in any car, allowing the E400 to take on two distinctly different driving personalities depending on your mood and driving conditions. Overall steering feel is just right, with a good direct feel in Sport or Sport+ modes, and a lighter, but still connected feel in Comfort mode. While its ride isn't as razor-sharp as an Alfa Giulia Quadrifoglio, the brake-based torque vectoring does help the E 400 corner with aplomb, and the adaptive damping system keeps body roll in check nicely.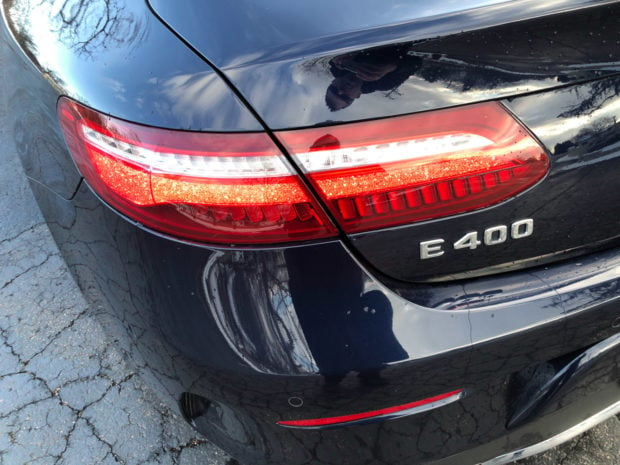 Beyond its muscular exterior and adept powertrain and handling, the E400 really fires on all cylinder when it comes to its interior design. The dashboard is a work of art, with curvaceous surfaces, aeronautically-inspired details, and digital wizardry aplenty.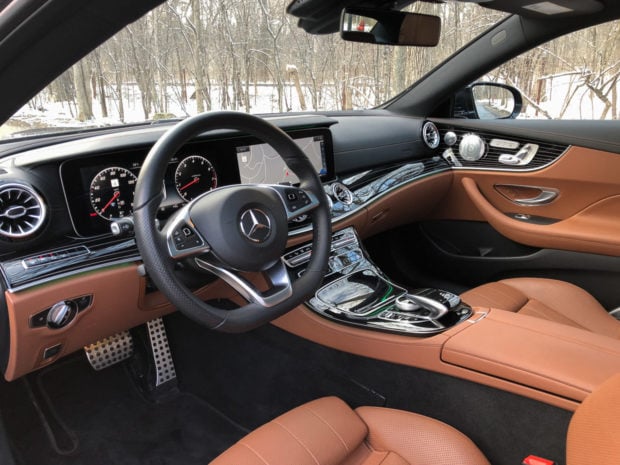 This particular car was upgraded with sculpted, pinstriped piano black wood, which looks fantastic as it sweeps across the door panels and the entire width of the dash. Soft touch surfaces are everywhere, from the stitched top of the doors and dash to the rich saddle brown leather adorning the lower part of the doors, the center console, and the extremely comfortable and configurable Multicontour front seats.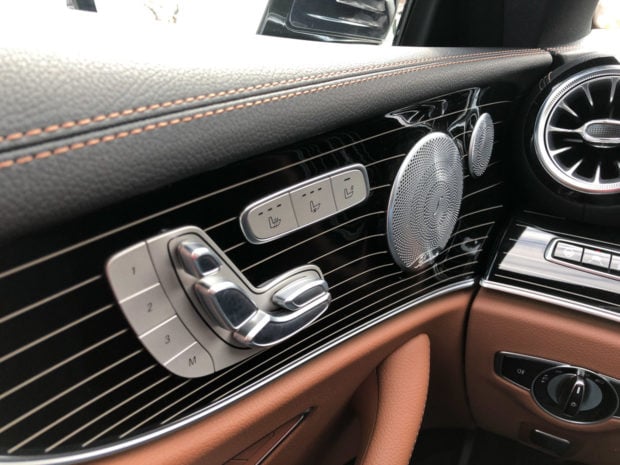 Mercedes smartly placed the controls for said seats on the doors instead of the sides of the seats, making them not only easier to adjust, but providing added width to the seat bottoms. These seats offer a huge number of adjustments, including adjustable lumbar, side, and shoulder supports, as well as a leg extension, and active side bolsters which kick in when cornering to keep you in your seat. And if both heat and cooling weren't enough, the both front seats offer four different massage programs to keep your back and shoulders feeling great.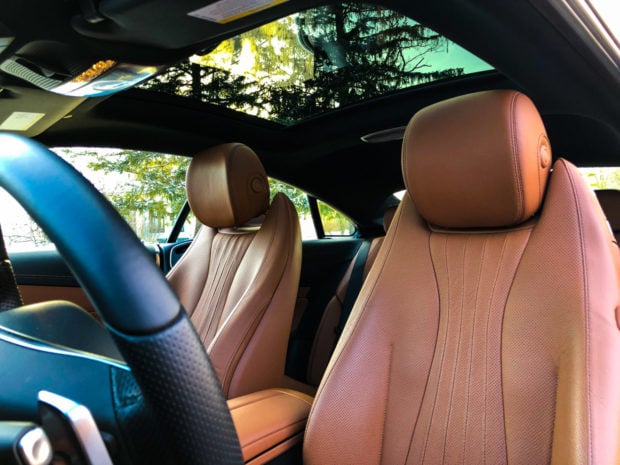 My car was also equipped with Mercedes' Air Balance cabin fragrance system, which can periodically infuse the cabin air with your choice of subtle fragrances. When night time falls, the cabin takes on a whole different look, with dramatic and colorful ambient lighting channels embedded throughout the dash, doors, and center console. These RGB LED lights can be easily set to the color and brightness level of your choice.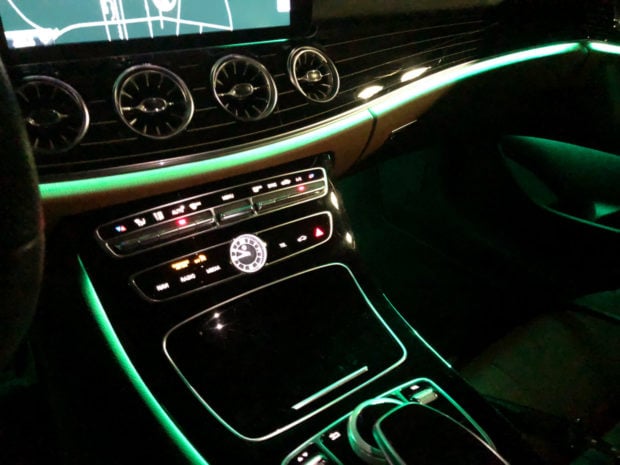 The E400 comes with a standard 12.3″ hi-res screen, which provides access to navigation, audio, climate, vehicle settings, and applications via Android Auto and Apple CarPlay. While the Mercedes-Benz COMAND system can be a little convoluted to navigate – especially since it's not a touchscreen, it is jam-packed with functionality, and still beats BMW for overall usability.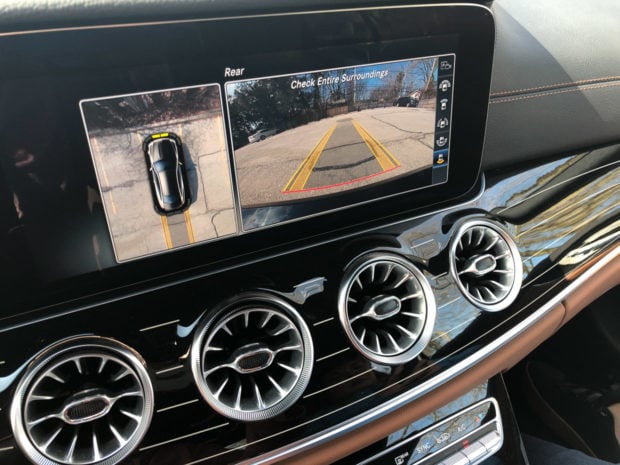 The upgraded $5400 Burmester audio system packs 23 speakers, 1450 watts of amplification, and absolutely gorgeous metal speaker grilles. It offers up clean and crisp sound, though I'd place it a good bit behind the Mark Levinson Reference system found in the Lexus LC 500 for overall sound quality and imaging. It sure looks pretty, but I'd save the five grand and go with the factory standard system.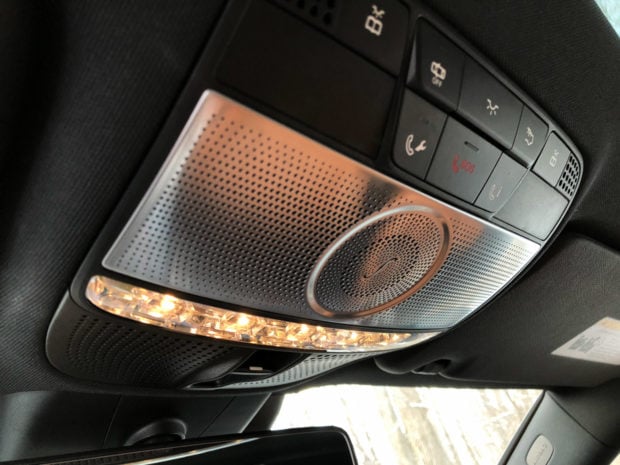 When fully kitted-out with the Premium 3 package, the E400 gets a huge variety of tech bells and whistles, including a 12.3″ digital instrument cluster, wireless charging, blind spot assist, rear cross-traffic alert, adaptive high beams, a power rear sunshade, heads-up display, surround view camera, and much more. I did encounter one minor glitch with the car's NFC-pairing system. Whenever I placed by iPhone X in the center console, it triggered Apple Pay – an amusing reminder of the big payments that will be coming out of your bank account to own such an impressive vehicle.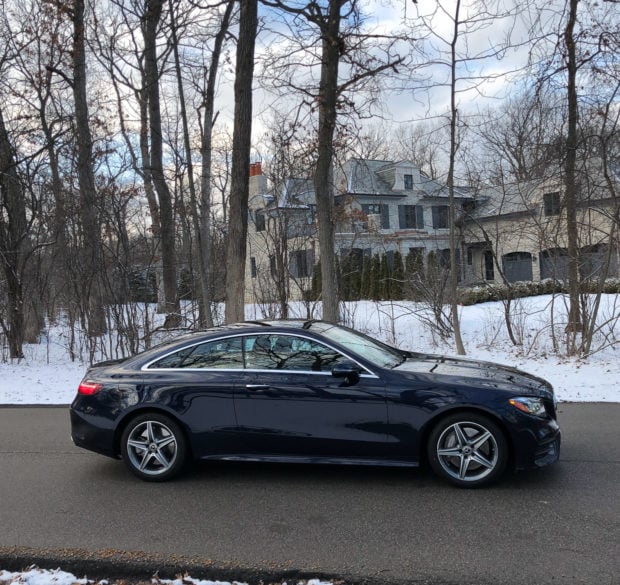 Of particular note on the tech front is the excellent active steering assist, which, combined with adaptive cruise control makes highway driving a breeze. The car stays centered in the lane with featherlight driver input, and maintains speed regardless of what kind of traffic snarls you might encounter on your route. Both systems worked seamlessly even when I encountered a nasty mix of snow and freezing rain on my route. The car also features a handful of nifty telemetric displays for information geeks, including a 3D G-force diagram, and horsepower/torque gauges.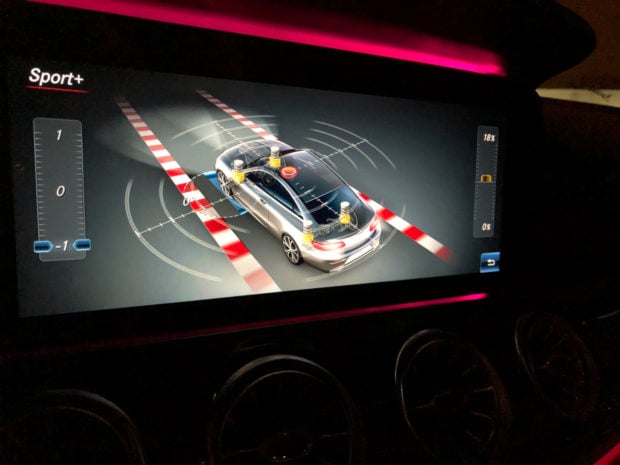 The Mercedes-Benz E400 Coupe is one of those vehicles that just radiates quality from every pore. It's a beautiful and sophisticated car both outside and in, and its driving character lives up to its looks. The E Coupe is fast, powerful, handles deftly, and is packed with more technology than your local Best Buy store when fully optioned out. For those with the resources to afford one, the E400 would be a fantastic addition to your garage.