2018 Audi Q5 Review: Crossoverhaul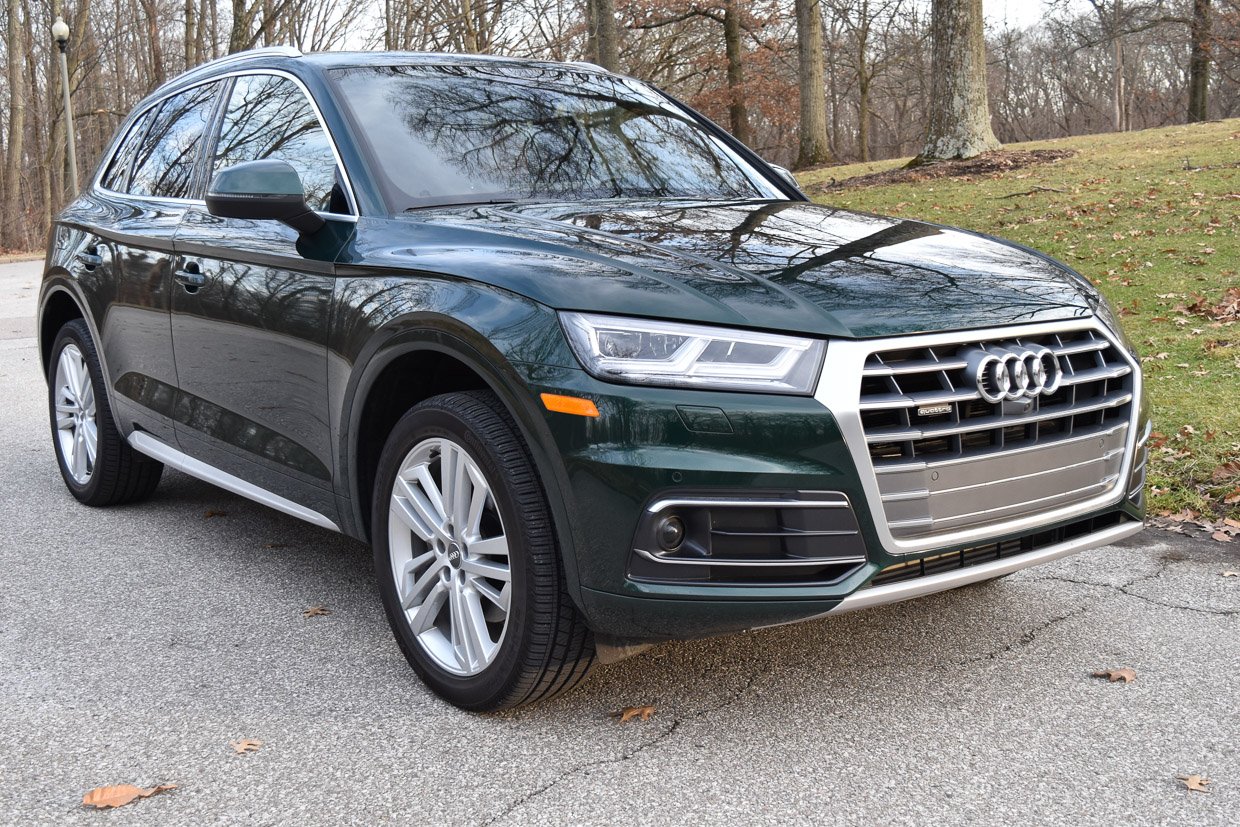 2018 Audi Q5 Premium

Engine: 2.0-liter turbocharged 4-cylinder
Horsepower: 252
Torque (lb-ft.): 273
Transmission: 7-speed automatic
Drive Configuration: AWD
Top Speed (mph): 125
City/Hwy/Combined MPG: 23/27/25
Curb Weight (lb): 4045
Wheelbase (in): 111
Total Length (in): 183.6
Width (in): 84.3
Base Price (USD): $41,500
Price as Tested (USD): $45,900
For those who read my reviews regularly, which is probably just my wife and my parents, you'll know I have enjoyed almost every Audi sedan I've driven. I even had the fortune of spending a week in the Audi R8 V10 Plus, which was my all-time favorite car I've reviewed. Rather than sounding too boastful, I'm bringing this up because rarely have I gotten to review Audi's line of SUVs. This week, that changed. I got to spend time behind the wheel of the redesigned 2018 Audi Q5.
I wasn't sure what to expect. I couldn't get my expectations too high, reminiscing over the R8 or S6 I had driven. After all, those are wholly different vehicles than the Q5. As is the case with all vehicles I review, I went in with an open mind and no preconceived notions. For the 2018 model year, the Q5 follows suit of the larger Q7 and gets a complete redesign. This means a new exterior, updated interior and improved performance. So, it was certainly good timing for me to experience an Audi SUV up close. And I wasn't disappointed.
On looks, the Q5 has a more crossover-type of vibe. It has many sedan-like features, including a lower roofline and chiseled, elevated wheel wells. It's a crossover through and through, blending qualities of both a car and an SUV. Some of the traits I liked about Audi's sedan line are less prominent on the Q5. It's reasonably conservative and doesn't have an aggressive look. Even the front end, seems to fit well with the luxury crossover segment than some of Audi's sportier sedans. There's an SQ5 which does take on more of an aggressive posture and look and is something I'd like to spend more time in as well.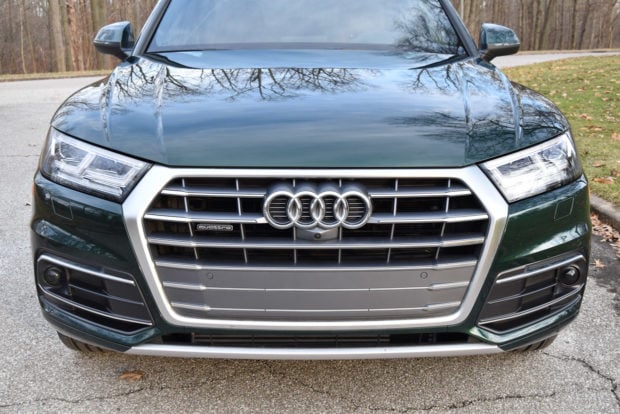 Audi continues to make some of the best-looking headlights in the industry and the Q5 is no exception. The squinty and wide front headlights are sharp looking. The Xenon headlights look amazing at night, and the LED daytime running lights act as a design element that contribute to the attractive front end. Chrome accents around the grille and on the back around the exhaust chisel out the Q5's best features. A rear spoiler offers a hint of sportiness. The rear LED tail lights have a similar shape and look and give the Q5 a balanced look.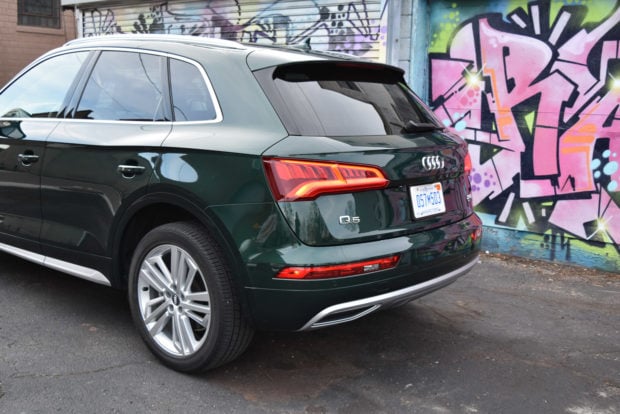 Audi is a performance-driven brand. As mentioned, their sedans are always enjoyable to drive. The Q5 didn't disappoint in this regard either. Though the powertrain has been redesigned for this SUV and greatly improved, it still doesn't offer the excitement and enjoyment of their sedans. The Q5 has a 2.0-liter, turbo 4-banger that makes 252 horsepower and 273 lb-ft. of torque. The Q5 doesn't blow you away with its overall power and performance. It's adequate off the line, but it feels a bit underpowered to me.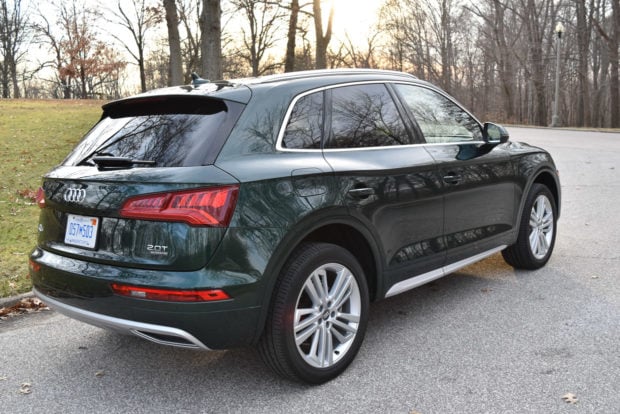 The Q5 has an EPA rating of 23 mpg/city and 27 mpg/highway. In a week's worth of heavy-footed driving, I averaged 24 mpg. But, in my defense, I was trying to see how it did off the line a lot and certainly didn't drive it efficiently. It's my job to look for turbo lag, you know? For the record, there is a bit of lag with when putting your foot down. That said, the 7-speed automatic transmission is outstanding, and the steering and suspension is the Q5's saving grace. The steering is responsive with outstanding handling and no noticeable body roll. It handles turns like a sedan, while the redesigned suspension keeps the ride comfortable.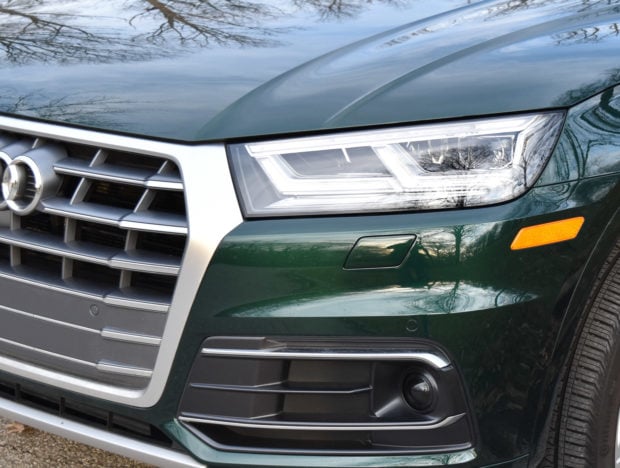 As is the case with most Audis, the Q5 has Quattro all-wheel drive to make the SUV an even better handling vehicle. There are five available drive modes to help change the ride dynamics. Comfort, Auto, Dynamic, Individual and Allroad modes each has its own merit. The Q5 seems capable to handle some off -road duties, with a new adaptive air suspension system combined with the Allroad mode. Certainly, Audi has Land Rover in their sights in this regard, but honestly, I didn't try it out and the Q5 just seems more suited to stay on the road. It's quite refined and performs more like a Lexus or Acura, with its mild-mannered, conservative performance.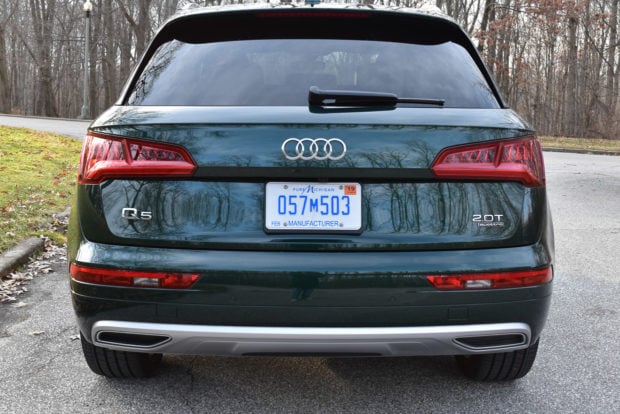 Inside, the Q5 is as nice as any other Audi, which are some of my favorites in the industry, generally speaking. For this model year, the Q5 gets a significant upgrade including increased cabin space. This year there is more rear legroom and more headroom, thanks to the Q5's redesign.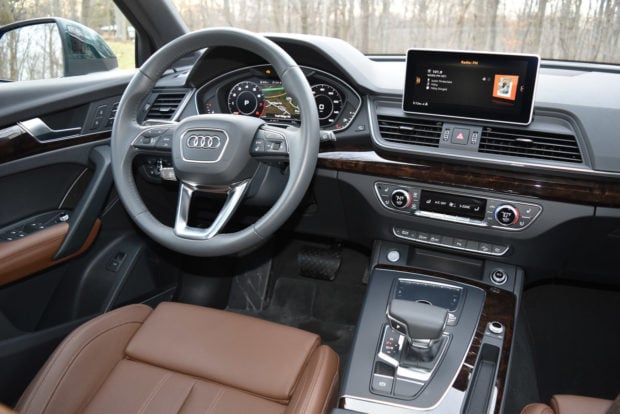 There's even more cargo room behind the seats and with them folded flat. The Q5 has 26.8 cubic feet of cargo room, along with a power liftgate and large opening. Fold the rear seats and the maximum cargo space is 60.4 cubic feet. This is outstanding for five-passenger SUV.
The best tech going for Audi is their virtual cockpit feature. This 12.3-inch display delivers important information behind the steering wheel. Besides being a safety feature, keeping eyes ahead, this technology is cool, and the display is vibrant and feels so modern. And thankfully, Audi made improvements to the MMI touch pad that drives some of the commands on this system. It has handwriting recognition as you scribble letters into the navigation system. Is this a case of over-engineering? Absolutely. But it's cool and is much improved over the cumbersome MMI system the previous Q5 had.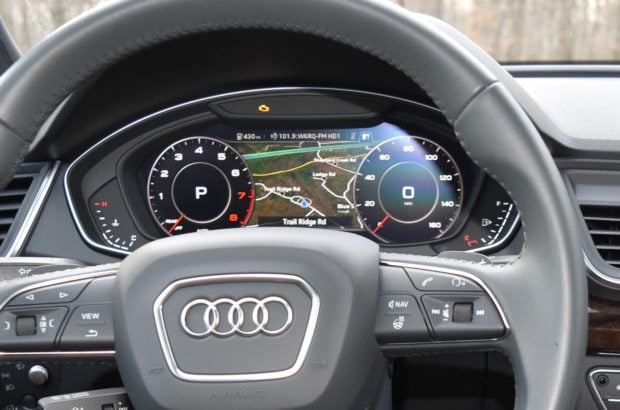 The Q5 comes loaded with a 19-speaker, 755-watt Bang & Olufsen sound system, as well as a 4G LTE WIFI that sends traffic and weather updates directly to the system. This is what you want from an infotainment system and Audi deserves much credit for continuing to advance it.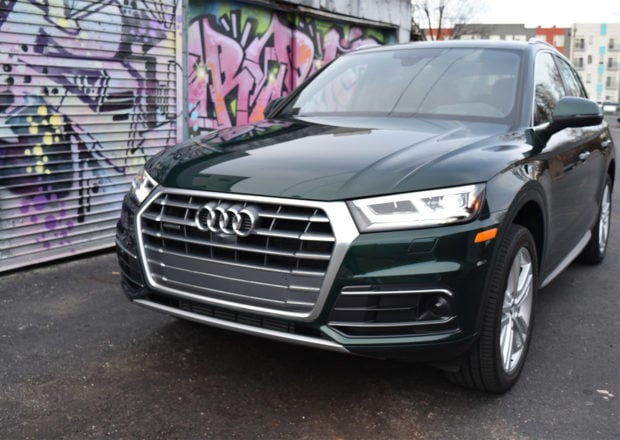 For a thoroughly modern, updated luxury SUV, the Q5 has an affordable price tag. There are three trim levels available: Premium, Premium Plus and Prestige. The Premium trim has a base price of $41,500. This trim is loaded with options. My tester came with two additional packages including the Convenience Package and the Telematic Package, which adds the virtual cockpit (a must have) and the advanced MMI system. As such, my tester had a final MSRP of $45,900. There are many non-luxury SUVs that have a price tag higher than that, so for once, Audi doesn't price itself out of the market. In fact, in the luxury market, it's incredibly well priced.
So do I still have a love affair with Audi? Yes, I suppose I do. I still prefer the sedans over the SUVs, but the Q5 made a strong case with an attractive price and enjoyable handling. Oh, and the cabin is pretty nice too!