Lamborghini Aventador S Roadster Review: This Bull Leaves a Mark
2018 | lamborghini | lamborghini aventador s | April 29, 2018
---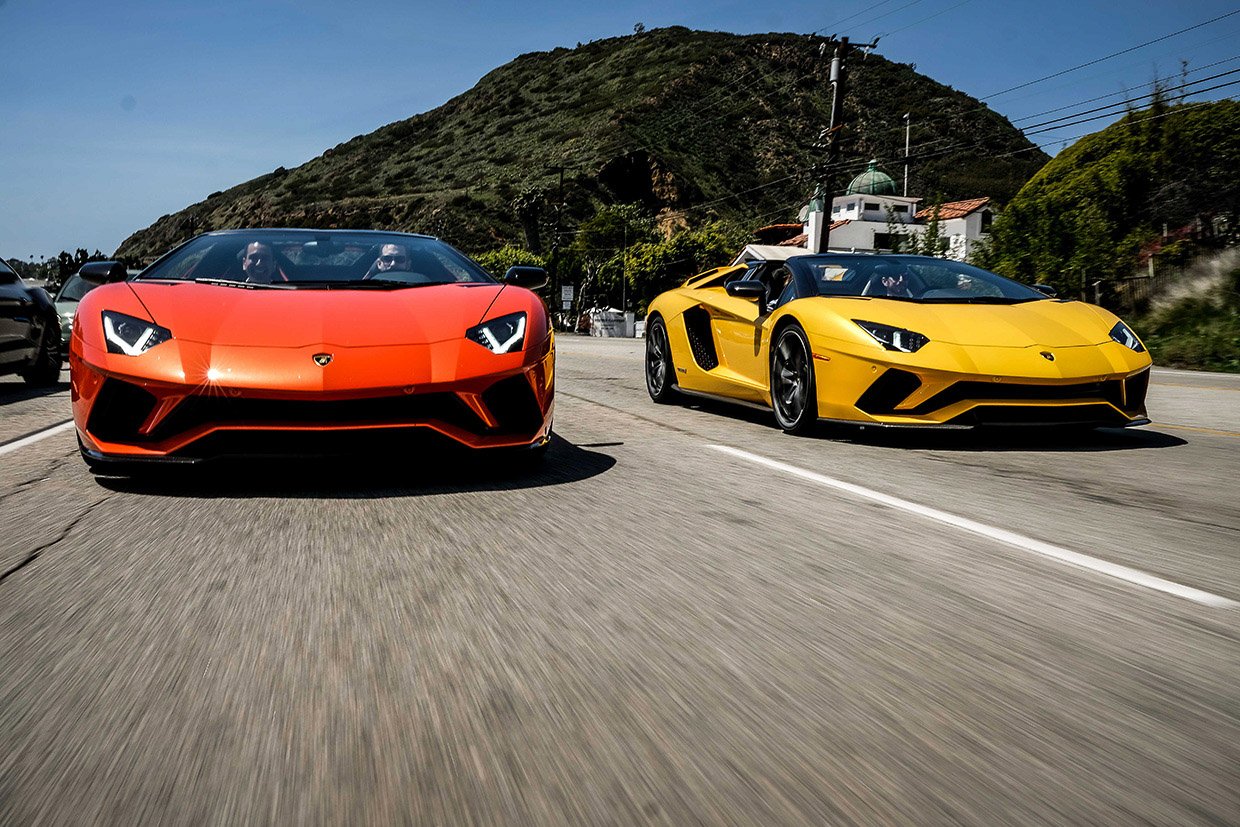 Photos by Sam Bendall
The sun is shining, the temperature is promenading toward 70 degrees, the Pacific breeze dances across my face with a dash of salt to its aroma. It's a perfect Wednesday morning in Southern California when suddenly every other person walking, jogging or driving along Ocean Avenue in Santa Monica has his or her smartphone camera locked on me and the supercar I'm driving: a Lamborghini Aventador S Roadster cloaked in a hue of orange called "Arancio Argos." Underneath a relentless SoCal sun, I fear the color may cook all those phones' camera sensors.
Indeed, Lamborghini's newest open-top V12 howler is an imposing force to be seen. Few cars on sale today have the ability to affect human behavior as much as this machine does. Veering left as I head north on to PCH, bystanders and fellow motorists are entranced by the bellowing V12 orange flash of light streaking along Highway 1. As the Lamborghini's maniacal 6.5-liter, 730-horsepower 12-cylinder engine unleashes noises that cackle off California's cliffs and bounce into the Pacific, I spy more mouths uttering "wow" than an America's Got Talent audience stupefied by a gangsta-rapping great-grandpa.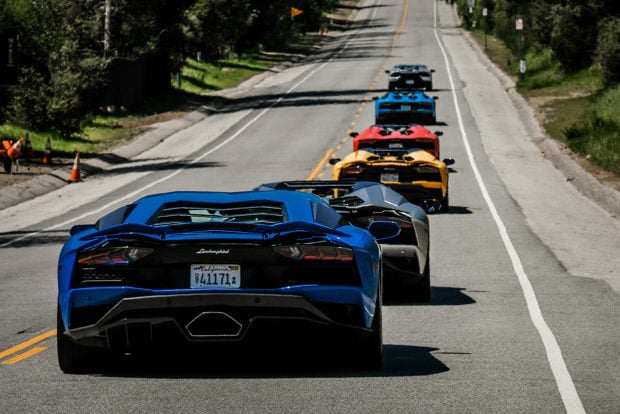 Admittedly, I'm stupefied, too. At full throttle, especially when you're north of 5,500 rpm with all 509 lb-ft of torque standing at attention, slapping the throttle provokes nothing but bewilderment — kind of like how I'd imagine an open-mouth kiss from Margot Robbie would leave me. It takes fewer than five minutes for the Aventador Roadster S to leave its indelible impression upon me.
That pleasure evolves into empowerment as soon as I land on Topanga Canyon Boulevard — one of PCH's abutting canyon roads. Ordinarily, the utility truck ahead of me would be a threat to my perfect day as I push into the Santa Monica Mountains. With powerline-servicing equipment affixed to its crude ladder-frame chassis, the truck's center of gravity is likely five feet higher than the concrete it pounds. Consequently, the truck driver is bound to tackle Topanga Canyon's 25-mph bends at 20 mph. With my buttocks almost below ground and cocooned in the Aventador's carbon fiber monocoque, I can pride myself with a center of gravity that's less than 15 inches; therefore, I'm bound to tackle Topanga's curves at 20 mph over the government-suggested rate … and that's if I'm being leisurely.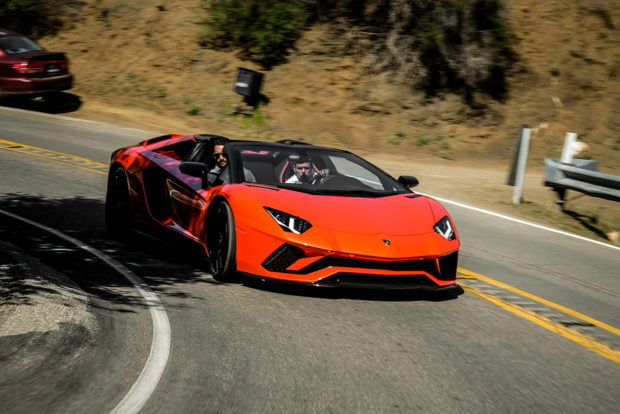 Thankfully because the Aventador S Roadster is a master of public behavioral modification, as soon as that utility truck sees my fiery Arancio Argos paint behind it, the driver immediately steps aside. I may as well have just parted the Red Sea. This perfect day just got better.
High on a cocktail of full throttle and resultant G-forces, Topanga Canyon's twisties funnel me onto Mulholland Drive, and then foliage-flanked Mulholland Highway where this spring day's uncharacteristically intense sunlight filters through the trees, flickers off the pearl paint, and dances into the open, leather-lined cabin.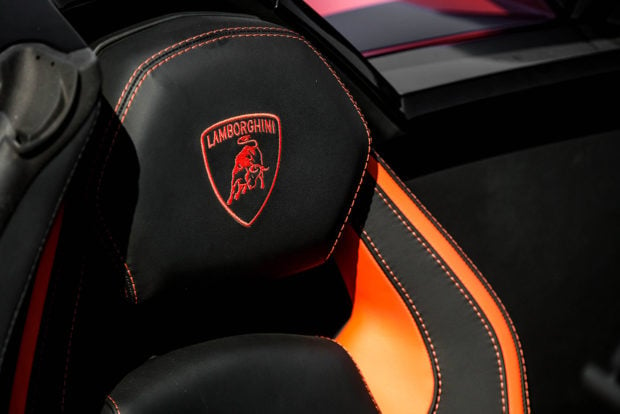 In step with the ballet of sunshine, my fingers wiggle with excitement on the steering wheel as I remind myself, "I'm driving a Lamborghini!" It's been a year and a half since my last run with a bull — an Aventador LP700-4. It's good to be back. The new Aventador S feels fresher than ever, mainly because of its steering. It's still hydraulically assisted — thank God — but today I'm noticing how carefully the brand balanced steering feel with dampened sophistication. I can sense what the Pirelli P Zero tires are saying up front, but I don't feel like I'm hand-standing on a skateboard at 90 mph.
As with the fastest of modern supercars, this Aventador S can steer its rear wheels as well. As a result, the Aventador S can virtually lengthen or shorten its 106.3-inch wheelbase on the fly by angling the rear wheels either in the opposite or same direction as the fronts depending on speed, throttle position and drive mode. As I wring the car farther up Mulholland with enthusiastic left and right inputs, I can't help but think this could be a fine daily driver.
The four-wheel steering pads your confidence like a bottomless 401(k) or a black Amex. Lane changes above 100 mph are leisurely and effortless. This is a supercar that's easy to drive fast. A quarter-century ago, you could only say that about the Acura NSX. Now you can even say that about a top-shelf Lambo.
Back in the days of the Countach, you'd never hear the raging bull brand and "daily driver practicality" mentioned in the same sentence. Today, though, the Aventador has your back whether you need better stability in the canyons, or you need to make a U-turn on a narrow straightaway. This is refreshing as supercars with their tricky suspension setups can often have turning circles similar to those of full-size pickups. With its four-wheel steering, however, the Aventador S Roadster, while no match for a Smart's turning circle, can about-face in the same space as a midsize sedan. Granted, I can't fit a laptop bag in its frunk with the two roof panels sitting in there, but I'd be willing to sacrifice the Port of Los Angeles' cargo space to daily this spaceship.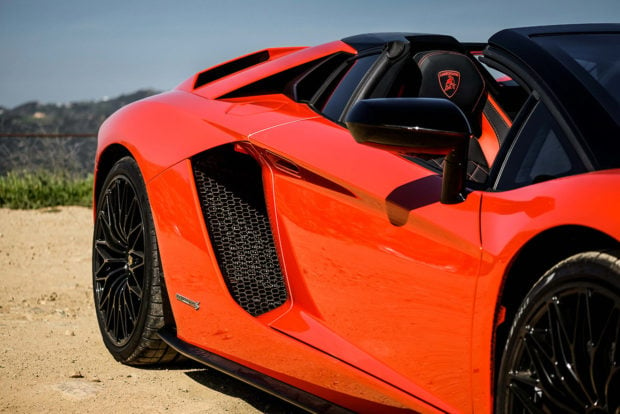 The four-wheel steering also enhances the all-wheel-drive Aventador's usability on tighter tarmac. Highly complex roads can make a supercar feel hampered because it's unable to use all its power, but the Aventador S was happy along these sections, too, as its trick steering bolstered its ability to apportion power between its front and rear axles. Ordinarily you would avoid driving a large supercar like the Aventador S on paths best suited for 400cc sport bikes, MINIs and Miatas. But with that virtually shortened wheelbase, and variable-ratio steering (10:1 – 18:1), the Aventador S Roadster can shrink its supercar stature to play in more technical playpens even though it's almost eight feet wide at the mirrors.
SoCal's more intricate, earthquake-cracked byways tend to work a suspension harder, too, but with the Aventador's pushrod magnetorheological setup, the ride is more luxury car than supercar.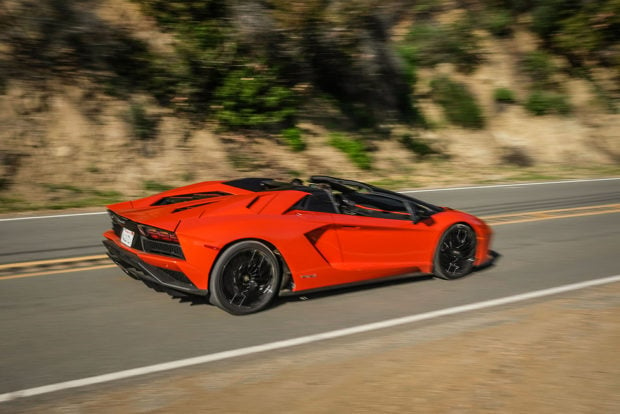 As great of a machine as this updated roadster is, it's still hampered by carryover tech that was with the Aventador when it was first introduced in 2011. The worst offender remains its Independent Shifting Rod (ISR) seven-speed transmission. Tickle the right-hand flappy paddle with perfect timing at redline, and the single-clutch ISR shifts with near dual-clutch seamlessness. Change gears even a smidge before redline, and the half-second power interruption is more noticeable than ever. Instead of the transmission disconnecting 691 horsepower between shifts, now it's butting in on 730 ponies. From behind the wheel, the power break feels like you're trying to connect Google's and Apple's servers with a 1920s operator switchboard. Lift off the throttle slightly between shifts, and the ISR plays nicer, but Lamborghini needs to hurry up and dump a dual-clutch into this otherwise-sublime work of art. Bugatti had a dual-clutch gearbox in the Veyron way back in 2005. Why couldn't its little cousin get that tech?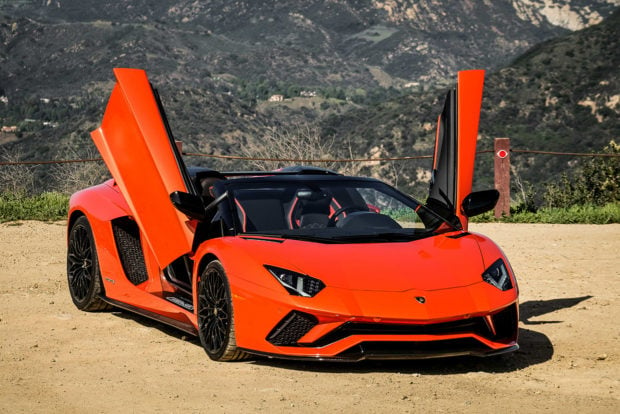 Speaking of tech, I applaud Lamborghini for updating the Aventador's interior with Apple CarPlay, but seeing it dialed up on the car's circa-2011 display reminds me of a friend who likes to stream Netflix on her old 15-inch TV-VCR combo. Every time I'd glance at the iOS-takeover animation, I'd laugh out the words, "That's cute." At least the instrument panel's TFT cluster looks Retina-display modern.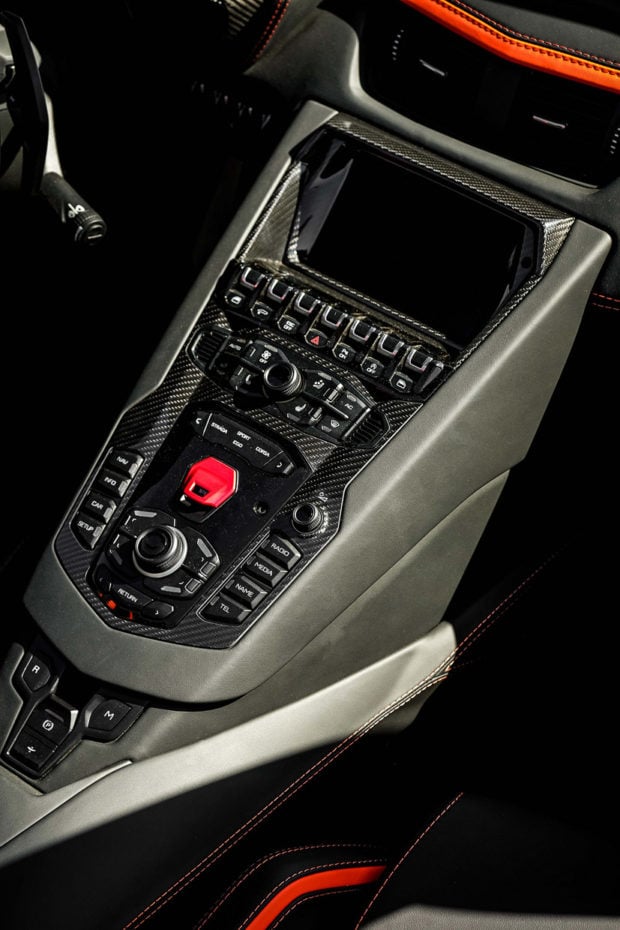 Jerky transmission and dated interior aside, the Lamborghini Aventador S Roadster is a fountain of endless smiles if you can afford the $460,000 starting price. My picture-perfect day of ear-to-ear grinning with the Lambo actually caused me to strain a muscle on the left side of my lower lip. As I write this, that area of my face is intermittently spasming. It's annoying, but I wear my twitch fondly. Much like bull-runners show off horn-poke scars, I am happy that this fine Italian supermodel has left her biological imprint upon me.