2019 Toyota Corolla Hatchback First Drive Review: Hot or Not Hatch?
2019 | toyota | toyota corolla | toyota corolla hatchback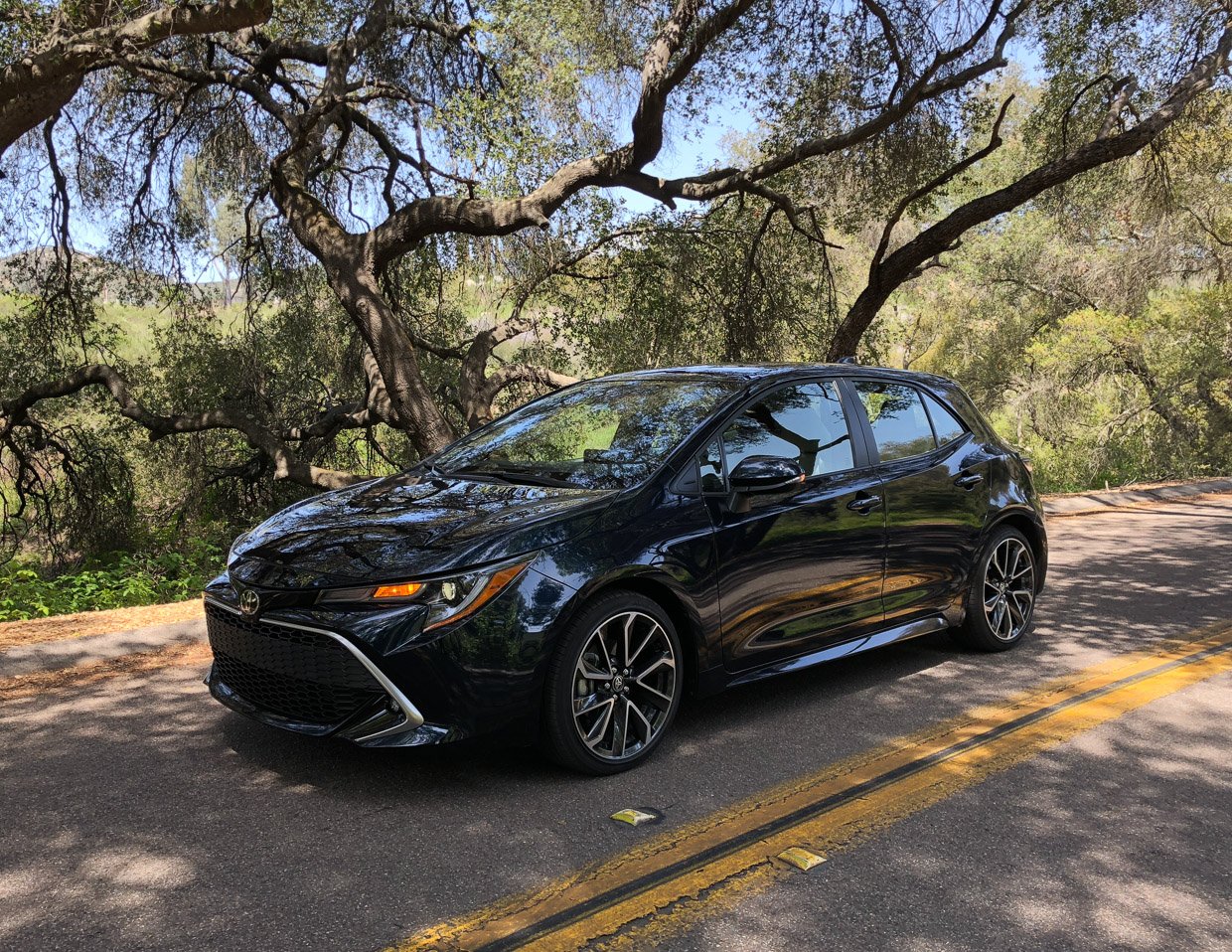 2019 Toyota Corolla Hatchback

Engine: 2.0L "Dynamic Force" 4-cylinder
Horsepower: 168
Torque (lb-ft.): 151
Transmission: 6-speed manual or CVT with fixed 1st gear
Drive Configuration: FWD
City/Hwy/Combined MPG: TBD
Curb Weight (lb): 3060
Wheelbase (in): 103.9
Total Length (in): 169.9
Width (in): 69.9
Base Price (USD): $19,990
When Toyota announced that it was bringing a proper Corolla hatchback to market in the US a couple of months ago, I was pretty excited. The idea that the company might be jumping into the hot hatch arena to take on the Civic is something gearheads are surely stoked about. And on looks alone, the new 2019 Corolla Hatchback has the styling to compete. But can its handling and performance keep up with its looks? Read on and find out.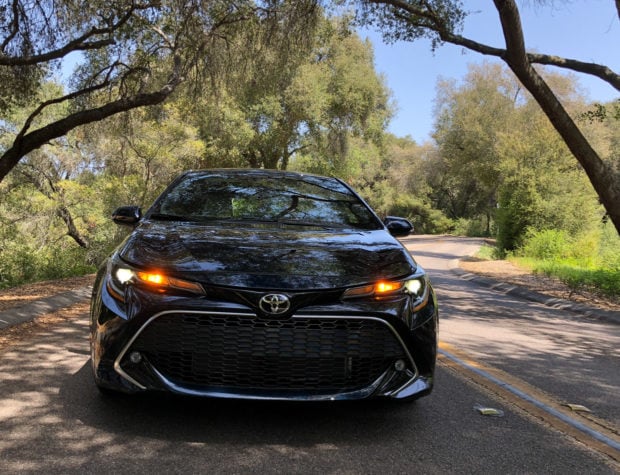 For starters, the new Corolla Hatchback looks fantastic – of the various compact hatchbacks on the market, it's my current favorite, with just the right mix of playfulness, aggression, and modernity. It looks particularly slick in its XSE trim, the sportiest of the two available trim levels, offering details like a satin chrome-plated bezel around the lower grille, and 18″ aluminum wheels with a cool pinwheel design. From the side, it's well proportioned, with a low roofline and stubby rear overhang – though from this angle, it's not as distinctive as from the front or rear.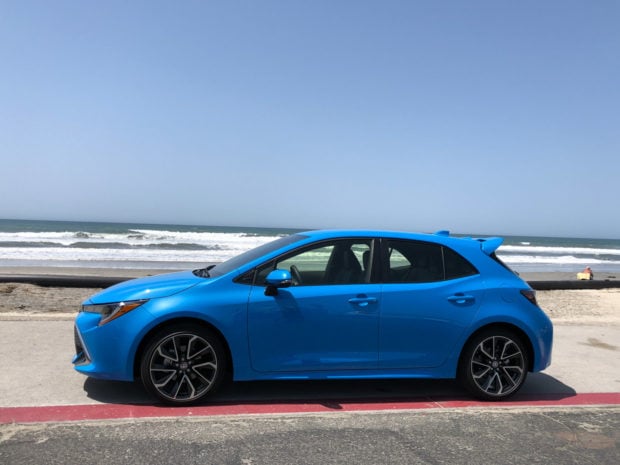 Every Corolla hatch comes with Bi-LED headlights, and unique triple "J-blade" accent lights which punch way above their weight class in styling. LED fog lights are optional, the headlights also feature auto on/off, and the XSE CVT model increases its beam width when cornering by switching on additional lighting elements for improved nighttime visibility.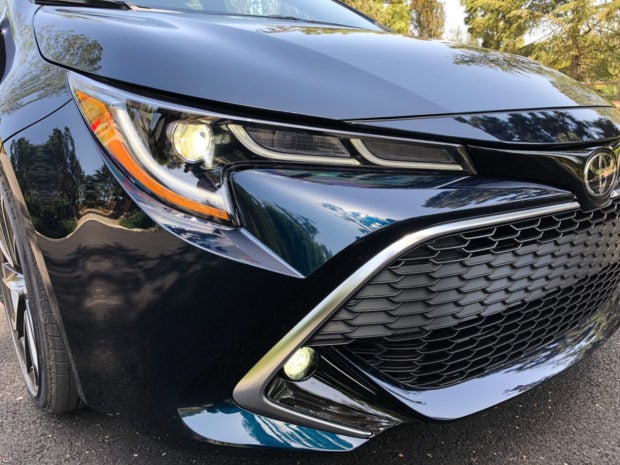 Around back, the angular LED taillamps wrap onto the bubbly fifth door, with a silhouette that directly mirrors the headlight shape. The whole rear end is nicely grounded by a pair of flattened-out exhaust tips. There's also an optional rear spoiler which makes it look more "hot hatch-y" if you so desire.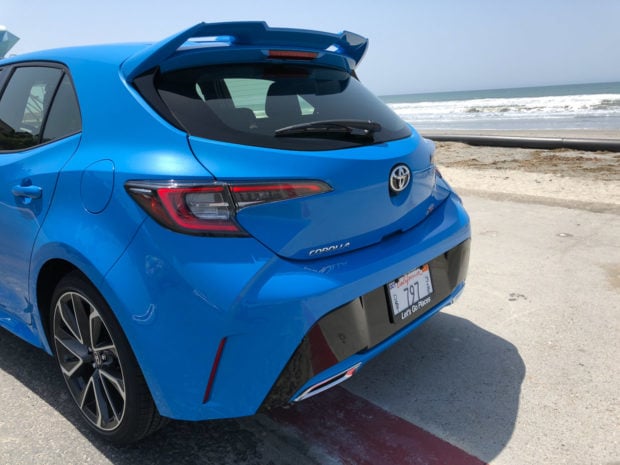 There's no question in my mind that the new Corolla Hatchback has winning looks. But when it comes down to it – as another Japanese automaker says – "driving matters." I first took the CVT model for a spin, as there were only a handful of cars with the 6-speed manual, and they were all in very high demand from my fellow journalists. The CVT models are definitely seen as the preferred versions by Toyota, with certain features only available on those models, such as full-speed adaptive cruise, and blind spot monitors. While some of these choices were technical in nature, others are simply packaging decisions, and that's too bad. You'd think that enthusiasts would prefer a manual gearbox on a hatchback, and why shouldn't enthusiasts be able to get their cars loaded too? But I digress.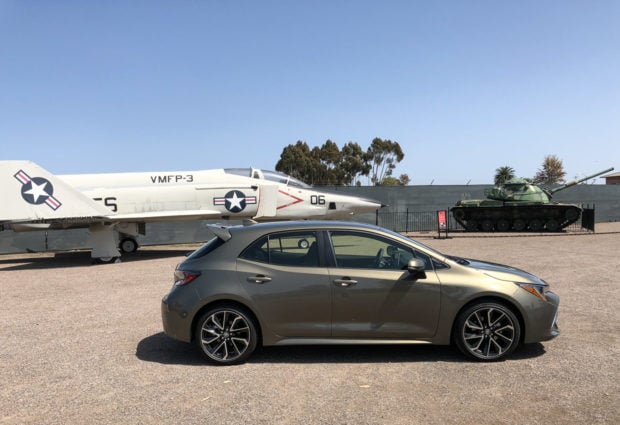 The CVT features some unique engineering this time out, offering up not only 10 simulated gearshift points, but also a true mechanical first gear. This is designed to provide better low-end torque and more immediate acceleration. In practice, I didn't really notice much of a difference from other CVTs, but I think that has more to do with the relatively low engine power more than anything else. With just 168 naturally-aspirated ponies under the hood, it's not quick. I didn't do any official 0-to-60 runs but roughly I'd say it's somewhere in the 9-second range. In other words, this car is a daily driver with hot hatch styling – not that there's anything wrong with that. Just don't expect to pass a Civic Si in this thing.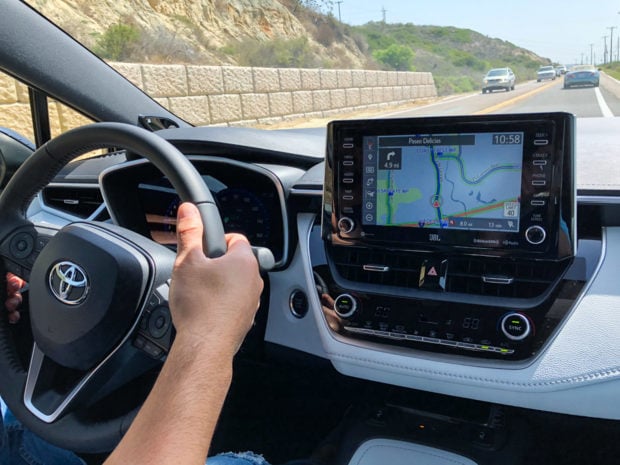 While Toyota has made every effort possible to make the CVT feel more sporty, it's still got its limitations. Most notable is the trademark vacuum cleaner-like sound that the CVT's belt drive makes as the revs climb. While the paddle shifters add a little bit of driver engagement, it's still no substitute for good old mechanical gears. On the plus side, CVTs generally offer a little better fuel economy than traditional automatics, but we have yet to hear official EPA figures. That all said, I really did prefer my brief time with the 6-speed manual version – not just in terms of connection to the car, but from the far more natural sounding drivetrain, where the primary noise you hear is the engine rather than the transmission. As an added bonus, the manual gets a nifty bit of tech, dubbed "Intelligent Manual Technology" which not only rev-matches on downshifts, but helps control engine speed on upshifts, and reduces the risk of stalls. While manual purists might switch off this feature, it's actually quite good – and gives you a little extra margin for error in stop/start city traffic.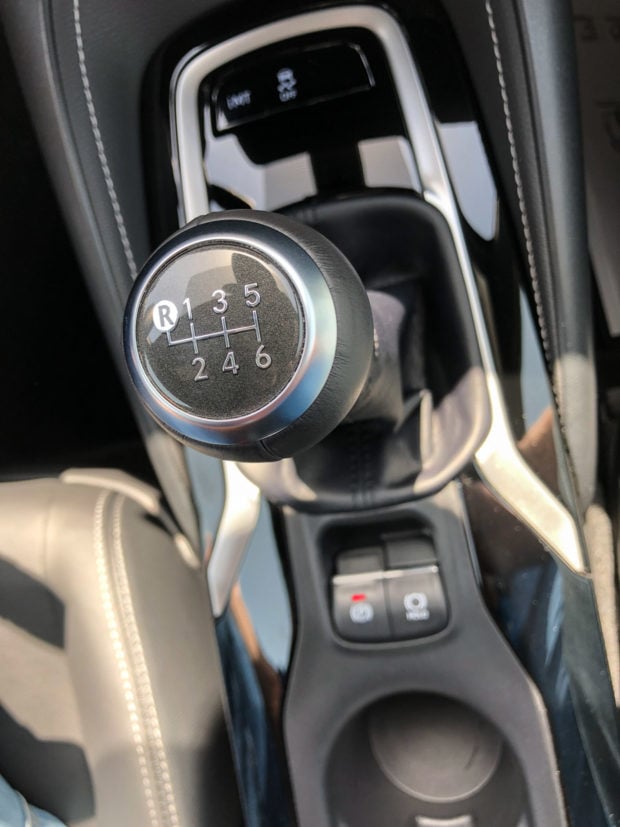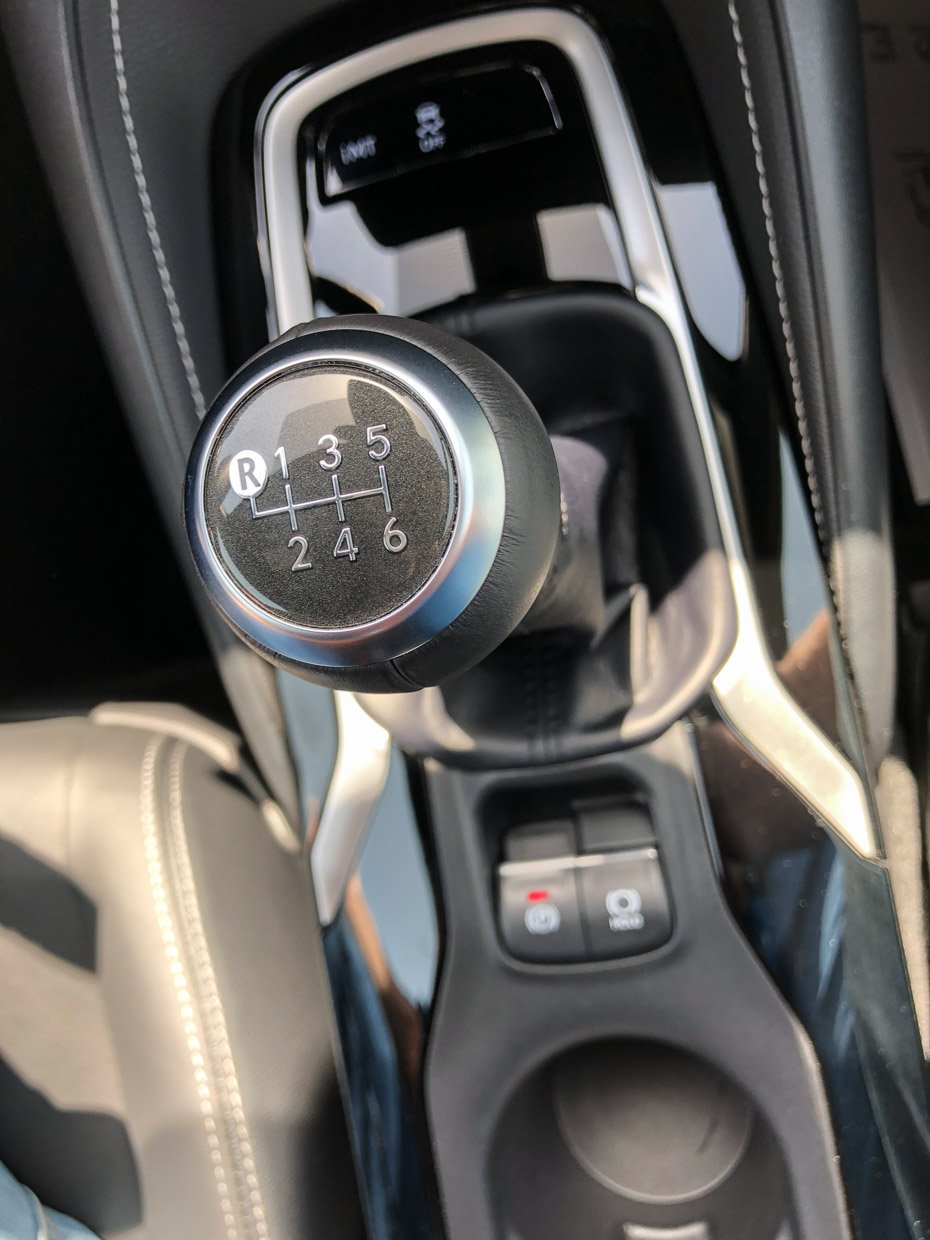 From a handling perspective, this little hatchback is quite a treat. For starters, it rides on a whole new architecture that's stiffer and more modern than either the Corolla sedan or the outgoing Corolla iM. MacPherson struts up front and a multi-link rear suspension help it absorb bumps and corner deftly, and provide good road feedback without being too harsh. The steering feel is nicely balanced, and not too soft or firm. Cabin noise seemed about average for an entry-level car to me. Road noise and vibrations are well handled, but a decent amount of wind noise makes its way into the passenger compartment along the A-pillars at highway speeds.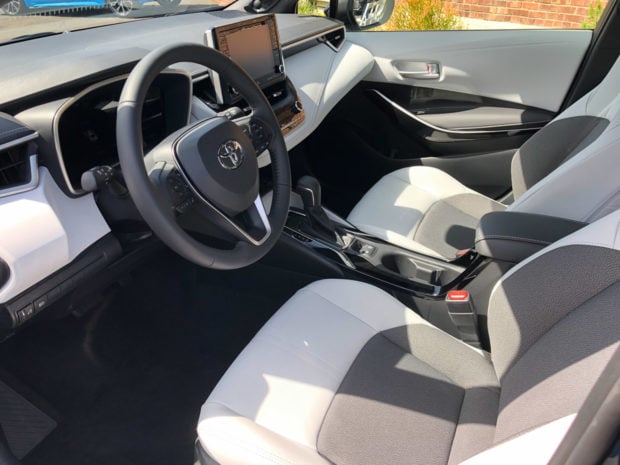 The dashboard features sleek and clean looks, along with lots of soft touch surfaces. There's a nicely-integrated 8″ touchscreen in the center stack, and a slick 7″ digital instrument cluster on XSE trim levels. There's a ton of safety tech that comes standard on every model – as a matter of fact, the 2019 Corolla Hatchback is the first Toyota to receive the new Toyota Safety Sense 2.0 system. This includes a pre-collision system with pedestrian and cyclist detection, improved low-light ped detection, automatic high beams, full-speed dynamic radar cruise control on CVT models, regular dynamic radar cruise control on manual models, road sign assist and lane-tracing assist on the CVT models, which does a great job keeping the car centered in its lane.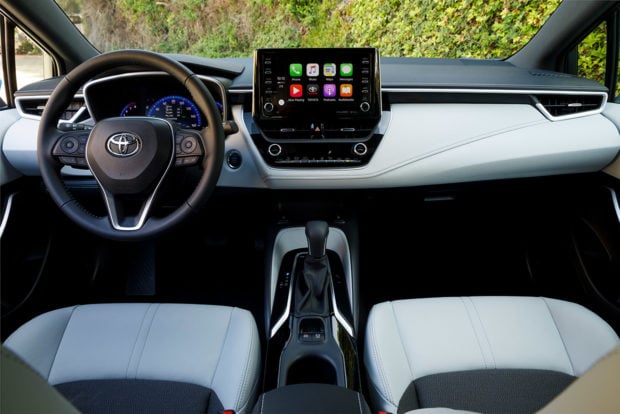 Toyota's Entune 3.0 system sees some modest upgrades, but still feels out of place in such a decidedly modern car. I found myself using Apple CarPlay most of the time, and ignoring the dated feeling Entune interface. The system also is one of the first to support Alexa in-car and car-to-home control tech. As is commonly the case with audio systems from Harman, I was very pleased with the overall sound quality of the 8-speaker JBL premium audio system, which is an optional upgrade on the XSE CVT model only, as is Qi wireless charging.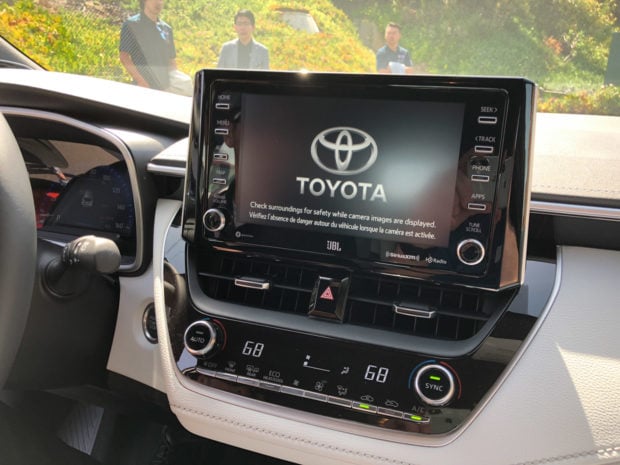 Speaking of the interior, I only spent time inside the XSE, which comes with combination fabric/leather seats. They look quite modern in the white and light grey color combo shown here. The front seats offer good comfort and support overall, and there's plentiful space up front for drivers of all heights. The rear seat, on the other hand, has limited knee room for taller passengers – depending on how tall the front seat occupants are, of course. With the driver's seat set in a comfortable position for a 6-foot-tall person (me), my knees touched the seatbacks.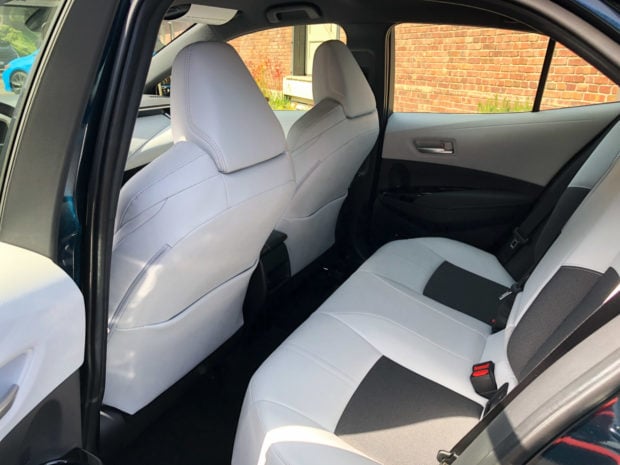 Of course you get all of the advantages of a hatchback design here, with an ample 18.0 cubic feet of cargo space behind the second row – more than most full-size sedans. Then the rear seats can fold down in a 60/40 split for added versatility in cargo handling.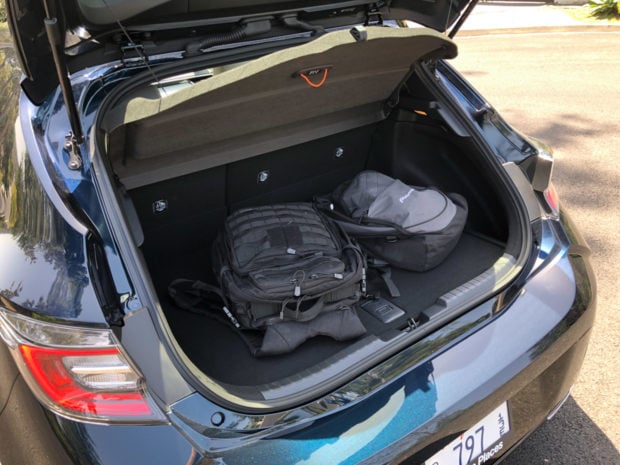 The 2019 Toyota Corolla Hatchback is definitely my favorite flavor of all of the current Corollas – in terms of looks, overall ride quality, handling, and versatility. That said, it is not a hot hatch – at least not yet. It's not fast off the line, and isn't tuned aggressively enough to earn that badge of honor. I'm hopeful that Toyota decides to offer up a turbocharged TRD model at some point, perhaps with a stiffer suspension, and sport exhaust. But for now, we'll have to leave that kind of stuff to aftermarket tuners.
While we know the car will make it to dealers starting this July, we don't yet know pricing or fuel economy numbers, so those could swing your buying decision, depending on where those all come in. I expect we'll learn those soon, and I'll update this review once I have them in hand.