8 Reasons Why You Need to Visit Nissan HQ in Yokohama, Japan
Headquarters | japan | Japanese | nissan | tokyo | Tour | Yokohama | May 4, 2018
---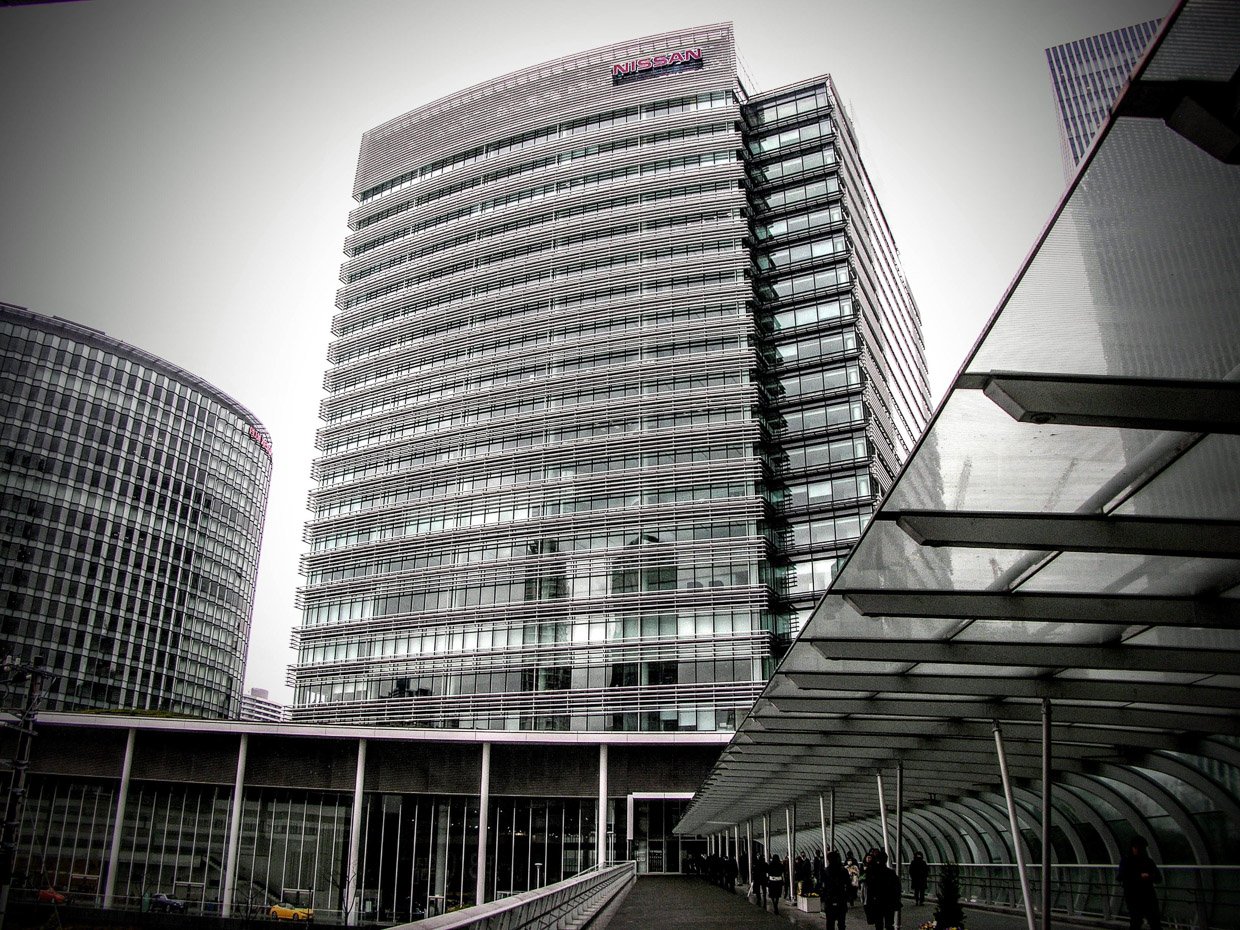 It's mid-March in Yokohama, and I'm feeling a bit on edge over the weather. The forecast calls for rain, followed by slushy snow, and then a massive mess of sticky-sweet sakura pollen. My sinuses don't feel up for it, my head is swimming from the time difference, and there are a slew of things I still must do ahead of my big day with Nissan.
I look toward the window. A glowing green monster lurks outside, and no, it's not Godzilla. The ferris wheel spinning slowly in the wind just an octopus throw away was none other than the infamous "Cosmo Clock 21" of Yokohama, a hulking beast of a metallic contraption that when completed in the early 1990s was the largest of its kind on the planet. But those days are gone, and over time the ferris wheel has been surpassed by countless others in both size and splendor.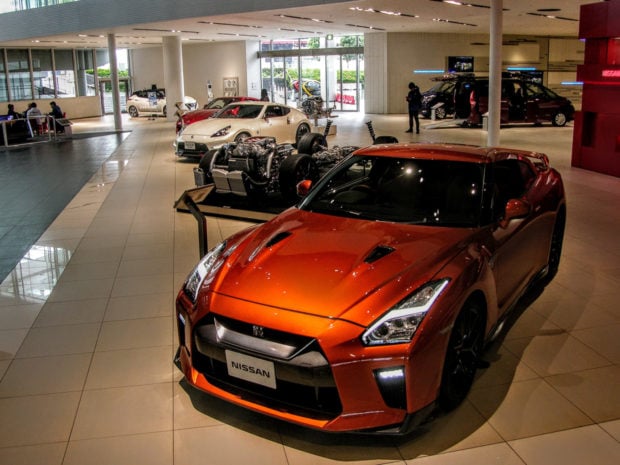 Yet despite all of the typhoons, earthquakes, and brine-filled air, the structure still stands strong, and within its center so too does its clock continue to tick. Thanks a lot Cosmo Clock. Just one more bloody reminder that I need to get to bed if I am to be my chipper self the following day. Word on the street is that Nissan's PR team has a few fun cars lined up for me the next day, along with a tour of its headquarters around the corner, and time well spent with none other than Mr. GT-R himself, Hiroshi Tamura.
The next morning I awake to a stunningly solid breakfast with friends and family, and after braving typhoon-like gale winds, arrive safely at Nissan HQ. I immediately squash the urge to explore Yokohama Station on the other end of the bridge, and head downstairs instead. There's a lot to see in this place, and I wasn't in the mood to miss out on anything. From pristine Datsun Bluebirds and futuristic family cars, to exhibits of engine internals, and every badge in the company's prolific history, it's all here for one to experience. Almost every single one of the 36 cars on display was open and waiting for me to climb inside too, a proverbial automotive hands-on museum for children and adults alike.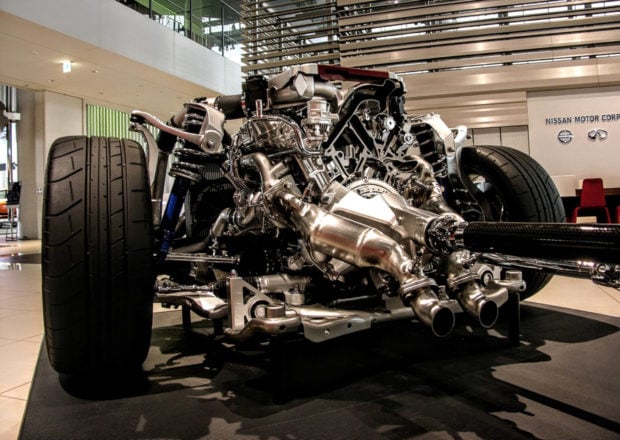 While businessmen in suits take turns driving a GT-R in a simulator near the towering windows, primly clad mothers sip coffee at the in-house Starbucks, politely chatting in hushed tones as they watch their offspring gallivant around the cars on display. It's a Nissan wonderland like no others, ladies and gents – and it's open to the public from 10am to 8pm every day of the week. While I would love to go into detail about what happened after I flashed my media credentials and was granted access to the test vehicle vaults below, it's going to have to wait. Today's tale is all about showroom magic and automotive brilliance, as we explore the eight reasons why you need to visit Nissan headquarters in Yokohama, Japan.
1. Presentation and Product Immersion: The Ultimate Magic Mixture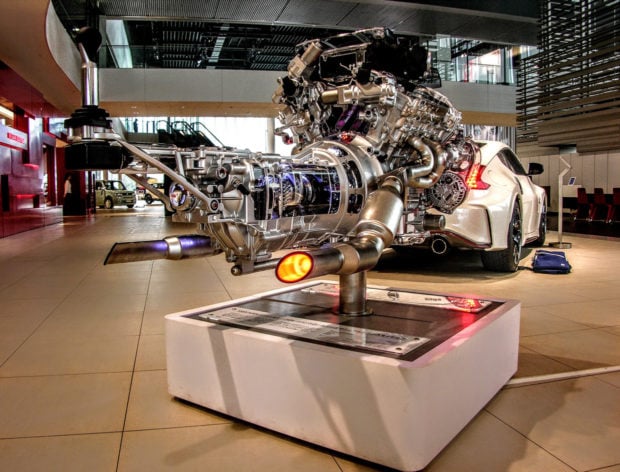 One of the greatest aspects of modern automotive engineering isn't what automakers are putting into cars, it's what they take out. Exploded views of manual gearbox synchros, glowing under violet LED illumination stand behind an equally gorgeous glimpse at engine internals and moving components. Go ahead and throw a few gears. It will give you a small sampling of what that fresh Exedy clutch does for the Heritage Edition Fairlady Z's performance. From predictive autonomous presentations in multiple languages, to getting the chance to play with holographic vehicle schematics, there's so much to see and do here if you have the time to learn all about the brand.
2. Convenience is Always a Crucial Key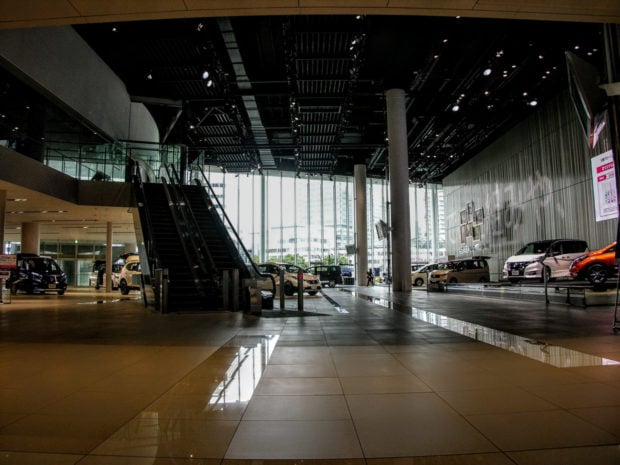 Centrally located beside a busy canal, with a bridged walkway spanning the length of its entire showroom floor, the bottom two floors of the Nissan building are a beast of an open-air distraction for passersby. With thousands of visitors passing through the Nissan lobby annually, it is no wonder that the brand planned its big expansion so it's conveniently located next to Yokohama Station. Strategic urban planning of this magnitude certainly has its perks. After crunching the numbers, it appears that Nissan saw around 1.3-million people pass through its second floor breezeway in 2016 alone, all a mere escalator's ride away from the showroom floor.
3. So Bring the Kids and Cut Loose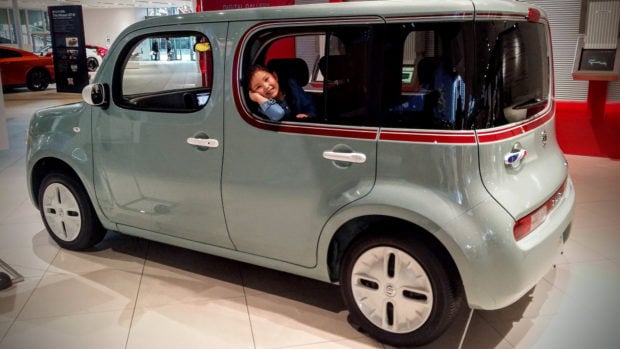 This was a big surprise for me. While I expected that there would be a section for the kiddos, I had no clue that the majority of the floor would be open to them. Fortunately, I had opted to bring the wife and my 5 year-old, both of whom were thrilled with what awaited. Hopping from car-to-car, and grinning from ear-to-ear, my little one took her time with everything from soccer mom machines to Skyline GT-R's, pushing every button and flipping every switch she came across. There also was a nice little play area over in one corner for kids, complete with a little playground and plenty of fun toys, kid-oriented driving games, and a giant bear that must have weighed more than a reigning Yokozuna sumo champion. It's easily one of the most kid-friendly corporate environments I have ever come across, and is a must if you plan to bring your offspring.
4. You Never Know What Awaits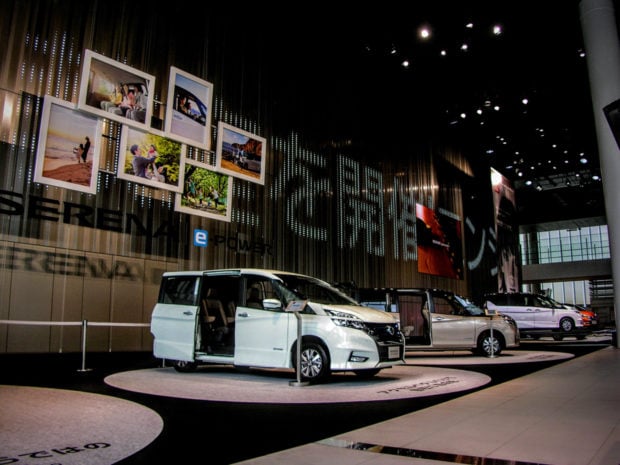 While not all of the 36 cars on hand rotate, many of them do shuffle in and out depending upon what campaign is in effect. You get a far wider array of Japanese Domestic Market (JDM) offerings this way, and with them comes some really neat stuff. From relics from the 1950s dusted-off and brought out to introduce the world to the mighty Titan's great-grandfather, to Serena minivans rocking the levels of safety, tech-connectivity, and clever green thinking that one comes to expect from the Japanese, the options are always substantial and widely varied. Be sure to check out all of the Japan-exclusive NISMO packaged cars too, because while they may never be a hit here in America, over in Japan dads demand a family car that can still connect them to their performance roots.
5. Just Tech It Out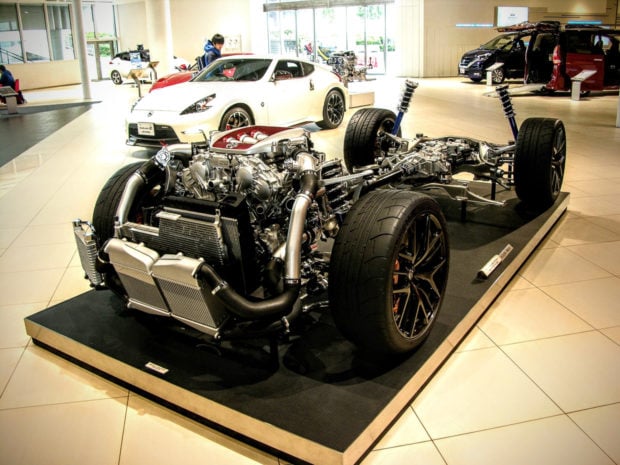 There's a whole lot of really neat stuff to see if the tech-driven side of automotive engineering appeals to you. Take the internal view of this Nissan Skyline GT-R for example. With its reptilian, Godzilla shell removed, and the scaly beast's structure exposed for all to see, you get a good idea as to what goes into making such a monster. This is but one of a few fantastic displays on the showroom floor that display the inner workings of some of the brand's most groundbreaking engineering feats. Some are completely off limits and must be appreciated from afar, others, like the aforementioned Fairlady 370Z powertrain, are hands-on and then some. So show up ready to learn something new, and don't forget to bring your sense of wonder, because there's a lot to soak-in just on the ground floor alone.
6. Racing Simulators for Salary Men in Suits? Yeah, We Got That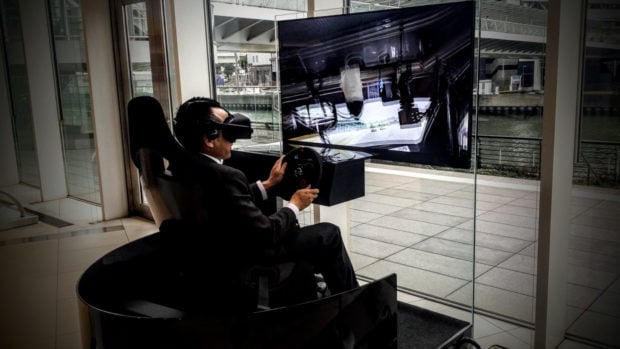 The title pretty much sums this portion of the puzzle up in just a couple sentences. While on premise, I saw no fewer than a dozen businessmen in suits take the time on a weekday in order to take a spin in one of Nissan's racing simulators. While you may not be rocking a suit or a salary man's sense of self, you can share the experience of getting behind the wheel of a GT-R and driving like complete crap. If you are unsure of your skills on the track and still wish to get a lap or two in while you're at Nissan HQ, I would strongly suggest starting off with one of the kid's racing video games and make your way up from there. All of the games I saw being played looked like a blast-and-a-half, so get your game on and take a spin.
7. With Nary a Salesman to Be Seen…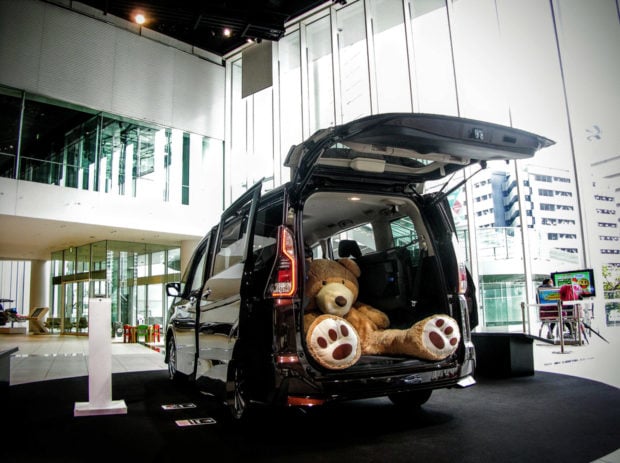 Perhaps one of the best things about the Nissan headquarters in Yokohama, is the absence of pushy salesmen. You are pretty much left to your own devices, and if for some reason do require assistance, an extremely polite associate behind a kiosk desk is there to answer any questions that you might have. It's all of the sales floor fun without all of the hassle, and despite its massive size and busy locale, is actually a very peaceful place to relax, grab a cup of coffee, and meet up with friends.
8. And There's Heritage in Them Halls!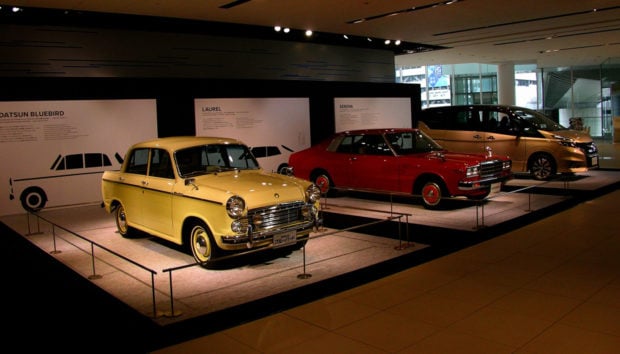 From the line of every Nissan and Datsun badge in history on display, to the historic racing plaques in the back, and the pristine Bluebird on display out front, there's a healthy slathering of heritage to be seen here. Some of it may be exclusive to the Japanese market and quite obscure, while other portions may be little more than historical tidbits on display that played a significant roll in the building of the brand. Either way it's a splendid sampling of what awaits those lucky enough to get into Nissan's historic ZAMA museum, an exclusive collection hall that unfortunately was closed for construction during my visit. No worries. I'll be back. And with a little luck I'll be able to bring you a special exposé on what some consider to be one of the most impressive stockpiles of Datsun vehicles on the planet. So stay tuned, and if you're ever in Yokohama, be sure to check out Nissan's new headquarters. You won't be disappointed.