2019 Honda Civic Type R Review: One Fast, Fun, and Functional Hatchback
2019 | hatchback | honda | honda civic | honda civic type r | hot hatch | Turbocharged | VTEC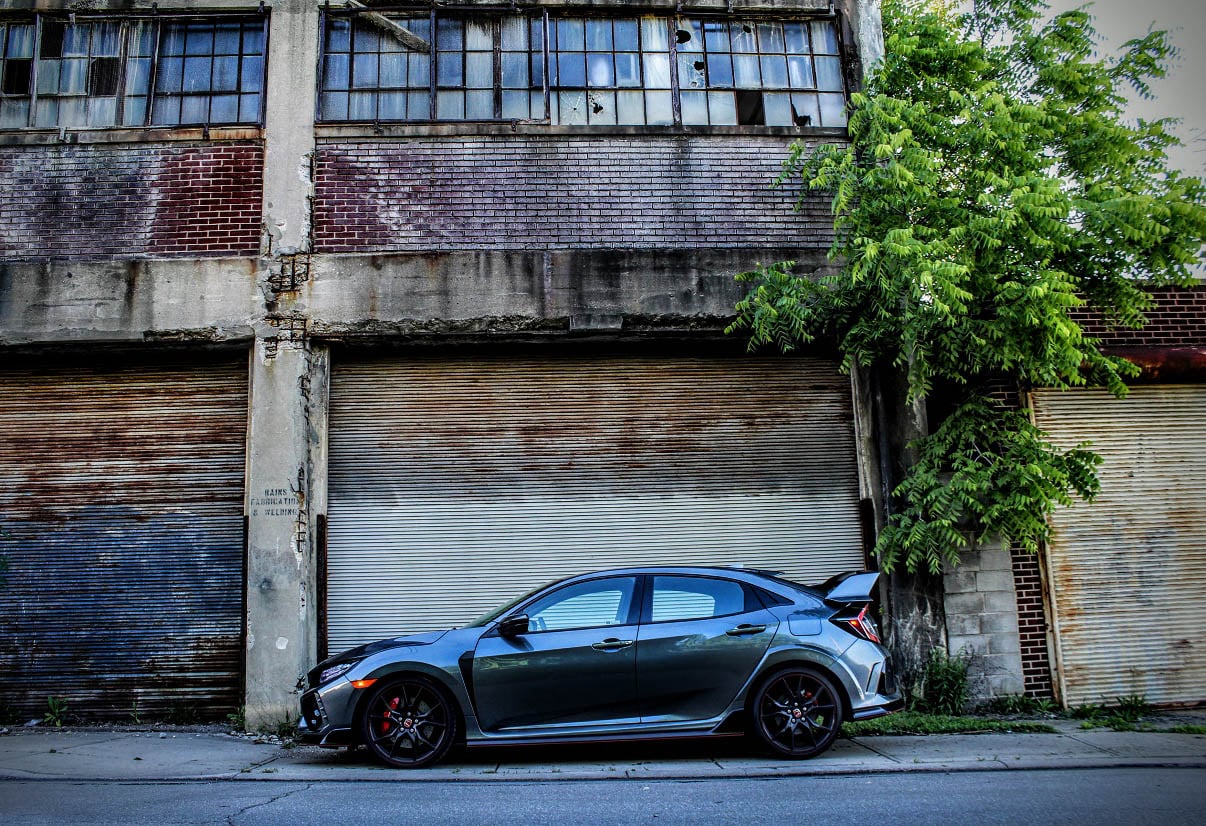 2019 Honda Civic Type R

Engine: 2.0-liter turbocharged 4-cylinder
Horsepower: 306
Torque (lb-ft.): 295
Transmission: 6-speed manual
Drive Configuration: FWD
0-to-60 Time (secs): 5.0
1/4 Mile Time (secs): 13.6
Top Speed (mph): 170
City/Hwy/Combined MPG: 22/28/25
Curb Weight (lb): 3,150
Wheelbase (in): 106.3
Total Length (in): 179.4
Width (in): 73.9
Base Price (USD): $34,775
Price as Tested (USD): $34,775
What is there to say about the Honda Civic Type R that hasn't already been said? It's lightning quick, only comes with a manual and a clutch pedal, can stow all sorts of stuff inside its oh-so practical Honda hatch, and looks like a high school kid's rendition of what a tuned Japanese rocket ship should look like in real life. All of these things are indeed quite true, but there's just so much more to this car that makes it a winner in my book, and it all begins with dropping the kids off at school.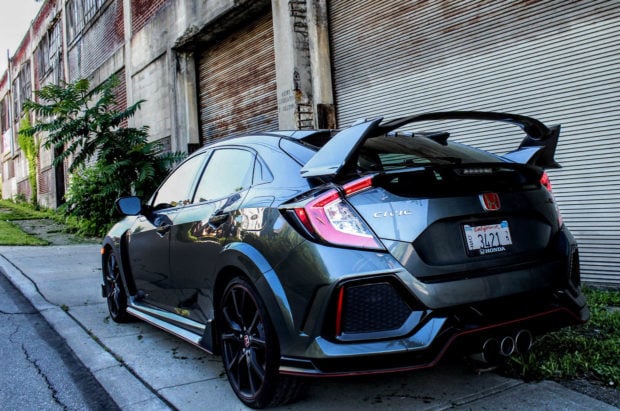 When my 5 year-old daughter saw this wild-looking, week-long loaner parked in the drive for the first time, I thought she was going to lose her damn mind. Love or hate Honda's newfound design language, you cannot ignore the fact that the Type R has the sort of Japanese sports car panache that turns heads, regardless of whether you want it to or not. Jagged jutting lines, roof diffusers, gaping air ducts, a wing the size of Southeast Asia, and a trio of exhaust tips all spell one thing: High-speed hot hatch. Although I know for a fact that I will never truly be comfortable with certain aesthetic attributes of the automobile, I have grown accustomed to the Type R's outlandish aerodynamics and street racer attitude, both of which provide just as much function as they do form.
Cabin design provides more of the same mindset, with bright red racing seats (products that are 100% Honda and not a third-party creation), matching molten seat belts, stitching, and trim accents, loads of fake carbon fiber, aluminum race pedals with raised silicone inserts, and a meaty steering wheel pushing visual limits from every angle. For as obnoxious as some may find all of this racer fan boy flamboyance, there is plenty of Honda practicality to go along with it as well, which leads us to the real reason why I like this car so damn much. If you are fine with driving stick and are willing to sacrifice a little fuel efficiency in favor of performance, you'll find this car to be a really, really, really good daily driver, even with its overzealous attitude and unexpected Honda oversights.
Honda did us a huge favor when it decided to build the Type R off the 10th generation Civic's outstandingly packaged hatchback, which almost flawlessly forges cabin storage smarts with solid materials, and then sprinkles it with layers of tech and safety. In this hyped-up version, you still get all 26-cubes of storage room, one of the most versatile center console storage spaces ever imagined, plugs, ports, and phone connectivity at every turn, and enough headroom and legroom to make even the lankiest passenger feel content. Although the general consensus is that all four of the Type R's vibrant red seats are quite comfortable, I still find it frustrating that Honda eliminated the middle seat in the rear for what engineers explain was done for "better weight balancing," and that a brand that is known for brilliant interior packaging still has yet to put a 40/20/40 split bench in the back for added versatility.
Frustrating me further is the HondaLink infotainment setup, which in the Type R comes standard with both forms of smartphone connectivity, houses attractive menus and maps, and packs a banging 540-watt, 12-speaker audio system, but lags in regard to speed and user friendliness. Unlike other new vehicle's from the H-badge, the Type R does not feature physical control knobs for things like volume and channel adjustments, and is quite slow to respond to inputs and when loading maps, a surprise in today's fast-paced, tech-oriented automotive marketplace. On the bright side, once familiarized with the 7-inch touchscreen's layout and drop-down menus, navigating between digital setups and dialing in settings is both aesthetically pleasing and option-rich, so just be patient and use the volume controls on the steering wheel.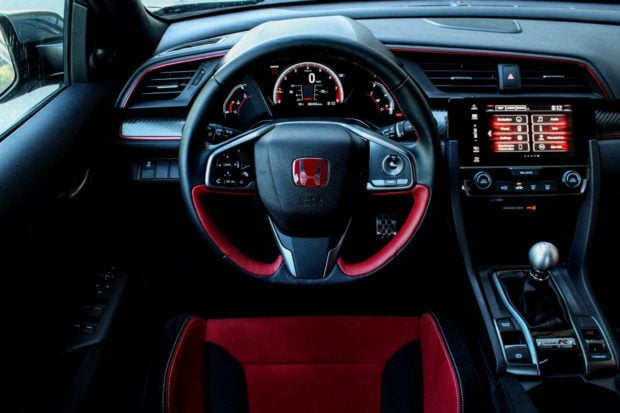 Moving over to the driver's seat, one begins to get a feel for where this car truly excels, or shall we say, accelerates. While that digital gauge cluster in the center certainly sports a lot of useful info, it's the semi-shiny aluminum shift knob, steering wheel, and trio of race-ready pedals beneath that bring the thunder. Simply click the drive mode toggle switch next to the shifter into either Sport or +R setting, and revel in how the rev-matching, torque-vectoring, helical limited-slip spinning, turbocharged hatchback hits the highway. Blasting to 60 in well under six seconds, with not a fuzz of torque-steer to be felt, the Type R offers mind-bending front-wheel drive acceleration without all of the unruliness, and it only gets better when you decide to turn the wheel.
Approach a turn with avarice, and you'll be left wondering how handling a sports car could be so easy. Honda's adaptive dampers mimic whatever drive mode has been selected for maximum precision, steering feedback adjusts to match and tracks true, and with the tap of the toe, both 4-piston Brembo brakes up front snag hold of 13.8-inch drilled discs for razor-sharp cornering and stopping precision. Taut, yet pleasant even when on rough roads, the brilliance that makes up all of these components, along with the Type R's dual-axis front and multi-link rear suspension is the sort of stuff legends are made of, and from which track records are benchmarked. And while the 245/30ZR20 high-performance rubber does provide some expected coarseness, the specially developed Continental Sport Contact 6 tires made for this vehicle are outstanding in both the wet and the dry. While a more pronounced exhaust note would be nice, the refinement felt while driving the Type R is undeniable.
So if the Type R performs so damn well under extreme duress, and doubles as a stunningly quick daily driver with practical Honda storage smarts, what isn't there to like? Well for one, it's a "take it or leave it" kind of automobile, so don't expect various wheel selections, interior color combos, or an upgraded exhaust option, something the unusual triple-tubed tailpipe certainly could use. Buyers have to be fine with large sweeps of fake carbon fiber, a vibrant red interior, the absence of a center seat in the rear, and more aerodynamic insanity than a weekend at an IMSA race event. You'll also have to deal with those HondaLink headaches, a grainy backup camera, limited under storage in the back, gaping plastic bumper inserts that seem unnecessary and are quite unattractive, and a wheel offset that is goofy to say the least. Also, if track time tends to be your thing, be forewarned that the vehicle's tiny 1.26 gallon radiator has been known to struggle to keep things cool after extended abuse, a complaint that certain buyers have alleviated by removing parts of the car's restrictive flat front fascia.
Resting at a red light, revs at the ready, and 5 year-old eagerly grinning in the back seat, I ignore all of these grievances and wait for the light to change. It's not every day that you come across a car that offers this much refined performance and balances it with endless amounts of practical brilliance. Snapping off the line and striking second gear, I am reminded how connected and clever the Type R feels when forced to play its part, and with third gear offering usable power from 12 mph all the way up to interstate speeds, searching for the right shift is rarely an issue.
Merging onto the interstate with the precision only a scalpel can imitate, a little voice in the back calls out to me, "Can we keep this car, Papa? I don't think you should return it." I grin, knowing that her limited knowledge of the vehicular landscape makes for a fantastic filter, and that in a way, I too think she's quite right. Perhaps I could get used to seeing myself in something so outlandish, and that maybe grabbing everyone's attention along with the groceries isn't such a bad thing after all. Or perhaps I should just wait to see what Honda has in store for the Accord, and pray that the return of the Euro R version of their sedan may someday occur, bringing with it many of the outstanding attributes only a Honda with an R on its backside can extend to those looking for something a bit more extreme.