Ferrari 488 Pista Spider: Sexiest Drop-top Ferrari Ever?
2019 | convertibles | ferrari | ferrari 488 | ferrari 488 pista
One glance at the new 488 Pista Spider and you can tell that the designers over at Ferrari pulled out all the stops. Based on the already impressive 488 Pista, this is one seriously good-looking drop-top. The top up photo shows that the ride has a hard top that presumably stows away under its own power.
Ferrari says that the twin-turbo 3.9L V8 in the car is the most powerful it has ever used in a street-legal car. It makes 710 hp and 567 lb-ft of torque. It can go from 0 to 62 mph in just 2.85 seconds, and do the same deed to 104 mph in just 8 seconds flat. Top speed for the beast is appx. 211 mph.
The first example Ferrari is showing wears a clean white paint and triple blue racing stripes that roll with the air flow pattern over the sculpted hood, roof, and rear deck. I've always rather thought red or yellow were the only Ferrari colors to have, but this white and blue looks fantastic. The blue even carries over to the interior of the car.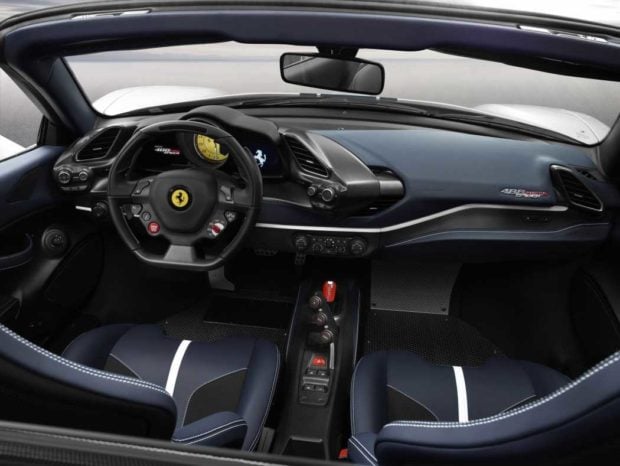 Pricing is unannounced at this time, but expect the Ferrari 488 Pista Spider to cost a literal fortune.