200 mph 2005 Ford GT Prototype Sold at Auction
2005 | auctions | ford | ford gt | prototype | prototypes | September 4, 2018
Ford started remaking the Ford GT in the last couple of years as a modern hypercar. Before the current generation GT was the early 2000s GT, which was a throwback tribute to the '60s original, the GT40. Ford always makes prototype cars to test systems before production kicks off. Some of those prototypes are called "CP" or Confirmation Prototypes. They are used to test vehicle systems shortly before they go into production.
In 2004, Ford made a quartet of CP cars for the 2005 Ford GT, and the black ride you see here is the most famous of them all. It's the only car that wasn't speed limited to 15 mph. The reason for the lack of a speed limiter is that this is the actual test car Ford used to crush the 200 mph mark.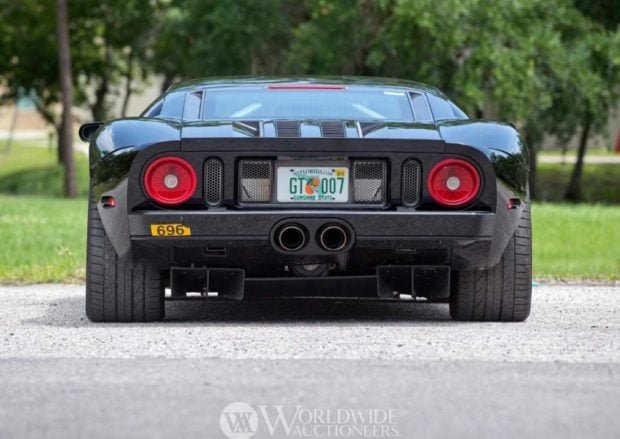 Despite sharing the same 550 hp, 5.4-liter V8 engine with the production model GT, CP4 is a bit different. Namely, it has an incredibly expensive carbon fiber rear internal shell for the back hatch. Still, the car is registered and street legal to drive. It has working air conditioning, a new wiring harness, and a new clutch, along with fresh tires. We have no idea about the mileage on this car.
This particular car recently went up for auction via Worldwide Auctioneers during their Auburn, Indiana auction, where it sold to businessman Rick James (no, not that Rick James) for $467,500 – just a little bit more than the base price for a brand new 2019 Ford GT – assuming you could actually buy one.