2019 Rolls-Royce Cullinan First Drive Review: Luxury Way Out There
2019 | rolls-royce | rolls-royce cullinan | October 28, 2018
---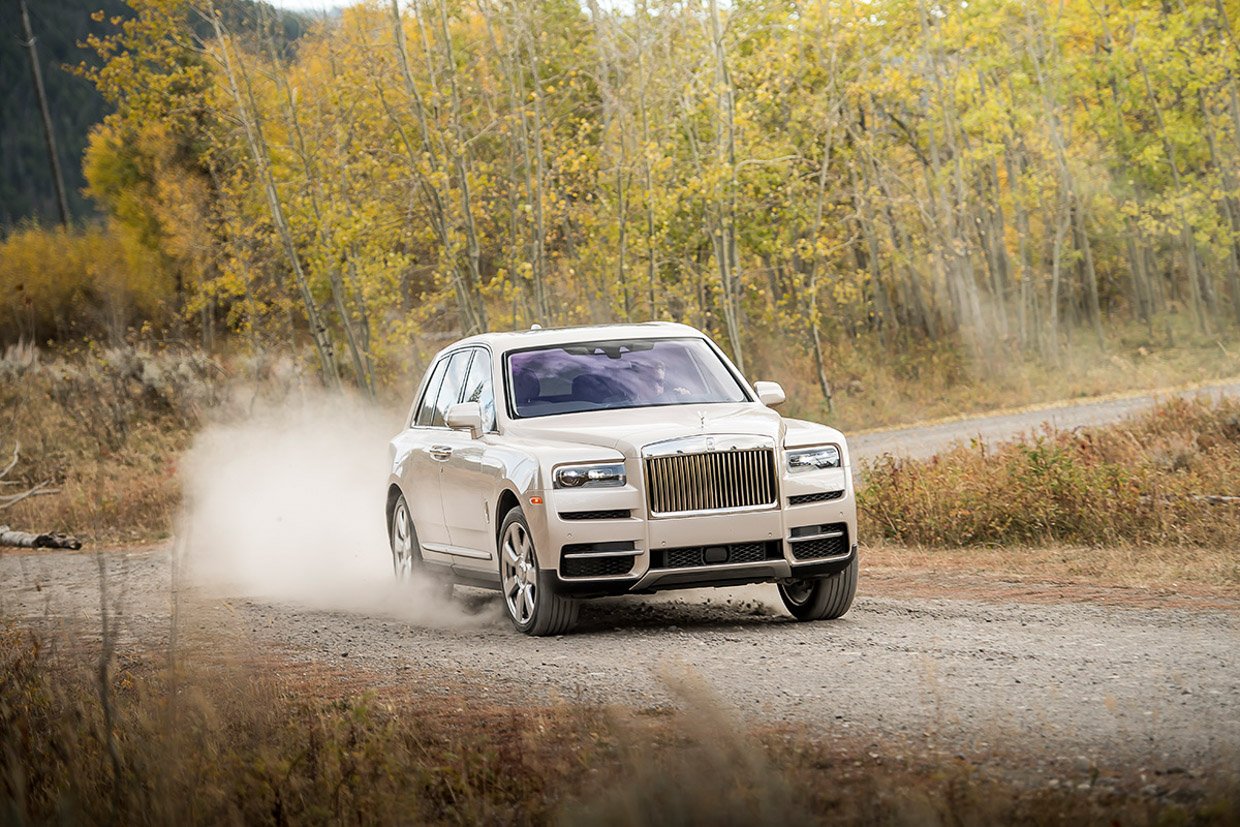 2019 Rolls-Royce Cullinan

Engine: 6.75-liter twin-turbocharged V12
Horsepower: 563
Torque (lb-ft.): 627
Transmission: 8-speed with GPS enhanced shift logic
Drive Configuration: 4WD
0-to-60 Time (secs): 5.0
Top Speed (mph): 155 (limited)
City/Hwy/Combined MPG: 10/21
Curb Weight (lb): 6,069
Wheelbase (in): 130
Total Length (in): 210
Width (in): 79
Ground Clearance (in): ~9.0
Base Price (USD): $325,000
Price as Tested (USD): $400,000
If glamping is a real word, then I guess gloff-roading is now too, because Rolls-Royce Cullinan is the most glamorous, luxurious, and pampering off-roader ever created. After all, what would you expect from an SUV named after the largest diamond ever mined?
Yes, there have been luxurious SUVs before: the Range Rover Autobiography, Bentley Bentayga, Lincoln Navigator, and Cadillac Escalade come immediately to mind. But none of those offer the combination of ultimate luxury and off-road capability of Cullinan. Having spent time in all their other vehicles – Phantom, Ghost, Wraith, and Dawn – the luxury, we expected; the off-road chops, however, are surprisingly proficient as well.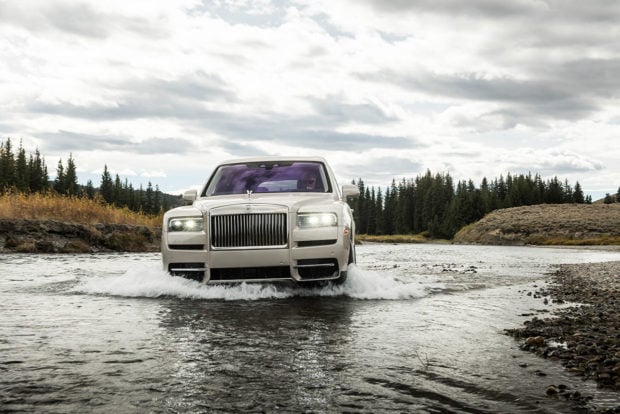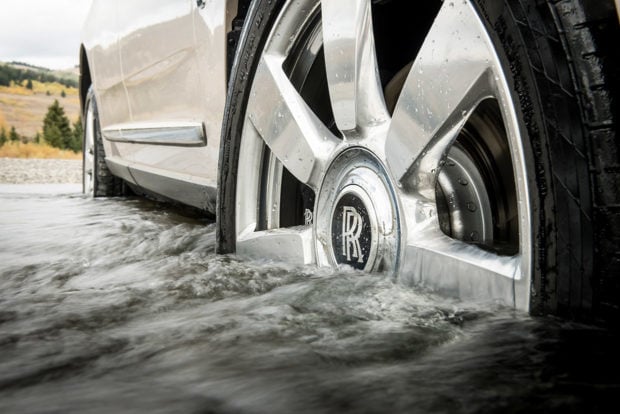 The Cullinan starts with a purpose-built frame, based on Rolls-Royce new "architecture of luxury." This is not a lifted Phantom with a four-wheel drive system bolted underneath. The all-aluminum frame members between the front and rear substructures were specifically engineered for this multi-terrain vehicle and deliver exceptional stiffness. It also features a slim sill that makes getting into the Cullinan easier than other full-size SUVs.
The fully-independent suspension system has a double wishbone unit up front and a multi-link rear set up with electronically controlled shock absorbers, a self-leveling air suspension, and beefy sway bars front and rear that has been tuned specifically to provide comfort both on road and off. The suspension makes millions of calculations every second, continuously adjusting the system based on body movement, wheel acceleration, steering inputs, and camera information. Another benefit of the air suspension is that you can raise the vehicle over 1.5 inches to provide greater ground clearance and wading depth (more than 9 and 21 inches respectively) when you need it, and lower it 1.5 inches to make it easier to get in and out of. The result is a car that can ride comfortably and confidently over rocks, through streams, on sand and snow, and still provide Rolls-Royce signature "magic carpet ride" on the highway.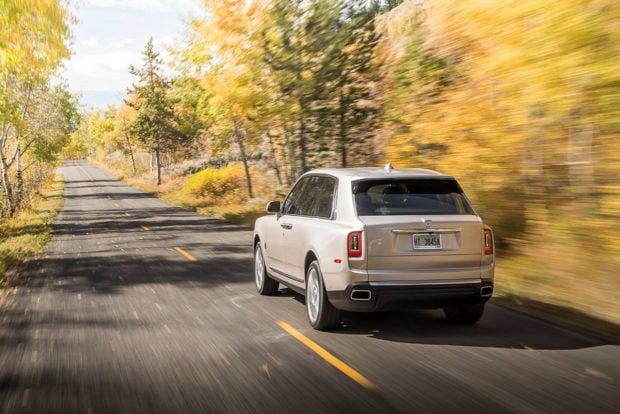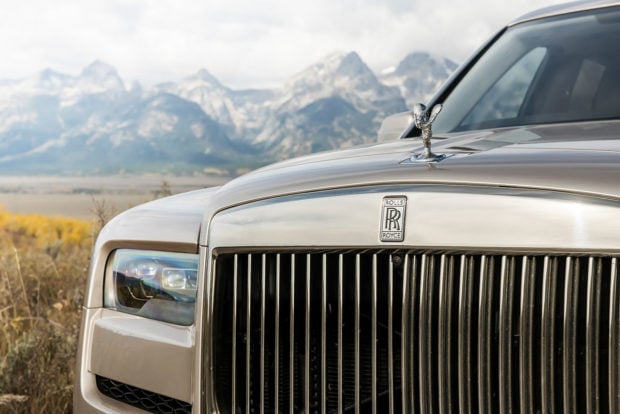 Behind the tallest parthenon grill ever on a Rolls-Royce is their venerable 6.75 twin-turbo V12 engine, pumping out 563 horsepower and 627 lb.-ft. of torque. And it needs all of that output because the Cullinan is a heavyweight, tipping the scales at 6,069 pounds. Still, this thing seems to defy the law of physics, accelerating to 60 miles per hour in 5 seconds. Put it in off-road mode and it can grind through just about any terrain. No, you won't be planning any trips on the Rubicon trail, but you'll be able to get to your ski chalet in the Swiss alps, remote Montana cattle ranch, and you'll still be able to keep your reservation at Omar's even when if another Snowpocalypse hits the east coast.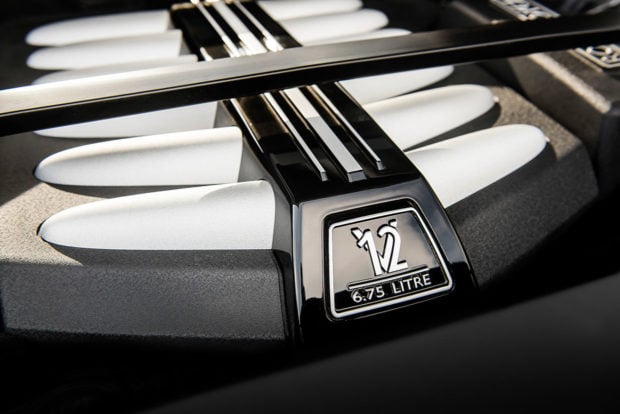 We drove the Cullinan up snowy, muddy, rocky Snow King Mountain 2,000 feet above the town of Jackson, Wyoming – an off-road course challenging enough to allow us to test the first four-wheel drive system ever in a Rolls-Royce. Like all of today's modern off-roaders, the Cullinan is activated by the push of a button that lies just behind the rotary controller on the center console. Rolls-Royce refers to it as the "Everywhere" button and it activates the four-wheel drive system in standard mode which is appropriate for most typical driving situations where enhanced traction is desired – think snow, wet gravel roads, or heavy rain. Using the controller, you can fine-tune the set up for specific terrain. There's also a hill descent control button that allows you to set Cullinan to a specific speed and crawl down steep grades with loose surfaces without touching the accelerator or brake. It's a very useful feature when you're off-roading in a vehicle with this much mass.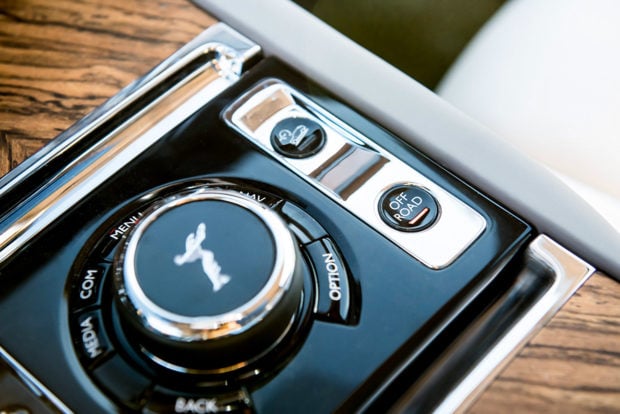 The Cullinan rides on 22-inch wheels with tires created specifically for the SUV by Continental. In addition to providing all-season, all-terrain traction, they are foam lined to reduce road noise. This is just one of many strategies Rolls-Royce employed to make the interior of the Cullinan whisper-quiet whether you're bouncing over small boulders or tearing along at triple digits on the autobahn. Over 220 pounds of sound insulation have been strategically placed throughout the SUV. All the windows feature a pair of 3mm thick panes of glass with a thin sound absorbing membrane in-between. The result is a cabin so quiet that when I was stopped at a light waiting for it to turn green, I assumed the engine had shut off using start/stop technology. It hadn't. When you're in the driver's seat, the Cullinan idles with no perceptible sound or vibration. It's uncanny.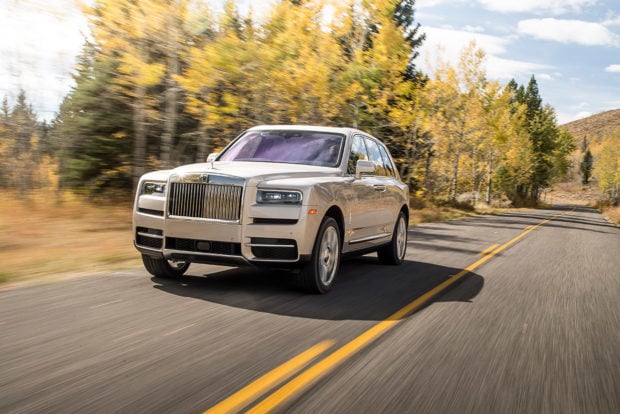 The interior is exactly what you'd expect from a Rolls-Royce; incredibly soft, hand-sewn leathers, flawlessly finished wood veneers, substantial metal switches, knobs, and controllers that have the perfect weight and feel. The seats are heated, cooled, and offer massage to keep you relaxed when the terrain gets terrifying. The seating position is higher than other Rolls-Royce vehicles with the rear seats slightly higher than the front allowing great vistas through the tall glass windows no matter where you're sitting. There's a fold out table and entertainment system in the back of each of the front seats and a large panoramic sunroof overhead adds to the feeling of spaciousness. The rear seat can be configured two ways allowing for four or five passenger seating. The five passenger configuration has split folding rear seats adding to the Cullinan's utility.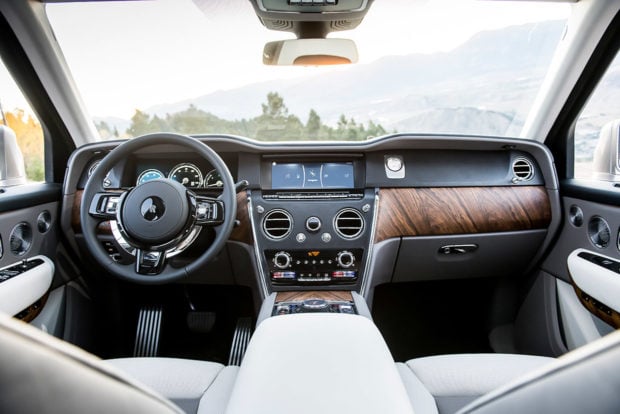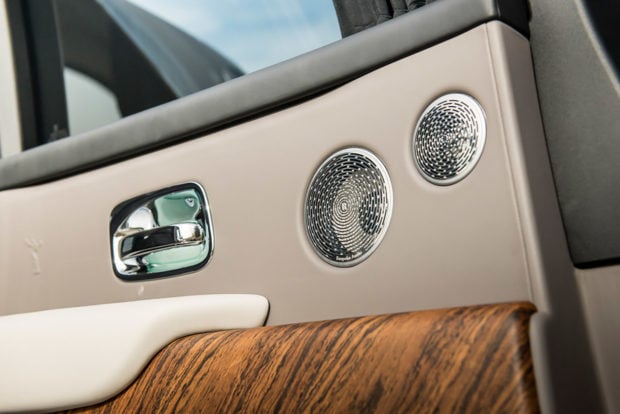 The four passenger configuration is more of an executive lounge and can be ordered with a champagne chiller, custom crystal champagne flutes, whisky decanter, and tumblers. A glass panel separates the luggage compartment from the passenger cabin adding to the isolation. There are five USB ports throughout the cabin so everyone can keep their devices charged, and the Cullinan includes a full suite of technology and safety features including navigation, a bespoke sound system, adaptive cruise control, lane keep assist, blind spot detection, forward collision warning, rear cross traffic alert, in-vehicle Wi-Fi, a 7.3-inch head-up display, selectable 360-cameras with birds-eye view, and even a night vision camera to help you detect deer and other wildlife that may be lurking just out of sight at the side of the road.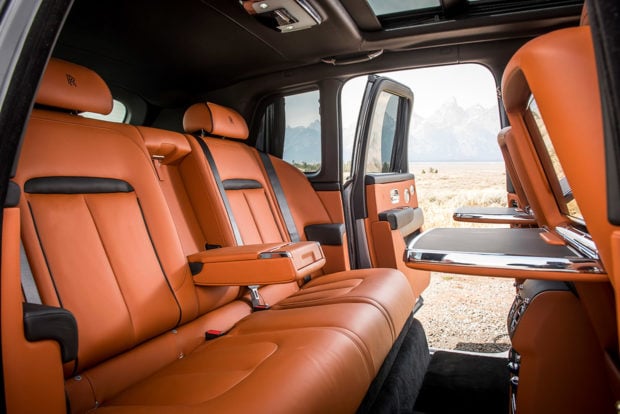 The clamshell rear hatch provides a short tailgate that can serve as a small table. and you can add optional stadium seats that slide out over the tailgate with the touch of a button. The rear compartment is large enough for a full suite of luggage for five people and with the rear seat folded down the load floor is more than 88 inches long with over 68 cubic feet of storage space. The second row folds flat at a slightly higher level than the luggage deck so packages will stay put, but just press a button and a ramp raises up connecting the two levels so you can slide longer items in easily.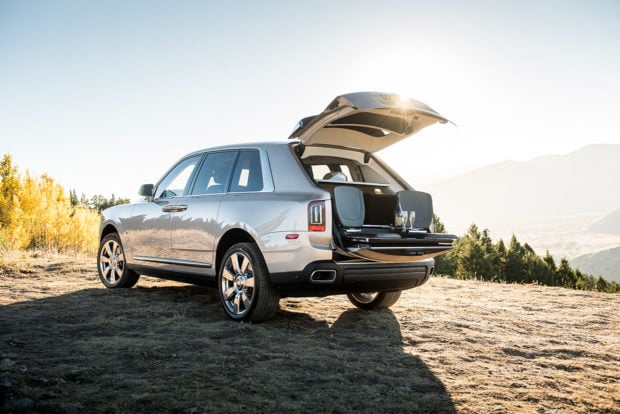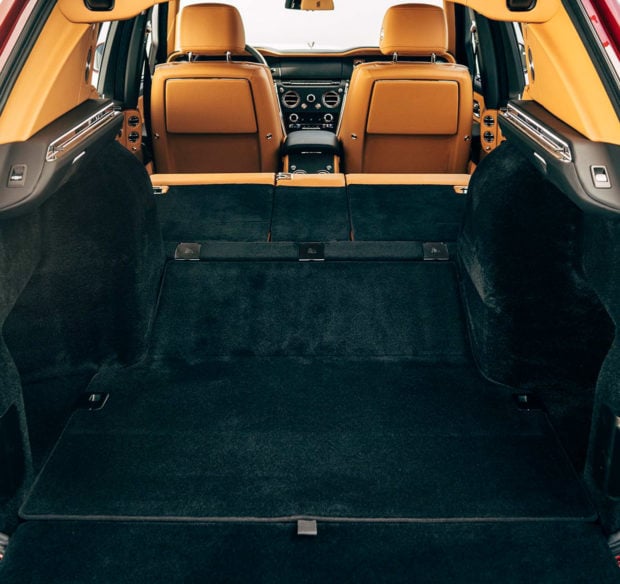 Probably the most controversial aspect of the Cullinan (aside from the fact that Rolls is building an SUV in the first place) is the exterior design. The obvious Rolls-Royce signature elements are there – the parthenon grille with the spirit of Ecstasy riding high above it, the sculpted hood dropping into flared front fenders, the upright fascia and long characters line running along the side of the car. There is some mild sculpting on the side to break up the large surface area, but for the most part this look is much more classic and subdued than contemporary. Yes, there's LED lighting all around, and the roofline tapers slight toward the rear before dropping into a D-shaped tail. Nothing about the exterior of this car is risky or thrilling. It's solid, safe, and what Rolls-Royce expects its current customers desire in an SUV. It represents the brand well, but it doesn't take it any place new – which I feel is an opportunity missed – especially since Rolls executives says they expect to be bringing new customers into the family with this offering.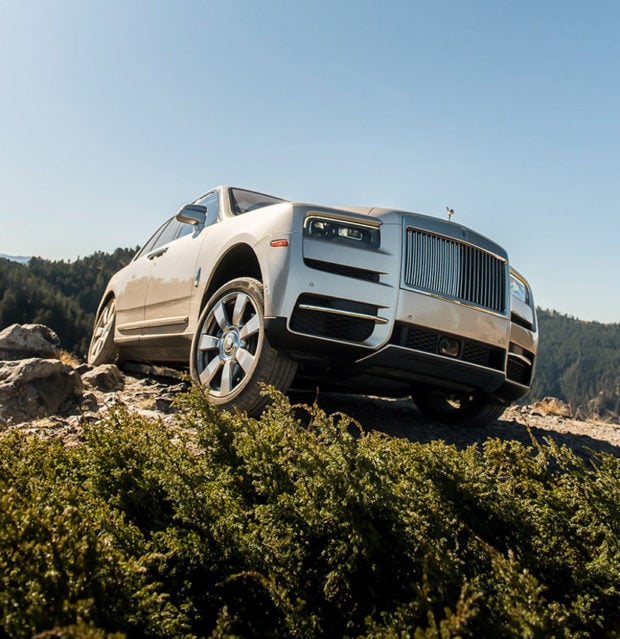 The Rolls-Royce Cullinan is an amazing achievement in engineering and capability. The fact that a vehicle this comfortable, this luxurious, this large can do the things it does off road is nothing short of remarkable. The Cullinan has a starting price of $325,000. But most buyers will option it up with bespoke design, materials, and equipment meaning most will sell for closer to $400,000 or more. And why not? The ultra-wealthy should be able to get away from it all without having to slum in in a Suburban.